Being quarantined, whether that means more time together or less, can be super tricky for some couples. Think dates are impossible just because you're stuck at home? Think again!
Now that almost the entire world is under lockdown and social distancing, having date nights outside have become a thing of the past, but worry not! All it takes is a little creativity to spend some quality time together, and we're here to help you out ÄŸŸ ¥ ° Try not to do too many of these all at once – Giving your significant other some space to be on their own and to socialize with others is JUST as important as spending time together. That being said, here are some ways to keep the spark or entertainment alive amidst the pandemic! ÄŸŸ'–
IF YOU'RE QUARANTINED TOGETHER
1. Breakfast in bed
This one may be an oldie, but it never fails to keep the spark alive! Surprise your significant other with a cute breakfast array in bed before you both get on with your day's work. Pros: (at least) an entire day of extra lovin', Cons: waking up early. ÄŸŸ˜ ´
Here are some easy (but not-limited-to) breakfast recipes to whip, in under 15 minutes. Alternatively (if you're really bad at cooking *although your partner would love to see the effort*) here are some of our favorite breakfast spots in Dubai. Order in and prep the stage ÄŸŸ˜‰
2. Indoor picnic
Another classic, but this may just be the difference between a happy and a drained couple. Whip up some of your favorite snacks on a mat and set up a little picnic in the balcony. To further romance-ify things, do this at night with a few candles! (Disclaimer: In no event will we be liable for any loss or damage of any kind whatsoever suffered or incurred by you or any other person or entity, howsoever arising whether in contract, tort, negligence, or any other legal theory. That being said, BE RESPONSIBLE ÄŸŸ ¤ £ÄŸŸ™). Don't have a balcony? No probs, do it indoors! Pro tip: Grab a bed sheet and a few chairs and DIY yourself a cute tent (or how about a pillow fort?!). ÄŸŸ˜
3. Have a cook-off
Rule no. 1 to keeping the spark alive in a relationship – Have FUN! Have a fun little cooking competition with your significant other using the ingredients you have at home. To spice things up a little more, have each other pick the ingredients that you have to cook with! ÄŸŸ
4. Double date game night
Been having a little too much 'couple time' lately? This calls for a double date! Host a few games for you, your partner, and your other coupled friends on Houseparty. Houseparty (Available on Android and iOS) allows you to play games virtually with your loved ones and includes in-app games like Chips and Guac (similar to cards against humanity), Trivia, Quick draw and Heads up! You can also never go wrong with playing classics like Never have I ever, Would you rather, or Truth or dare (or drink). However, if you're a gamer couple and prefer to have more intense gaming sessions with your friends, then there are options like ARK Survival Evolved hosting (or for another game you may prefer) which allows you to play serious video games for hours with other people. Or, if you are that couple who loves taking risks, what could be better than playing an online game that increases your adrenaline rush! If it sounds interesting to you, and you are already curious to explore the possibilities, you can check out websites similar to Casino-bonus.me.uk. If your stars seem to be in favor, you would also be able to make some extra cash, so a win-win!
5. Have a show-down!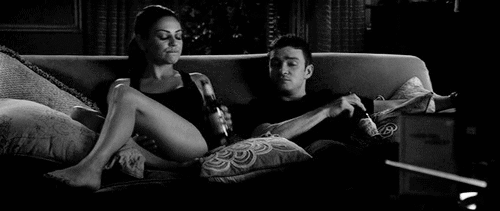 Don't have the energy it takes to prep and plan for a date? Keep it simple with some classic Netflix and chill. Make it special with a little extra effort- plan the movie/show in advance, order some food or make some popcorn, turn off the lights, get comfy, and let the movie marathon begin! Pro tip: Pick something fun to binge, like Disney or Marvel movies, or something completely new, like a playsuisse tv show. Have a mutual favorite show? Take it back to the very first episode for your show-down!
6. Virtual Museum
Sick of being home all day? You can now go on a virtual tour through several museums, theme parks, zoos, historic attractions, and more! Decide a place both you and your partner might like, and hop on a video call to visit the place together! Here is a list by Insider of all the places you can virtually tour. Some of these options even offer fun activities like making your own masterpiece and attending interactive courses!
IF YOU'RE QUARANTINED APART
1. Virtual date night
This one's self-explanatory, but put in a little effort to make it special! Dress up for the special night and order in from the same restaurant. ÄŸŸ'ƒ Plan the time out in advance, and have your meal across your partner through a video call! Want to make things a little more fun? Ask each other these 36 questions that are believed to make any two individuals fall in love (this one's especially for people trying to win someone over ÄŸŸ˜œ)! What better way to get to know each other better and build up intimacy?
2. Virtual movie night
Thanks to Netflix Party, you can continue binging on your shows- now with your boo by your side! Download the Netflix Party extension on Google Chrome browser for this movie night, and watch new shows/movies with your significant other. This plug-in syncs up the show for both of you so you're quite literally watching it together, and there's even a group chat feature for you to add in your own commentary! Side note: Reality TV shows turn out INSANELY fun for this pick.
3. Have a date-in-a-box
Throw together some of your significant other's favorite things, hide a surprise gift like a pair of Caleçon Personnalisé or sexy lingerie inside it and send it to them! This can also include cookies, letters, blankets, chocolates, clothing, jewelry, etc. Too much effort? They're even great for dates when you're quarantined together!
Get your cute ready-made boxes packed and delivered with at home dates! Once you both receive your packages, get together on a video call while you unwrap your gifts. If you and your partner don't live too far, you can easily drop it off outside his/her/their doorstep (provided you're allowed to, of course- and don't forget to sanitize before and after!) ÄŸŸ § ¼ Don't want to drive there yourself? Book a Careem Box through the Careem app (Available on Android and iOS) and have the goodies picked up and delivered! This app allows you to have items (no matter how small) picked up and delivered to your desired location. This can even be a great way to cook up something special for your s/o and have it delivered to them!
4. Try new things together!
This simple but revolutionary idea can really allow you and your partner to feel not-so-far-apart. Take out some of your free time to try something new together – whether that's cooking a new dish, DIYing a craft, learning a new skill, or doing something crazy to your hair! The only thing better than being productive is to be productive together. ÄŸŸ' «
5. Co-work together
This one isn't REALLY a date, but it might just do for couples who are busy but miss each other tremendously. Open up a video call with your partner and simply have it on in the background as you both work. Check-in every now and then between work to have a little chat (without being a nuisance!). While this might not sound like much, simply giving each other company while you run about your day can have you both feeling a lot closer and less apart than you'd expect. If work's too hectic for you to have a video call over- try this out during something else, like working out, cooking a meal, or even yoga! ÄŸŸ §˜"â™'ï ¸ÄŸŸ §˜"â™€ï ¸
6. Virtual Concerts
Due to the pandemic canceling numerous concerts and other events, many celebrities, have been organizing virtual concerts and events that can be watched live! Hope on to this list by billboard to discover the upcoming concerts, events, and their timings, and take your pick for a jam session with your partner! ÄŸŸ ¤ÄŸŸ' Alternatively, if you you follow singers like Coldplay, Ed Sheeran, John Legend, etc, they host IG Live Concerts! ÄŸŸ ¤ ©
Did we forget some ideas that you usually do with your significant other? Let us know in the comments below, or tag me on Instagram @naomi_dsouza! â™ ¥ï ¸
---
Credits to Melissa Pinto and Jesika Agarwala, for some of the ideas above.
Written and Researched by Najah Bashir