9 Greek Restaurants in #MyDubai you must visit!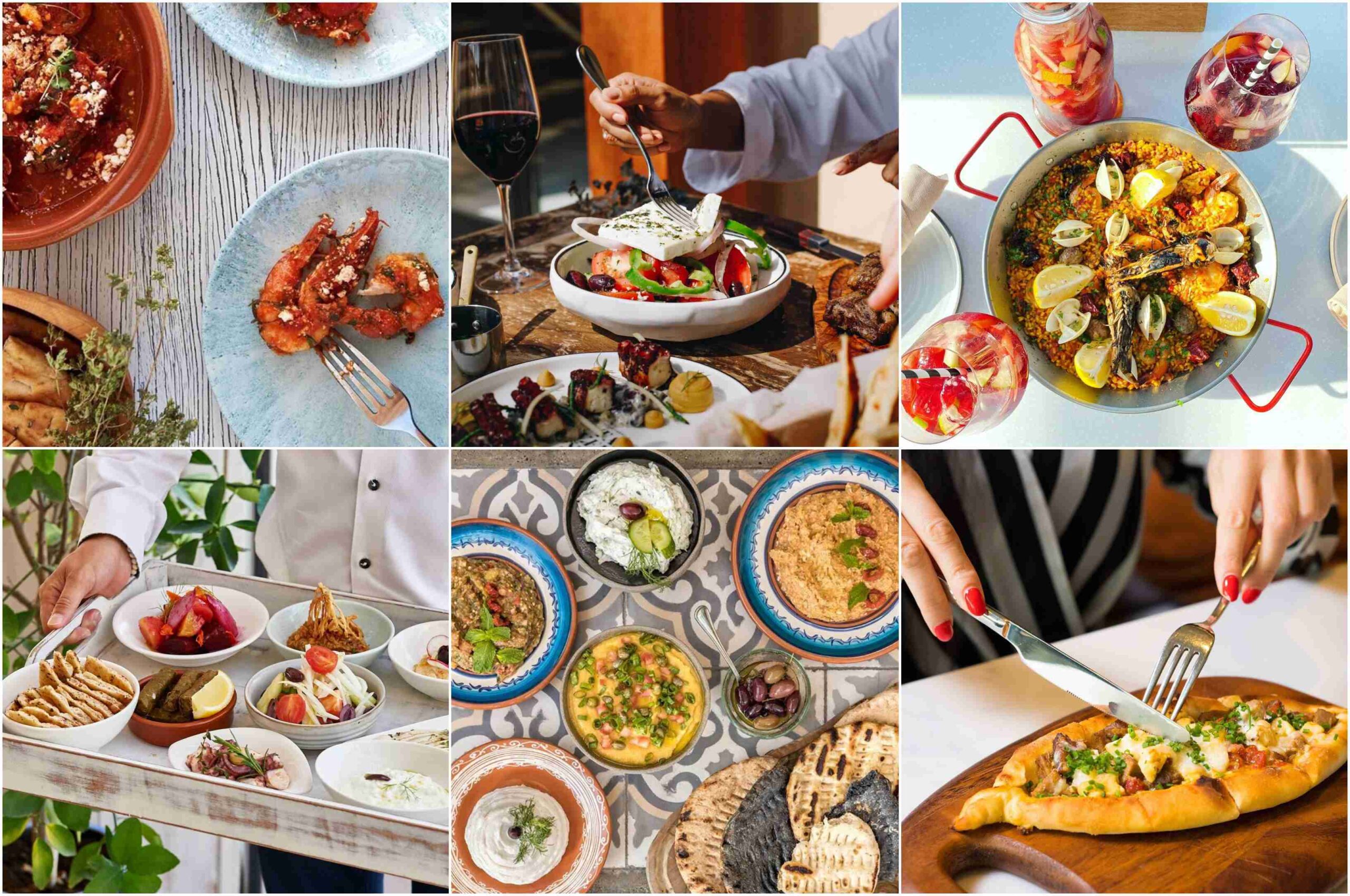 If you can't go to Greece, why not bring Greece to you? Dubai has got you covered with the most delicious Greek restaurants and gives you the absolute best, the cuisine has to offer!
Serving great food along with an authentic Greek atmosphere, the unexpected charm of these restaurants has got us drooling. ? Here's a list of the 9 best Greek restaurants in Dubai!
PS: The following 'average costs' don't include alcohol.
Known for having one of the best views on the waterfront at Souk Madinat Jumeirah as well as its delectable food and great service, Taverna gives us one of the best authentic Greek experiences Dubai has to offer. Aesthetically, the restaurant takes you to Greece, with its true to tone interiors- inspired by modern greek living. ?
Best Dishes Include: Fresh Santorini salad, Beef Fillet, and the Instagram-worthy Flaming Cheese! ?
Location: Ground Level, Souk Madinat Jumeirah, Madinat Jumeirah, Dubai
Average Cost for 2: 350 AED
With great options for vegetarians and vegans, Shimmers offers its guests authentic Greek food with a casual-chic atmosphere. It is also situated in one of the best locations in Dubai- right on the private beach of the Madinat Jumeirah with grand views of the Burj Al Arab. ? (As of July 13th, Shimmers is temporarily closed for the summer.)
Best Dishes Include: Calamari, Saganachi, Wild Greek Sea Bass, and the Orange Crème Brûlée. ?
Location: Beach, Jumeirah Mina A' Salam, Madinat Jumeirah, Dubai
Average Cost for 2: 310 AED
Like the Greek Goddess, Gaia welcomes its visitors with a welcoming earthy feel. With its focus on the core elements of Grecian culture as well as its Mediterranean touch and top-notch chefs, this restaurant is sure to satisfy your Greek food cravings and send you home with a little food-belly. ?
Best Dishes Include: Moussaka, Truffle, and oh so delicious Cheese Pie. ?
Location: Podium Level, Gate Village 11, DIFC, Dubai
Average Cost for 2: 450 AED
An all-rounder in every way, Mythos Kouzina & Grill serves it all- great ambiance, top-notch food, and amazing service. The authentic feel of this Greek tavern makes it worthy to be known as the hidden gem of Dubai. ?
Best Dishes Include: Lamb Chops, Pita Charcoal Bread, Stifado, and Pork Souvlaki.
Location: Armada BluBay Hotel, Cluster P, JLT, Dubai
Average Cost for 2: 320 AED
Saving the most fun for last, OPA is an absolute must-visit for an amazing lively Greek experience. Inspired directly by the expression 'Opa!', which is a phrase expressed during happy times or times of celebration, this restaurant aims for exactly that- to make its guests feel like they're experiencing a grand celebration! ? They absolutely nailed the aesthetic, aiming for a modern yet close-to-home vibe that looks amazing. Alongside its delectable food, they've incorporated two authentically fun Greek traditions for everyone to enjoy; Zorba Dancing and a plate smashing galore! ??
Best Dishes Include: Flavorsome pasta, Spinach Pie, Lobster, and Lamb Kebab. ?
Location: Fairmont Dubai, Trade Centre Area, Dubai
Average Cost for 2: 400 AED
A restaurant with delicious food, great ambiance, and amazing people can never disappoint. Skafos provides us with the best place to catch up with friends and family, with a breathtaking view to match. ?
Best Dishes Include: Some of their best dishes are on their well-known 18 East Brunch menu- The Live grill station, Seafood Paella, and their special dish Payaya are its star features. ?
Location: Ground Floor, Canopy By Hilton, Al Seef, Dubai Creek, Umm Hurair, Dubai
Average Cost for 2: AED 270
Feeling bougie? ? Head over to OPSO, where style and food go hand-in-hand with their fusion of Greek cuisine and Arab hospitality. Their food takes a turn by infusing a contemporary touch into each dish they prepare, whilst creating a social atmosphere for people to relax in. ?
Best Dishes Include: Lamb Skank, Cheesy Truffles, and Steak Strip Pasta. ?
Location: 3rd Level, Fashion Avenue, The Dubai Mall, Downtown Dubai, Dubai
Average Cost for 2: AED 370
Described as bringing all the charm of Greek cuisine onto your plate, Ammos takes you directly to the blissful Mediterranean life of the Greeks. ? A cozy and elegant ambiance coupled with simple, yet flavorful foods makes an ideal combination for a 5-star experience.
Best Dishes Include: Fresh Seabass, Calamari, and Tzatziki.
Location: Level 1, Rixos Premium Dubai, Jumeirah Beach Residence (JBR), Dubai
Average Cost for 2: AED 450
Known to bring a diverse array of Greek food onto your plate, Eat Greek Kouzina gives its patrons an experience of Greece they'll never forget. They provide both in-house as well as delivery for those who want to spend the night in. ?
Best Dishes Include: Jumbo Prawns, Burgers, and their Seafood.
Location: Shop 3503, The Beach, Jumeirah Beach Residence (JBR), Dubai
Average Cost for 2: AED 340
---
Written and Researched by Nikita Jacob