My Fairytale Proposal ♡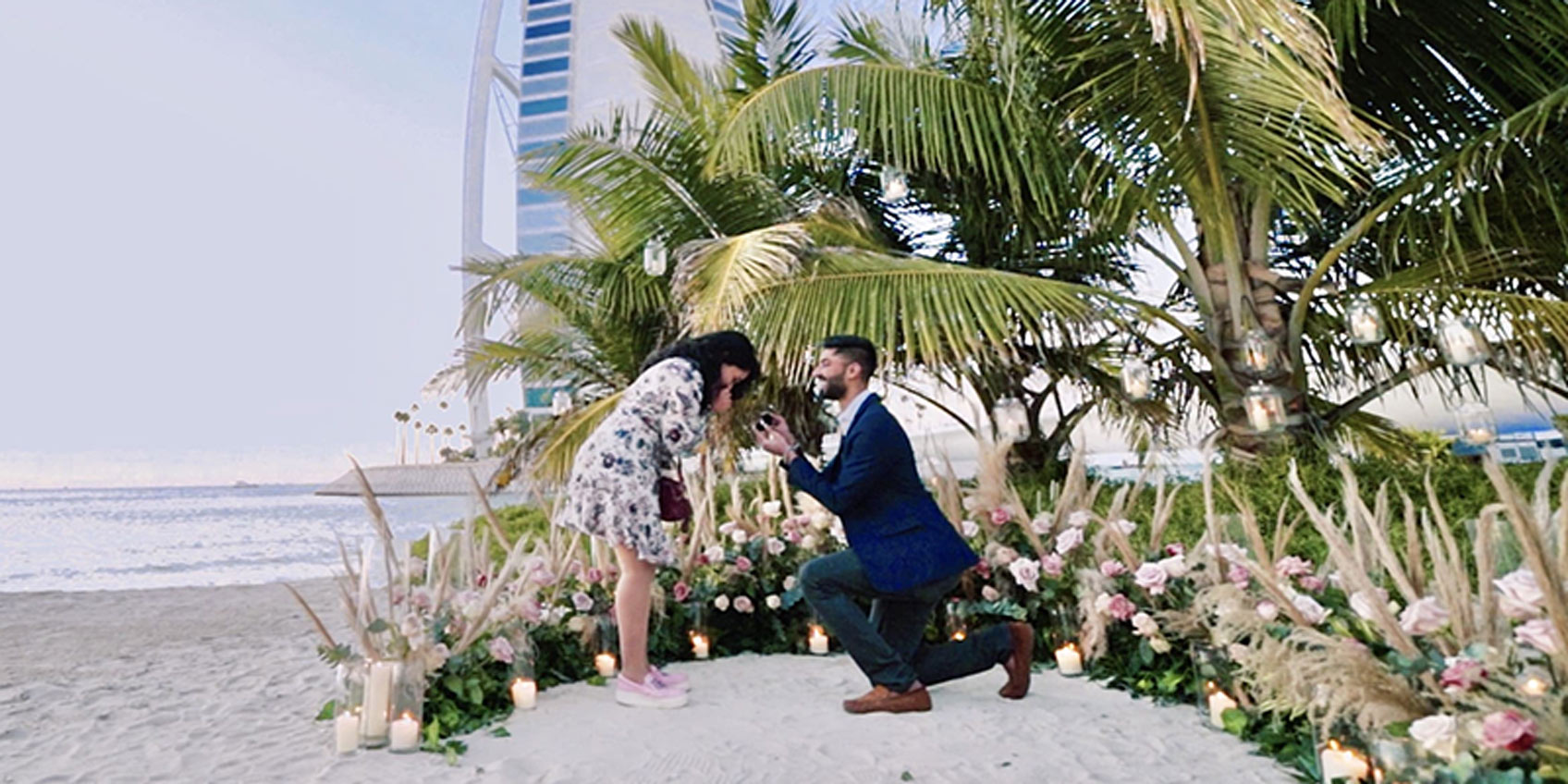 I mean…. where do I even begin? I guess this is one of those times I'm completely speechless! There's no summary in this story to be honest other than saying I AM ENGAGED TO MY BEST FRIEND, and the LOVE OF MY LIFE 😭😭♥ï¸â™¥ï¸
I've decided to finally create a blogpost about this for multiple reasons;
I want it to remain in my website, and on the web forever haha ğŸ˜
To have all FAQ's answered under one roof. So next time someone asks us about our story, it's just as easy as sending this over 🙈
To document features from websites ğŸ˜
This listicle covers [i.e. Table of Contents];
How We Met (His Version and Mine)
About The Proposal (YouTube Video Version, His Version and Mine)
Features
Photographer and Planner
---
How We Met
My Version (I mentioned how we started dating too)
Jake and I met first in ~2010, as school kids. We just brushed shoulders with each-other at a paintball gathering with mutual friends. We then FIRST PROPERLY MET in 26 July 2015 at the office, during our first job, as colleagues (he was an electrical engineer, and I was a mechanical engineer). For the first few weeks we did not speak at all, just looked at each other while passing through the corridors or at the pantry. It was only when our colleague introduced us to each other during lunch, did we actually start speaking. The conversations eventually grew week after week, and we found out we both were dating other people. We helped each other out in bettering our relationships, I gave him the woman's point of view and he gave me the guys.
As we started getting closer, we started going out for lunches and desserts (we both LOVEEE desserts)! A few months later, our office had organized a Desert Safari, and that's when we grew closer! We were coincidentally put together at the back seat of a Land Cruiser and were stuck with each other for hours – from the company, to the desert, then the dune bashing, followed by coming back to the office, then to our homes. Jake and I spoke about everything under the stars, from horoscopes, music, mutual friends, ghosts, activities we like and dislike, career goals, relationships, everything! After the desert safari I could not stop thinking about the conversations we had in general, how responsive he was when I speak, how we could not stop talking for hours, and how a guy like this even exists! I FELT I started developing a TINY crush on him but brushed it off immediately. A few months later, we both left the company and we lost touch (I guess this goes back to the quote, "Right Person, Wrong Time").
We got new jobs and tried keeping in touch. We just met once but tried texting every now and then (he would actually make the move ;-)). After almost a year, we broke up with our respective partners, and came to know about the same when we caught up months later! FFWD to 31 March 2017, we planned to meet at a lounge, when I saw him I couldn't help but give him the TIGHTEST HUG! I'm not the type of person in general to do this (he knows it too), so for me this was huge!! We hung out for a few hours that night, and from that day we only grew closer, VERY QUICKLY! We went for our first candle-lit date-night to the Burj Khalifa mid-April, and I was waiting for him to make a move (he didn't), we went for sushi the next day (still didn't make a move), and then went for breakfast (still made no move). The flirting grew, all types of kiss emojis grew too, my crush on him grew, and so did my impatience. Whoever knows me knows I'm not a very patient, so I told him WE NEEDED TO TALK. We eventually did on April 19 2017, and that's when we first started dating.
His Version
As fitting as it sounds considering her line of work, Naomi first strolled into my life digitally. I remember a friend sending me a photo from her blog one day going like "I'm so jealous!! That chocolate cake looks delicious". To be honest, I didn't really think much of it except for the fact that the chocolate cake did look absolutely delicious.
Several months later, I was at my first job after graduating and was just getting set up at my desk; the HR officer came along and handed me a sheet with all my colleagues' details on it so I could be aware of what everyone in the team does. As I was screening through the sheet, I noticed a name that rang a bell – "Naomi D'Souza? Where have I heard that before? Wait…She's the chocolate cake girl!" I'm not sure if it was the excitement that I already found someone at work who could relate to my love for chocolate cake or if it really was a pull from fate itself because I remember feeling this weird tug in my stomach for a second with this thought that we're going to be great friends! Little did I know, it would develop into the best friendship and now partnership for life that I could have ever imagined.
Soon enough, Naomi and I first met in the office pantry (while we were both eating – what we're always doing together even now) when a colleague introduced us. She was probably the easiest person to talk to I thought as we instantly connected on food, dessert, gossip on mutual friends and more. Since we both grew up in the same city and were the same age, it definitely translated to us spending most of our time in the office together. There was just one problem – we were both dating other people but well…you know how that turned out 😊
---
About The Proposal
Before we get into his version and mine, here's a video if you don't want to read!
My Version
From the first day of our relationship, I knew I wanted to marry this guy, so did he. Yes, it's hard to believe, but I told my parents within a week, my sister knew too, so did my closest friends. I LOVED THIS GUY! That being said, I knew he was eventually going to ask me to marry him (of course I didn't know when).
Roughly around December 2019, I started noticing him being anxious'y in general. He started hiding his phone more often (I'm quite nosey, so I notice everything), and I felt my mom and him, started getting closer. I knew something was cooking, I did suspect, but I brushed it off, as that season was one of the busiest work-seasons for me! I didn't want to overthink the moment and was just excited whenever it did end up happening.
A week before my proposal, I got invited by the Jumeirah Group for a Winter Menu tasting at Summersalt. They had given me a heads-up there will be camera's and media there too. Nothing felt weird to me as I'm used to such events and tastings with my line of work. It was a tasting I definitely wanted to attend with Jake as there was sheesha, it was at the beach, the weather was perfect, and I LOVED the location! However, January was a super tense month, so I wanted to skip it, thus, I ignored the email. When Jake came over, he noticed I read and ignored the email too. He made someone else convince me to come for the event. After a lot of convincing with that guy, I told Jake about it, and he said "babe, if you want to, we can go. It's up to you". I was super confused but eventually after a lot of back and forth, I was like okay coooollll, let's goooo!
We reached the location, and I saw a candle-lit pathway taking me to our journey, in huge pictures printed of us, and our memories together. I looked at him and was like ………….. he held my hand and was like, "you know what's happening right?". I BECAME NUMB!!! I didn't know whether to cry, or smile! We started walking across every picture, AS I WAS SHIVERING, and he started describing and telling me more about every picture. We eventually reached a hemispherical stage type of floral setup, where he told me how much he loved me, how he wanted to spend the rest of his life with me, and spoke about how we've been through so many obstacles in our life.
In that very moment, I felt and saw 4.5 years of our moments right in front of my eyes. I thought about the desert safari, the time I hugged him so tight at the lounge, our date nights, our fights, our love, the memories we made, how we met each-others families, everything, every single thing. Till this point I was just tearing up, as I was still in shock with what was happening. He went down on one knee and said "Naomi D'Souza, Will You Marry Me?", I kept staring at him and that BEAUTIFUL ring in that box, and was speechless!! He was like, babe you're supposed to say something now… I was like YES YES YESSSS!!!!! After he put the ring on my finger, and I hugged him, I don't think I could stop crying for the new few hours. I cried that day, the next day, the day after that, the week after that, and still cry whenever I see the proposal video!
My proposal was the best day of my life, I cannot wait to get married to Jake in the best possible way. We might hire one of the best wedding planners (possibly by skimming through websites similar to Married) to make possible a dream wedding. ♥ï¸
His Version
I always knew quite early on that Naomi was the woman I wanted to be with for the rest of my life. Coming to that realization and deciding that it was time, that was the easy part. What comes after is honestly quite terrifying. How do you plan a proposal that needs to be so perfect that it's worthy of the love you two share? It was quite daunting which was why it took around 3 months to plan haha. I started early though, I wanted to do it in January to bring in the start of the new decade and our lives together.
First I needed to find the perfect ring – this was easier than I anticipated only because if you know Naomi, you'd know she makes what she wants known to almost everyone close to her. But I honestly couldn't have done it without her mom's help. Being a guy, I'm a little behind on my knowledge of sparkly stuff. She really helped me with the research, came with me to a bunch of stores and ultimately when I got her blessing for the ring – I knew Naomi would love it!
Next came the major stuff – where do I do this and how? Over the years, I've definitely thought about this a couple of times. I knew I wanted Naomi to have a beautiful proposal but I also wanted to create something meaningful for her. That's when our friend Jardel came into the picture – he runs his own event management company and makes some incredible creations. He and his team really brought my ideas to life – Naomi has always been someone who prefers a peaceful time without a huge crowd of people around and also loves beaches! So after a little brainstorming with the team, I decided I wanted to propose by the beach at sunset but I wanted to make it personal as well and that's when I thought about creating a memory lane! It would be the perfect way to start our new journey together – Remembering how we got there in the first place! I chose some of our favourite moments together and pictures that only we understand why were so important.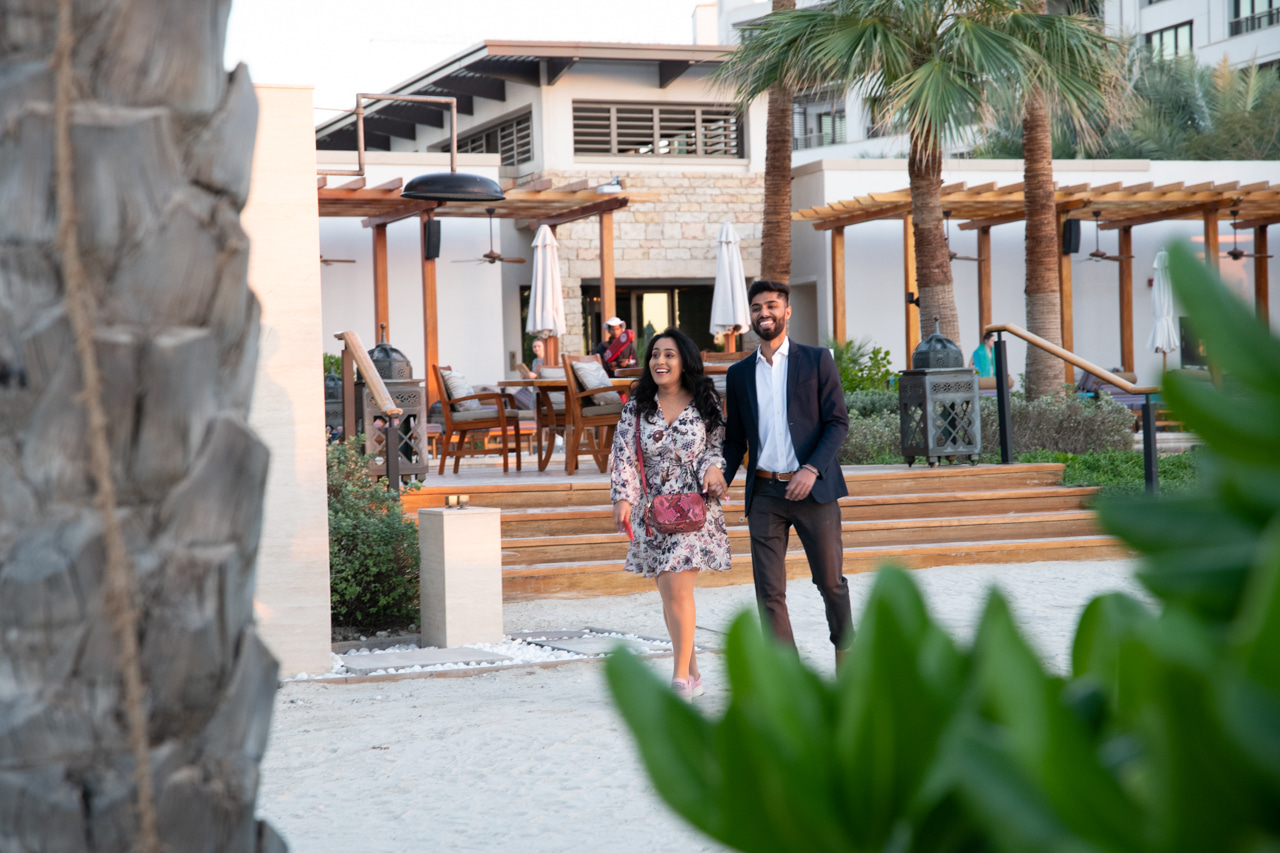 Once we had all these ideas together, we had to get the right location and also get Naomi there without suspicion – This was probably the most frightening part of the whole thing and I really don't know what I would've done without Jardel and his team's support. We found a great location at a beach club that overlooks the Burj Al Arab. It was absolutely breathtaking and we could also use the beach club as the perfect excuse to get Naomi there by staging an event. The problem was Naomi was sooo busy during January that she completely skipped the email that was inviting her to the event; I don't think I've ever panicked so much in my life. Finally I decided to take matters into my own hands and went to her place for a sneak mission. Somehow I managed to get my hands on her phone and realized that she saw the invite but ignored it… I was dumbfounded, why wouldn't she at least tell me about it?!? After some quick thinking, I thought about getting one of her influencer friends involved to convince her to come for the event as it would be a great networking opportunity – basically just make up shit! Luckily this worked and she finally asked me about the event and if I wanted to go. Obviously I had to play dumb, acted like I didn't care and she should decide. Phew She finally said let's go for it for sometime at least!
The day had come and I was as nervous as I've ever been! I just didn't want to mess up or make it obvious. When we got to the location together, everything was so beautiful, it was so calm, there were candles lit along the beach, lanterns hanging by the trees and flowers around. All my anxiety just went at that moment and I got to my speech. It was so emotional going through the memory lane, I wanted to ask her to marry me right then but I also wanted to tell her a lot of stuff about the journey we've had so far and how she makes me feel. Okay you can do this – just keep going! Once we were done going through the entire row of pictures, I took her to a spot closer to the beach where they had created a cove of flowers for us and got down on one knee to ask the most important question I've ever asked! There was silence for a long lonnggg time and then SHE SAID YESSS! In that moment, I was the happiest I've ever been. I can't wait to spend the rest of my life with my best friend and life partner, Naomi! 😊
---
Features
The National Newspaper
Click here to read more.

How They Asked
Click here to read more.
ITP Live
Highlights and reposts from our friends
Click here to watch Instagram Highlights.
---
Photographer & Planner
---
I hope you liked our story, let me know if you have any more questions! 🥰