A foodie's guide to the 10 best breakfast spots in #MyDubai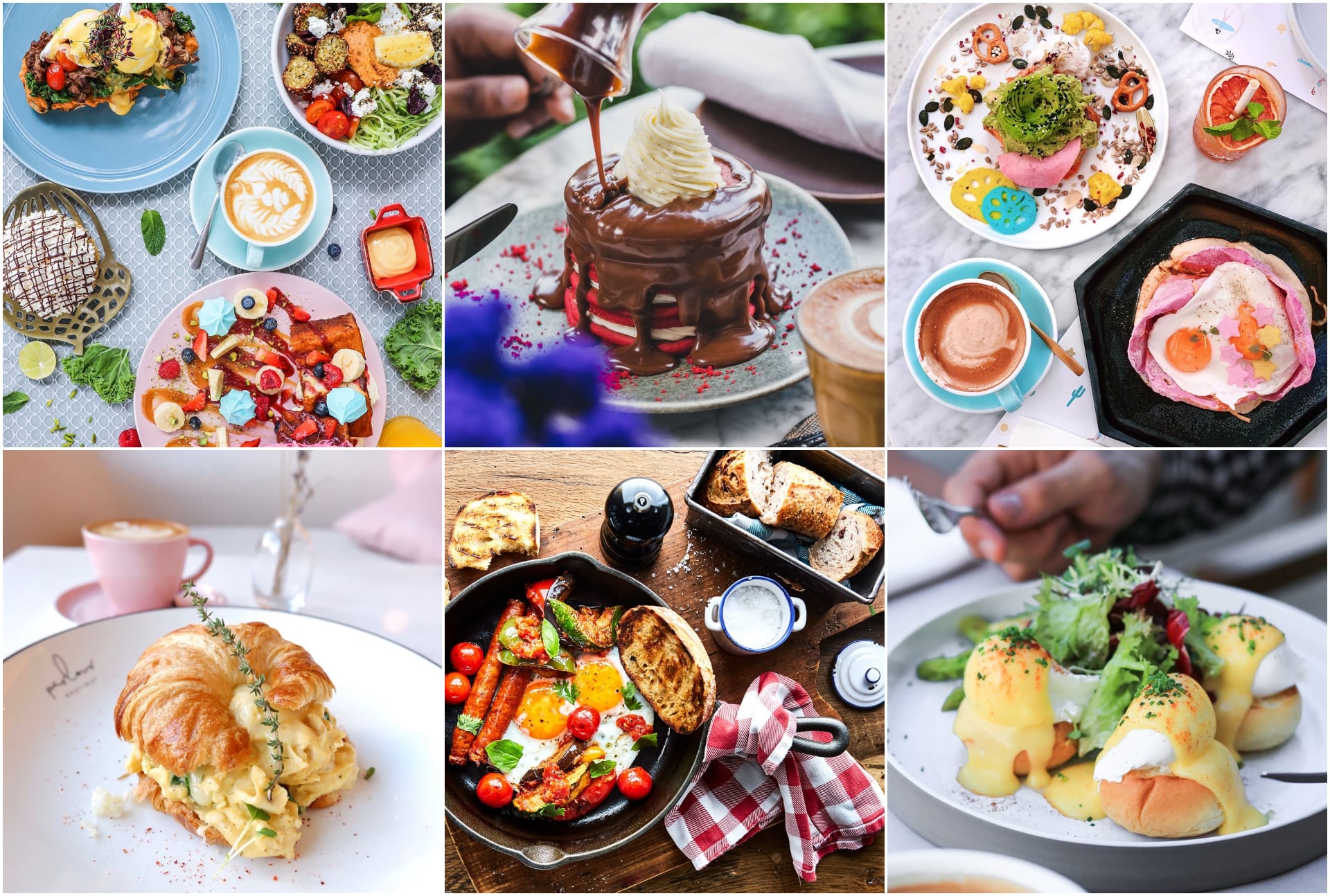 If you are like us, and can eat breakfast food all-day, then this guide is going to be a life saver ? Instagram your Avo-toast and eat it too! 
Dubai offers breakfast options of all kinds. Whether you are looking for a classic benedict and OJ or fluffy pancakes, there's always something for everyone in Dubai! ? Discover our top breakfast picks in this thriving metropolis.
1. Brunch & Cake
Barcelona's beloved Brunch & Cake finally opened its doors in Dubai later last year and it is everything avo imagined ? Their Next-Level Avo Toast (AED 58) and Classic Acai Bowl (AED 61) are a must! The Barcelona Shakshouka (AED 95) is a classic, vegetarian option available too. Each dish is beautifully presented, with a super quirky and botanical vibe! ? The portion sizes are enormous and good to share.
Price for Two: AED 250
Location: Wasl 51, Jumeirah 1
2. Bistro Des Arts
Bistro Des Arts have an uber-chic French 'Terroir' setting, serving a slice of Paris in the heart of Dubai Marina ? The expansive, rustic terrace and the whole mise en scene paints a quintessential 70's Parisienne bistro-style fare. The Salted Butter Caramel (AED 25) and Banana Nutella (AED 28) crepes are a French favorite, as well as ours! ? The Atlantic Omelette (AED 58) and Butternut Squash Toast (AED 44) make delicious breakfast mains. Set breakfast options available too!
Price for Two: AED 430
Location: Dubai Marina Mall
3. Cassette Café
Cassette Café is one of the city's much-loved cafés, and rightly so! Their food is fresh and wholesome, and caters to almost every dietary type ? The Vegan Oat Pancakes (AED 55) and Pitaya Bowl (AED 55) are scrumptious and flavorful options for vegans and those off gluten. No Carb Benedict (AED 65) is keto-friendly and scrumptious. Their star dishes are the Sweet Potato Hash (AED 58) and Savory Waffle Duck Confit (AED 78) ? Combine that with their relaxed, industrial-chic vibe and you have a standout spot for breakfast.
Price for Two: AED 230
Location: The Courtyard, Al Quoz
4. MARA restaurant and lounge
Make your mornings eggs-quisite, as MARA restaurant and lounge serves scrumptious breakfasts' inspired from all around the world! ? From Masala Dosa Tacos (AED 49) to Short Rib Benedict (AED 50), they really have it all. The Khaliji Scrambled Egg (AED 35) and Akuri (AED 35) are spiced and seasoned to perfection ? The highly Instagrammed Lotus and Berry Pancake (AED 42) is decadent, rich and true to taste, as are Only Locals (AED 45) and Mara French Toast (AED 35). While you are there, don't miss out on the Ministry of Coffee's artisanal coffee! ☕
Price for Two: AED 240
Location: Wasl 51, Jumeirah 1
5. Pots, Pans & Boards
Love at first bite ? Pots, Pans & Boards – led by two Michelin starred Chef Tom Aikens – has quickly become the new, frequented neighborhood café. And for all the right reasons – They serve authentic British breakfast in the heart of Dubai! Dishes include Merguez Sausages (AED 50) and Scottish Smoked Salmon & Scrambled Eggs (AED 60) ? They also serve full English and Mediterranean breakfast, and have a variety of all-day breakfast specials!
Price for Two: AED 260
Location: Jumeirah Beach Residence (JBR)
6. Cocoa Room
We know we've mentioned this earlier, but we cannot stop drooling at the mention of Cocoa Room ? Everything on the menu renders a familiar jolt of comfort food, uniting mind and palate in unexpected delight! The Scrambled Eggs Money Bag (AED 48), Ninjawich (AED 53), Hit Me Waffles (AED 37), and the highly popular Pancakes (AED 53) are all truly impeccable ? The only downside to Cocoa Room is that it is only open until 12:30 pm, (last order is at 12:15 pm) but it is worth the wake & the wait (beware of long queues over the weekends).
Price for Two: AED 160
Location: The Galleria, Al Safa
7. Parlour Boutique
We hope our paths croissant again, L'oeuf Brouillé (AED 58) ? Spinach and cheese scrambled egg smothered in a freshly baked, flaky croissant, need we say more? The L'Omelette (AED 51) is a three-cheese – swiss, cheddar, parmesan – fluffy soufflé. A true French classic ? They also have 5 Avocado Toast varieties (AED 40 – AED 55), and each one is more delectable than the other! Complete your breakfast with a L'èclair (AED 25) or Dulce de Leche & Yuzu Custard Pancake (AED 45) or L'Acai Bowl (AED 42) if you are counting calories.
Price for Two: AED 205
Location: Trade Centre Area
8. Arrows & Sparrows Café and More
Brought to you by the dynamic duo behind Friends Avenue Café, Arrows & Sparrows is another hit urban edge café nestled in The Greens. This artsy, sustainable café leaves no stone unturned in delivering quality, wholesome food! ? They serve breakfast all day and have FOUR varieties of Avocado Toast (oh, yes). Mr. Benedict with a Twist (AED 52) has the juiciest tenderloin steak and Miss Benedict (AED 49) is a fantastic option for vegetarians! The Mexican Bowl (AED 42) is full of flavor, and color! ?
Price for Two: AED 170
Location: The Greens
9. Society Café and Lounge
Isphahan, Rose, Charcoal & Pesto, Salt Beef… At Society Café and Lounge, the croissant is a serious (and tasteful) business! ? The croissant is not the only thing they've championed in; the Morning Bowl (AED 69) loaded with roasted sweet potato and kale is a must. Baked Eggs (AED 73), Buttermilk Pancakes (AED 55), Beetroot Hummus & Fregola Bowl (AED65) are all so delectable! ?
Price for Two: AED 195
Location: Jumeirah 1
10. Culinary Boutique
Culinary Boutique is a gourmet café and cooking school in Jumeirah 1 and now in the Al Barsha neighborhood. They offer an all-encompassing breakfast menu including the likes of Sujuk & Egg (AED 55), Portuguese Bun (AED 55) and Smoked Salmon Scramble (AED 55) ? Not only have they balanced flavor profiles from the Middle East (Arabic Breakfast – AED 119 is a must-try) and the West but have also catered to different dietary lifestyles. The café's seating arrangement boasts a very calm and relaxing atmosphere, so you can even work whilst nomming ?
Price for Two: AED 240
Location: Galleria Al Barsha and Jumeirah 1
---
Written and Researched by Drishti Jain