Salmon Tiradito Recipe by Akira Back, from Akira Back Dubai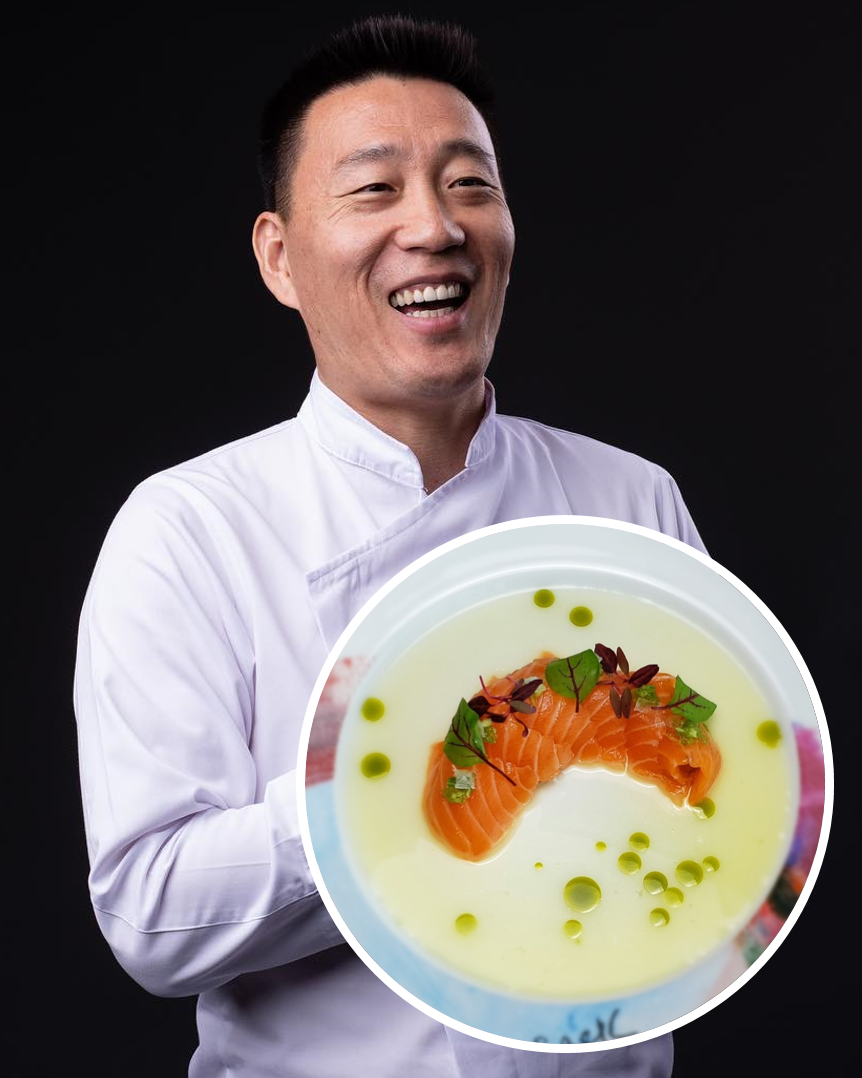 About the Chef
Michelin Star Chef Akira Back continues to expand his global portfolio with twelve restaurants currently open and an additional twelve with scheduled opening dates thru 2020. Known for his innovative interpretations of Asian fare with American influence, Chef Back's success is fueled by an impressive 20-year culinary background landing numerous awards and international media attention. Using only the high-quality ingredients and creating a culture of world-class service in a welcoming environment, Chef Back's restaurants embody classic cuisine continuously featuring innovative dishes that use the finest ingredients from the world's top purveyors.
Today, in addition to Yellowtail, Chef Back's portfolio includes Kumi Japanese Restaurant by Akira Back at Mandalay Bay, where he is Executive Chef and Partner. Additionally, Chef Akira Back opened his namesake brand Akira Back Restaurants in Toronto, Singapore, Bangkok, Seoul, Jakarta and New Delhi with additional locations opening in San Francisco, Beverly Hill, Bali, San Diego, Dallas, Dubai and a second location in Seoul. His newest concepts include AB Steak in Jakarta and ABar in Bangkok.

Ingredients
6pc – Sliced Scottish Salmon (or the freshest sashimi grade you can find)
2oz – Diced Grilled  Peaches
0.5g – Kizami Wasabi
0.5g – Wasabi Tobiko
3pc – Micro Sorrel
3pc – Micro Amarnath
2oz – Coriander Oil
For the grilled peaches:
2 – Peaches
5 g – Grapeseed Oil
For the cilantro oil:
175 g – Cilantro
200 g – Spinach
1 liter – Extra Virgin Olive Oil
For the Yuzu lemon vinaigrette:
2oz – Lemon Juice
2oz – Yuzu Juice
Method
Grilled peaches:
The first step is to peel the peaches.
Once peeled cut the peach about 1 cm off center from top to bottom. This cut should expose the seed. Remove the seed and proceed to cut the peach into 3 pieces.
Next, toss the peach segments in the grapeseed oil.
Grill the peaches on charcoal or indoor grill until slightly charred and sugars start to caramelize.
Remove from grill and let cool. Dice the peached into cubes roughly 0.75 cm on each side.
Refrigerate for a later step.
Cilantro oil:
Place to a medium pot on the burner with water and bring to a boil.
Place the coriander in the boiling water for 10 seconds, then shock in an ice water bath to cool down.
 Squeeze out all the water from cilantro and set aside.
Put 200 grams of Spinach in the boiling water for 10 seconds, then shock in an ice water bath to cool down.
 Squeeze out all the water from spinach and set aside.
Put spinach and cilantro in a blender with 1 liter of extra virgin olive oil and blend until the mixture becomes smooth.
Next step is to place a cheesecloth in a fine strainer then pour the blended spinach and cilantro oil in the strainer overnight to get all the oil out.
Put it in a squeeze bottle and set aside.
Yuzu lemon vinaigrette: Put both ingredients together and mix thoroughly and set aside in the cooler til ready to use.
Dish assembly:
In a round plate, place roasted peaches in the center and place 6 pieces of slice Salmon on top of the roasted peaches.
On top of the salmon, put Kizami wasabi, Wasabi Tobiko,  micro amaranth and micro sorrel to garnish.
Dressed with Yuzu lemon Vinaigrette and cilantro oil around the salmon.
---
Visit Akira Back Dubai for more