Acapulco Fish a la Talla with Jicama salad Recipe by Jorge Rodriguez, from Tortuga Mexican Kitchen & Bar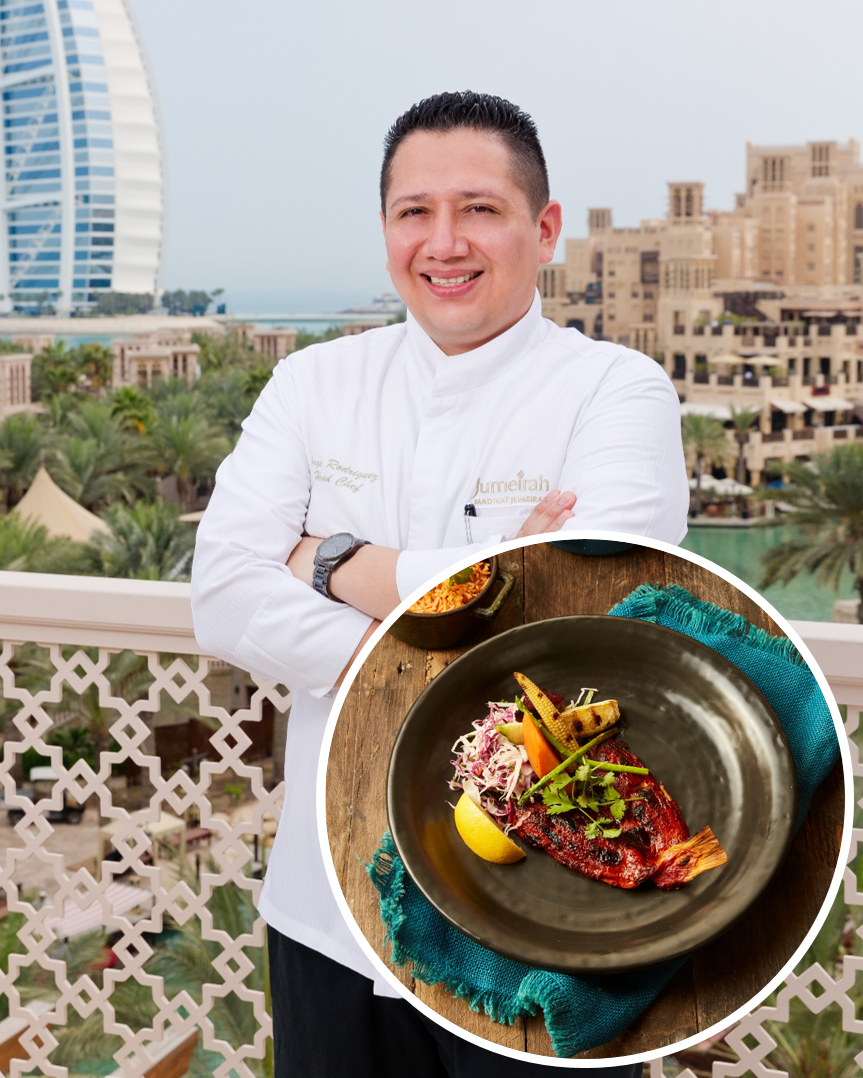 About the Chef
Chef Jorge Rodríguez brings energy and expertise to his role as Head Chef at Tortuga, Mexican Kitchen & Bar at Mina A' Salam, Madinat Jumeirah in Dubai. Bringing together the warmth and flavours of Mexico with food that revives the soul, Chef Jorge creates an exhilarating fiesta for his guests.
Born and raised in the city of Acapulco on Mexico's Pacific Ocean coast in 1986, Chef Jorge spent the early years of his childhood discovering his love and passion for Mexican flavours and ingredients which he inherited from his mother.  He returns to Acapulco every year to visit family and friends, and also, importantly, to reconnect with the food of his childhood and the authentic Mexican cuisine the Jorge champions in his kitchens.
Summary
Cuisine: Mexican
Makes: 3 servings
Ingredients
1kg Red snapped (opened butterfly)
2pc Lime
1pc Carrot (cut in half)
1pc Baby marrow (cut in half)
4pc Baby corn
6pc Baby asparagus
50ml Olive oil
2pc Lemon
Salt to taste
Black pepper to taste
For the Marinade
10pc Dry chili guajillo
5pc Dry costeño chili
100g White onion sliced
50g Garlic cloves
2pc Bay leaves
10pc Cumin seed
20ml Corn oil
Salt to taste
For the salad
200g White cabbage (shredded)
200g Red cabbage (shredded)
100g Jicama (julienne)
10g Coriander (sliced)
3pc Lime
Salt to taste
For the Mexican rice
250g White long grain rice
150g White onion (chopped)
50g Garlic (chopped)
20g Corn kernel
20g Carrot (diced)
20g Baby marrow
20g Green peas
50g Tomato paste
20ml Corn oil
500g water
Salt to taste
For the Charro beans
200g Pinto beans
100g white onion (chopped)
50g garlic (chopped)
100g beef chorizo (no case)
5pc Epazote leaves
3pc Dry chili de Arbol
20ml Corn oil
Method
Deveined chili and grilled over medium heat over a pan, in a sauce pan,  add oil and garlic, sautéed till brown, add onions till translucent, add spices and chilies and sauté for 2 minutes, cover with water and simmer for 20min, blend till smooth paste and strain, reserve.
For the salad: In a mixing bowl, place the first four ingredients, squeeze lime and season with salt, reserve.
For the fish: In a mixing bowl, place vegetables, olive oil, salt and black pepper, grill and reserve. Season fish with salt, black pepper and freshly squeeze lime, rub mayonnaise and chili paste and roast at 200°C for 15 minutes till marinade is slightly charred.
For the Mexican rice: Soak rice in hot water for 10 minutes, discard water, in sauce pot over medium heat, saute onion and garlic till translucent, add tomato paste and cook for 3 minutes, add rice and water, season with salt, bring to boil on medium heat will water has reduced in to half, cover and cook over low heat till water has evaporated, reserve hot.
For the Charro beans: Sautee beef chorizo on a sauce pot till crispy, add onions and garlic and cook for 5 minutes, add beans and cover with water, bring to boil and simmer till soft and mashy, season with salt and add dry chile, simmer for 5 more minutes, reserve.
Serve the fish with grill vegetables, cabbage- jicama salad, Mexican rice and charro beans.
---
Visit Tortuga Mexican Kitchen & Bar for more