Zucchini Carpaccio Recipe by Giovanni Ledon, from Akira Back Dubai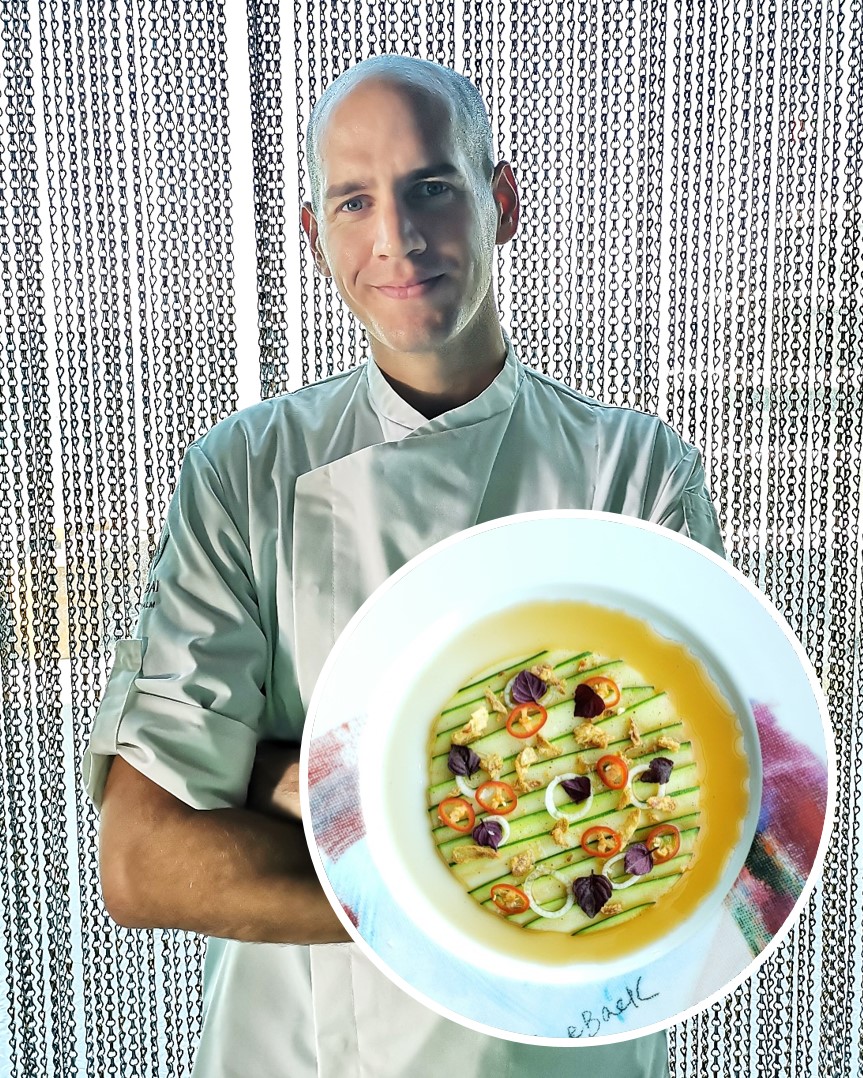 About the Chef
Chef Giovanni Ledon is no stranger to the quality and service expected of a high-end, fast-paced restaurant environment. Born and raised in Las Vegas, Nevada, his earliest memories are of only wanting to be a chef. Chef Giovanni's parents owned a restaurant and seeing the hustle and bustle of the kitchen, he was instantly hooked. In 2007 Chef Giovanni graduated from The Culinary Institute of Las Vegas. Studying under Chef Raimund Hofmeister (CMC/AAC) he had the chance to learn more technical aspects of the restaurant industry.  In 2010, Chef Giovanni became Sous Chef at Yellowtail Japanese restaurant at the Bellagio Hotel under Chef Akira Back. He spent seven years refining his skills and exploring his passion of Asian flavors and cuisine.
Chef Giovanni's favorite dish at Akira Back is the Tuna or Eringi Mushroom Pizza. For the one reason that, from the outside, it looks like a simple dish, but actually all the components have to be executed perfectly for this dish to shine. In his new role at Akira Back Dubai, located at W Dubai – The Palm, Chef Giovanni's main aim is to ensure that the guest has the best quality food and experience that Chef Akira Back has to offer.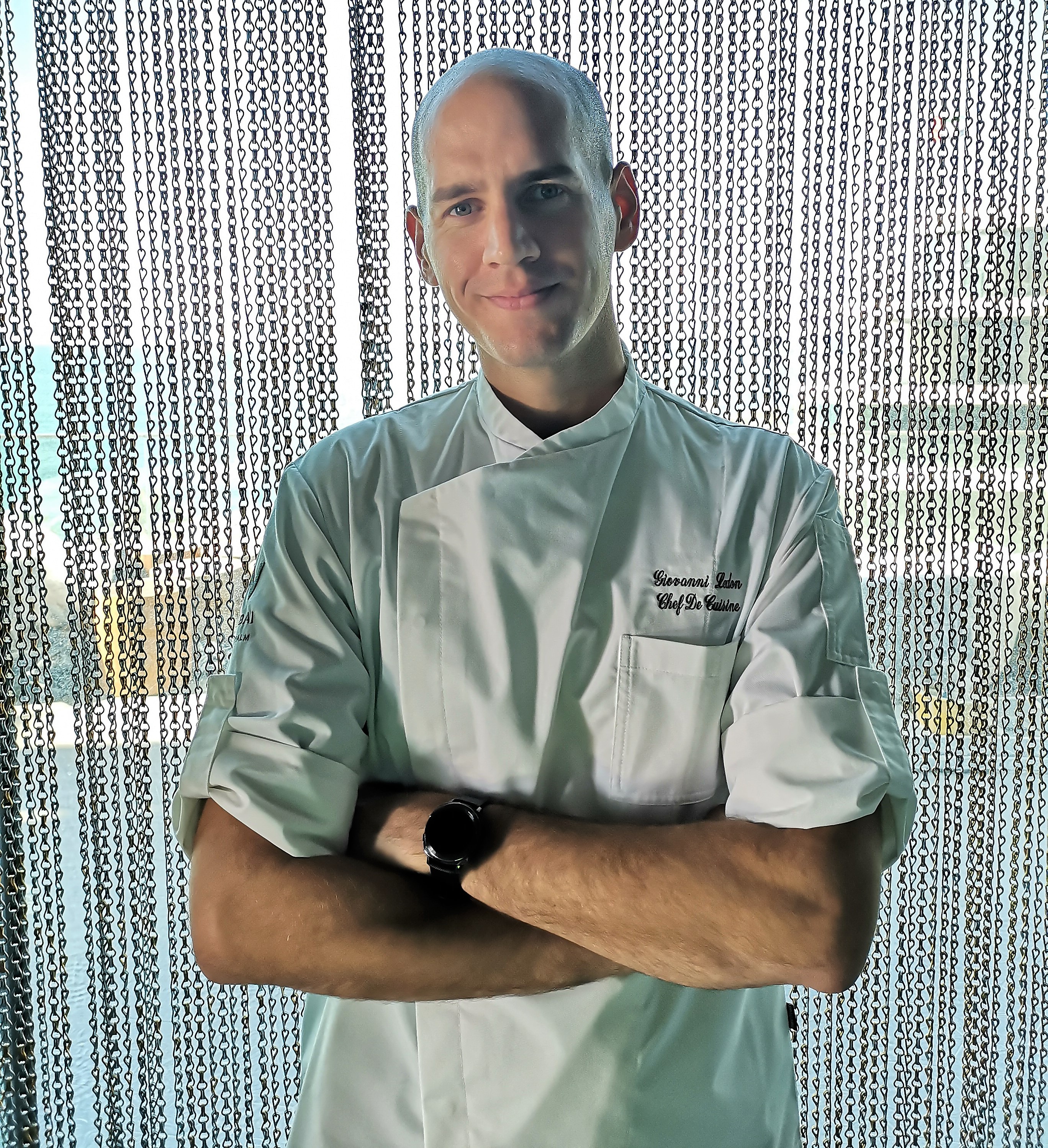 Ingredients
For Vegan Tosazu:
Rice vinegar 75g
Shoyu 50g
Dried shitake thinly sliced 4g
For Amazu:
Rice vinegar 75g
Sugar 80g
Salt 2g
Kombu 5g
For Nanbanzu:
Vegan tosazu 100g
Amazu 100g
Zucchini Carpaccio:
Zucchini (thin slices) 8 ea.
Pearl onion (thin slice – rinsed) 5g
Crispy shallots (1004 Mart) 3g
Micro shisho 1g
Red jalapeno (thin sliced – rinsed) 7 ea.
Maldon sea salt 1g
Method
Vegan Tozasu:
Combine vinegar and shoyu and bring to a simmer.
Add the Dried Shitake and let cool to room temperature.
Strain through a fine mesh strainer.
Keep in the walk-in chiller until ready to use
Amazu:
Combine shiragiku, sugar, salt and bring to a simmer and dissolve all the ingredients.
Add the kombu to the vinegar mixture and remove from heat and allow to cool to room temperature.
Strain through a chinois.
Keep in the walk-in chiller until ready to use.
Nanbanzu: Combine all ingredients thoroughly
Zucchini Carpaccio assembly:
Slice the Zucchini with a Japanese mandolin 1/5 mm thin.
Bring water to a boil, blanch the Zucchini for 5 seconds and immediately remove and place in ice water to cool it off. Dry zucchini and set aside.
Trim the seeds away from each slice of zucchini so that you're only left with the "meat" and skin.
Layer the zucchini starting from the top to bottom.
Using an 11 cm ring cutter, trim off the excess zucchini. Use a cake spatula and transfer to your plate.
Cover the zucchini and plate with the nanbanzu.
Garnish with pearl onion rings, crispy shallots, red jalapeno, micro shisho and Maldon Sea salt.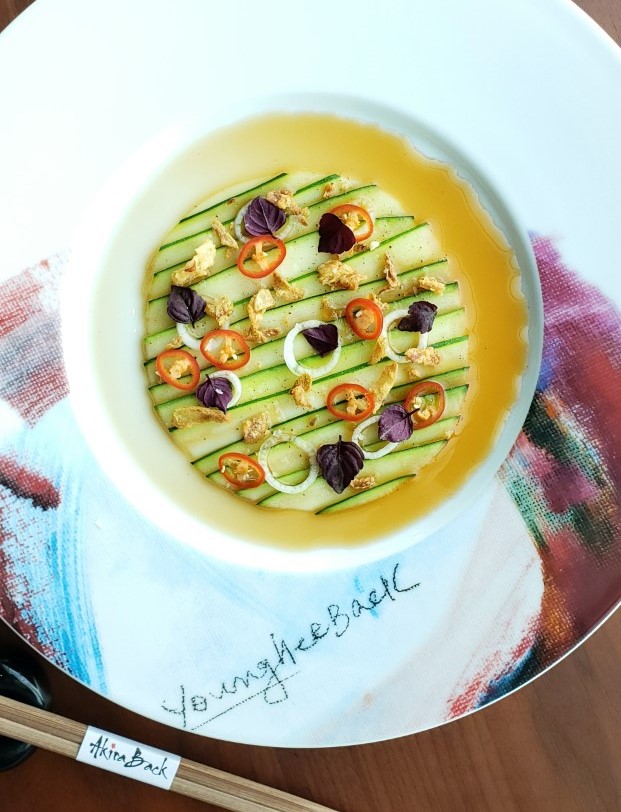 ---
Visit Akira Back Dubai for more