Due to popular demand since monthsss I finally decided to make this blogpost! 😆 Below is every single application I use to edit my pictures and manage my Instagram profile! I must add, I believe, you have to edit your pictures to an extent however perfect it is only to enhance it's beauty. As long as you don't manipulate an image to an extent where it looks U N R E A L I S T I C, it's okay!

PS: Till date I've never used my laptop to edit my pictures (neither have I used Adobe Photoshop or Lightoom)🙄 I only use it to create videos on iMovie
#1 UNUM
How my Instagram feed (and most of the bloggers) looks now, I owe it all to this app! Before I upload any picture on my Instagram I always run it through the UNUM grid to see how it would look. I would never upload two pictures with the same-ish color/type of background next to/on top of each other. Most of the time, I don't even realize I've not white balanced or color corrected my picture until it's on UNUM! You can move around images at ease and even switch accounts – can it get easier than this?! 😉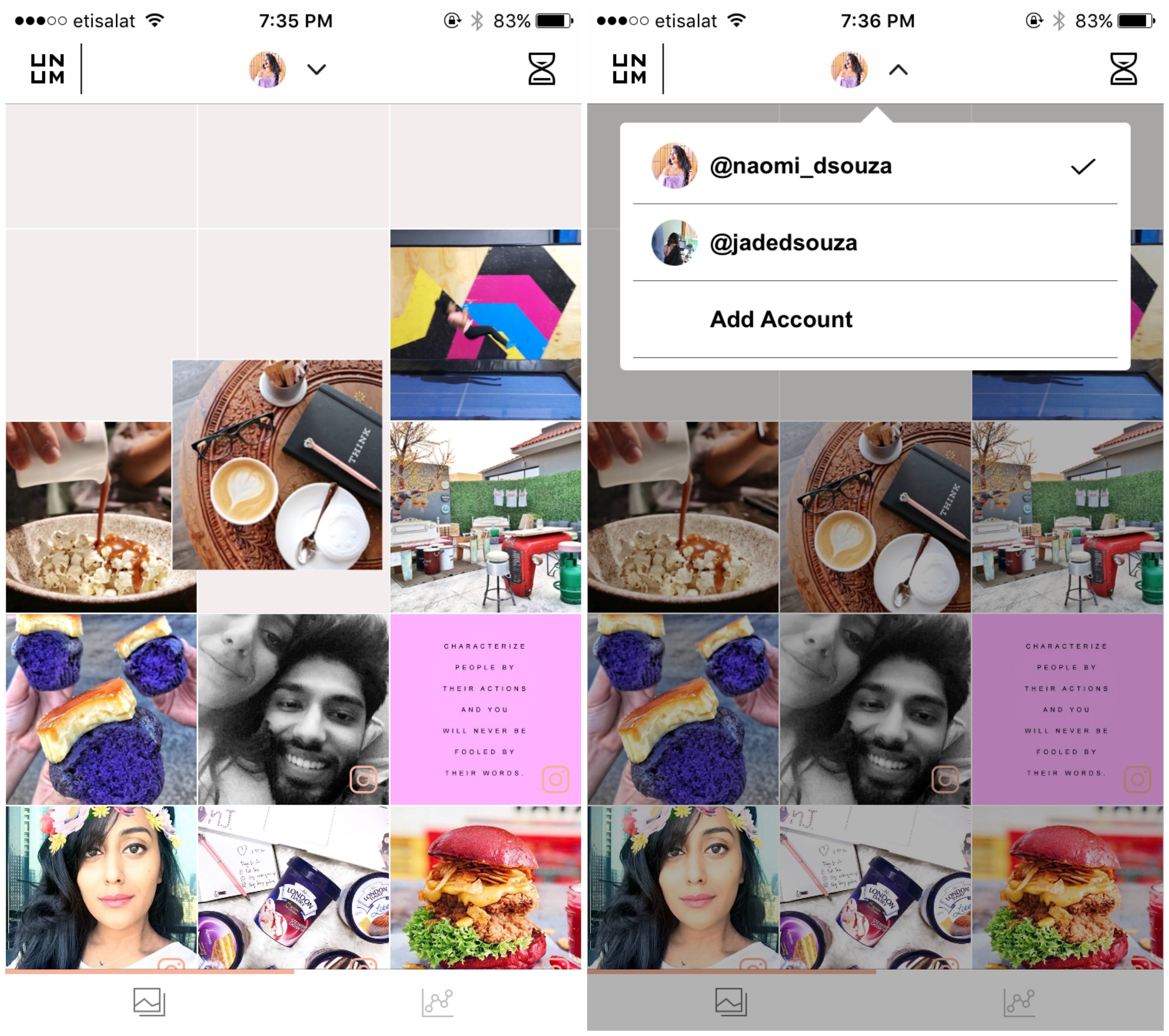 #2 SnapSeed by Google
The app I can't live without (I swear, I can't). I have used this app the most and spent hours on it in comparison to any other app in this list just because of one particular feature – the 'Selective Tool'. This tool is MY HOLY GRAIL! You can literally select any color or component of your picture and manipulate its color like there's no tomorrow. I use it for several things;
If a restaurant is dim-lit (needless to say, the light is yellow) my table will look yellow. Using the tool I can make my table white and brighter 😉
If my face looks too oily or I'm at a venue with dim lighting, I can increase the brightness just on my face since I do want to simultaneously show the dim-lit mood/ambiance of the venue. You get meee? 🙂
Most of the time, what I see from my naked eye, is not what my iPhone or DSLR captures. The sky probably looks blue with fluffy clouds and grass looks super fresh and green but my camera would just strategically capture the paleness of it 😂 I use this tool to add saturation and contrast to enhance the color, freshness and the overall image
If I want to keep an object in focus with the background blurry, the selective tool can even do that
I learned how to use the tool on my own. If you find it tough, view the video below (you can even Google tutorials, there are several online)
PS: The gallery I've uploaded above is the product of SnapSeed.
#3 PS Express by Photoshop
Unfortunately, SnapSeed does not have an option to Reduce Luminance or Color Noise. So if I observe a lot of noise in my picture, I use PS Express. I even love the vibrance tool and effects here! Surprisingly, the regular contrast, brightness, and exposure options work differently on ALL the apps I've used (including the built-in iPhone editing tools). Oh, moreover, I feel color correction/white balance in PS Express is much more effective versus SnapSeed!
#4 Facetune
The only app that has the power to make me look glam from trash! Teeth look too yellow? Weird acne scars? Smile too big? Face too broad? Dark circles? Droopy eyes? This app will fix it. I'll let the video below do the talking 😉
If you want more features, you must buy the app to unlock them! I've personally never found the need to manipulate my face to an extent where I need to unlock more features 😜
#5 Phonto
Girls and quotes go like Tom and Jerry 😜😜😜 Any text you want to put on a plain canvas? This is the app for you (and me)! They have 100's of different fonts you can choose from btw! Depending on yo mood – go crayyyy! Phonto is also a great app if you want to watermark your logo. This is the only app I've seen so far that does not reduce the clarity of the final image inspite of the watermark.
#6 PicsArt
Honestly, I stopped liking this app the moment I realized it reduces the clarity of your final image (upon saving). The only 2 reasons I use this app is because of the clone tool (if I'm in an urgent need to clone something). For e.g. let your thoughts go wild, cuz I ain't telling 😏😅 and if I want to overlay 2 images. The below image had no skyline btw – I always have a problem taking a picture against sunlight (aka a balcony). So what I do is, I take 2 pictures – 1 where the camera focusses on me and the second, of the skyline. I then overlay the 2, merge them and erase the rest. Confused? Try it out!
#7 Video Crop
Most of the time, I find myself wanting to crop my videos to a certain ratio. I use this app a lot especially after saving a portrait video that I edited on iMovie (there's a dirty black background on either side of the frame since the video is saved as a landscape by default). This app is a SAVIOR! You have the option of saving it in Low or High Res. Compatability won't even be an issue 😉
#8 Whitagram
Unfortunately, Instagram only allows users to upload a 3:4 Ratio images in Portrait. This means that if you have a gorggg Snapchat selfie which is 9:16 (aka super long) you will not be able to upload the entire thing on Instagram. That's when Whitagram comes to the rescueee 🙂 It allows you to put the 9:16 ratio picture in a square (making the sides white or any other color you prefer).
AppStore Download Link
#9 InShot
The only free app that I've found till date that is powerful enough to edit a video. You can flip, rotate, brighten, add text and much more to a video at the tip of your fingers! How cool is that?! Need no laptopppp 😎🎉
#10 Reverse Video
Another app I don't use much but I would never delete it. I've found myself taking a random video from my iPhone camera and having the urge/need to reverse it for some reason 😄😄 You can't do this on Instagram and Snapchat is restricted to 10 seconds most of the time (or glitches). That's when this app comes to the rescue 🙂
Additionally, if you'd like to print your Instagram photos onto canvas and turn them into stunning decor pieces, click here – https://www.reviewsxp.com/blog/print-instagram-photos/
---
I hope you enjoyed this blog post! Let me know if there are any other cool apps you think I should know ❤❤❤