Zuma – Zacapa Live Solera System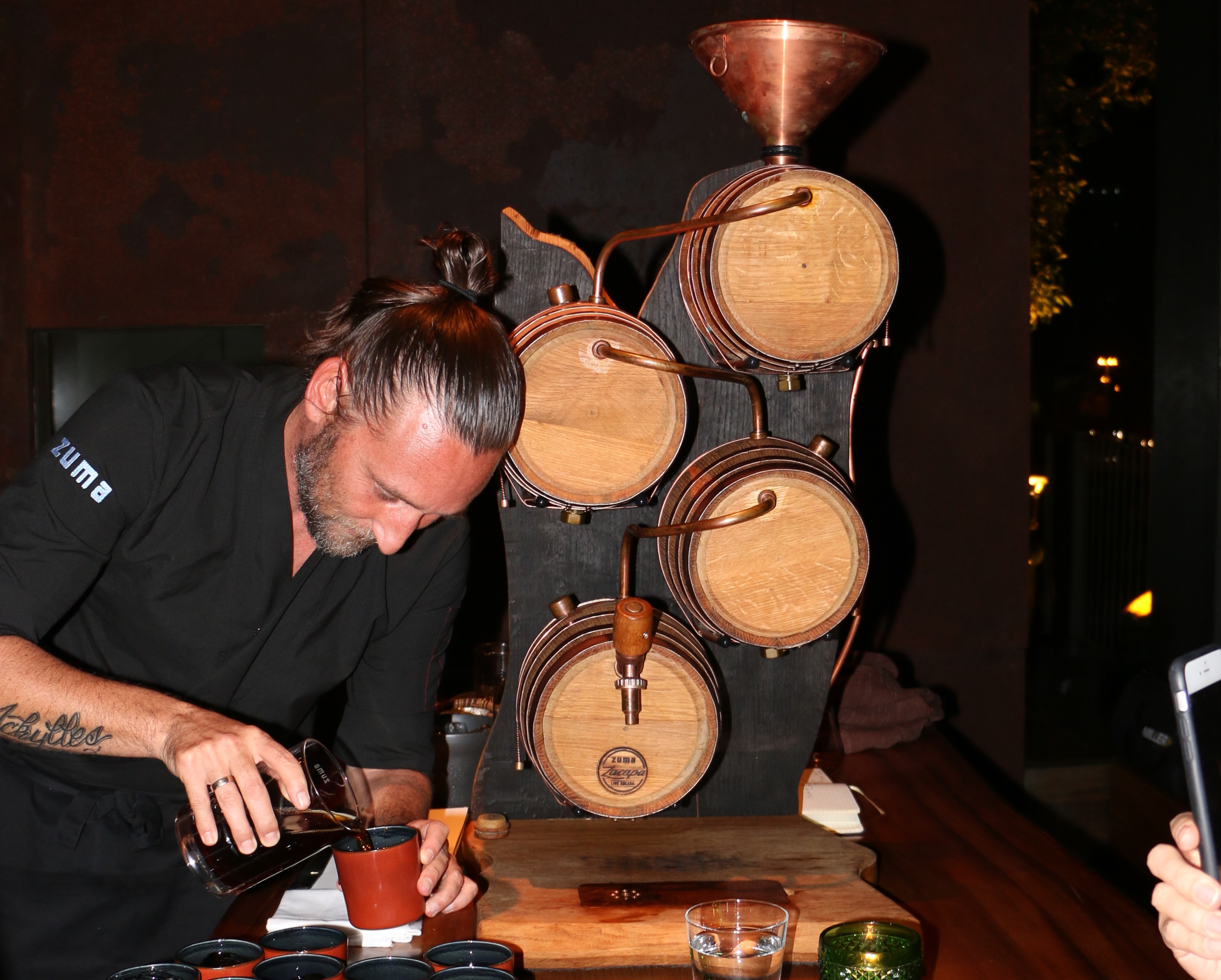 Zuma Dubai (Top 100 restaurants in the world) – Launches 'Zuma Zacapa Live Solera' – The World's First Evolving Cocktail System!
About ZACAPA
Zacapa is one of the finest rums in the world. Produced in the verdant land of Guatemala, this ultra-premium rum is the result of a unique combination of soil, climate and natural materials brought together with skilled distillation and a special high altitude aging process. Unlike most rums which use molasses, Zacapa is produced using the sweetest first pressing of sugar cane juice, referred to as 'virgin sugar cane honey'. Aged in the 'House Above the Clouds,' at an altitude of 2,300 meters above sea level, Zacapa rum uses a 'Sistema Solera' aging process, with the rum being laid to rest in selected barrels that previously aged American whiskeys, sherries and Pedro Ximenez wines; in the case of XO, the final stage of aging occurs in French oak cognac barrels.
About the Zuma Zacapa Live Solera System
On October 4th, the award-winning restaurant Zuma Dubai in partnership with Ron Zacapa, the most exquisite tasting rum in the world, launched the first ever 'evolving cocktail system' – the Zuma Zacapa Live Solera.
A custom designed cocktail installation, the Zuma Zacapa Live Solera, will be installed in Dubai and 8 other Zuma restaurants across the world – delivering an original cocktail in each restaurant, designed to appeal to local palates and to perfectly complement Zuma's contemporary Japanese cuisine.
This unprecedented system will feature four American oak barrels connected to each other. The first three casks will be individually flavoured allowing the Zacapa rum to trickle through the barrel system, giving the drink a unique and special taste. Zuma Dubai's exclusive flavours will be kaffir lime bitters, saffron, rose water and camel cheese sherry.
Once the rum has travelled through the Solera system, it is presented in a chilled glass with a hand-cut piece of ice and engraved with a bespoke ice stamper.
Jimmy Barrat, Zuma Global Bar Development Manager, adds: "The beauty of the Zuma Zacapa Live Solera means, whichever Zuma restaurant you visit throughout the world, the cocktail will be unique to its city."
The tastes and characters of each city is highlighted in each Zacapa Rum;
1. Miami – tropical ingredients of the region such as coco nib liqueur, fermented coconut water, Nori and fermented pineapple.
2. London – embracing English charm and culinary favourites with nettle tea, raspberry eaux de vie and rhubarb bitters.
3. Hong Kong – typical ingredients from Asia such as szechuan and pink peppercorns, fennel seeds and duck fat.
4. Dubai – a Middle Eastern essence of kaffir lime bitters, saffron, rose water and camel cheese sherry.
5. New York – celebrating the essence the city's multi-cultural metropolis with ingredients such as matcha tea, hop bitters and straw macerate.
6. Bangkok – typical ingredients of the region such as ginger & lemongrass liqueur, chocolate & chili bitters and pomelo zest tea.
7. Rome – Italian flavours feature with Nutella distilled rum, cold brew coffee and cheese washed Vermouth.
8. Istanbul – fusion of coffee bitters, "the milk of lions" arak and cardamom rose water.
9. Abu Dhabi – an exotic marriage of date liqueur, pistachio butter and apricot vermouth.
10. Lastly, Zuma Las Vegas – due to open later in the year – will also receive its own Solera System and tailored infusion.
Location