Taj Dubai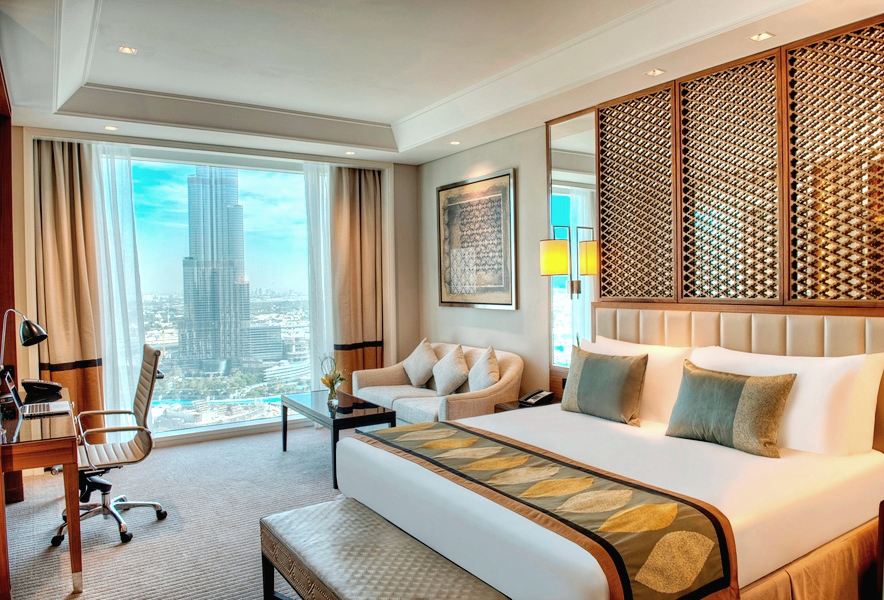 "Taj Dubai – An intoxicating fusion of extravagance, heritage and contemporary style under one roof"
Taj Dubai is perfectly located at the Burj-Khalifa precinct and is only a 5 minute drive from the famed Dubai Mall that is situated at Dubai's most happening spot, the Downtown Dubai. It is conveniently situated only 15 kilometers away from the airport that further makes Taj Dubai one of the most convenient locations for business persons and tourists.
The phenomenal interiors of Taj is a mix of rich Indian artistry with an influence of UAE's traditional vibrant twist. The hotel boasts a stunning Opera Ballroom that can host up to 500 people, 265 rooms, 31 suites and 3 fine dining specialty restaurants. Taj Dubai even provides guests with a fantastic 24 hour fitness center with TRX equipment, a large outdoor pool and offers a luxury spa called 'Jiva' to use at leisure.
I was provided with the 'Luxury Room King Bed Burj View' that costs approximately AED 1095 (breakfast included) with tax per night. The luxury room has the most phenomenal uninterrupted Burj-Khalifa view, comes with a king-size bed, 42 inch LED TV, a bath tub facing the view and luxurious Molton Brown toiletries. The neutral and sober colored furniture and sophisticated finishing's celebrate the heritage of the East.
N's EXPERIENCE
Being given a room that has the most magnificent view of the iconic Burj-Khalifa and the Dubai fountains – I still remain nostalgic and wish I had the same view from my house. Waking up to and sleeping just a few steps away from the massive window that looks nothing less than a beautiful painting was definitely in my bucket-list 😉 Bubble-bathing with Molton Brown products with the Business Bay and Downtown Dubai view followed by a hot cuppa nespresso coffee will make you feel nothing less than royalty 🙂 ♕ (if you need privacy, the Luxury Room even comes with a separate bathing room).
Con – The only issue I had throughout my stay is getting through the concierge/reception. Sometimes even after calling 2-3 times in a row after every few minutes my line would either get disconnected automatically or it would go unanswered.
Dining Experience at Taj Dubai
At Taj Dubai you can have a culinary tour that is inspired by a medley of countries and cultures. Indulge in international cuisine with Peruvian influences at 'Tesoro'. Savour exquisite Indian cuisine at 'Bombay Brasserie'. Sample delectable fusion dishes at the lively gastro pub 'The Eloquent Elephant' and last but not least enjoy afternoon tea, finger foods and cocktails at 'Byzantium Lounge'.
Brunch at Tesoro
[vc_gallery interval="3″ images="2252,2253,2254,2255,2256,2257,2258,2259,2260,2261,2262,2263″ img_size="750×360″ onclick=""][vc_column_text]
This new addition to Dubai's dining 'brunch' scene caught me by surprise. It is a beautiful restaurant with glass windows and olive trees planted inside that makes you feel the outdoors is inside. Tesoro's cuisine is mainly peruvian but has splashes of 'Italy', 'India' and 'Middle East'. The live band, high ceilings, nude colors and phenomenal interiors makes Tesoro the most perfect spot for a romantic date or a get-together. Sitting outdoors in the summer is not advisable but if the weather is in your favor the stunning view should not be missed.
Tesoro has a wide array of delicious food. They have a great cheese counter, a pasta station (that only serves vegetarian pasta for some reason; yet delicious), a grill station and a fantastic dessert spread that includes delicious icecream flavors. I started off with a Dulce De Leche cocktail that has a tinge of espresso and then moved onto some amazing starters like arabic salads and cheese. My maincourse included perfectly seasoned noodles and truffle veggies followed by grilled chicken and tiger prawns.
Although the food was great, the dessert was a hit and miss. The chocolate fountain was a 7/10 and on the same table was raclette cheese that was a 10/10! The creme brulee did not have a burnt-crisp caramelized layer whereas the authentic indian sweets took me back to my indian roots! ❤
Brunch Cost: Starting at AED199
Dinner at Bombay Brasserie
[/vc_column_text][vc_gallery interval="3″ images="2243,2244,2245,2246,2247,2248,2249,2250,2251″ img_size="750×360″ onclick=""][vc_column_text]
Since 1982 Bombay Brasserie has been an iconic Indian restaurant destination in London and now, Dubai. This bombay inspired restaurant even blends various cooking styles and flavors from Goa, Bengal and Gujarat with Imperial Mughal, Raj and Portuguese influences.
Bombay Brasserie is #HandsDown one of the best Indian restaurants in Dubai. Visitors from all around the globe can taste authentic Indian food and experience India at this restaurant. The Indian wallpaper, paintings, decor, hospitality and especially the view is incredible.
The menu at Bombay Brasserie echos cultural diversity in India thus making it tougher for anyone to make choices on what to order. Although the food is created with utmost quality, the Cost vs Quantity does not go hand in hand in most of the dishes. Once in a while I would definitely not mind shelling out some cash on the great food served here though 🙂
Started off with "Bombay Blazer" [AED85] (flambé drink) – a gin based drink that is mixed with caramelized guava, orange zest and home-made rose syrup. Amazing combination right? 😉 . Finally after going through the menu several times I decided on the food;
1. Dahi Pakodi [AED75] – delicious lentil dumplings topped with dry mango and melon seed relish. Being a fan of chaat, I sure loved the tangy, sweet and spicy flavor in this dish.
2. Chicken Tukra chaat [AED75] – I only wished the quantity of chicken was more in this one. These semi-crisp spiced chicken pieces were smeared in tamarind yogurt and had the most fantastic flavor. It had a western feel from the looks of it, but taste vise was authentically Indian.
3. Seekh kebab [AED75] – I am personally not a fan of Lamb but this was brilliant. The marriage of mint chutney with the lamb skewers was great!
4. Chicken Biryani [AED160] – The quantity of Biryani was poor but the taste is very authentic.
5. Daal Makhani [AED60] – Definitely one of the best Daal Makhani's I've had in Dubai. Very rich and will get you full very fast. 10/10 for quantity.
6. Tari Wala Murg [AED130] – Delicious Grandma's style chicken curry.
7. Bhindi Do Pyaza [AED85] – Fantastic.
8. Anjeer ka shahi tukra [AED50] – Was quite reluctant when I ordered this one since it was topped with Figs. However, the fig taste is not prominent and the bread soaked in condensed milk was very fulfilling!
Taj Dubai Location
Contact +971 4 4383-100 or email [email protected] for more information.