Pullman – Jumeirah Lake Towers, Dubai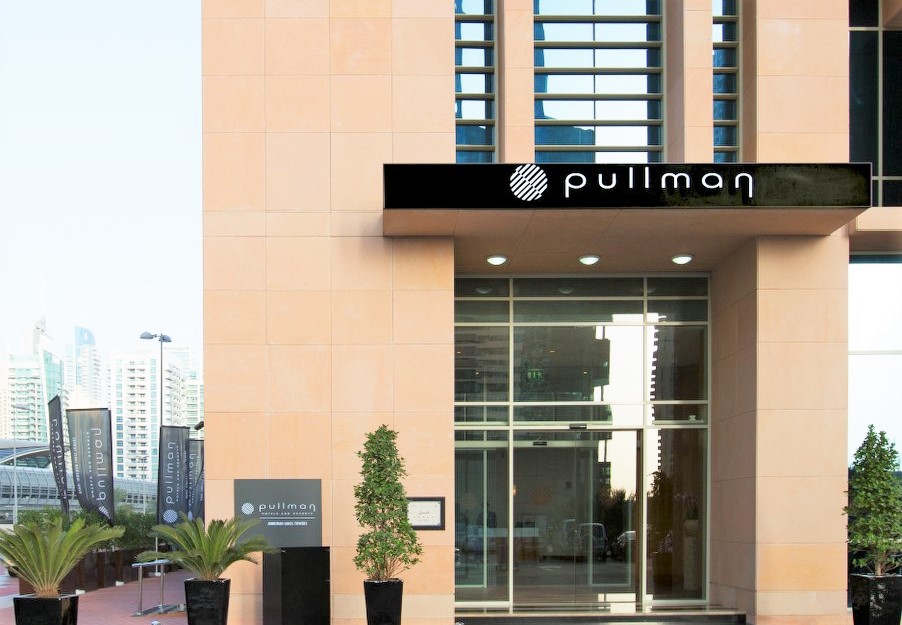 Pullman, Jumeirah Lake Towers is centrally located in one of the buzzed and dynamic areas of Dubai.
It boasts 4 eclectic restaurants that includes with various cuisines – an al fresco (open air) shisha lounge, a tapastry lounge Amarillo, live Jazz brunches and a traditional Italian restaurant called Manzoni – a food enthusiast will definitely be spoilt for choice at Pullman! Located on the 34th floor is the Fit & Spa lounge, it has the most stunning view of the city and a perfect fitness destination would be the rooftop pool. Business and meetings will not be as Pullman has 11 meeting rooms at your disposal.
From Jumeirah Lake Towers metro station, Pullman is about 15 minutes away by foot. It is conveniently located relatively between two of the biggest malls in Dubai – Marina Mall and Dubai Mall.
SERVICES/AMENITIES OFFERED BY PULLMAN JLT
1. Internet Access
2. Fitness Lounge
3. Spa (click here to read my review on the Spa)
4. Swimming Pool (including sauna and jacuzzi)
5. Complimentary Mineral water in the room
6. Free Valet Parking
7. Accommodation and breakfast are free for 1 child under 12 years sharing parents' room.
8. 4 Restaurants and 2 Bars
N's EXPERIENCE
Pros
I was provided with a "Superior Room with 1 King Bed" that was priced at AED700 without breakfast and AED800 with breakfast approximately on a Friday.
1. It had all the basic necessities such as a mini bar, work-desk and a Nespresso coffee making machine ☕
2. My room had one of the most fantastic view! I could see the entire Dubai Marina and JLT from my balcony ❤
3. Room service was great and quick. I ordered a penna pasta with truffle oil and tomato sauce that arrived at my door step within half an hour.
Cons
1. I had to change my access card at least 3-4 times as it's super weak. If I kept it with my phone even for a few seconds, due to magnetism it will not work. I've been to several hotels and have never faced an issue like this.
2. Service at the lobby is slow – After the formalities of checking-in to the hotel the bellboys did not offer to take my moderately heavy bag to my room. Usually there's always a warm welcome with assistance at a 5 Star Hotel.
3. There was no lead in the mechanical pencil placed next to the notepad.
Dinner and Breakfast
Hunger striked at 9PM and I was super excited to dine at Manzoni as I heard a LOT about it. The ambience is very cozy and romantic – perfect for a date night according to me!
I kicked off my tasting with a delicious Mai Tai follower by some grilled tiger prawns and my all-time-italian-favourite – The Truffle Mushroom Risotto! The prawns were seasoned and cooked to perfection. Tasted very healthy infact, and the mushroom risotto goes under the category of best risottos for me! It was very creamy, heavy and indulgent.
I then tried 2 pizzas – 1. Pizza with Burrata Cheese, Mushrooms and Black Truffles (called Bianca alla Burrata, Porcini e Tartufo – AED105) – I've always wanted to try a Burrata Pizza and I finally have! The combination of cheese, mushrooms and truffle was heavenly. Definitely one of the best Pizzas gone in my tummy. ❤
2. Folded Pizza, Pears, Gorgonzola Cheese, Toasted Walnuts Pizza [AED85] – a little above average.
For my dessert I had the Tiramisu and a pistachio icecream. I ALWAYS LOVE Pistachio icecreams so this was not a let down either contrary to the Tiramisu. There was an excessive amount of cream in the Tiramisu with barely any ladyfingers/cake pieces. The bite that had the cake was delicious!
The service was awfully slow. The food took 1 hour to reach my table.
Seasons Restaurant for breakfast was great! It had a lavish selection of great breakfast items highlighting different cuisines. There were cold mezzes (that had no name tags), an omelette making station, freshly baked bread, cereal bars and finally the american and indian stations 🙂
My breakfast began with a hot cuppa-ccino and ended with a very satisfied tummy!
Pullman, JLT Location
N's Instagram Gallery