Sofitel The Palm, Dubai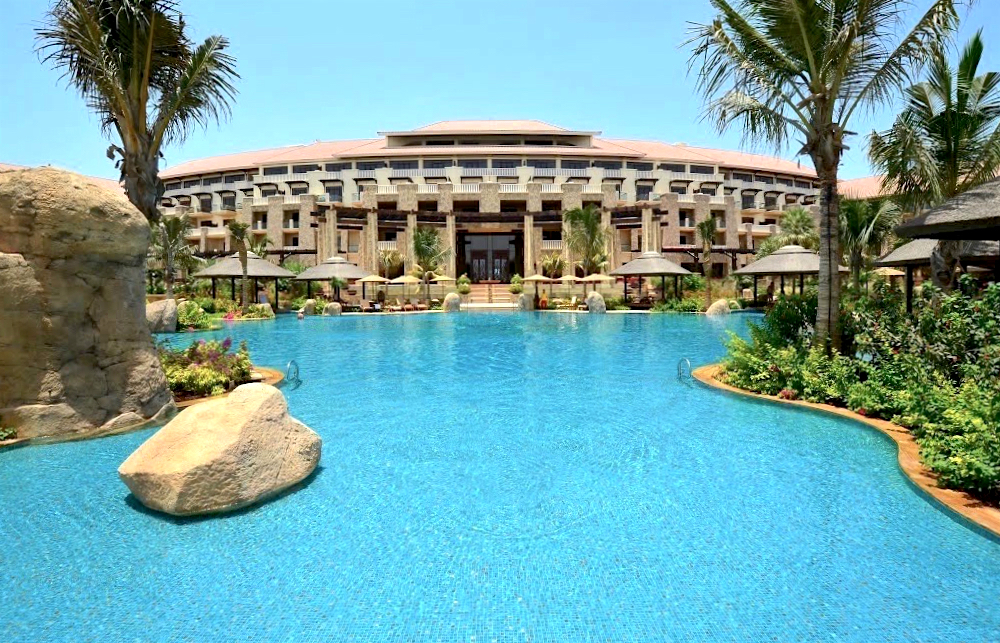 Experience "Luxury" with a "tropical" feel under one roof – at Sofitel The Palm
About the hotel
Situated on Dubai's iconic manmade island, Palm Jumeirah, is a luxurious 5-star beach resort that combines chic Polynesian designed interiors with French flair, to sway tourists and guests. It boasts 14 restaurants and bars, 6 swimming pools, tennis, a kids club, a spectacular ballroom for meetings and weddings… and chic guestrooms, suites and apartments where attentive Sofitel ambassadors make you feel at home. Sofitel The Palm even features a spacious lobby with a green wall filled with 170 types of plants from France! Rejuvenate your mind, body and soul with a wide range of poetic and surprising treatments at SO SPA.
Sofitel The Palm is definitely a resort to unwind after a stressful week as you can lounge on the beach, relax at the poolside between several rustling palm trees, play water sports, tennis and so much more!
Working out at the So Fit gym was great! A personal coach is always available to offer you tips and improve your routine. After your work out, relax in the sauna or steam room!
This property aces at every single detail and does not compromise on the business aspect in peoples lives. Sofitel has 8 Meeting rooms and a 700 person ballroom with a carved wood ceiling that recalls traditional pirogues. It has state-of-the-art sound and video systems, full-service business center, and Inspiredmeetings™ planners to create your event.
Click here to learn more facts about the hotel.
Convenience
Without traffic, Sofitel The Palm is located 40 minutes from the Dubai International Airport, the iconic Burj Khalifa and The Dubai Mall. The closest and best mall to this property is 'Dubai Marina Mall' that is only 20 minutes away. Although the resorts location is inconvenient for those planning on sightseeing, its private beach and other amenities makes Sofitel a hit with couples and families who are on a vacation.
The 'Junior Suite' Room
Having been to several hotels, I can 'without-a-doubt' state – "Sofitel the Palm has one of the most beautiful rooms I have ever seen". It attracts your eyes as the room was mostly cladded in bright pink! The first thing I noticed was the super stylish bathroom that offers Lanvin or Hermes toiletries against a walk-in 'rainfall shower' and a massive bathtub!  My Junior Suite had 2 balconies that overlooked the Arabian Gulf (a few rooms face Palm Jumeirah) and all basic amenities such as a minibar, a bose wave audio system, dumb bells and a SAMSUNG 40" LCD screen TV 😉 ❤
Warning: Sleeping on the king-size MyBedTM could be a bad idea. You may never want to get up from that chilled, cozy and soft bed 🙁
Drawbacks
I could not enter my room at night as the lock detection system outside my room got spoilt. I had to go back and fourth from the reception atleast 4 times to get it fixed.
Restaurants
Guests who are major 'foodies' will have a great time savoring several cuisines from International, French to Asian and Italian delicacies. Porter House offers succulent steaks and grills while Maui Beach serves cocktails by the beachside. Hong Loong offers an authentic Chinese cuisine with direct views of the sea and live cooking stations.
[vc_gallery interval="3″ images="3119,3120,3121,3122,3123″ img_size="750×360″ onclick=""][vc_column_text]
This pagoda-style restaurant is situated at the heart of the resort and is popularly known for it's exquisite seafood delicacies. They even offer a range of cuisines such as Indian, Singaporean and even Japanese! The restaurant is surrounded by water and the terrace gives a relaxed al fresco feel.
2. Manava
'Manava' lives up to its Tahitian name: Welcome. The restaurant is a breath of fresh air as its interiors are designed with warm colours. Their breakfast spread was phenomenal and they lived up to the 'international' breakfast standards. Manava undoubtedly targeted different audience groups effortlessly.
Location
Click here to book your room or call +971 4 4556 677 for other queries