Manzil Downtown Dubai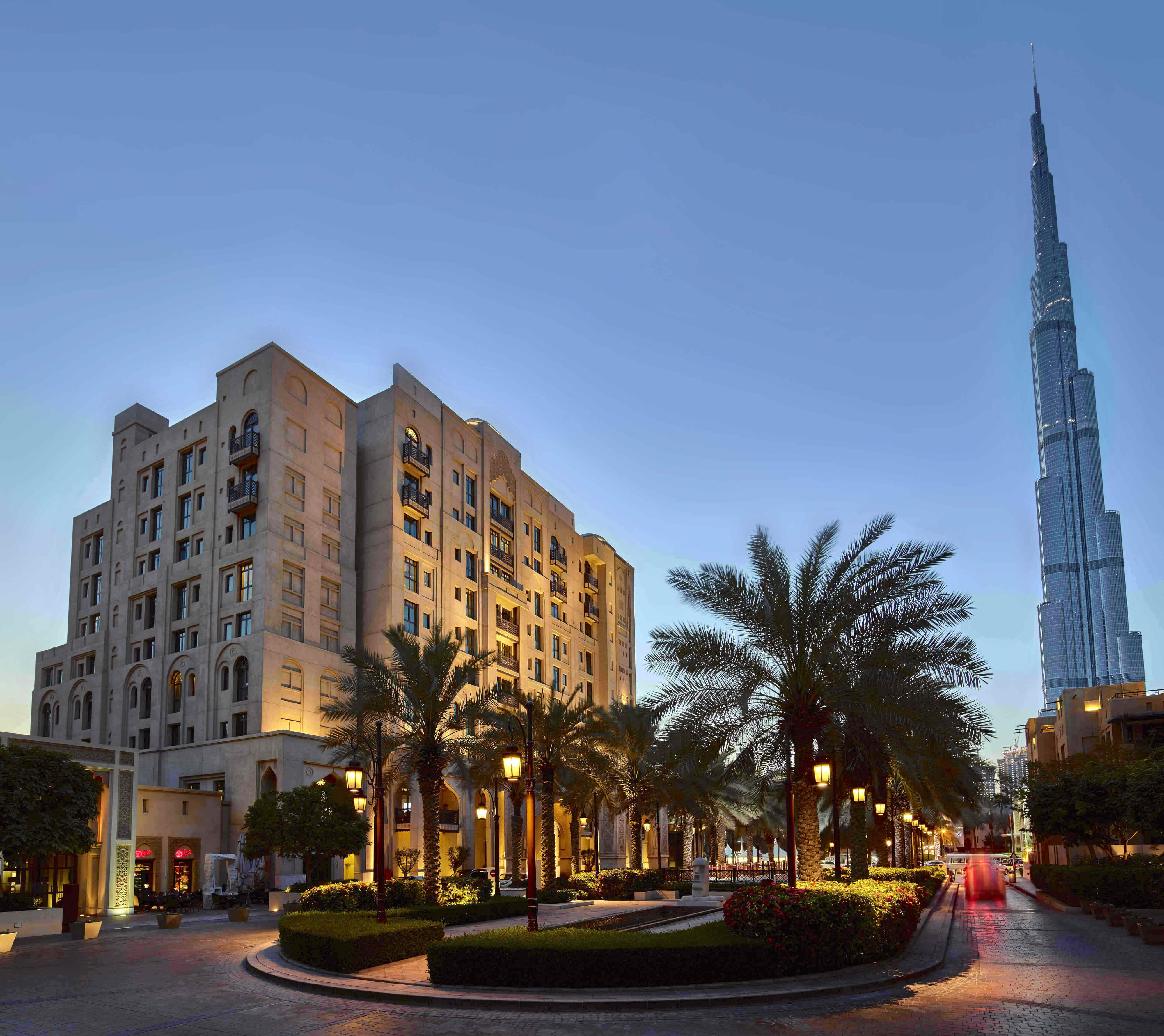 Manzil Downtown Dubai – An upscale boutique hotel with a contemporary Arabesque design offering engaging service based on Arabic hospitality… 
About the hotel
Manzil Downtown Dubai is perfectly situated at the heart of Dubai – Downtown Dubai. It is one of the best hotels to opt for, for tourists who want to get the feel of '#MyDubai' and visit Dubai's iconic landmarks. Downtown on its own has several cafes, restaurants and bars which can be visited during broad daylight or late and night.
Drop your car at the valet and get welcomed with drinks and sweets to refresh yourself from your tiring journey 🙂 The check-in could take some time during the weekend as its rush hour. While you're at it, you can enjoy the hotels earthy and local feel since it's mostly smeared in sober tones of yellow, gold and brown! ❤ After you check-in, if you prefer to warm up your body or keep your feet on solid ground, Manzil's state-of-the-art hotel gym is open 24 hours, making it convenient for you to work out at any time, during the day or night.
The hotel even has a beautiful massive open air, temperature-regulated swimming pool that is open everyday from 7AM-7PM and makes guests feel at home, whether they're just getting some sun or swimming laps.
When your tummy starts to rumble, enjoy a unique dining setting combining Arabic tradition with global multicultural tastes at the heart of Manzil Downtown Dubai. After indulging in some delicious food, don't forget to book a desert safari ride at the concierge as this is an experience you can't miss out in Dubai
Convenience
Downtown Dubai is home to numerous activities, shops and attractions. The hotel gives guests direct access to Souk Al Manzil, which has coffee shops, restaurants and shops/boutiques.
The Dubai Mall, Burj Khalifa, The Dubai Fountain, Souk Al Bahar and Qamardeen Souk are all within walking distance.
At Dubai Mall you must visit – KidZania (for kids), Sega Republic (arcades games and rides) and the Dubai Aquarium
Located a short walk away, just behind Vida Downtown Dubai, the Sheikh Zayed Bin Mansour Al Nahyan Mosque gives guests a place of worship in close proximity to the hotel. The mosque also allows entry to non-Muslims, offering non-Muslim guests a rare opportunity to appreciate traditional Middle Eastern architecture and Arab culture and traditions.
The 'Deluxe Burj View' Room [AED1080 approx]
The decor of the rooms are modern, yet has a traditional arabesque flair to it. While choosing your rooms, you have a couple of views to choose from (Burj khalifa, pool, etc). I opted for the Burj Khalifa view 😉 The Deluxe Burj View Room is small, yet cozy and features an open-style bathroom with a rainfall shower and a massive bathtub! It even boasts 3 views – a digital view from your very own 42-inch flat screen IPTV, a spectacular Burj Khalifa view and not to forget, the entire Downtown Dubai view!
Drawbacks
I did not like the windows as they were too small and are built mid-way through the wall. The experience would be different if the window was longer!
I personally felt the 32 sqm room was too small (especially for the price you pay)
No Spa available at Manzil Downtown Dubai
Restaurants
Boulevard Kitchen is Manzil Downtowns signature restaurant. It serves food from the greater Middle East region, with a focus on Levantine cuisine. Guests can enjoy a sumptuous breakfast buffet with a selection of main courses cooked to order, in addition to lunch and dinner on offer á la carte simultaneously with sheesha.
In the evenings, guests can relax and unwind on the terrace overlooking the Boulevard and The Courtyard and enjoy an extensive beverage selection showcased in a stylish presentation.
Boulevard Kitchen is open daily for Breakfast from 6.30AM-11.00AM; lunch and dinner is served from 12.00PM-midnight and Friday's Levant Brunch is from 1.00PM-4.00PM.
Nezesaussi, short for New Zealand, South Africa and Australia, is the ultimate sports hub in Downtown Dubai. Sports fans gather to watch their game of choice while enjoying food from the tri-nation countries. This restaurant has easily become one of my most favourite restaurants in Dubai! It has got a great vibe, pocket-friendly quality food and fantastic service!
Must have: Butter chicken and toffee pudding – one of the best I've had!
Nezesaussi Grill is open Sunday to Wednesday from 4.00PM-2.00AM; Thursday from 12.00PM-2.00AM and Friday and Saturday from 9.00AM-2.00AM.
Location
Click here to book your room or call +971 4 428 5888 for other queries