Grosvenor House ~ The Luxury Collection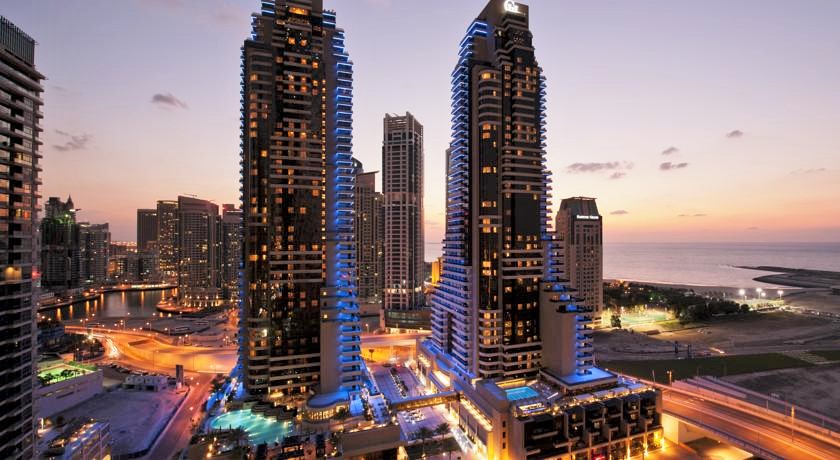 "Grosvenor House and its two iconic 45-story towers, Tower One and Tower Two, redefine the world of luxury. The hotel's glittering twin towers are an instantly recognisable landmark in the Dubai Marina."
There are only 113 hotels in the world that are a part of 'The Luxury Collection', out of which only 3 are based in the United Arab Emirates.
About the hotel
Grosvenor House opened in 2005 and is the most prestigious landmark of luxury in Dubai Marina. It boasts 750 spacious, contemporary guest rooms, suites, and apartments with signature 'Luxury Collection beds' created exclusively only for 'The Luxury Collection' hotels, massive windows showcasing the most spectacular view of the Dubai Marina (looks nothing less than a painting), complimentary Wi-Fi and attentive on-call butler service.
Located just 30 minutes from the Dubai International Airport, Grosvenor House is a perfect spot for business and leisure. Additionally, it is just minutes away from Dubai's most happening spots – such as the Media City, Marina Mall, golf clubs and the beach!
The Grosvenor Club Lounge located on the 44th floor offers stunning views over the horizon and is the perfect place to unwind with a drink. To unwind and rejuvenate your mind, take advantage of the Spa that offers all kinds of treatments one could expect and ladies, don't forget to make use of the nail and hair bars!
The Windsor Ballroom at Grosvenor House is known as one of the most exquisite wedding venues in Dubai. Click here for more information. The conference centre, on the other hand, mixes business and pleasure with consummate ease. Served by a separate entrance, the centre boasts a multi-use ballroom, boardrooms and syndicate meeting rooms that can hold up to 400 people! All facilities are equipped with cutting-edge technology and backed by a service-driven business support centre.
The 'Deluxe Suite' Room
Spending just one night at Grosvenor House spoilt me rotten! My deluxe suite left no stone unturned when it came to pampering me with everything it had to offer the luxurious '#MyDubai' way! ❤
The uber spacious suite had a guest washroom, a kitchenette and a separate spacious lounge area featuring an arm chair, sofas and an elegant dining table for 4!! What more I loved about my room;
1. The bathroom adorned in gold and white was one of the most beautiful bathrooms I've ever seen! To top it all off, all the toiletries were courtesy BVLGARI! 😀
2. The view from the 'Deluxe Suite' is phenomenal! You will be able to enjoy the view from the hall and your bedroom.
3. Controlling the air-conditioning and lights of the room is via a tiny touch-screen keypad placed exactly next your bed. You can remain in your own comfort zone and need not stretch too much to reach for a switch 😉
4. The comfort level is a 10 on 10 on the exclusive luxury collection bed. The sheets are chilled and you can most certainly change my name if you don't dive into the bed as soon as you lay your derrière on it 😉 You have to be in it (literally 'in' it – underneath the blankets) to relate to what I am saying.
*For the comfort and pleasure of Deluxe Suite guests, complimentary airport transfers are available upon request.
Drawbacks
I wished the plug points were closer/next to the bed in order to charge my phone.
Restaurants
1. Sloane's
[vc_gallery interval="3″ images="2970,2971,2972″ img_size="750×360″ onclick=""][vc_column_text]
Never in my life had I seen SO MUCH FOOD under one roof! Sloanes has the most gorgeous, vibrant and stylish setting AROUND a massive open-show kitchen! Engage with chefs or you could even ask them to tweak a dish that is already prepared. The breakfast options were in abundance – they have a great variety of sweet and savoury items, enough to satisfy all kinds of palates curates for different cuisines 😉
2. Buddha Bar
[vc_gallery interval="3″ images="2982,2983,2984,2985,2986,2987,2988,2989,2975,2976″ img_size="750×360″ onclick=""][vc_column_text]
Buddha-Bar, the Award Winning Bar in Dubai, has the potential of dropping anyones jaws the moment they step into the restaurant! It's stunning interiors (including the beautiful large golden buddha placed at the centre) takes sophistication and elegance to a different level altogether. Their most innovative menu is inspired by the cuisines of China, Japan and Thailand. Buddha-Bar boasts (and I approve) the most amazing, delicious and hand-crafted cocktails courtesy of Buddha-Bar's expert team of mixologists. They present the simplest drinks in the most intricate and creative way possible. They have the talent of making a SUPER DUPER strong drink, extremely tasty (thus making you get drunk faster). Although their food is fantastic, I would *hands down* say they are better with their cocktails and desserts 🙂 This restaurant is perfect for a business meeting as they have private cabins or even a casual hangout with your friends!
My favourite dishes were the chicken dimsums [AED60] and the maki rolls [AED35-55 for 4 pieces]. The rest were delicious but not extraordinary. For the dessert, I tried the chocolate fondant [AED60] and it was one of the best fondants I've ever had! I even opted for a prism shaped dessert called 'Milk & Chocolate' mousse that was accompanied with fried milk, vanilla milk sorbet and chocolate oil :-O ! Yes! The fried milk was oddly satisfying with the rich and silky mousse
My two favourite cocktails were the 'Shit-ake happens' [AED75] that had Haig Club whiskey infused with shitake mushrooms, white chocolate liquor and artisanal cassia syrup. The second was 'Far East Julep' [AED70] constituting of gin, ginger, agave and a couple of fruity syrups! I personally suggest you let your attendant know what kind/type of drink you prefer and they are sure to wow you (that's what happened with me 😉 )
Location
Click here to book your room or call +971 4 399 8888 for other queries