Matto ~ When Dubai "Feels Like Italian"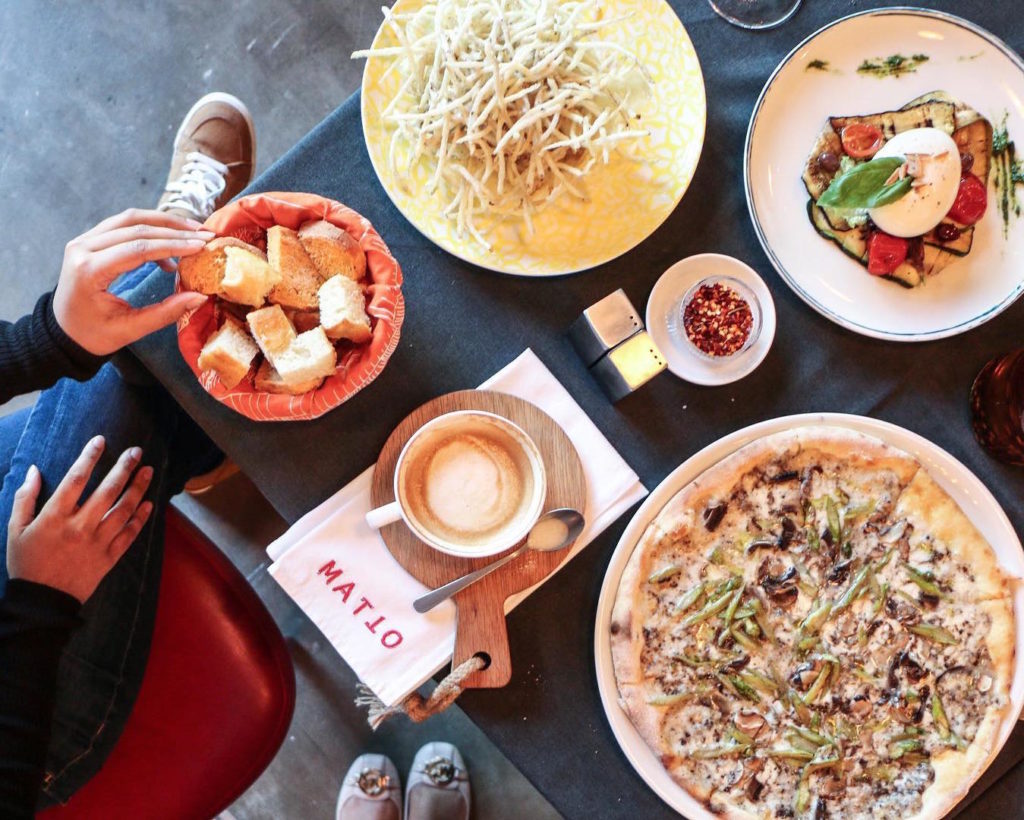 [vc_row][vc_column][vc_column_text]
"MATTO is a homegrown brand based on classic Italian food with a side of mischief which aims to recast the archetypal Italian dining experience. Showcasing the skills of chefs who took ownership from their grandmother's kitchen with an innovative menu and catering to a gastronome crowd, MATTO is decidedly refreshing and worldly."
About MATTO Dubai
A home-grown brand based on classic Italian food with a side of mischief, MATTO aims to recast the archetypal Italian dining experience. True to the Italian way, MATTO presents a plethora of offers tailored to bring out the pleasure of a hearty meal at a light price. From lunchtime, dining breaks to sunset drinks, whether for business or comfort, MATTO is a venue for any occasion, any day of the week.
It's industrial décor creates a vibrant and welcoming atmosphere, and the interiors allow guests to be immersed in the cooking experience as they watch the chefs bring each dish to life in the open kitchen. A progressive mural by artist Chafa Ghaddar adorns MATTO's walls to complete the relaxed yet upbeat vibe.
True to the Italian way, MATTO presents a plethora of offers tailored to bring out the pleasure of a hearty meal at a light price.
My experience
From the hospitality to the quality of food – MATTO has become my favourite Italian restaurant in Dubai. There is a sense of positive aura in the place that you will feel as soon as you step in!
My sister and I kicked off our tasting with a cuppa'cinno followed by;
Burrata [AED 72] – I've tried several Burrata's in Dubai, but nothing has matched up to this level. How? The burrata's served at MATTO are specially imported from a city that created Burrata in Italy! How can it not be the best then? ?
Truffle Fries [AED48] – Super crispy and delicious string fries served in an edible parmesan bowl with truffle sauce. Don't waste too much time clicking pictures of this beautiful dish, if you do, expect it to be soggy!
Tartufo Pizza [AED88] – Mozzarella, truffle and asparagus. The funny story here? I asked Mario Olimpio to add chicken on my pizza – never seen someone so disappointed! Thus, went ahead with the classic. The thin-crusted pizza was one of the best I've had in Dubai and, it didn't give me a bloated aftermath like other pizzerias across town (I must mention, the aroma of the truffle – amazing)!
Porcini & Tartufo [AED95] – Homemade ravioli stuffed with porcini mushrooms, black truffle and parmesan cream. If I state this ravioli dish is also the best I've had in Dubai, you would not believe me. Try it to believe it ?
After a hearty meal, desserts cannot be compromised. Mario surprised us with 2 of his best sellers;
Dough Strips [AED40] – If you're a fan of churros with Nutella, this one's for you!
Matto Rock [AED60] – Basically the biggest Ferrero Rocher I've ever seen. The outer layer tastes more like the chocolate since it's got a hazelnut crust. As soon as you break into it, a delicious velvety praline/chocolate mousse oozes out (pro tip: you can't break through by tapping it, it must be thrusted with a fork or knife)!
The innovative recipes at MATTO are inspired by methods that have been passed down through generations, and the dishes divulge dynamic combinations of flavors and ingredients. With a carefully crafted menu created by the Italian culinary brigade at MATTO, each hearty dish salutes guests to feel right at home and learn to speak the language one bite at a time.
Highlights from the eats, inspired by Italy's Mediterranean coast, include signature recipes such as Stinco Di Agnello, Astice e Ceci, Stracciatella & Tartufo, and the Matto Rock.
Contact
Email [email protected] for more information or call +971 4 444 1335 or +971 52 604 3535
Social Media
Facebook: @MattoDubai
Instagram: @MattoDubai
Opening hours
Saturday to Wednesday – 12PM to 12AM
Thursday and Friday – 12PM to 1AM
Location
[/vc_column_text][/vc_column][/vc_row]