About the Chef
Ali Fouad is a highly skilled chef with over 10 years of experience in the culinary industry. Chef Ali joined Al Nafoorah, JRG's multi-award-winning Lebanese restaurant in 2006 as Commis Chef and his rapid rise to success saw him promoted to Demi Chef de Partie the same year. In 2010, Chef Ali's passion and skill were recognized and he was awarded 'The Sharpest Knife Award' by the organization, highlighting his discipline and culinary talent. Soon after he was promoted to Junior Sous Chef before taking up the position of Head Chef at Al Nafoorah. He also heads the team at Khaymat Al Bahar.
Chef Ali is committed to ensuring that Al Nafoorah remains authentic, as though guests were dining at a local Lebanese restaurant. He visits his home country of Lebanon at least once a quarter for inspiration in order to constantly better his menu and range of ingredients. Chef Ali is an inspirational and approachable team leader and has a hands-on approach with both his kitchen and customers, paying regular visits to guest tables to ensure the highest customer satisfaction possible.
Summary
Description: Oriental rice mixed with carrots, onions, and minced meat, topped with mixed nuts
Serves: 1-2
Prep time: 10 minutes
Cooking time: To prepare the whole ouzi, you would need 3 to 4 hours. To prepare only one part, you need 40 – 60 mins.
Ingredients
250g lamb leg or whole ouzi – any part you prefer
100g minced lamb
200g basmati rice
25g onion
10g carrots
30g mixed nuts
Marination: 50g ghee, 7g turmeric powder and 10g salt
Method
Pre-heat the oven to 180 degrees.
Marinate the ouzi in a tray and cover with half the chopped onions, chopped carrots and whole stick of spices.
If preparing the whole ouzi, leave it in the oven for 3 to 4 hours; if cooking the leg, leave it in the oven for half an hour.
Take another pot and add the rice, ghee and the other half of the chopped onions and stir for 5 minutes.
Add the minced lamb, half liter of water and lamb stock to the rice and mix the spices and salt. Let this cook for12 minutes.
Place the oriental rice on a tray and add the cooked ouzi on top.
Top it with mixed nuts.
Serve with cucumber yogurt as a side dish.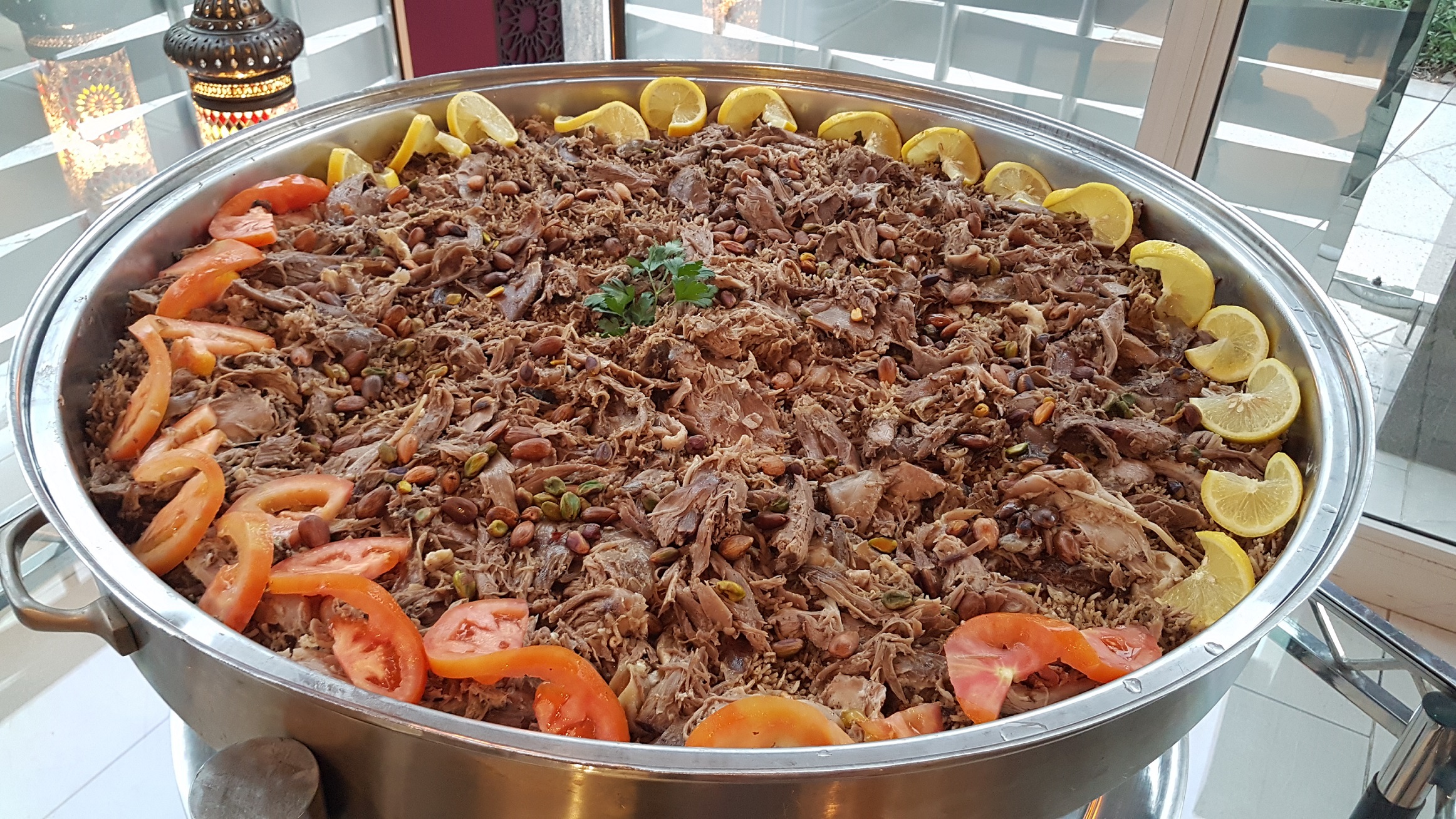 ---
Visit Al Nafoorah for more