Japanese/Dessert Tour 3 with Naomi DSouza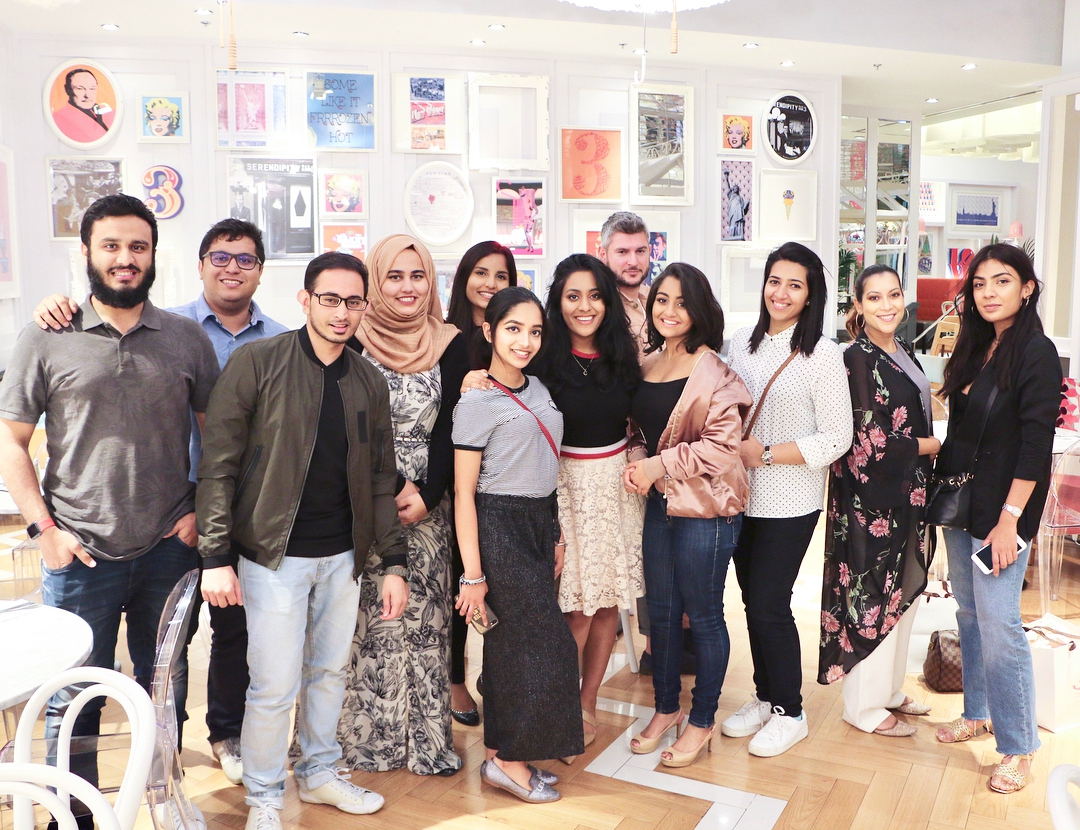 One cannot think well, love well, sleep well, if one has not dined well ?❤?
Even though I would have loved to take all my followers and make a convention out of these tours, this tour I was limited to only choosing 10 people (@sweettoothboy @imsalmaaan @taxidriver_drivesfashion @bakerzoh @divyacota @foodengineer_dxb @serenasibi @_mnkhan_ @deanneapaya @msverkarre) and they jolly well had the best dining experience yet with the likes of dinner and dessert to finish off! ???
Yes, the word 'tour' suggests that there would be numerous places to try. Trust me, however, leaving the first venue to the second itself we felt like we needed stretchers to transport us there so I guess you guys can call me Naomi the wise for settling with two places as always.
December 16th, 2017, at 7 PM the tour officially began!
Quick intro: Reif Othman, the founder of PLAY restaurant was the Ex-Executive Chef of Zuma Dubai! Needless to say how amazing his dishes are! This fine-dining restaurant incorporates a fusion of Mediterranean and Asian cuisine which further creates a blend of "Mediterrasian" cuisine  ? PS: The view from this restaurant is phenomenal!
We were prepared to only have about 4-5 dishes, little did we know we had double! ? Here's what we had,
Duck gyoza [AED 68] – A lot of the winners on the tour hadn't eaten duck but loved this! The gyozas were soft and succulent and perfectly brought out the taste of the duck combined with the miso and the chili ponzu. What makes this gyoza different? It has a crisp layer at the top that you break into, to eat the gyoza
Truffle fries [AED 65] – I'm sure we've all had our fair share of French fries. But would you guys believe me if I said these were the best French fries ever? ? The truffle cream was delicate, the parmesan cheese over the fries was incredible and to top it off, the freshly grated seasonal truffles gave us a little piece of fries we would probably get in heaven
Rissoto barrels [AED 465] – The dish that stole the show! The risotto which was cooked to perfection was tossed around in a cheese barrel that was aged for 24 months and topped off with seasonal wild mushrooms and freshly shaved seasonal truffle. Recipe to my heart? I should think so. Is it too much wanting a cheese barrel for myself now?
76 hours [AED 365] – Wagyu beef ribs that have been aged for 76 hours as the name suggests. Not a beef person but these ribs were succulent and soft and the spicy goma dressing really took it to another level!
Maki rolls, Rocky Punch [AED 95] and Krusty Krab [AED 78] – Our favorite was the Rocky Punch, it's their best seller!!
Snickers bar [AED 58] – Pistachio chocolate bar with caramelized pistachio and pistachio ice cream.. their own rendition of a snickers bar but oh boy, was delicious!! ?
Sticky dating [AED 55] – A lovely date pudding with matcha ice cream and dates butterscotch poured over it. The matcha was so refreshing to the palette and the date pudding was a definite hit! If you're not a fan of matcha, just keep it aside or replace it with vanilla!
Nut Conscious [AED 55] – As the name suggests, we were definitely "nut" conscious after all the amazing food and this dessert did not disappoint! This chocolate fondant is stuffed with peanut butter inside and is accompanied with vanilla ice cream ?
Quick intro: So you know how only 5 lucky children and their parents were allowed to enter Willy Wonka's magical chocolate factory? Entering Serendipity, the sweetest spot in town, I felt like Willy Wonka but just as thrilled and excited as the 10 winners to put my sweet tooth to the test with the most extravagant and fun desserts they had to offer. We had to literally roll out of the place kind of like Violet Beauregarde in the Willy Wonka story but rest assured we were very content and happy and it was a beautiful sweet ending to our tour ? 
Below are all the desserts we tried,
Frrrozen Hot Chocolate [AED 35] – This is what makes Serendipity so unique with people around the world queuing up for it! The blend of all the chocolates and the warm and cool temperatures when it touches the tongue are all a delight to the palette and the soul. Definitely, recommend this at Serendipity (it has about 1200 calories each though ??) Tip: Whatever you get, get the portion for 2, as it tastes better for some reason (since they put more of the ingredients)
Salted Popcorn Caramel Milkshake [AED45] – Looked amazing with all that popcorn and pretzels and tasted great too. It was a little bit of a struggle to get to the milkshake inside but once you battled your way through the eatables, the milkshake was really delicious.
Dubai's Treasure Chest [AED 350] – You could say our eyes popped when this dessert or should I say desserts were brought to the table. Fit for a large group of people or just a small group that would hate sharing, the treasure chest is a combination of ice-cream, cookies, berries, and cakes. And they do not compromise on their sizes either even though they offer so much! Definitely, one to try and snag a couple of those likes for Instagram because this one is one is truly a treasure! ??
Serendipity Sundaes [~AED60] – Some of the most beautiful milkshakes but I would skip these since the taste is quite basic
Sponsors (in Alphabetical Order)
Even though the tour was a hit with the two places we visited and indulge in some amazing food provided in abundance, the winners were still able to relive the wonderful memories by taking home a piece of the tour with the goody bags provided by our lovely sponsors. Is it just me or is this again very much like Willy Wonka sending the winners away with a little memento from his chocolate factory? ?
Thank you to all the sponsors for being a part of it!
Media Sponsors,
Goodie Bag Sponsors,
A few moments from the winners!
76 hours beef by Zoh
Serendipity 3 Milkshakes by Serena
Magnolia Goodies by Sweet Tooth Boy
Play Restaurant Experience by Food Engineer
Click here to find out how you can be a part of my tours!
Don't forget to check out #EatWithN on Instagram 🙂
* Note: #EatWithN Tours does not aim at promoting restaurants through naomidsouza.com