Dessert Tour 4 with Naomi DSouza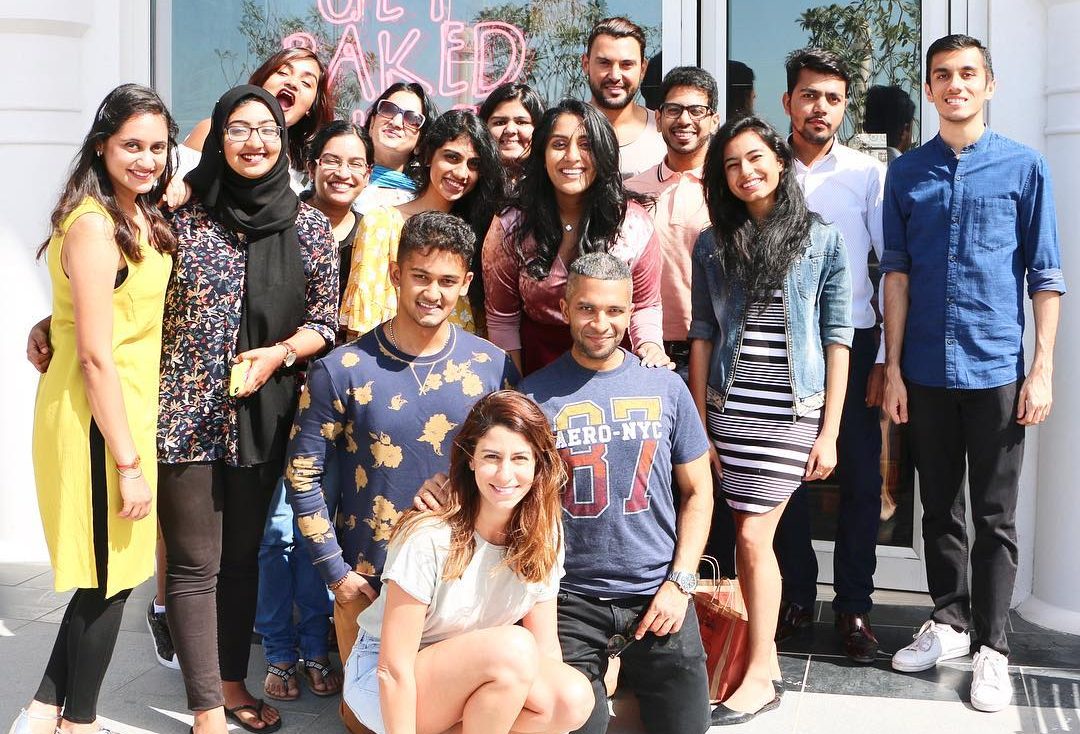 No matter how many ever times I do this, picking 14 followers from over 2000 comments just isn't getting any easier. ?
I really want to do tours more often, but the quality is more important than quantity. I don't want to go to some random bakery just to be able to say I've completed 'x' number of tours. I am so grateful for all the love and support I get from my followers, that I am adamant I will only pick the best places that I know will be amazing, for my tours! ❤ Something I noticed on my last 3 tours was, everyone would get so full and sugar-high on the desserts at the first spot itself, that they'd barely touch the desserts at the second one! So this time I decided to replace the first dessert location with brunch instead. After searching around for a bit, I finally settled on Kishmish for brunch and my all time fave, Sugarmoo, for dessert. ???
After manually going through each and every single one of the comments with my team, and countless shortlists, I finally narrowed on the following 14: @aparnapk96 @themasalamaverick@sonal113 @simran_advani27@foodbatuta @rishakhanchandani @mohammadaqibq @whatiexplore @theoneaboutthevegetarian @dkmanutd @muneer_84 @alexcedeno @rev_rajan @zeba_b
March 9th 2018, at 11:30 AM, our tour begins!
FIRST SPOT – KISHMISH
Kishmish is Dubai's first gourmet Afghan street and soul food restaurant. I took some of their food for my dad, and he still talks about how amazing it was. My dad is an excellent cook btw, so it's especially hard to please him! Kishmish has great interiors, and even a floor level chandelier! We were treated to a ton of food, and this was the first time trying Afghani food for the majority of us! We had:   
Afghani Kabuli Pulao with lamb [AED 65] – This was an immediate favorite, not just with us, but even my dad! If you like biryani with lamb, this one's for you!

Emerald Pulao [AED 45] – This was the vegetarian version of the Afghani rice

Mixed grill platter [AED 85] – Perfect and well seasoned, just how every grill platter should be

Shoor Nakhud [AED 25] – It's an Afghan snack/appetizer sold in the streets in almost every province. It's a chickpea and potato salad with a special mint or chili sauce. Some even add red beans to the mix!

Barta [AED 35] –  This one was delicious! In fact, a lot of us mistook it for Baba Ganoush.  

Fried Okra [AED 35] – This was a huge hit among the vegetarians and non-vegetarians alike! It was fried beautifully and the flavors were on point.

Afghan Mojito [AED 25] and 

Pink Tea [AED 35] was what we got from the drinks. I personally wasn't a fan of their mojito but their pink tea was delish, tad bit sweet though.
SECOND SPOT – SUGARMOO
This location was especially important to me since these desserts were ones I had personally tasted and chosen to be on the menu as their tastemaker, way before their shop even launched! So it was crucial that everyone liked the desserts at Sugarmoo; my legacy was at stake you see! Spoiler alert: Everyone LOVED them!
We had:
Red Velvet Oreo Crunch Cake [AED 205] – This cake tastes as good as it looked! It had a

cream cheese and Oreo frosting center, covered in chocolate fudge cream cheese frosting and oreo cookie crumbles

and my whole mouth is watering just writing about it.

Milky Way – This delicious cake is drenched in milk and the taste is 'out of this world'! If that's not enough to convince you to get it, it just topped Deliveroo's list of 'World's best dishes'!

Cinnamon Cheesecake – I love the texture of a good cheesecake and the luxurious taste of it. The only downside is the calories, but something about putting cinnamon in the cheesecake makes you feel like it could actually be good for you! This was a favourite of many, and also a welcome change from the overload of chocolate!

Truffles [AED 27] – Believe me when I say this, their truffles are to die for! I don't know how they do it, but their oreo truffles are better than the actual oreo!

Hot Fudge Brookie Skillet – Why settle for just a brownie or a cookie, when Sugarmoo offers you the perfect fusion of the two? Whats more, it's topped with a ton of hot fudge!

Build your own cheesecake sundae – We had a tough time with this one, since 14 people had to decide on one cheesecake sundae! So Chef Amy just put everything in, and it tasted absolutely delicious! 

Make your own cookie – You can choose what kind of dough you want, what kind of filling you want and even what toppings you want And i think its safe to say, my followers did not hold back. Check out this gooey delicious mess!

Sweet Club Cake Sandwich – All the deliciousness of a cake, without the hassle of getting frosting on your hand! This is their version of a club sandwich, and they nailed it! They even served it with a lotus dip, a chocolate dip and and side of caramelized popcorn!  
Sponsors (in Alphabetical Order)
Apart from the 2 spots we visited, I wasn't satisfied with what was offered to the winners! ? It was practically impossible for us to eat more after all that dessert but I still wanted my followers to take the dessert tour, home, with them! A big thank you to all the sponsors for being a part of it!
A FEW MOMENTS FROM THE WINNERS!
The group by Aqib
The Afghani kabuli pulao with lamb by Muneer
The Sweet Club Cake Sandwich by Abbas
All the food we had at Kishmish by Chirag
The cookies we made by Abbas
The Milky Way by Deepak
The sweetest caption by Renu and Abbas
A better look at all the desserts by Chirag
Click here to find out how you can be a part of my tours!
Don't forget to check out #EatWithN on Instagram ?
* Note: #EatWithN Tours does not aim at promoting restaurants through naomidsouza.com