How To Buy A Smartphone As A Gift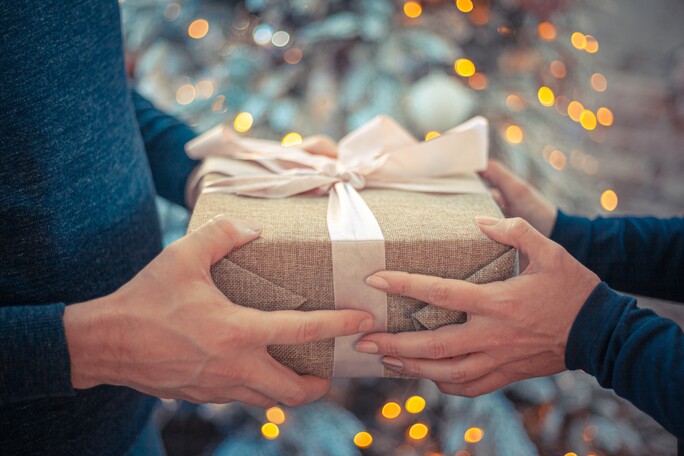 Just in time for the holidays, a smartphone could be the perfect present for that special someone.
Gifting a phone might be a thoughtful gesture, but it does come with its own set of difficulties, and it's wise to consider the pros and cons before deciding on this for sure. If you're thinking about giving a smartphone as a present, here are some things to keep in mind.
Consider the phone plan

People in your own family are the easiest to give a phone to. If you are buying for your partner and they are already on your phone plan, all you have to do is choose a phone. You can also add someone to your family plan if you're buying a child's first phone, for example. 
If you are shopping for someone outside of your family, things get more complicated. In this case, you'll have to sign an entirely new phone service contract. You can't sign for someone else without them being there, so if you want your gift to be a surprise, you'll have to be willing to completely pay for their plan for the length of the contract, which can often be 12 months or more. 
The best way to avoid this problem is to buy a phone that is already unlocked. So, the person you're giving it to can add it to their plan with any service provider. If you are buying for someone other than your spouse or child, this is the best way to go. This also gives the person you're giving the phone to the freedom to choose a plan that fits their needs.
What about upgrades?
Phone upgrades are a common way for service providers to get new customers and keep old ones coming back to spend more money. And there are a lot of very good reasons not to upgrade as soon as you can.
But if you're buying a smartphone as a gift for someone else, the way you think about this changes. If you've decided that giving them a smartphone is a good idea, it only makes sense to take advantage of any upgrade discounts that may be available.
But keep in mind the following. If you upgrade through your carrier and your recipient wants to switch carriers at some point, they won't be able to take their phone with them if it hasn't been paid off. Since two-year contracts are no longer available, this is one way that cell phone companies keep people from switching. Upgrade plans usually involve leasing the smartphone and paying a monthly fee for a number of months (which could be as many as 36). During that time, you're pretty much stuck with it unless you want to buy a new phone.
Upgrades can be hard to understand. In short, before you spend your money, find out if the person you're buying for is part of an upgrade program.
Phones are personal items

A smartphone can be an intensely personal piece of technology. You're not just using it occasionally as you might with a TV or printer; you're probably using it all the time. If the person you've given a handset to doesn't find it easy to use or if it doesn't function properly, they're likely to become frustrated rather fast.
Think about the fact that for some people, their phone is an extension of who they are. It's a good idea to find out what kind of phone the receiver prefers before making a purchase. You might love your iPhone, but would the person you want to buy a gift for really prefer an Android? 
In short, make sure the phone you're buying matches the recipient's needs. You might want to impress them with a fancy smartphone, but if all they need is something to make calls on, you might be giving them a gadget they're unlikely to want to use, making it a waste. If you can, find out what kind of features the person you're giving the gift to will want and match the phone to that information. 
Time the activation
If you buy a phone with a contract in the end, ask the carrier to set the activation date for the phone for a later time. You can tell them to set the date to either the day before your gift exchange or the day of it. This means you won't have to pay for the phone service while it's sitting under the tree.
 If you're giving the phone to someone as an upgrade, this will also make sure that their old phone is still working until they get the new one. Different carriers have different rules about future dates, so make sure you ask for the information, as the last thing you want to do is for the recipient to think their phone has stopped working and buy a new one themselves. 
Of course, sometimes phones do actually stop working, and although this can necessitate a new handset from time to time, it might be something simple. It's working knowing what to do when iPhone won't turn on – Setapp could be the answer. 
Make it a promise

This takes some of the fun out of giving gifts, but the promise of a new iPhone or other smartphone can be a great gift. You can make it as intriguing as you want to – if you want to keep things simple, just write your promise in a Christmas card or their birthday card so they can read what it is you want to do for them. 
If you want to have some fun with the idea, you can leave clues around or even buy a toy phone to wrap up – see how long it takes them to realize what you're really giving them! 
Making the phone a promise rather than a reality on the day itself has a number of advantages. The recipient can choose the exact phone they want (although you'll probably want to let them know the budget), and you can just pay for the device and plan, or just the device if they're upgrading, and you can be sure they'll really make good use of the gift you're giving them.