Dessert Tour 2 with Naomi DSouza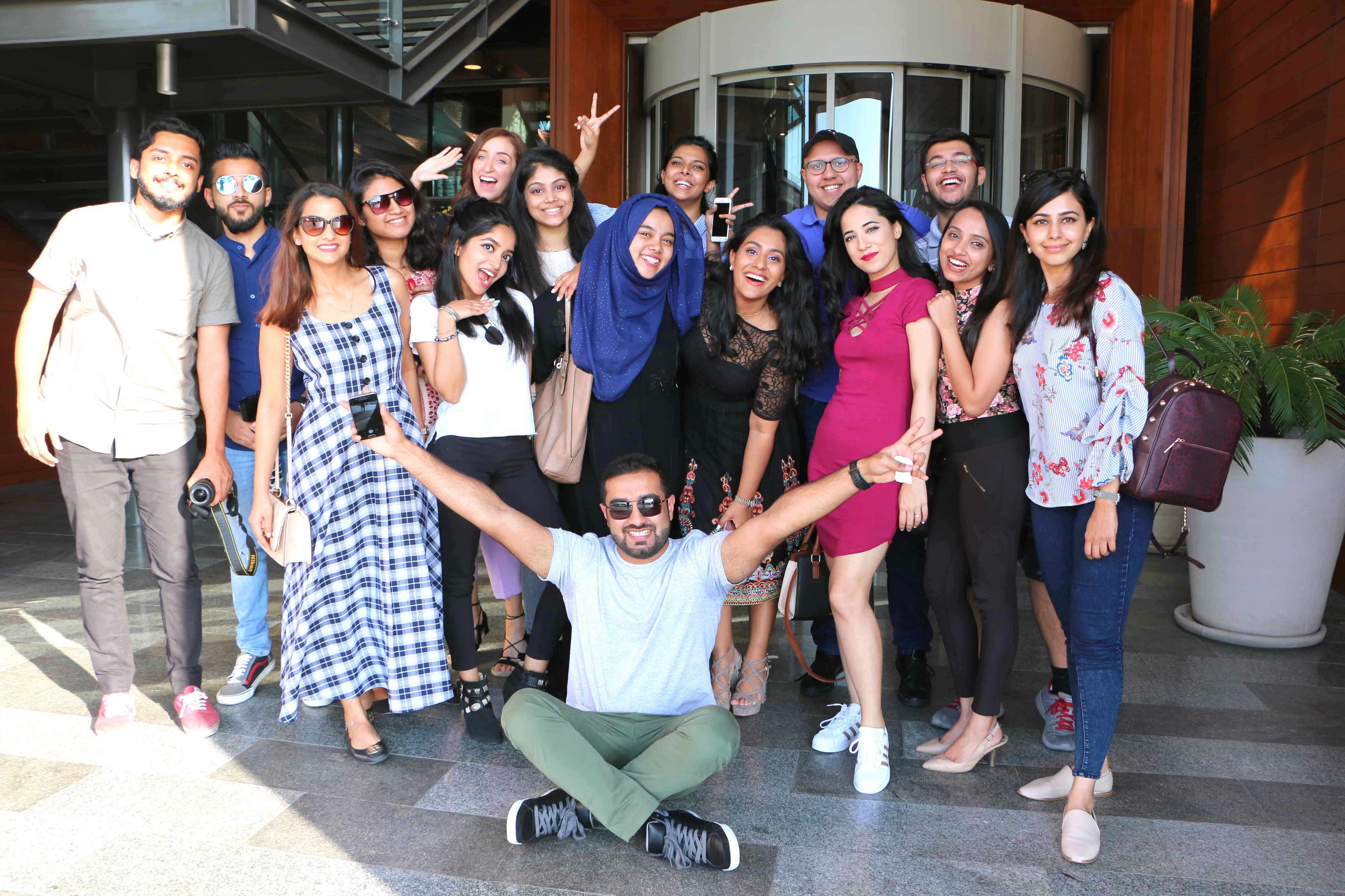 Dessert goes to your heart, not ur tums ?❤?

The countless number of requests I received to have another Dessert Tour after my first one was the reason I decided to do a Round 2!
I swear, I never expected it to be such a great success!!!! ?? There were over 2000 participants and choosing ONLY 15 was a TASK! I did not use a single bot or automated software to choose the winners, I legit went through each and every comment (as love cannot be automated you see) ???
I chose 15 followers (@yourfoodiestfriend @sanj_247 @mywaliaboy @londonjem @raydsilva1 @grub_a_fare @vaibhav.pradip @faez.roger @petitelilbella @neha_shelly @saadbukhari28 @sammysreel@muzzibhai @zeeshan_zs) for this tour and oh boy they had the time of their lives 🙂 (not making it up, I swear, ask them!) ?
Although this was a "tour", I only chose 2 spots since I knew anything more, would only be worse for our tummy and we'd probably need wheelchairs to leave the venue ?
October 14, 2017, at 12 PM we started our tour!!
Quick intro: I found out about Cocoville when I got invited to try their desserts over a year ago! Since then they've shifted to a new location, and have only made crazier desserts. I love their originality and the will to experiment! They sell tiny chocolate balls in mini mason jars, hot chocolate stirrers and so much more! ?
Below are all the desserts we tried, liked and didn't like,
Flower Bomb [AED45] liked – More or less like a hot chocolate, but a crunchy one because of the balls inside it. The flower bomb drink is a concoction of milk, white and dark chocolate derived from the melted chocolate balls and flower petals. The thick chocolate being poured from the top is more like a sauce versus a hot chocolates composition or texture.
Cocopod [AED100] liked – Containing brownies and lots of chocolate, this cocopod is a must have if you're a fan of creamy chocolate desserts. 2 people can easily consume this AED100 dessert! It may seem small, but it is quite heavy. Ensure you remove the liquid nitrogen right after the drama is done as it can harden the chocolate that's around it.
Brownie liked [AED10] – Let me be honest, from the looks of it, it doesn't look great since it has a rough exterior/crispy top layer, but just bite into it and you'll taste a slice of heaven ?
Hot Chocolate liked [AED12] – I've added this Hot Chocolate in my list of Best Hot Chocolates in Dubai! It's unbelievably thick and for the price you pay, the quantity is sufficient!
Volcano Lotus [AED35] didn't like – The liquid nitrogen got the best of this Volcano Lotus. It had tiny specks of hard chocolate and was almost impossible to cut through without exerting force. Additionally, there was barely any lotus flavor in this! ?
Chocolate Fondant didn't like [AED45] – It was good but nothing great. You'd rather spend on other amazing offerings. I have definitely tried better ones in Dubai, here's my list.
Caramel Sea Salt Milkshake didn't like [AED35] – Flavor was there but I didn't feel the richness a milkshake would have. I personally felt it was way too diluted!
Download the @LivBank app to get 50% off on most of the Cocoville desserts… You're welcome ?
Quick intro: Home Bakery became my favorite when I was in college! I first tried their Peanut Butter with Nutella French and then their hot chocolate ? That was all it took to make me fall in love with this place!
Below are all the desserts we tried, liked and didn't like,
Crème brûlée tres leches [AED40] liked – Looks good and tastes great ? They caramelize the top layer of this 3 layered cake right in front of you and oh boy… it's delicious!
Lotus Affogato [AED25] liked – If you're a fan of having biscoff with your coffee, go for this, it's as easy as that ?
Espresso Iced Latte [AED26] liked – I'm not sure what is in the milk that's poured on top of the espresso icecubes… all I know is, it was not bitter and neither was it too sweet! It was the p e r f e c t balance!
Chewy Melt Cookies [AED50 for a box] liked – Those chewy cookies? The soft ones? Chocolaty ones? Yup, those. This is it. One of the best in Dubai ??
Chewy Melt Milkshake [AED30] liked – The same as above, but grounded into a milkshake ??
Hot Chocolate [AED30] liked – I've added this Hot Chocolate in my list of Best Hot Chocolates in Dubai as well! It's not too thick, neither too diluted. The heat of the hot chocolate melts the galaxy/flakes on the base of the cup as you drink it! How much better could it get?! ✅✅
Milk Cake [AED35] liked – Presented to you, in a pool of sweetened milk. Seriously one of the best cakes I've ever had!!! Super soft and super indulgent (I swear it melts in your mouth)!! It is a must MUST have! They have different flavors and you can't leave Home Bakery without trying these.
Ferrero Bomb [AED50] didn't like – Great drama but then it's just soup. If you fancy drinking chocolate from a plate, you could try this out! Don't get me wrong, the chocolate tastes great, but I'm not a fan of excessive chocolate swimming in a plate.
Nutella French Toast [AED45] didn't like – The winners tried the Nutella French Toast and didn't like it as much as the other desserts. I had tried the Peanut Butter French Toast with corn flakes a few months ago and it was amazing! I guess you just got to pick the right flavor? Additionally, this french toast is NOT dry! It is super moist and heavy. Pretty certain just one person can't wipe this plate clean. Nah, it's not a challenge! ??
Brief Comparison between the two
The Cocoville and Home Bakery are located in Jumeirah 1. There's ample amount of parking available at both venues. The Cocoville has parking right outside and home bakery has parking outside and in the basement
Home Bakery has more to offer in comparison to Cocoville but both are neck to neck on pricing
Although Cocoville and Home Bakery were both great venues with delicious offerings, a majority of my followers preferred Home Bakery over Cocoville for their variety and quality of desserts but preferred Cocoville over Home Bakery for the decor/interiors
Most of my followers mentioned if they had to go on a date it would be Cocoville, but they'd take their friends to Home Bakery
Cocoville was bigger and less crowded, whereas Home bakery was relatively smaller and super crowded. You will  even notice that Cocoville has more light coming in to the restaurant contrary to Home Bakery that is dim-lit.
Cocovilles desserts boast drama on the table (with liquid nitrogen to be specific). A person who fancies gastronomical desserts, must visit this place
If you're less of a dessert person but more of cake'y person, you should opt for Home Bakery. They have a great selection and are not an ordinary bakeshop! Check their menu to find out 😉
Sponsors (in Alphabetical Order)
Apart from the 2 spots we visited, I wasn't satisfied with what was offered to the winners! ? It was practically impossible for us to eat more after all that dessert but I still wanted my followers to take the dessert tour, home, with them! A big thank you to all the sponsors for being a part of it!
Media Sponsors,
Shortlist Dubai
Goodie Bag Sponsors,
Last but not least, thank you, Careem UAE for helping us with the commute!
A few moments from the winners!
Detailed Vlog by Saad
The Cocoville Experience by Abida and Deepali
Geode Cake by Cake Away from Jemma
Cute Picture with a cuter caption by Sandra and Samina
Home Bakery's Nutella French Toast by Ray
Home Bakery's delicious Milk Cake by Muzaffar
Entire experience by Shrijana and Zeeshan
Goodie bag distribution by Faez
Click here to find out how you can be a part of my tours!
Don't forget to check out #EatWithN on Instagram 🙂
* Note: #EatWithN Tours does not aim at promoting restaurants through naomidsouza.com