I asked my followers to give me suggestions for what tour they wanted next, and the comment that called out to me the most was a cheese/dessert tour! Cheesy pasta, loaded fries, divine burgers, all washed down with some sinful desserts – sounds like a really good time to me 🤤🧀
As I've mentioned before, I stopped doing tours solely dedicated to desserts because no one was able to handle it! People could barely eat at the second location since they were still high on the sugar from location 1.  This was why I changed my strategy, and introduced some savory dishes at the start for a salty palate that would lead to a craving for something sweet 😏
One of the first places that came to my mind when I thought of cheese, was She Burger 🍔 They have the most incredible cheesy dishes over there that would be PERFECT for this tour, and I was ecstatic when they agreed to sponsor the first half. The second location was Mousse au Chocolat, where if you've never been, BOY ARE YOU MISSING OUT! Their insane variety of indulgent mousses will leave you coming back for more 😭
After manually going through 1000+ comments and analyzing every single one of them, I had my winners picked out – @natknowsgoodfood @shusfoodhunt @thedffblog @shaista_y @lizbethology @myarabianadventures @foreverhungryforfood @jj_9629 @zeba_b @yourfoodietherapist @craiggycreado @akash_mystery @mrfoodiekarachi @confessions.of.a.dubaifoodie
April 6th at 12 PM, our tour begins!
FIRST SPOT – SHE BURGER
If you can't just take my word for how incredible the food here is, maybe you can take, oh I don't know, the word of THE MAKTOUM FAMILY? That's right! The ruling royal family of Dubai gets their burgers delivered from here! 😱 We started off with some Shake Shots which were simply divine. Fries with bacon & jalapenos, messy cheeto fries, mac & cheese, potato gratin, hot dogs, chicken burgers, beef burgers – ALL with a generous amount of cheese in it of course – we had it all! They even had a burger where they had cheese incorporated INTO THE PATTY 😭🍔 Can you imagine how much we had to eat if we were all screaming "STOP! Don't bring any more food!" by the end of the FIRST half of the FIRST location? 🤣 For dessert, we had the red velvet milk cake (this actually melts in your mouth!), say cheese (no frills and no drama, just some authentic delicious cheesecake) and she got it right (this is their homemade caramel cake, and I can guarantee that YES, they did, in fact, get it right) 😉
SECOND SPOT – MOUSSE AU CHOCOLAT
We dragged ourselves here genuinely not knowing how we could eat another bite, but the second we entered Mousse au Chocolat and took in the classy interiors, divine smell and the wide assortment of mousses, all our fears vanished and our tummies were rumbling again 😂 We started off with some green tea to pave the way for what was to come, and then the battle began! We were literally served mousse on mousse on mousse 🤤 They gave us tasting platters with different kinds of mousse including saffron, coffee, milk chocolate, white chocolate (this was the majority favourite!) and raspberry. We even had mousse with baklava which is part of their Ramadan menu. I think I can safely say that quite a few of the people on the tour will be spending a lot of time here during Ramadan since that baklava mousse was just D I V I N E 😉😂 We even had over 10 mousse cakes – all of which were gone in seconds 🤭
Goodie Bag Sponsors
Apart from the 2 spots we visited, I wasn't satisfied with what was offered to the winners! 😏 It was practically impossible for us to eat more after all that dessert but I still wanted my followers to take the dessert tour, home, with them! A big thank you to all the sponsors for being a part of it!
Few moments from the winners!
She Burger experience by @thedffblog, @mrfoodiekarachi and @foreverhungryforfood
Mousse au Chocolat experience by @myarabianadventures, @confessions.of.a.dubaifoodie and @thedffblog
… and thank you @ITPLive for the feature!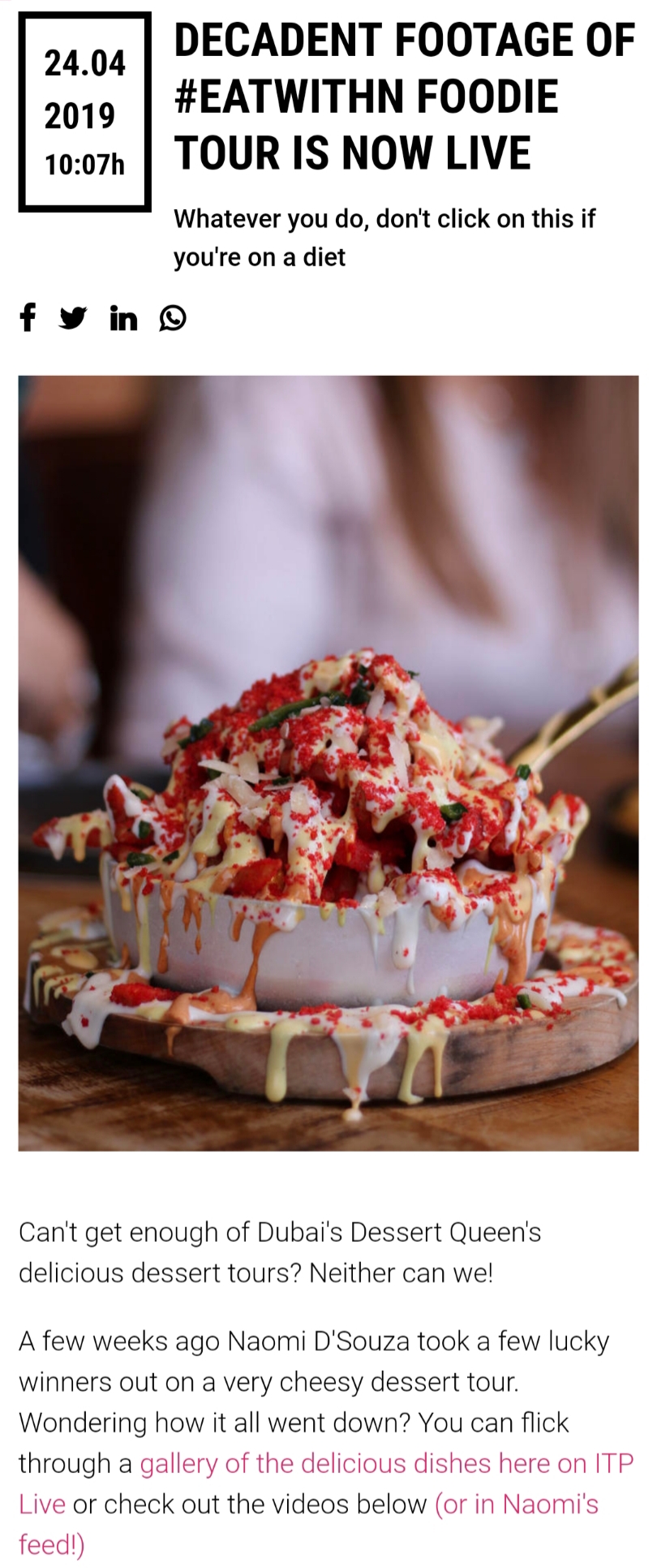 Click here to find out how you can be a part of my tours!
Don't forget to check out #EatWithN on Instagram 🙂
* Note: #EatWithN Tours does not aim at promoting restaurants through naomidsouza.com