The Below is NOT  in Ranking Order.
1. Dip n Dip [AED22-23]
Dilution Scale: Not too thick or diluted. However, the ones with marshmallows tend to have a frothy top layer, making the hot chocolate thick.
– They have an amazing variety of Hot Chocolates too; do check their menu by clicking here!
2. Home Bakery [AED29]
Dilution Scale: More on the diluted side. In order to keep it thick and creamy, constant stirring is required because of the chocolate chunks at the bottom.
– They have raw Galaxy Flakes Chunks at the bottom of the cup. The heat of the Hot Chocolate keeps melting that chocolate making the drink SO GOOD!!!
3. Spicy Aztec Vintage Hot Chocolate [AED28] from Vintage Chocolate Lounge
Dilution Scale: VERY VERY thick (I could say it's as thick as Honey). Ask your attendant for some extra milk to dilute it.
– Since this is a Hot Chocolate blended with Hot chili… do not order this if your tolerance to spice is less. It was indeed spicy but delicious nonetheless. Serving size: Enough for 2-3 people.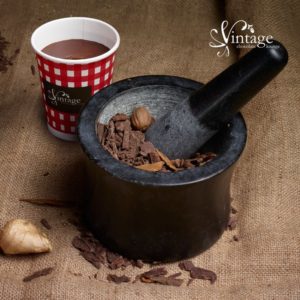 4. Pantry Cafe [AED22]
Dilution Scale: More on the diluted side.
– It's an indulgent Hot Chocolate with warm milk & luxurious Valrhona Dark Chocolate Chips. Add Marshmallows or whipped cream for an extra charge
5. Starbucks [AED17/19/21]
Dilution Scale: I'd not say this is thick, but it is creamy and has a beautiful velvety texture
– A bit too cliché to bring up this brand, but the chocolate content in this drink, is enough to satisfy a chocoholic!
6. Hot Chocolixir from Godiva [AED40]
Dilution Scale: More on the diluted side.
– Godiva's hot chocolate is smooth, velvety and creamy. It is made using the Finest Premium Godiva Chocolates
7. Cioccolatitaliani [AED22]
Dilution Scale: On a level of dilution to thick, This Dark Hot Chocolate defines what thick is. It is SO thick, you can actually dip fruits in it and consider it, a chocolate fondue!
– Love the taste. Enough for 2 people according to me although it's just a cup
8. S'mores Hot Chocolate [AED20] from Mo's
Dilution Scale: Thick at the top because of the marshmallow and super diluted after
– The several Marshmallows at the top melt due to the heat of the hot chocolate creating a thick layer at the top
– For the price you pay, the quantity is fantastic!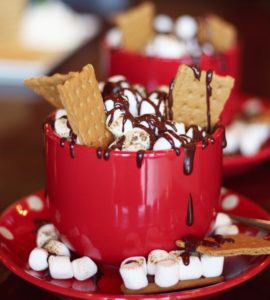 Hot chocolate (Small): AED12
Hot chocolate (Big): AED25
Hot chocolate (with a Flute made in house): AED15
Hot chocolate (Bottle): AED80
Dilution Scale:  Thick!
– If this wasn't for a Menu Tasting session, I would've lost my mind if I paid AED12 for the serving size (it's a tiny cup). BUT… I could barely swallow my first sip. It is super indulgent and unbelievably thick (yes, it's worth the price). Now I understand why the cup was so small
10. Angelina [AED39]
– This is one Hot Chocolate I actually haven't tried but put it in my list anyway since I've heard several good reviews about it. Within a week this is guna be in myyyy tummy!!
11. Hapi [AED12 + AED4 for a marshmallow]
Dilution Scale: It's not thick, neither is it too diluted. However, if you order it with the large marshmallow, it will be thick
– What I love about this hot chocolate is the "home-made" marshmallow. Homemade items always give a different feel to a drink! (according to me, they even melt a wee bit faster). I'm not a fan of marshmallows, but this one, I could definitely savor ❤️
12. Grom Arabia [AED28 – large]
Dilution Scale: We had to wait a good 5 mins for this to get prepared since they make it from scratch. The smell of the chocolate is far different from other hot choco's I've had! I assume it's bout ~60% dark chocolate and the consistency is more on the thick/rich side ❤️
Hot Chocolate Bucketlist
Have you seen this Hot Chocolate? Desperately want to try this from Long Story Short Cafe! Unfortunately, it's located in Melbourne
AND THIS from Dominique Ansel Bakery ☕️☕️☕️