Excelsior Hotel Gallia, Milan ~ A Luxury Collection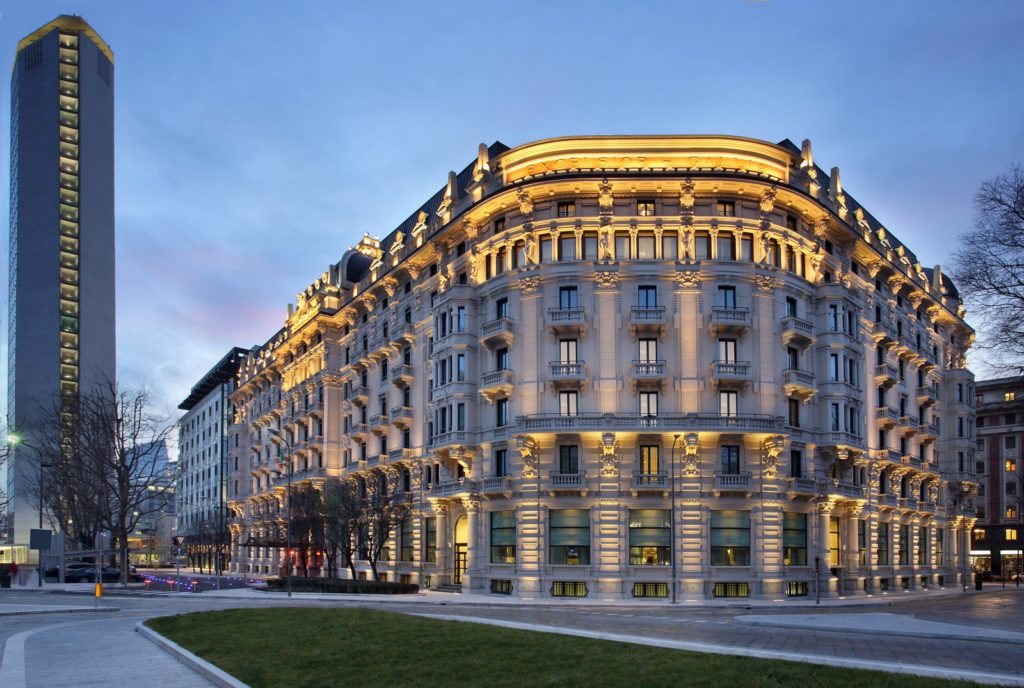 "Excelsior Hotel Gallia – originally opened in 1932 reflects the glittering essence of Milan's sophistication. The Hotel was completely renovated in 2014 by Milanese architect Marco Piva and is now proud to be featured in The Luxury Collection !!"
First and foremost I would like to thank Excelsior Hotel Gallia, Milan and Starwood Preferred Guests for inviting me! This trip was absolutely amazing with Dana Sleiman, FooDiva & MyCustardPie :-)
——x——
Behind this Iconic Hotel's Art Deco façade are several things such as stunning restaurants and lounges, meeting venues and most importantly the first ever Sheseido Spa in Italy. Excelsior even boasts an exceptional collection of 53 suites inclusive of the unique 4-bedroom Katara Suite (i.e Italy's largest at 1,000 square meters). These drop-dead-gorgeous rooms are chic, elegant, beautifully styled and features hardwood floors that further complements the classy-sober coloured furniture. Throughout the hotel, the lighting as well is carefully selected and is admired by plenty. The staggering 30m Murano glass staircase chandelier produces a waterfall of lights spanning all floors of the hotel.
I've traveled to several cities around the world with my family and thus have crashed in so (so so) many beds! But never have I slept in a Luxury Collection bed! Be it their Mattress, Pillows or even their Duvets/Blanket it is the coziest thing you will ever wrap yourself in. If I could, I would snuggle into these all day!! :-( They're "LUXURY" for a reason right?? :lol:
Did you know you could even buy these?! (I didn't). They cost a whooping fortune $$$ but if you are interested click here
What is The Luxury Collection®? In Layman's language – It is a selection of the Worlds most finest, exclusive and famous hotels that offer authentic experiences + treasured memories ♥ Hotels with Magnificent décor, spectacular settings, impeccable service and the latest modern conveniences combined are in TLC. Currently there are 111 Hotels in their List! Click here to have your pick!! ;-)
——x——
EXPERIENCE AT MILAN courtesy EXCELSIOR HOTEL GALLIA:
1. The food-trip kicked off with an amazing flight experience. We were given Emirates A380 Business Class tickets that made us feel like royalty 8-)
2. Breakfast at leisure at Bar Gallia – Excelsior Hotel Gallia has an amazing variety of breakfast items for all nationalities. They have a great selection of bread and even pies that taste like dessert (heaven for dessert-holics like me!). They have a separate counter that makes customized omelettes and even make Eggs Benedict for the egg loverzz 😳 
3. Scents of Milan tour – The three of us visited Milan's most iconic perfumeries for a complete olfactory experience. We met with the creators of unique fragrances for a complete olfactory experience. This tour was led by beauty expert and journalist Mariangela Rossi. We got to smell amazing fragrances such as "Central Park" AND "Grandma's Kitchen" :lol:. We met with Luca Maffei – one of the most talented and young "noses" in Italy. He's been studying 'smell' ever since he was a young boy! Not a shock that he now works with top brands in the sector and contributes to artistic olfactory
installations.
3. Excelsior Sheseido Spa – I had gone for a complimentary 30 minute Sheseido Facial Treatment. The lady who did my facial was very gentle on the skin. Infact it was a bit *too* gentle!! 🙄 At the end of it I realized the impact of the Facial. Sally from MyCustardPie said I look very beautiful and my skin looks amazing 😳 
4. Visit at Foglie, fiori e fantasia – I personally love people who follow their passion. Margherita Angelucci  – a lawyer by profession, left her job to become a professional florist. She owns a cozy shop tucked in Milan with exceptional flowers and herbs. Her floral creations are very famous across the city and it's no surprise she's collaborated with several fashion brands.
——x——
9 MUST VISIT RESTAURANTS IN MILAN, ITALY:
This Food-trip wouldn't have been possible without these 4 lovely women who curated this magnificent list just for us – Sara Porro, Federica Pini, Ludovica Lambertenghi and the perfume connoisseur Mariangela Rossi!
I will not bore you guys with unwanted details. If you want to read more of each place, simply click the restaurant and you'll be directed 😉
1. Terrazza Gallia – Located at the roof of Excelsior Hotel Gallia and designed by Marco Piva, this restaurant has a fantastic panoramic view that overlooks the *most* beautiful monumental central station and the Pirelli skyscraper. The cuisine and food of this restaurant  is selected by Michelin starred chef-duo Enrico and Roberto Cerea. It was about 15'C that night and slightly windy, I did feel the night would be uneasy but their bulbs are specially designed to emit extra heat on every table :-O !
To cut the chase – my favourite dish was the Saffron Risotto with Truffle Shavings and the Tiramisu Ball! (Read the description off my Instagram below to know my review ;-))
2. Dry Cocktails & Pizza – The most popular bar in Milan as far as I've heard *and seen* :-P! It's excessively packed hence you may need to book your table in advance. The purpose of this bar is you pair your Pizza's with the cocktails! These thin-crusted Neapolitan wood-fired pizzas aren't sliced in 8 for your convenience. It's old school and you bout'a get durrty :-D. Their Pizzas tasted AMAZING even though they aesthetically didn't look that beautiful.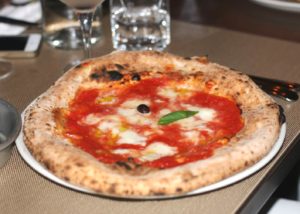 3. Pasticceria Marchesi – This patisserie is the oldest (since 1824) and most famous one in Milan. Especially during peak hours, there is barely any place to move (neither will there be any place to sit). It's literally like a tiny Manhattan in there where everyone is in a rush! I had one of the best Hot Chocolates from here – excessively thick, very chocolaty and DELICIOUS! As far as their Cappuccino's are concerned, Sara Porro says it has to be ALL FOAM. If you dip your spoon in, there should be no liquid (that makes a good capp ;-))
4. OM – Officinali di Montauto – Followed by our Perfume Tour we stopped at OM. A classy restaurant that smells of different fragrant oils and decorated wth Lavendar. I had a delicious Quinoa Burger (that was 'healthy' but didn't taste healthy ;-)) and the other girlies indulged in Testaroli (a PANCAKE pasta!! – where the pasta's texture is like a pancake). It was heavy in the tummy but delicious. Our dessert was a velvety chocolate custard 🙂
5. Ratana – Ratanà was the nickname of a half-priest who over 100 years ago healed the poor Born and bred Milanese chef Cesare Battisti offers a modern take on Lombardy's traditional recipes. This resto was once part of the first railways in Milan. It is a place where businessmen go to have meetings or couples can go on a romantic date enjoying a glass of wine. Their wine selection and risotto is magnificent! The saffron risotto is topped with bone marrow (that I kept aside) and is fantastic in taste. However, their Radicchio salad with Raspberry powder was a bit too bitter for my liking.
6. Wine Cellar at Excelsior Gallia – Located at the iconic Excelsior Gallia Hotel's basement. The cellar can be booked upon request for private dinners. The live cooking by 4-5 chefs inclding Exec chef Davide Castoldi and pâtissier Federico Rottigni was absolutely spectacular! I officially had the best Risotto, Tiramisu, Burrata and Bruschetta from here. It's a must MUST have!! You can see more of this from the Video above 😀
7. Aperitivo at Terrazza Aperol – Goodness! This spot was *hands down* the best part of my trip! Terrazza Aperol overlooks the stunning Piazza Del Duomo that is absolutely breathtaking. We were even served addictive semi-crispy homemade chips while sipping our drinks + admiring the stunning architecture. Here's my Pina Colada that I looveedddd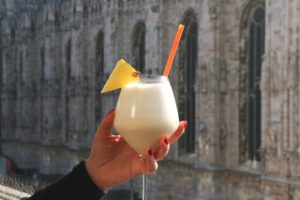 8. Peck – We saw a selection of gastronomia savory dishes and Italian specialties, such as Peck's signature liver patè, insalata russa, 36months aged Parmigiano Reggiano, nervetti (veal tendons cold salad), pasta fresca such as ravioli, tortelli and tortellini and the many cuts of veal that are common in Milanese cuisine.
I purchased a White Truffle Oil from here and use each drop carefully as I *may* have paid a bomb for the quantity 😆 ! FooDiva says they have a branch in Armani Hotel, Dubai!! 🙂
9. Drogheria Grossi – A very old antique grocery that opened it's doors in 1910. Here you can find unusual and scented products, chocolates that are probably not sold anywhere else and even cakes, pastas and spices! This *real* grocery essentially retains the charm of the past. Moreover,they have over 300 different types of tea and their basement has several kinds of Wine + Alcohol that you can purchase!
Final Pointers;
– Plan on visiting Milan? Excelsior Hotel Gallia has curated a list of 7 Remarkable Places to explore!
– Room rates at Excelsior Hotel Gallia start at €350/night. Breakfast Included
– Want to be a part of the Food Tour in Milan? Fill out this form (click here)
Miss you Milan x 🙁