Brownie bites Recipe by Sarabeth Levine, from Sarabeth's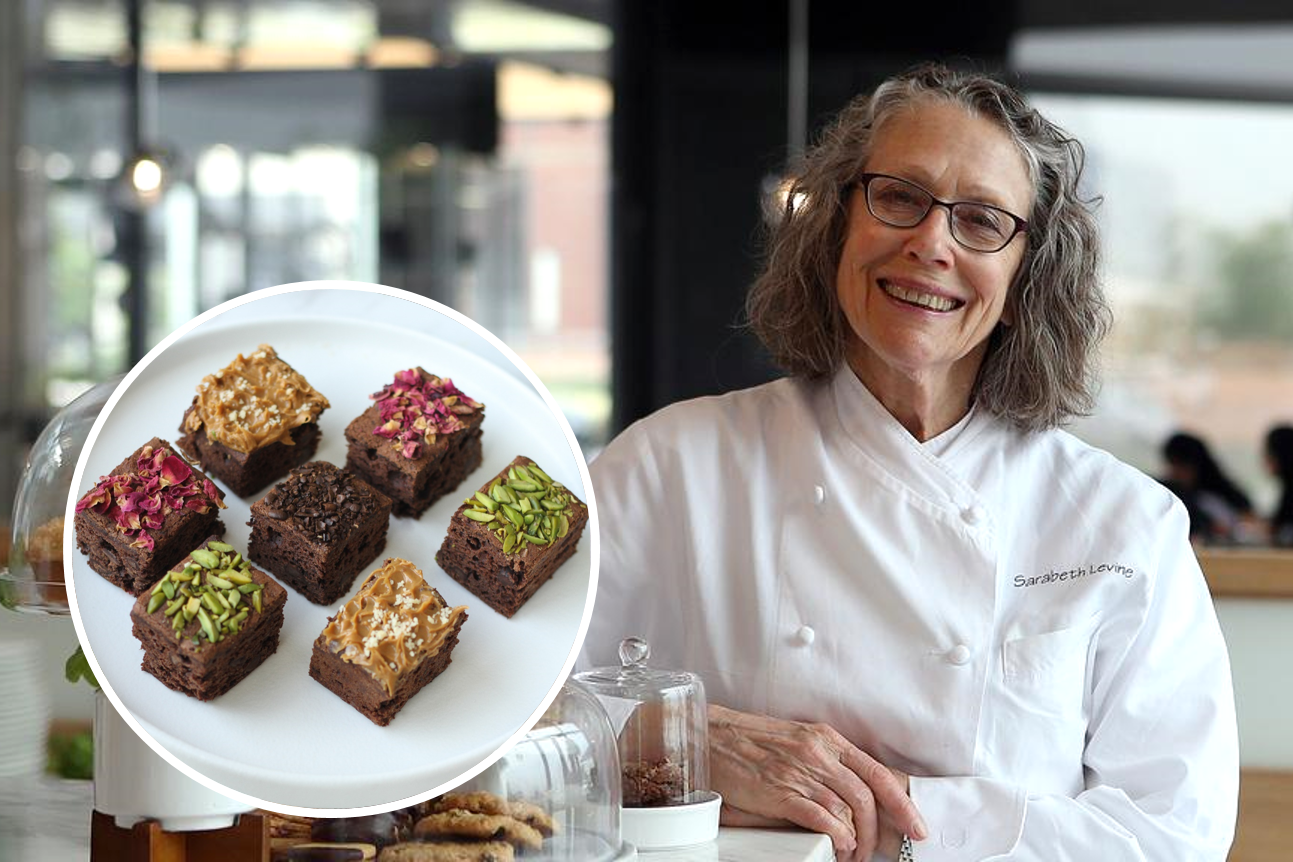 About the Chef
Sarabeth Levine is a multi-award winning restauranteur, artisanal baker and jam maker, cookbook author and winner of the prestigious James Beard Foundation's "Outstanding Pastry Chef of the Year" award. In 2015, she received an Honorary Doctorate at LIU – Post University for her remarkable achievements. Sarabeth first began her business in 1981 making her family's unique 200-year-old heirloom recipe for Orange Apricot Marmalade at her apartment in New York City. Today, Sarabeth and her husband, Bill Levine operate a 15,000 s.f. jam manufacturing facility, a 4400 s.f. wholesale bakery, cafè and retail shop in Manhattan's Chelsea Market with 20 successful Sarabeth's around the world.
Summary
Makes: 12 servings
Active time: 30 minutes
Total time: 2 hours
Ingredients
For Sponge:
1 and ¼ cup flour
¼ tsp baking soda
¼ tsp sea salt
8 ounces semi-sweet chocolate
8 tbsp butter
1/3 cup and 1 tbsp hot water
1 cup caster sugar
3 eggs
8 ounces chocolate chips
5 tsp vanilla extract
For Garnish:
80gm slice pistachio
80gm coffee beans
100gm lotus spread
10gm dry rose petals
Method
Position a rack in the center of the oven and preheat to 175° Lightly butter a 9 by 13 inch rimmed baking pan and line the bottom with parchment paper
Sift the flour, baking soda, and salt together in a medium bowl and set aside. Bring one inch of water to a simmer in a medium saucepan over low heat. Combine the chopped chocolate, butter and 1/3 cup with 1 tablespoon hot water in a wide, heat-proof bowl. Place over the simmering water in the saucepan, stirring often, until the chocolate and butter melt to create a smooth mixture. Remove the bowl from the heat and let it stand, stirring occasionally, until tepid.
Beat the egg, sugar and vanilla in the bowl of a heavy-duty stand mixer with the whisk attachment until the eggs have tripled in volume, about 3 minutes. Change to a paddle attachment. Add the cooled chocolate mix on a low speed until combined. Add the flour mixture and mix just until combined, scraping down the sides of the bowl as needed. Stir in the chocolate chips. Spread the batter evenly in the prepared pan. Bake until a cake tester inserted into the center of the brownies comes out with a moist crumb, about 25 minutes. Make sure to not overbake. Transfer to a wire cooling rack and let the brownies cool completely in the pan.
Run a knife around the inside of the pan. Place a cutting board over the pan and invert the board together to unmould the pastry. Peel off the parchment paper and cut into 12 brownies.
Top each brownie with a sprinkle of pistachio, crushed coffee beans, lotus spread or dry rose petals.
---
Visit Sarabeth's for more