W Hotels ~ Doha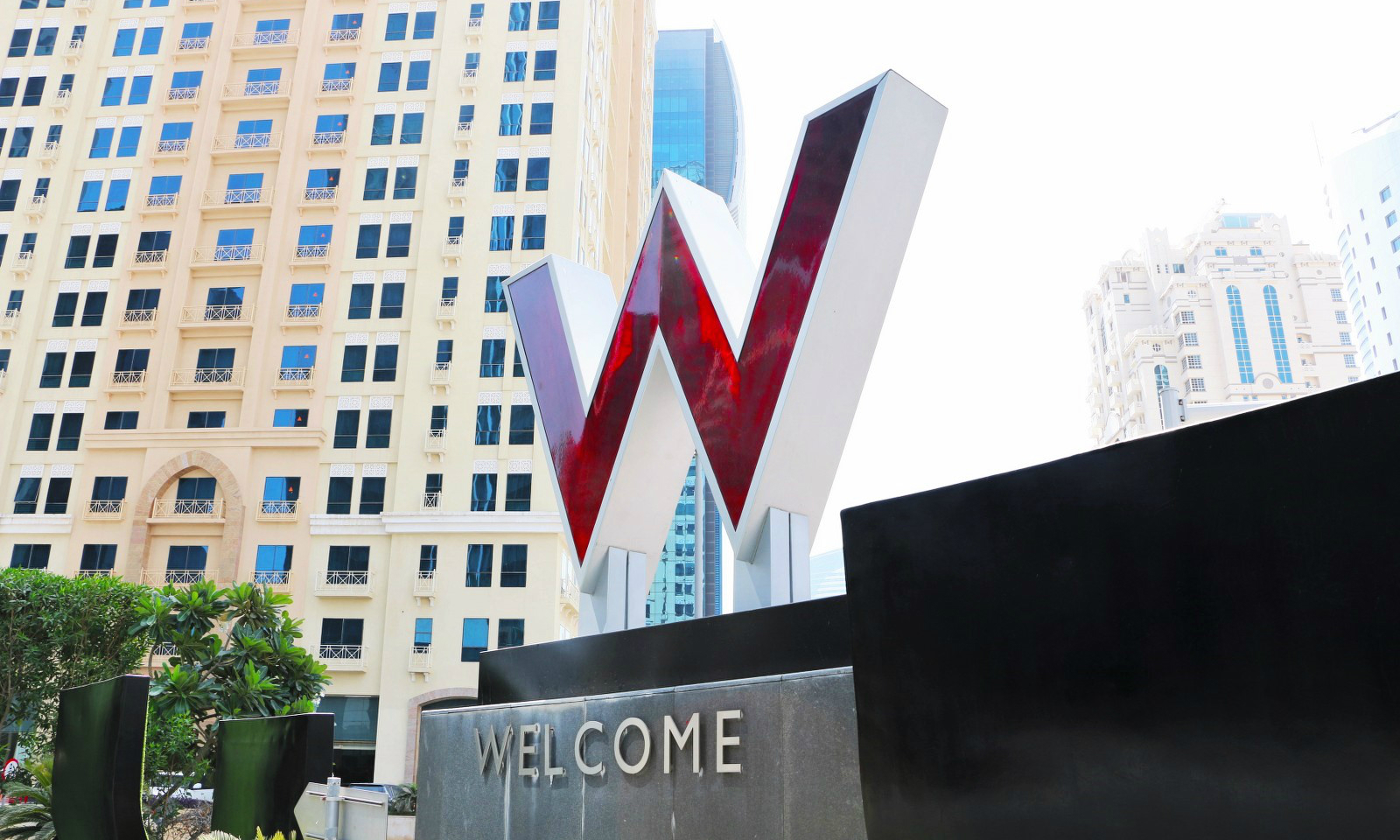 "Casual glamour meets urban energy as the first luxury lifestyle hotel opens in Qatar. Located at the West Bay of Doha, W Doha has got your insider access to the hottest shopping, buzzing nightlife and one of the best culinary experiences in Doha, sorted.

This modern sanctuary lies above the city, peering out over the blue Arabian Gulf. Its signature style, vivid interiors and vibe promises unforgettable days and nights!"
About W Doha
W Doha boasts 289 rooms and suites each with an iconic stylish and sophisticated design. Whether you visit this property for business or vacation, you are bound to enjoy the best of both worlds. Rest assured, W Doha's service philosophy and brand signature "Whatever/Whenever®" states that, the W insiders are able to offer you whatever you want/whenever you want – day or night!
The entrance at W Doha is magnificent and is designed to impress. Upon entering W, you will go through a brief security check, followed by being exposed to a beautiful display of fresh and vibrant flowers. Did you know that the colors of these flowers changes every now and then? Soon enough, you will notice 178 beautiful blue lanterns hanging from the ceiling of the hotel. At this point of time you are most likely going to capture an Instagram-worthy picture 😉
Convenience
W Doha is centrally located amongst the most popular spots in Doha. Isn't that the most important thing when choosing a hotel? From W Doha it is a 20 minute drive (20 km) to & fro Hamad International Airport (one of the Best Airports in the world), 7 km to Souq Waqif market, 8 km to Museum of Islamic Art, 10 km to The Pearl and Doha Golf Club and a 30 minute drive (15 km) to the very popular Villagio Mall. Additionally, City Centre Doha is just a few minutes/walking distance from W Doha!
Feel free to ask for assistance, advice or suggestions from the hotel's own W Insiders.
Services and Amenities
BLISS, CUT, FIT, P.A.W, WET are just a few services/amenities provided by W (the terminologies sure are short n' sweet 😉 )
Take a dip in the outdoor WET® pool, work out at FIT and revitalize your body and soul at Bliss® Spa. Indulge yourself with a new trendy look at CUT by Alexandre Zouari and spoil yourself with the finest sweets at Teuscher Chocolates of Switzerland. Ultimately, mingle and linger at W's cozy Living Room.
I'm sure you're wondering what P.A.W is – At W, you're invited and so is your little pooch. W is amazing since they let you experience the hotel with your 4 legged friend by your side. They will receive a custom pet bed, pet toy, treat, dog walking service, food and water bowls with floor mats and even litter boxes for cats. (A 150 QR supplementary room charge and 500 QR non-refundable cleaning fee will apply)
The Whatever/Whenever® team at W is on duty 24/7/365!
W Doha even includes sophisticated and stylish 'Luxury serviced residences' and extended-stay hotel apartments. Experience what W Hotels provides at your very own spectacular space with a kitchen, home entertainment systems and Wi-Fi. Ultimately, pamper yourself with the iconic W design, signature services and amenities.
Rooms
N's 'Cool corner suite' [QAR1,570/AED1,570 per night]
What I loved about my suite was – its magnificent floor-to-ceiling windows that overlooks the stunning views of Doha's glittering skyline and the Arabian Sea. This exclusive room is triangular-shaped and takes luxury to a whole new level. The reason the suites name is 'Cool corner suite' is literally because there is a 'cool secluded corner' at the corner of the suite **giggles**. Sitting diagonally on those soft couches with your laptop and a cuppa coffee, overlooking the phenomenal view is definitely something I would like to do everyday! My suite even boasts warm shades of blue along every nook and corner, quite relaxing and soothing indeed. This massive room was all mine to relax and stretch out 🙂 ❤
A few things that stood out in my room were;
– The magnificent panoramic views of West Bay and the Arabian Gulf
– A very spacious working area
– The room comes with a complimentary pressing of one garment per day
– State-of-the-art in-room entertainment with a super-sharp 46″ IP LCD TV
– The washroom: One of the most beautiful washrooms I've seen! It's one of those where you don't feel like stepping out y'know? It is equipped with everything you need and if anything is missing, feel free to call the room-service and they will bring it to you in no time.
The shower knobs are a bit challenging to figure out, but once you do, it's a breeze. I wasn't too comfortable with the positioning/spacing of the water closet and the bidet too.
Additionally, I wished the plug points were exactly next to my bed and the switches were easier to figure out (since a couple of plug-points would only work if a certain light was on).
'Extreme wow suite' [QAR20,900/AED20,900 per night]
At 300-square-meters, indulge in the best and largest suite in the house. Mix up a cocktail at the fully-stocked bar, tune into amazing in-room entertainment or take a long soak in the hexagonal bathtub with an Aquavision TV. A king-size signature W pillowtop mattress with plush pillows, 400-thread-count sheets and a goose down duvet will make you want to stay awhile. The 'Wow Suite' boasts the most beautiful leather and marble finishing across the room. It has several little aquariums inside, a pool table, a stylish work space and so much more.
Click here to view picture of this suite.
Wet Deck (Swimming Pool)
[vc_gallery interval="3″ images="3421,3399″ img_size="750×360″ onclick=""][vc_column_text]
W Doha – as we know it, the first luxury lifestyle hotel in Qatar has even unveiled its revamped pool area, the Wet Deck this year. Following the recent reopening of the fully evolved poolside lounge, WAHM. Guests can take a dip, soak up the sun and the stunning views of the West Bay and the sparkling Arabian Gulf. In the evening, it continues to be a dynamic destination as it becomes an extension of WAHM.
The Wet Deck has warm shades of blue when the sun is up and by night it boasts vibrant electric shades of purple and blue! The 'waterfall' feature on the swimming pool is undoubtedly the center of attraction (when is the last time you've seen a beautiful waterfall cascading down homemade sculptured tiles on a pool?!) :-O The design and color palette of the wet deck creates a calming effect and sets the mood for tranquility. Ceiling rafts above with curved elements; blue glass screens enclose seating areas; sheer curtains surround and the sound of the waterfall altogether create a serene space to soothe the senses.
The Wet Deck and WAHM is the most sought after bar in Doha. By night the mood shifts from calm to upbeat. The in-house DJ plays the latest tracks that sets a lively mood across the bar (at this point of time, you don't feel you're in Doha 😉 ). The outdoor seating has large light pendants that hang from the ceiling and twinkle in the cabanas.
Guests and visitors can indulge in snacks and cocktails indoors and outdoors depending on their mood and the weather. For a shot of Vitamin C, the poolside bar offers complementary healthy fruit juices, detox water and fruits. To protect yourself from the excess Vitamin D (the sun 😛 ) feel free to use the sun screen provided at the bar too.
Tan yourselves in one of W's sunbeds or slip onto their plush signature slippers or towers into a private cabana! High Speed Internet is available at the wet deck – so feel free to relax and clear your back logs at ease 😉
Wet Deck information;
Pool Surface – 179 sqm
Pool Depth – 1.2m
Pool Temperature – Heated/Regulated
Pool Type – Sweet
Opening hours – 6:00AM – sunset, for guests
Culinary Experience
Experience creative and different cuisines from different restaurants located at this property. Spice Market offers delicious Asian cuisine whereas Market by Chef Jean-Georges promotes International cuisine consisting of a wonderful variety of food. La Spiga by Paper Moon offers authentic Italian cuisine and W Café on the other hand boasts a fantastic array of mouth-watering snacks and pastries!
W Doha is known to have one of the best nightlife in town. The 3 bars & lounges – the Living Room, Wahm and Crystal are undoubtedly the sleekest spots in town. Trust me when I say, you don't feel like you are in Doha when you are here.
WAHM
[/vc_column_text][vc_gallery interval="3″ images="3422,3397,3398,3407,3406,3410,3409,3408″ img_size="750×360″ onclick=""][vc_column_text]
"The fully refurbished and evolved WAHM features an exclusive poolside lounge (wet deck) that is poised to gather the city's savviest and most stylish show stoppers for a revelry redefined and reinvented".
WAHM's new look can only be described as visionary, modern, dramatic, and provocative. The venue has undergone a complete transformation from a bar into a sophisticated lounge with the use of subtle vibrant colors while still highlighting the bold designs to create a magnetic feel. The gold fins-clad ceilings are brought in from the terrace to form a feature above and to the back of the bar, separated by mosaics to represent water falling to tie in with the Wet Deck. Rich green paneling surround the lounge with gold detailing and textured wall covering to add a sophisticated decadence. Beautiful handmade chairs covered in velvet give a feeling of softness and elegance.
They have a great selection of handcrafted cocktails and serve international cuisine. My favorite were the Meduse Sheeshas – not only does it give a 'cool' factor to smoking sheesha as it looks appealing ( 😛 ) but also feels great, since it is gentle on the throat.
Although the menu, portion size, quality and taste of the food was great, the service was slow and the attendants often got confused with our order. However, it's understandable since the bar was packed. Another thing that can be improved at WAHM is the WiFi signal. You will not receive WiFi from the sheesha lounge.
The inhouse DJ's behind the decks play world electronic music with eclectic oriental and occidental fusion sounds until sunset. This transitions into stimulating beats and deep soulful house that progresses into the peak of the night with solid soulful grooves.
WAHM is opened from 5PM – 2AM everyday. It has now added breakfast and lunch to their menu and their 'Saturday Sunset Sessions' are coming up very soon.
Market
Market Doha, inspired by Jean-Georges Vongerichten's concept of the "hotel as a home", extends to the restaurant as a casual family kitchen. The menu features dishes that emphasizes comfort and creativity allowing guests to try new flavor combinations and explore spices from other regions, all while remaining close to home.
I tried Markets breakfast and brunch; the brunch definitely wins. Although I was content with the variety of dishes and cuisines available, the flavors were a hit and miss. Majority were great, but others, not that much. The best dish you can order from here is their 'Truffle Pizza'. It's the best! Additionally, you can't miss out on their fantastic variety of desserts. There was a whole section dedicated to several types of cakes and I absolutely loved that! 😉 Try the 'Deconstructed Black Forest' – it has 'truffle' in the chocolate mousse! :-O
Spice Market
Illuminate your night. In a cozy, candlelit lounge overlooking the glittering Arabian Gulf. The several handcrafted dim-lit lanterns hanging from the ceiling screams elegance at Spice Market. The atmosphere has a soulful exotic vibe whereas the cuisine served is Asian. They have some of the best maki rolls and the strongest drinks I've ever had (I guess not being able to process more than 2 sips in a row counts?)
Try the 'Shrimp Dumplings' – it was delicious. From the maki rolls, if you are not a fan of raw sushi, you must order the 'Crispy Shredded Crab' and 'Shrimp Tempura', they were fantastic! Cooked, served and seasoned to perfection 😉
W Café
Grab some light bites, a cup of coffee or tea and maybe a pastry or two (or three or four?) at the warm, welcoming W Café. The yellow walls and quirky interiors sets an instant positive mood by the time you step in and place your order. Whatever you're craving, they have a selection of delicious baked goods, cupcakes and treats to satisfy your appetite. Try the 'Carat gold & Rose' Tea if you're a fan of floral tea, since I'm obsessed with anything rose, I loved this one.
Priced at QNR120 per person, the afternoon tea boasts a great selection of pastries and savory items such as finger sandwiches, scones, etc). The pastries were a hit and miss but the savory items were great!
Crystal
At Crystal, the 'Nightlife is Redefined!' Which is why it is one of the best clubs in town!
As you would expect, the music is LOUD and the DJ has an amazing playlist, playing the latest tracks! Spend endless nights dancing under the Baccarat "Zenith" chandelier of Crystal and sip on signature cocktails or a champagne bar while you're at it 😉 .
Location
Click here to book your room or call +974 4453 5000 for other queries