W Hotels ~ Dubai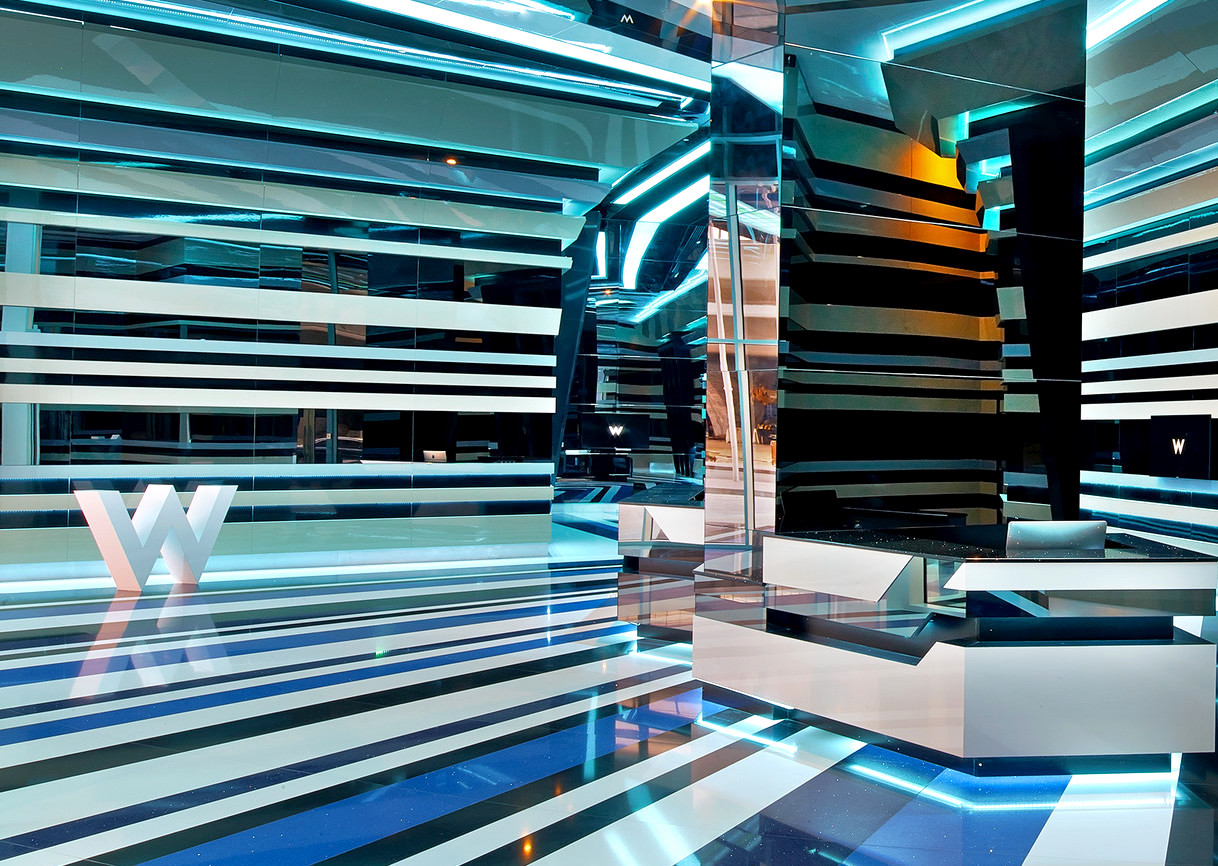 "One of the most recognisable brands in the hospitality world, this fun and unique brand is set to change the landscape of Dubai. And you could say it already has, literally, with the bold neon light show glowing like a beacon right by the side of the new Sheikh Zayed Road flyover by Business Bay.

What attracted me the most to W Dubai? Their Pet PAWlicy ?"
About W
For the ones who are unaware – W Hotels are the rebellious little brother of the hotel scene. The brand is barely 20 years old but is already as powerful as the old-school elites such as Hilton, Marriott and Four Seasons. With an eye towards a younger crowd, its properties break the mold with eye-catching style, creative branding, unique dining and nightlife partnerships.
About W Dubai
W Dubai Al Habtoor City, is where style visionaries and cultural connoisseurs converge to redefine what's new on the global stage. With their signature "Whatever/Whenever®" service and W Insider with the scoop and access on the city's top spots and hidden gems, W Dubai is the pulse of next generation fashion, music, and design.
Revel in level upon sensational elements, whether the 356 guestrooms and suites transforming sweet dreams into reality, epicurean pleasures or sophisticated socializing. Below are key bullet points on less known facts of #WDubai,
1. Check in is on Level 30! – Lobbies on the ground floor are so passé 😛 The W Lounge is strategically located on the 30th floor and has the most phenomenal panoramic view. Guests will be able to see the beautiful shimmering skyline and the Dubai Water Canal that has weaved its way towards the Arabian Gulf. Distraction is key if there is a long line right? 😉
2. Affordability – The cost of each room starts at AED899+/night. This includes early check-in from 12 noon and late check-out until 5pm, complimentary welcome beverage upon arrival, breakfast and WiFi access.
3. Your phone = room key – 21st-century technologies are finally kicking in! Forgot your key card? Not an issue! W Dubai, being a part of the Starwood group, the hotel's offers its SPG Keyless entry technology, enabling guests to use their smartphone or wearable technology as a room key to access rooms with a simple swipe of their device. Of course, you need the SPG app for that.
4. PETS are allowed!
Convenience
W Dubai is conveniently located at the heart of Dubai! It is approximately 15km (20 minutes) from the Dubai Airport,  6.5km (15 minutes) from The Kite Beach and 5km (10 minutes) from the very popular The Dubai Mall and Downtown Dubai.
Services and Amenities
W Dubai Al Habtoor City boasts;
1,000 square meters of event spaces
State-of-the-art audio-visual equipment
Great Room with 725 square meters
Five inspiring and bright Studios
With more than 1,000 sqm of event space and meeting rooms, W Dubai – Al Habtoor City orchestrates fully adaptable conference equipment and world-class audio-visual facilities to set the stage for lively and spectacular presentations. Click here to view the capacity chart and floor plans before you make a booking.
Guests can even take a refreshing dip in the pool or bask under the sun at the WET® deck, beautifully landscaped and adorned with cabanas and deckchair-friendly amenities. They can even recharge in the state-of-the-art FIT gym with a workout, plus fun bites, healthy snacks and uplifting drinks.
FIT, P.A.W, WET are just a few services/amenities provided by W (the terminologies sure are short n' sweet 😉 )
I'm sure you're wondering what P.A.W is – At W, you're invited and so is your little pooch. W is amazing since they let you experience the hotel with your 4 legged friend by your side. They will receive a custom pet bed, pet toy, treat, dog walking service, food and water bowls with floor mats and even litter boxes for cats. (An AED150 supplementary room charge and AED500 non-refundable cleaning fee will apply)
The Whatever/Whenever® team at W is on duty 24/7/365!
Rooms
Traditional room names are too traditional for W! At W Dubai, the rooms are called fantastic, fabulous, marvelous, sensational, spectacular and wow – yes!!! There are 356 rooms in total, all with keyless entry systems and the most stunning/futuristic interiors. There's a smooth flow linking the wardrobes, bath, and bedrooms, rather than compartmentalized styles we're used to, and the décor is all funky shapes and stick lighting.
The best room in this property is *hands down* the 2 storey "E-Wow Suite" priced at approximately AED40,000 per night!! It's got the most phenomenal view, a champagne tub and so much more. Click here to read more about it.
Spectacular Room [~AED1000 per night]
This room has the most positive high-energy vibe, cutting-edge, modern and bold design with utmost comfort. You are completely in charge of your revitalization and rejuvenation in this room! Grab a lite bite in your Munchie Box, tune-in to the spectacular in-room entertainment and stay connected with High-Speed Internet Access, your world at your fingertips. The signature W bed and W pillow menu create the sweetest dreams with absolute relaxation, while the Bliss Spa® sink side tub and amenities will soothe all the senses. Take complete advantage of the W MixBar and "Revel in magnificence when you roam away from home. Stay a while!" 🙂 ❤
What I loved the most? Floor-to-ceiling windows and the 'all open-plan areas' that extend from the bathroom to bedroom.
Culinary Experience
This being Dubai, a place where majority of the foodies reside, we all want to know about food 😉
Wet Deck
Take a dip, sip a drink, and mix and mingle at WET® Deck – W's poolside party/living room. Live it up by winding down at the city's most sociable setting, home to cabanas, a DJ booth, and dynamic W Happenings. They serve international cuisine and the dress code is casual.
Opening Hours:
Saturday – Wednesday 8:00 AM – 10:00 PM; Thursday – Friday 8:00 AM – 2:00 AM
Food Service: Saturday – Wednesday 12:00 PM – 10:00 PM, Thursday – Friday 12:00 PM – 2:00 AM
Level Seven
A Mediterranean-inspired venue with theatrical open kitchens and chef tables. It's inspired by a daily market and features seasonal produce, but rather scarily, is being described as a casual, yet social hotspot.
Scintillate your palate by traversing a comprehensive Mediterranean terroir at Level Seven, where regional classics mingle with their modern renditions, the entire experience is thoughtfully paired with handpicked wines. It's opened 24 hours, 7 days a week and has a 'smart casual' dress code (smoking is prohibited).
Best part about L7? They have an entire room dedicated to desserts!!! 🙂
Location
Click here to book your room or call +971 4 436 6666 for other queries
Sources