Awesome Things to do in Dubai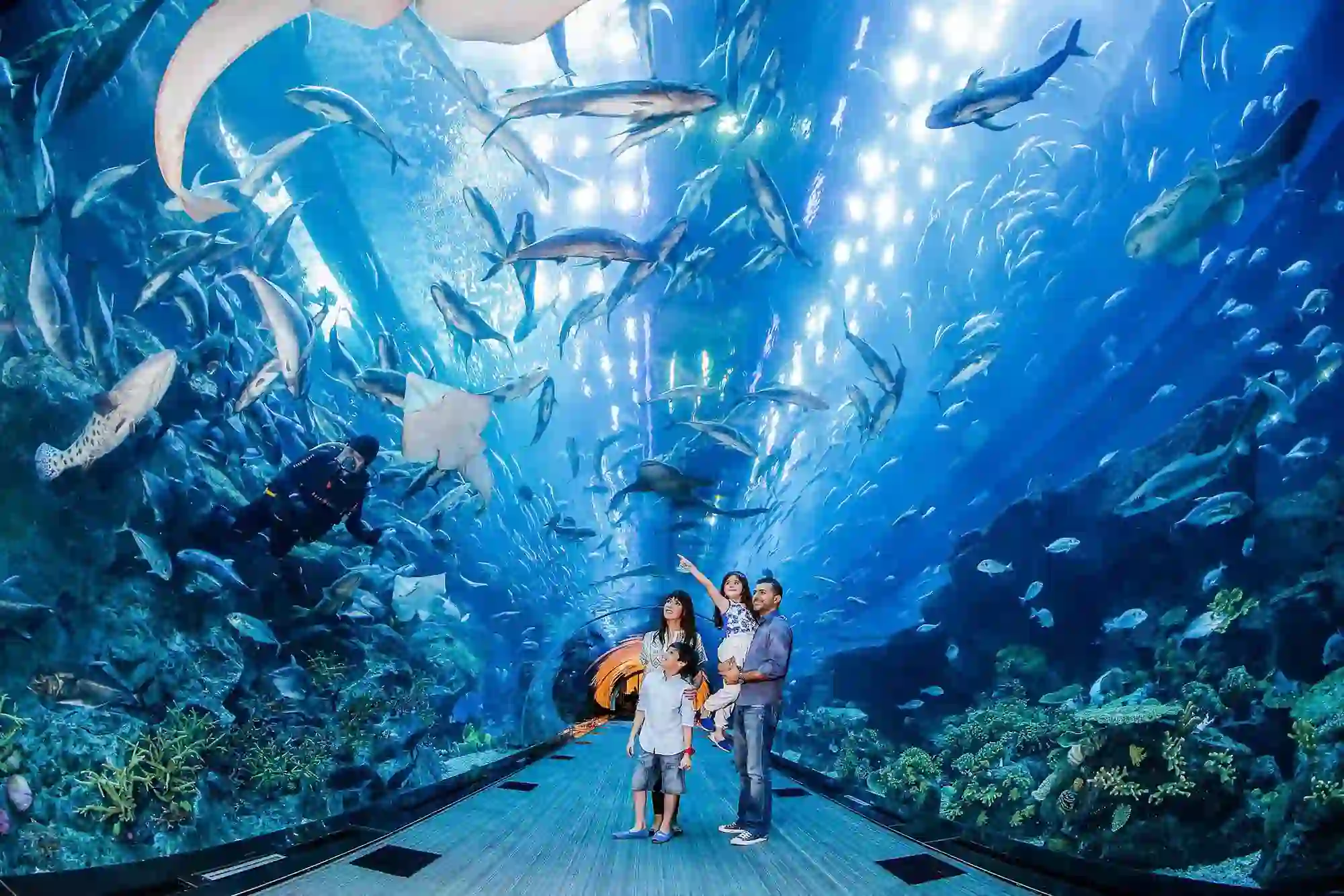 Dubai is undoubtedly the first point of call for those planning a holiday in the UAE.
This is because it is the land of diversity with an overwhelming array of attractions and experiences to satisfy every interest. Yes, we are sure that you will have something to fill in your Dubai travel program, no matter what your budget or preference is. To make this task easier, we have amassed for you a list of the most impressive things to do in Dubai.
1. Catch the Oh-So-Grammable Moments at Sky Views Dubai

It is the newest vantage point in the heart of modern Dubai. But, it is more than that; it entices you with its blend of three attractions or experiences such as the observation deck, the region's first-of-its-kind transparent glass slide experience (from its 53rd to 52nd level), and mostly the daring ever Edge Walk experience. Be it for the most astonishing views over the city skyline or for its perfect fusion of pulse-racing thrill and fantastic setting, Sky Views is one of the unmissable spots in Dubai.
2. See it all from Burj Khalifa 'At the Top' Observatory
There is no dearth of observation decks in Dubai, but this standpoint within the world's largest building (Burj Khalifa) is the ultimate spot to catch the entire view over Dubai, covering its skyline, ocean, desert, and beyond. People mostly visit its observation deck on the 124th level, but if you wish to absorb the views from the world's highest observation deck, head up to its Sky Deck on the 148th level, perched at a height of over 555 meters. Apart from the breathtaking views, you get to enjoy one of the world's swiftest elevator rides on your visit here.
 3. Head to Dubai Aquarium and Underwater Zoo
This captivating aquatic attraction is where you get to see a collection of over 33,000 marine creatures in a colossal 10 million-liter water tank. Yes, it is so massive that you can dive into it on a snorkeling session or enjoy a glass-bottom ride to see rays, and sharks, among others, up close. There is also an underwater zoo that inhabits some quirky yet mighty reptiles including the giant 750-kilogram King Croc. Located inside the mega Dubai Mall, you can choose to pair your Dubai Aquarium visit with other attractions in the vicinity, such as Ekart Zabeel, Dubai Ice Rink, KidZania Dubai, and Infinity des Lumières to name a few.
 4. Watch Dubai Fountain Show

Placed in Downtown Dubai, next to Burj Khalifa and The Dubai Mall, the Dubai Fountain Show is one attraction in Dubai that you can't get enough of it. The highlight is the awe-inspiring movement of water in perfect sync of music and light, making it a sight to behold. While it is a free attraction, you can reserve a premium perspective by taking an abra ride at Burj Lake (where the fountain is set) or by hitting the dedicated Dubai Fountain Boardwalk. Now if you wish to see the fountain show in a grander way, make your way to the newest Palm Fountain at Pointe, which is the world's largest fountain.
 5. Admire the Futuristic Displays at Museum of the Future
The name itself says that it is not a regular museum. Yes, be prepared to get enthralled as you come across the most innovative and stylish displays that span over its seven high-tech levels. It will take you more than 50 years forward, allowing you to experience the most advanced in space science, wellness, ecology and more. That's not all; it boasts of a compelling architecture that resembles a seamless oblong silver ring where its center part is hollow.
 6. Pay a Visit to Al Shindagha Museum
For an authentic and enlightening slice of Dubai's past, culture and heritage, there is no better place to visit in Dubai than Al Shindagha Museum. The greatest draw of this open-air museum is a string of 21 Houses or Pavilions that encompass the meticulously preserved Al Shindagha Historical District, close to Dubai Creek. This mainly includes Al Maktoum Residence, the Perfume House, Traditional Craft House, and Children's Pavilion. With the support of immersive technologies, you don't just get to view the exhibits but also live the journey of Dubai from a sleepy village to a global hub of trade and tourism.
7. Go Sky Diving

Sky Diving in Dubai, especially above its surreal desert landscape or the unrivaled Palm Jumeirah, is an experience that would be etched in your mind forever. Yes, it is one of the ultimate activities for those who wish to feel the exhilaration of flying and freefall from an altitude of over 13,000 feet. This activity may be risky but interestingly it is ideal for both beginners and seasoned adventurists, with options such as Tandem Sky Dive experience.
8. Join a Delightful Cruise
It doesn't matter if you are looking for a super relaxed sail or a hair-raising cruise in Dubai. It is all available in Dubai. All you have to do is take your pick and sit back for an amazing cruise experience in Dubai. RIB boat tours are ideal for those who prefer a nerve-wracking ride across Dubai's waters, while a yacht rental Dubai experience is designed for anyone with a penchant for a refined cruise experience along Dubai's marvelous waters. Want to avoid all action and thrill during your cruise? You can't go wrong with a leisurely dhow cruise along the timeless Dubai Creek or the stylish ever Dubai Marina.
 9. Ride Ain Dubai at Bluewaters Island
Ain Dubai is not any ordinary giant wheel; it is the world's highest observation wheel at a height of over 250 meters. Not to mention, a rotation aboard one of its 48 enclosed, air-conditioned cabins presents you with the most stunning views over Palm Jumeirah, JBR, Dubai Marina, and of course Bluewaters Island where it is set. As it spins at a walking pace, it is ideal for all age groups and abilities. For an exclusive Ain Dubai experience, book a private cabin inclusive of food and drinks.
 10. Say Hello to Your Favorite Celebs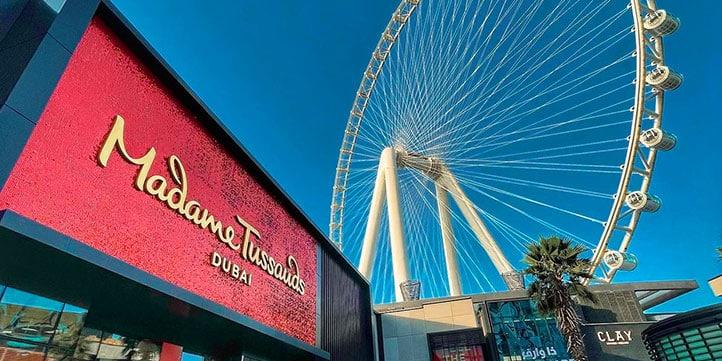 Before or after your Ain Dubai visit, be sure that you make a stop at Madame Tussauds Dubai in the vicinity. With its real-like, larger-than-life wax images, it is the Middle East's first museum where you can get up close and personal with your beloved celebrities or personalities that represent all domains of fame. This includes but is not limited to political figures, royal family members, movie stars (from Hollywood and Bollywood), music sensations, and sports superstars to name a few. There is no barrier or restriction in the museum means you can touch these images and even click endless pictures with them.
 11. Drive a Supercar on Dubai's Water
Wondering if it's possible in Dubai? You can make this fantastical adventure come true with the Jet Car Ride experience in Dubai. It is nothing but an amphibious vehicle that is modeled like a sleek Supercar, allowing you to enjoy both the ride and the fabulous city skyline from the water. With the capacity to seat two people, you can try this distinct water activity solo or be joined by an experienced guide who will take care of this exciting drive on water from its start to end.
 12. Desert Safari
Take in the real splendor of Dubai's nature and indigenous ecosystem as you make a beeline to its desert landscape, about 35 to 40 minutes drive from the city center. Make it as amusing and thrilling as possible by going on a guided desert safari. It is mostly packed with adventure activities and cultural experiences such as 4X4 dune bash, sandboarding, camel ride, henna tattooing, Shisha smoking, and falconry. Traditional entertainment shows including Belly Dance and Tanoura add to its charm and vigor. There is morning, evening, and overnight desert safari which you can choose according to your convenience and preferences.
 13. Shop Till You Drop at Dubai's Souks

From the iconic Gold Souk and Spice Souk to Textile Souk and Perfume Souk, the Arabian souks or traditional bazaars scattered across Old Dubai are some of the region's most underrated sights. Each of them is a true surprise package that not only reveals to you the Emirati trade history and culture, but also introduces you to a vast array of merchandise that are quintessentially Dubai or UAE. Whether for bargain shopping or to sprinkle a bit of bonafide culture and heritage into your Dubai visit, these souks will not let your expectations down.
 14. Go on a Day Trip to Hatta
If you are after a perfect antidote to Dubai's frantic pace and glitzy cityscape, Hatta is your go-to spot. Located about 150 kilometers away from the city center, this quaint untouched mountain settlement will blow you away with its down-to-earth setting and classic allure. You can try mountain biking, enjoy hiking, and further visit some of its top attractions including Hatta 360 Observatory, Hatta Heritage Village, and Hatta Honey Bee Discovery Centre. If these are not adequate, head to Hatta Lake for kayaking or paddle boating and further wind up your day with an overnight stay amidst the region's enchanting beauty and quietude.
 15. Hang Out at the City's Beaches and Green Parks
Now if you don't want to travel too far or spend too much money on the city sights, there are several cost-effective ways to while away time during your Dubai holiday. Yes, not all attractions or activities in Dubai are pricey. Visit its well-kept beaches or roll out your picnic mat at the city's lush parks bursting with activities ideal for all age groups. Al Mamzar Beach Park, Mushrif Park, Zabeel Park, and Creek Park are a few to mention among the best parks in Dubai.
Conclusion
So, are you ready to engage and excite all your senses and return with a lasting impression of your Arabian holidays? Dubai is sure to delight you with its unrivaled, friendly vibe as well as its abundance of attractions and activities. And, with these above suggestions of epic Dubai things to do and see, we anticipate that you will have an unforgettable holiday in Dubai that would win your heart.