26 most unique cafes in Dubai!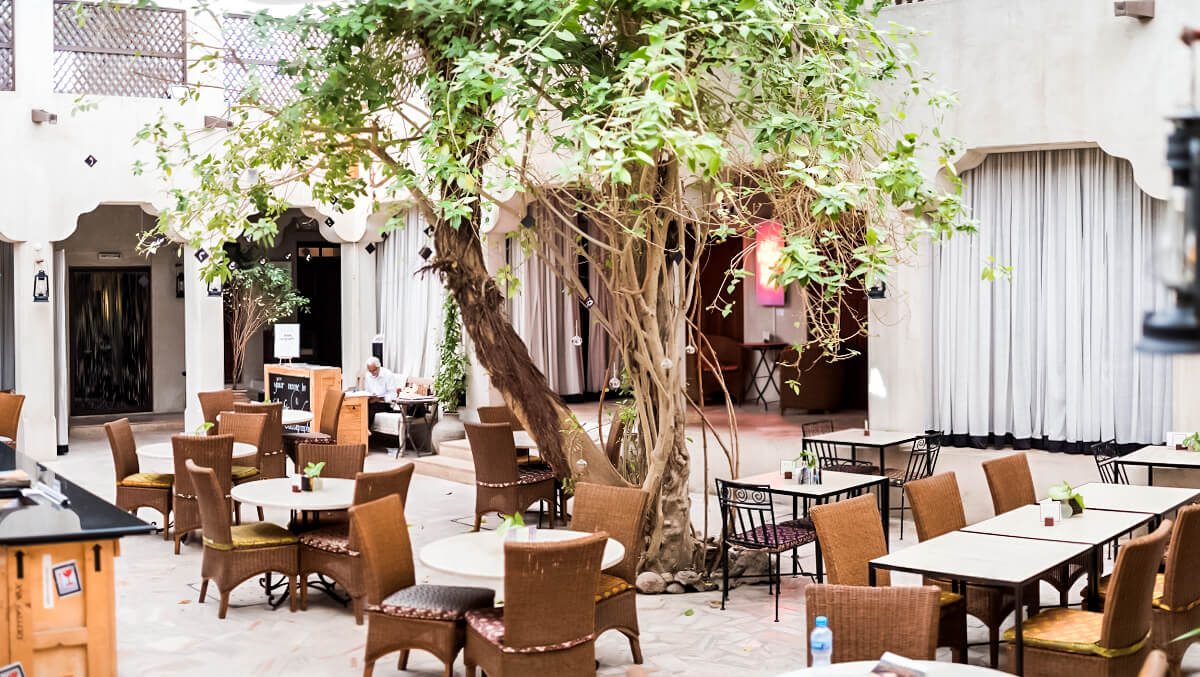 2k18 has blessed us with some gems that are the perfect spots to get that coffee fix and get some TLC for yourself and your gal-pals! ? From fancy shakes to novelty cupcakes and more, Dubai is now home to these gorgeous cafes that are not only perfect for the 'gram but also great places to gather some delicious food. ?

Hey Habibi-Teas! This is the fanciest fix you need for those lazy Friday afternoons. ? It's pink, pretty and 100% Instagram-able. Dishes I would recommend are "The Mermaid Toast" and"Chia Later, Pudding". Love the innovative names! ?
Cost for two: AED 130
Location: Umm Suqeim

A cozy little cafe serving steaming hot momos and herbal teas ☕ – this is a hipster spot that is easy on the pocket. This place is specialized in northeast Indian cuisines such as momos, thupkas, herbal tea and even Maggi. They have very limited seating, but the ambiance is quite relaxing. ?
Cost for two: AED 65
Location: Al Karama

This place is great for a quick breakfast getaway. The interiors have a European feel with a hint of vintage to it. Cleansing juices, omelets and their freshly brewed coffees are must-haves. ?☕ And yes, if the Shakshouka is available – grab on to it!
Cost for two: AED 240
Location: Trade Centre Area

This little place has the quirkiest little props, loud wall art, the cutest furniture AND serves the best of street food offerings in India in the funkiest plating. ? The names of the dishes are inspired by Indian Cinema and pop culture from the place of its origin. Some favourites here are chili chicken fries, Mithibai grilled cheese sandwich, Chowpatty wali pav bhaji, and suraj hua maddham. ?
Cost for two: AED 150
Location: Al Karama

Cute-sy interiors + yummilicious food = this great little place in Qusais. Fairly new in the region, this place is quite a crowd puller as its a party on the appetite and the eyes. ? If you're looking for a fancy English breakfast or some soft waffles on a Friday morning, this is where you need to head. And yes, its quite easy on the pocket!
Cost for two: AED 50
Location: Al Qusais

Tom & Serg has an industrial-themed interior, that's a treat to the eyes combining several internationally inspired elements of style and exquisiteness. I highly recommend the Moroccan chicken salad and the acai bowl. ?
Cost for two: AED 180
Location: Al Quoz

In the heart of Bastakiya lies this little treasure of a cafe! ? This place has the rustic feel from old Dubai charmed by the goodness of art – it's such a beautiful place. They also have a lot of community events promoting art and culture quite often. Highly recommend the Mezzo platter and the range of juices they offer – perfect for the weather right now. ?
Cost for two: AED 135
Location: Meena Bazaar, Bur Dubai

Situated inside the Dubai Garden Centre,  this place is so vibrant with the cutest decor you could possibly imagine. There is a lot of green in here with the little garden that gives a pop of colour. Do check out their handcrafted cookies and the smoothies while you're there. ?
Cost for two: AED 90
Location: Dubai Garden Centre

The bohemian interiors in this place have my heart! ❤️ This place is perfect if you're looking for a detox from the hustle of the city. Expect a lot of liveliness which makes this place a nice little retreat. Highly recommend the black lemonade, their pancake offerings and the zucchini noodles (YUM!) ?
Cost for two: AED 190
Location: Jumeirah 1

Calling all cat lovers out there! If you can't get enough of those cat videos on the internet, this place gives you the chance to interact with these feline buddies. ? You get to sit with them, play a little or maybe just watch them take a nap while you get yourself a drink. This place has a fixed entrance fee of AED 30 with a free drink, all other things on the menu are charged extra. Get ready to purr with happiness! ?
Cost for two: AED 120
Location: Umm Suqeim

If you want to get your cuppa coffee the way you like it, this is the place to be. ☕ Their elaborate coffee menu is a treat to all coffee-holics. The interiors are quite cute – with little quote artifacts on the walls and perfect lighting if you want to catch up on that book of yours. ?
Cost for two: AED 50
Location: Umm Suqeim

An exquisite little cafe facing the Dubai Fountain, 3rd Avenue Cafe has a delightful offering on their menu consisting of several delicacies that are renowned and a party on your taste-buds. ?? The interiors are quite elegant, but nothing meets the mesmerizing view of Burj Khalifa and the Dubai Fountain.
Cost for two: AED 240
Location: Downtown Dubai

This hidden gem ? is a must visit if you're looking for places that have the perfect mix of class and comfort. The quote on the walls will definitely find its place on your Instagram handle and the coffee will soothe your heart. They also have a great playlist in there to calm your soul in this bustling city. ?
Cost for two: AED 130
Location: Al Quoz

If you are an art enthusiast, or just fond of pretty places – you will fall in love with this place. ? From the seating to the pop-ups, it's all perfectly put together with a touch of 70's feel to it making it so beautiful. Definitely recommend you try the Emirati breakfast and the Karak chai here. ?
Cost for two: AED 160
Location: Jumeirah 2

This hipster place is all about bikes and related pop-ups with the industrial interiors giving the right touch of uber cool feels. ? There is a corner where you can put your gaming skills to test and everywhere else you can sit back and relax, catch up on work or maybe just have a casual conversation with someone there. They have their own roaster so do not miss their coffee. ?
Cost for two: AED 150
Location: Al Quoz

This is not your regular coffee pick up spot. This is where you can recline and leave all your worries behind, and chill! Inspired by the cafes in NYC, this little spot is infamous for their breakfast – croissants ?, pancakes ? and eggs ?, the way you like it. Perfect if you're looking for a cozy spot to chill with your partner with the breathtaking view this place offers.
Cost for two: AED 150
Location: JLT

This place is bright & sunny – even the menu. ? The flash of colour with a relaxed vibe makes this place quite a hit if you're looking for a pit-stop for some breakfast. You can indulge in the goodies guilt-free as this café is focused on healthy food and freshly brewed coffee. ☕️
Cost for two: AED 120
Location: Arabian Ranches
18. The Daily

Infamous for their Friday brunch, the Daily has gathered its name for being one of the most casual spots to hang out in the region. ? This place is cross ventilated and gleaming in natural light giving it a fresh vibe with elements of millennial life in the form of an industrial theme – with a little workspace if you need it.
Cost for two: AED 200
Location: Rove Healthcare City, Oud Metha

As their tagline says, they are much more than just coffee. The interiors are super classy – there are concrete figurines in here as well as seating & wall mounts made of wood. ? The place makes its coffee with all the royalty and care it needs and if you're a coffee enthusiast, it's about time you add this to your list.
Cost for two: AED 85
Location: Al Safa

This place is a no-fuss spot with minimalist decor. Wooden carvings and plants ? dangling from the ceiling give it a vintage-Parisian touch. They're specialists when it comes to healthy food as they claim to focus on plant-based dishes that are free from additives such as chemicals, sugar, soy and dairy. ?
Cost for two: AED 160
Location: Alserkal Avenue

Located in the heart of Mankhool, this place is beautifully crafted with the finest art. Your Instagram just found its home for the fanciest clicks. ? Its muted designs speak out loud and are perfect for a weekend out. Must try the kinds of pasta and the shakes they offer, as its irresistible.
Cost for two: AED 180
Location: Bastakiya, Bur Dubai

B'dou is a fusion of local and international culture that's reflective in both the menu as well as the decor. ? They're heavily inspired by the nomadic experiences of Bedouins and the warmth of Arabian hospitality. With both indoor and outdoor seating, the vibe is calm and mesmerizing. You must try the rose chia seed pudding as well as some cult Arabian delicacies that are hard to miss. ?
Cost for two: AED 245
Location: Al Safa

Located in one of the most creative spots in the region, this cafe is specialized in freshly roasted coffee with their in-house roastery. The atmosphere is quite comfy and the skilled baristas brew some of the best coffee creations. Look out for the banister seating – uber cute! ?
Cost for two: AED 40
Location: Alserkel Avenue

Hapi is a happy place for activity, good food and great vibes. ? Their food is locally sourced and filled with Mediterranean flavours. The vibe is absolutely lively with activities like Yoga – encouraging the importance of movement and getting closer to nature. ?
Cost for two: AED 150
Location: Alserkel Avenue

A relatively new kid on the block, Chapter One cafe is a cute little spot in DSO combining many elements giving it a gust of freshness. ? There are motifs of fresh flowers around, its fragrance lingering in the air making it all real classy. Perfect if you are looking for a chic spot for that "High tea" party with your gal pals. ??
Cost for two: AED 70
Location: Dubai Silicon Oasis

This is one of the best places if you want to get the right amount of nostalgia for the eateries in India. ? The dishes are authentic and real to its taste. It's great if you like to enjoy some good music (there is an area for performances) and indulge in really delicious food. ?
Cost for two: AED 175
Location: Marco Polo Hotel, Al Muteena
Are we missing out on any of your favorites? Let us know in the comments below!
---
Written and Researched by Sweta