SerendipiTEA: Your guide to the 15 best afternoon teas in Dubai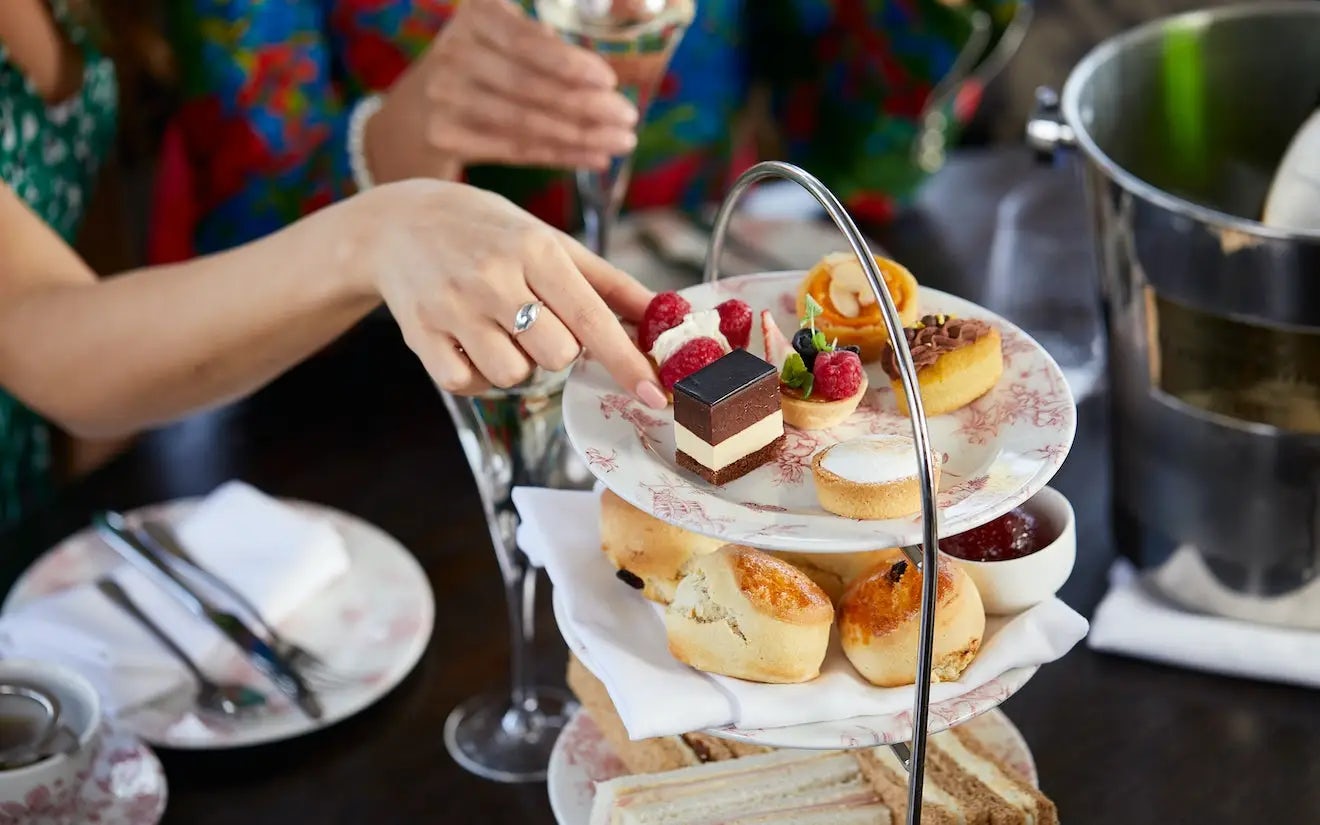 When the clock strikes three, everything stops for tea!
A cherished repast of the British aristocracy, afternoon tea is a tradition championed by Lady Anna (7th Duchess of Bedford) and Queen Victoria to ward off their peckishness (think porcelain pots, adorned tea caddies, thin slices of lemon cake, bucolic estates and silver plates similar to those found on the williamwaltersilver website). ☕🰠It was in the Victorian era that this ritual became a social revolution; the custom filtered down to other classes and stations the island nation reigned. Today, it has segued into an elaborate affair comprising of fine blends, Wedgwood China, steaming hot scones and the sacrosanct Devonshire cream globally! 😯
Residents of Dubai – known for consuming copious amounts of tea – aren't unfamiliar with this customary meal. For afternoon teas are an elaborate and opulent affair here! From exquisite hotel lobbies to cafes, we have numbered the top spots to sample this delectable tradition 😉 P.S. Booking in advance is recommended!
1. Fayrooz Lounge
Afternoon tea aboard a private abra 😠Sail through the canals of this breathtaking property and savor fresh delicacies against the serene surroundings of Jumeirah Al Qasr. Opt for this mesmerizing experience or simply have it served in the lounge!
Approximate Price: Starting AED 250
Location: Jumeirah Al Qasr
2. Dinner in the Sky
Nothing like a delicious cake 50 meters above the breathtaking skyline of Dubai Marina! Eat at a suspended table above the city and enjoy panoramic views of Ain Dubai and the Palm. Truly an unforgettable experience 🤩
Approximate Price: AED 499
Location: Dubai Marina
3. Skyview
Boundless views of the sea, cappuccino with gold dust and mini pastries on a Burj Al Arab stand â¤ï¸ï¸ The afternoon tea in Skyview – Dubai's only 7* star hotel – is an experience of a lifetime!
Approximate Price: AED 500
Location: Burj Al Arab
4. Raffles Dubai
Indulge in extravagance in this floral afternoon tea – in association with Only Roses – at Raffles Salon! The Rococo themed setting oozes luxury and opulence 💰
Approximate Price: AED 300
Location: Umm Hurair
5. W Hotel Dubai Palm
High-street meets high-tea, as W in The Palm turns ready-to-wear into ready-to-eat with their distinct and unique afternoon tea ğŸ'
Approximate Price: AED 250
Location: The Palm
6. The Chart Room
Experience an authentic British afternoon tea on board the anchored Queen Elizabeth 2. Voyage on this nautical affair on the shores on Dubai, with the traditional cream tea 🚢
Approximate Price: AED 195
Location: Queen Elizabeth 2
7. Address Boulevard
Afternoon tea in the Address Boulevard includes a flavorsome collection of elegant canapes and tea sandwiches, all served in a unique chest of drawers! 😯
Approximate Price: AED 189
Location: The Palm
8. Blüthner Hall
Luxuriate your afternoon pastime with an assortment of scones and sandwiches curated by the acclaimed Executive Chef Emmanouil Adam in the decadent lobby lounge of Emerald Palace 🥪
Approximate Price: AED 225
Location: Emerald Palace Kempinski Dubai Palm
9. Noor Lounge
Commence your afternoon with savory and sweet delicacies with an Oriental twist – warm dim sums included – surrounded by the iconic Canopy of Lights ğŸ˜
Approximate Price: AED 250
Location: Mandarin Oriental
10. Rhodes by W1
Chef Gary Rhodes offers an eclectic mix of tea and bites, gourmet bouchées with an explosion of Anglo-French flavors 🤤
Approximate Price: AED 195
Location: Grosvenor Towers
11. Tania's Teahouse
Enjoy bite-size savories and delectable tarts and pastries at Tania's Teahouse. Choose from a variety of fine tea and blends! Vegan options are available too ğŸ'
Approximate Price: AED 150
Location: Umm Sequim
12. La Patisserie Lounge
Choose from an array of scrumptious treats and teas, served in a magnificent birdcage-like stand at Sofitel's tea lounge. Exceptional for the gram! 🔸
Approximate Price: AED 199
Location: Sofitel Downtown
13. The Lounge, At.Mosphere
Luxuriate your afternoons with daintily crafted confectionary and tea, and enjoy spectacular views of the city from the floor-to-ceiling windows at the Level 122 of the Burj Khalifa! ğŸ˜
Approximate Price: AED 320
Location: Burj Khalifa
14. Shakespeare Cafe
Make your humdrum afternoons extra special with a fine selection of french favourite macaroons and gourmet mini-sandwiches without breaking the bank at Shakespeare & Co. 👠P.S. They have some of the best macaroons ever!
Approximate Price: AED 69
Location: All branches except Dubai Mall
15. London Dairy Cafe
Treat yourself to a quintessential English afternoon tea consisting of traditional scones, sandwiches and an exclusive selection of rare blended teas at London Dairy.
Approximate Price: AED 55
Location: London Dairy Bistro & London Dairy Cafe in Mira Town Centre
Looking for a good way to spend your birthday? Click here to find out the top 13 favorite birthday cakes in Dubai!
---
Written and Researched by Drishti Jain