UAE's Top 14 fries you must try to make your week cheesier!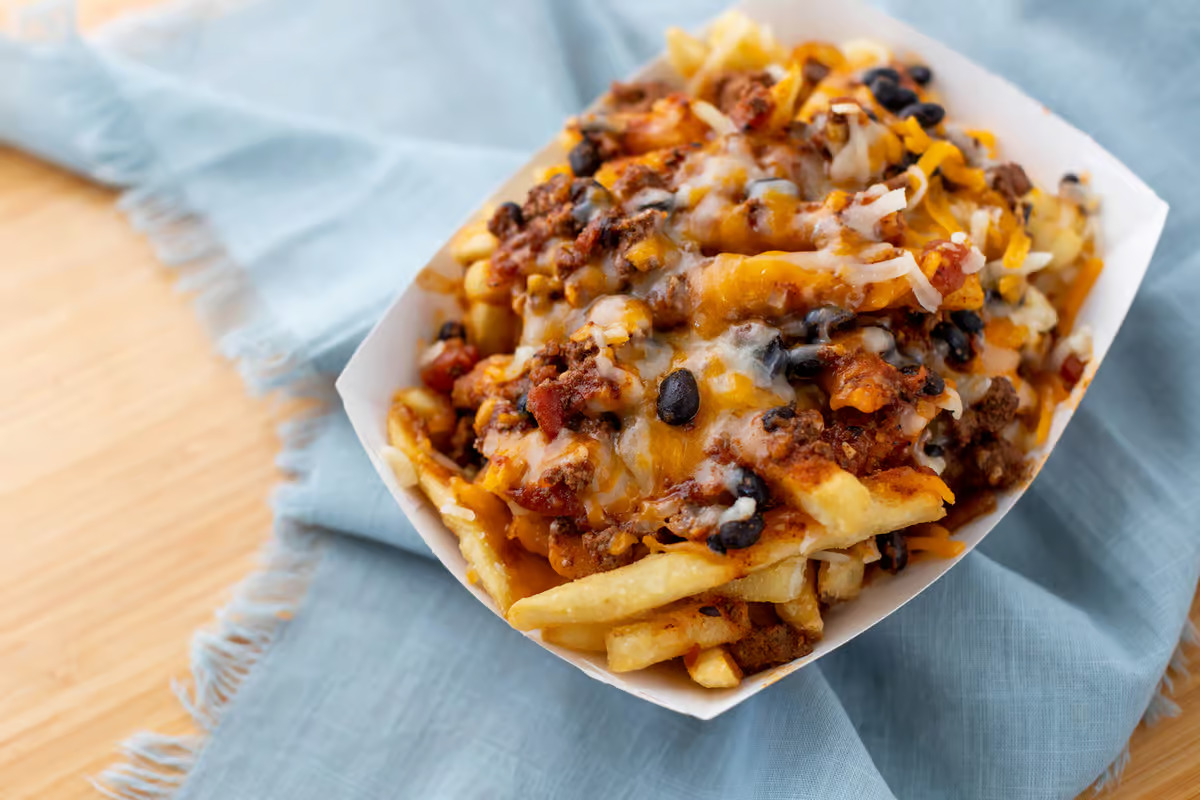 Remember when fries used to be just rectangular pieces of potato deep fried in oil? Gone are those days! ? Restaurants all over the UAE are competing with each other to bring out the craziest, cheesiest, most insane fries you'll ever see. ?
We asked food connoisseurs Denver Britto and Kimberly D'Souza from the award-winning blog WhereMyFoodAt the best fries they've had till date (and mind you they've been to countless restaurants globally and indulged in an insane variety of fries) ?. WMFA has won the 'Best Food Blogger' title by Ahlan!, BBC Middle East, Stylista, etc ? and they've been kind enough to consolidate a list for us, of the best fries they've had in the UAE, and I guarantee you these pictures will have you drooling by the time you reach the end! ? Please note, the below is not in ranking order.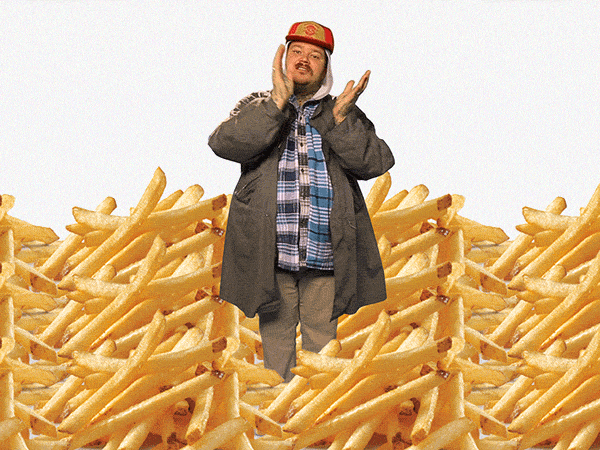 1. Delhi Fries from Four Buns Burger
One of the few places that have an individual section for fries on their menu. ? The Delhi fries definitely tops the list for the slight spice and heat as you dig into it. The chunks of chicken are cooked perfectly and the sauces add a whole new dimension to this dish. ?
2. The Crazy Fries (AED 25) from Rock and Rolls
Not only do they have some of the best burgers and sliders in Dubai but their selection of sides are as unique as the rest of the menu. ?? Love the textual element aided by the crunchy bacon and the drizzle of spicy sauce that adds a nice heat to the entire dish.
3. Volcano (AED 49) from Nomads
Make sure you take a couple of people along with you when you're going to try this since there's NO WAY one could possibly finish this on their own. Not only is the portion size ginormous, but the gooey cheese, crispy Cheetos, chicken, and perfectly cooked fries definitely make it one of our faves! ?❤
4. Cajun Fries (AED 23) from Five Guys
When it comes to Fast Food Fries, Five Guys' Cajun Fries definitely tops the list ? with Hardee's Curly Fries coming in at a close second place. We also love how fries arrives in a paper cup, and then the waiter evenly pours them onto a paper bag to prevent them from getting soggy. Genius! ?
5. Kito Fries (AED 49) from Babu
This could definitely be eaten on its own without the main course to go with it. It's that good and THAT filling. Expect lots of stringy cheese, pasta, fries (of course), Cheetos and crispy potato chips. The perfect cheat day meal! ?
6. Cheetos Chips (AED 29) from Chips n Sauce
Ofcourse they taste good; their entire menu is only dedicated to fries! ? You can mix and match the type of chips and sauces you want but our favorite would definitely have to be the combination of chipotle sauce with crushed Cheetos. Drool-worthy! ?
7. In-N-Out Fries (AED 14) from Qout Cafe
The only reason why we love their fries is because of the technique used to cook them. Perfectly crisp fries that stay crunchy for long and go perfectly with their burgers. Comfort food at its finest. ?
8. Boca Potato Chips (AED 40) from Boca
We think these potato chips are what made Boca famous – at least in DIFC. They're probably going to be the thickest chips you've ever seen and DO NOT make the mistake of ordering just one since you're most definitely not going to share this. ?
9. Batata with Shawarma (AED 30) from Eat Sol
An Arabian twist on regular fries – what's not to love? ? You can choose between chicken or meat shawarma, topped with cheddar cheese, fried onions and jalapeño. Another dish that can be eaten on its own. ?
10. Logma Fries (AED 28) from Logma
These are fries seasoned with Khaleeji spices and herbs, giving you an interesting take on your standard regular fries. It goes perfectly with their Khaleeji Wings and Chicken Samboosa. ?
My team and I have a few recommendations too ? :
11. Angry Fries [AED 30] by Blaze Burgers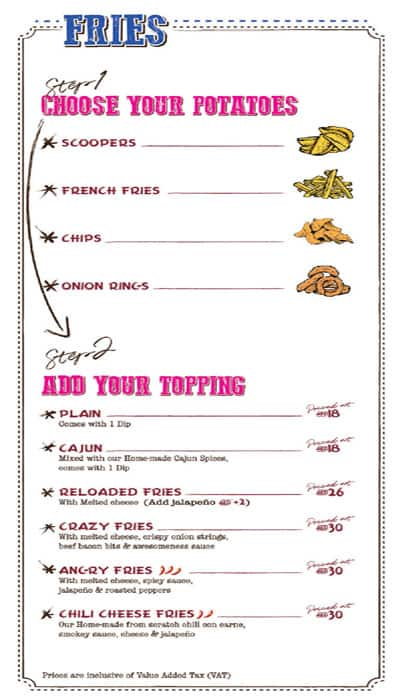 These fries make me angry all right… when they're finished ?? Blaze Burgers has an amazing selection of fries and it's almost impossible to go wrong irrespective of whichever combination you choose! ?
12. Smoky Jar Fries [AED 30] by Falla
Falla has around 5-6 varieties of fries and almost all of them are amazing. Even their presentation is mind-blowing. ? The smoky jar fries, for example, comes in a smoking jar shaped like a skull! The fries itself are an explosion of flavors in your mouth. ?
13. Yamu Super Fries [AED 28] by YAMU
These fries are INCREDIBLE! I would buy jars of the YAMU sauce if I could, it was that delicious. We were so full and couldn't eat our food anymore, yet kept reaching for these. ??
14. Holy Grail [AED 49] by She Burger
These fries are what baby fries aspire to be when they grow up ?? With bacon, cheddar, beetroot, jalapeno, fries and a generous serving of delicious cheesy sauce, this dish will leave you feeling all kinds of happy. If you're in the mood for more fries later, do give the her messy fries [AED 49] a try! ?
---
For a roundup of some of Dubai's best truffle fries, click here. Are we missing out on any of your favorites? Do let us know in the comments below!