Waldorf Astoria Ras-Al-Khaimah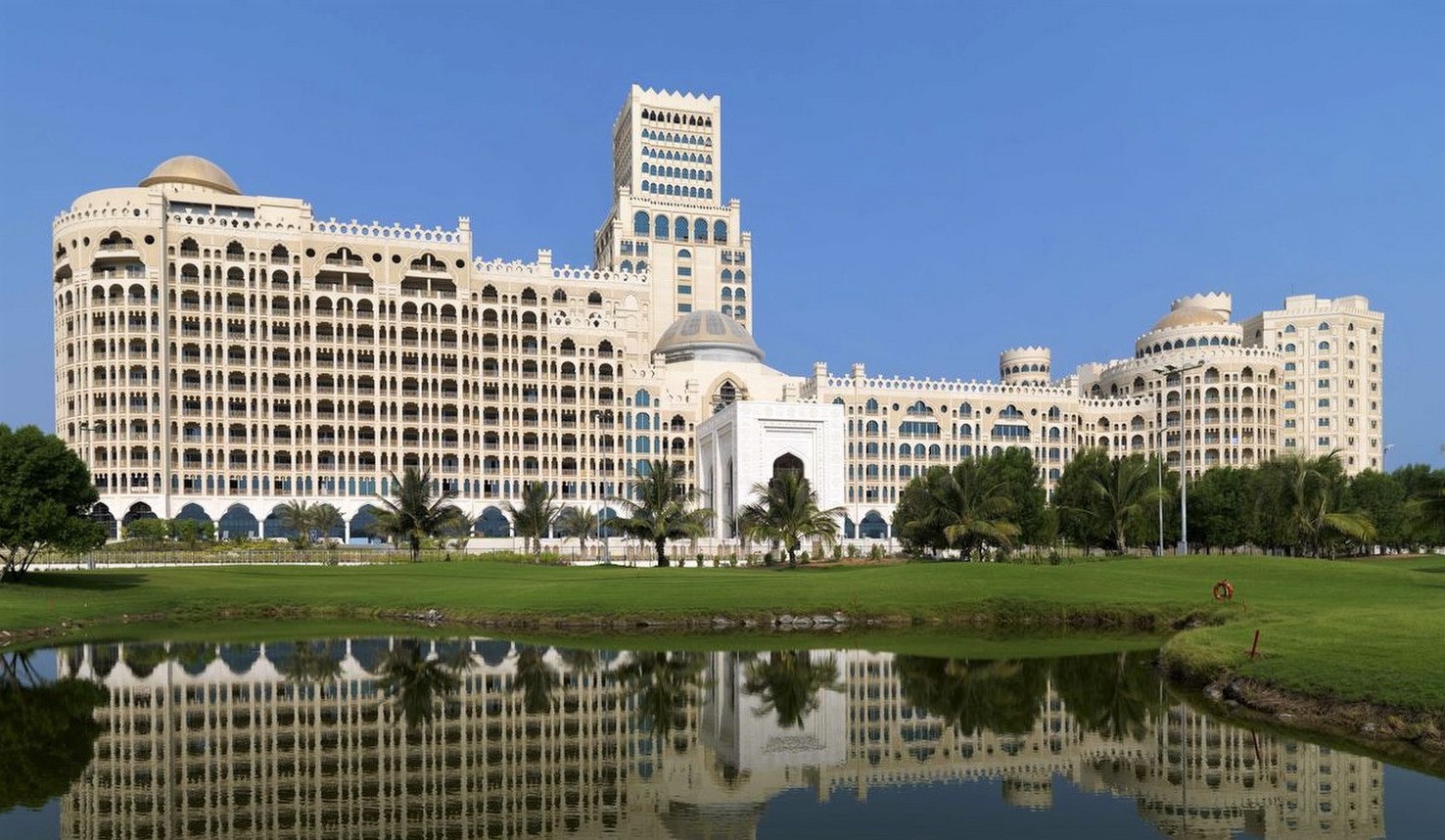 "Waldorf Astoria Ras-Al-Khaimah – Making memories at an exceptional hotel is only a 50 minute drive from Dubai now!!"
Recognized as the winner in 2016 Travellers' Choice by TripAdvisor.
Thank You Waldorf Astoria RAK for the invite and this amazing memorable staycation!! ♥
——x——
Opened only 3 years ago in Ras Al Khaimah; Waldorf Astoria is an excellent luxury getaway and is capable of dropping any tourists jaws. It is located at the centre of Al Hamra Village – featuring a luxurious spa, two temperature regulated swimming pools, gym with Technogym equipments, two flood-lit tennis courts, an 18-hole golf course and a 350 metres long private beach against the azure water of the Arabian Sea where guests can rejuvenate (deep sea fishing, fly fishing, parasailing, jet skiing, scuba diving, banana and donut rides, wake boarding, snorkelling, kayaking, sailing and water skiing is permitted too)!
Waldorf Astoria RAK has a phenomenal architecture that is inspired by historic and rustic palaces from the Arabian Peninsula. The extensive interiors on the hand is very modern; quite contradictory to the external façade I must say! The hotel boasts 346 rooms and suites, a board room, 4 meeting rooms and 9 restaurants! Not only can you enjoy the other amenities, you can have a whole food tour within Waldorf Astoria itself! Start with an amazing sushi platter at UMI followed by juicy steaks at Lexington Grill and after sunset you can chill with amazing cocktails at 17Squared 😉
——x——
The drive to Waldorf Astoria RAK was relatively easy because of my RTA Smart Drive application on my iPhone (keeping aside the fact I carelessly didn't take certain exits). Driving into Waldorf Astoria seems like you are entering a completely new city – the hotel is simply beautiful! I was welcomed by Katie Hollamby, Nitika (the kindest attendant who's the main reason for my comforable stay) and a glass of cold pressed juice!
The lobbies decor has elegant shades of cream and turquoise similar to the Waldorf Astoria in New York. The first thing you see as soon as you enter is a huge clock made of champagne gold that costs a whooping AED 1.5 million. As you walk in there's a massive fountain that creates the most soothing noise. It is strategically placed in between numerous seats to avoid voice being carried over shhh 😉 The paintings and frames on the other hand have a significance too! Each painting in the floors above the lobby resembles a quote from the Quran and the sequenced frames in the lobby are created from real gold + hand stitched!
After my hotel tour with Katie I realized Waldorf Astoria is like the Taj Mahal in Delhi, India. Everything you see has a meaning behind it. Nothing is placed or created without deep thinking and planning!
N's Room
[vc_gallery interval="3″ images="1852,1853,1813″ img_size="750×500″ onclick=""][vc_column_text]
The room's neutral toned textiles set a soothing tone, punctuated by splashes of turquoise such as the scrolled lines of the wool carpet and the swirled, handmade solid glass spheres which sit atop the timber headboards. Individually carved by woodworkers, these have a circular Islamic pattern custom-designed by 'The Gallery'.
My room was called the "KING ONE BEDROOM SUITE WITH SEA VIEW" which was 1324sq ft and was nothing less than a room given to a princess (costs about AED3000 per night with Tax). It wasn't a room, it was an APARTMENT of opulence :-O it had 2 cloak/dressing rooms, 2 bathrooms, a massive hall divided into two segments where the first segment was a living room and the second segment was an adjoining lounge with a 42 inch TV and a BREATHTAKING VIEW! My apartment overlooked the sea, Waldorf Astoria's private beach, the swimming pool, Qasr Al Bahar and a bit of the hotel's exterior 😉 😆 . Coming to the room that was inside my apartment.. It was Oh-My-God.. my room couldn't have looked prettier! It had the same scenic view, a beautiful thick rug and the most comfy bed with classic sheets! Yup, I never wanted to get off my bed >_<
The products in the bathroom such as the conditioner, shampoo, creams and soaps are from Salvatore Ferragamo. Ooo yea! Luxury from the door to the bathroom 😉
Negatives;
1. The WiFi coverage in my room was weak and would repeatedly get disconnected.
2. The Air-conditioning was not very efficient.
Did You Know's?
1. The iconic clock (mentioned above) is based upon the ancient astrolabe. It is was used to discern the exact Islamic prayer times for 100 years!! Modeled on a compass, the clock's faces are decorated with turquoise glass accents and the clock has been engraved with a cherished phrase extracted from a traditional Bedouin poem, "From your homeland travel abroad to find glory".
2. The Peacock Alley is a signature lounge that is found in every Waldorf Astoria hotel. Here, the design mixes local touches with contemporary style inspired by the brand's New York City flagship. This alley was originally made when The Waldorf and The Astoria (2 separate entities) joined hands to form one brand – Waldorf Astoria
3. At 17Squared you will have a  360° view of Ras al Khaimah's skyline from the 17th floor
4. Waldorf Astoria assigns a personal concierge to every guest. You will even have their contact number incase you may have any queries.
5. Waldorf Astoria even has something called a "Fragrance Master" who will create an ambience in your room that your desire. You will have to choose from various signature scents such as rose, jasmine, mint or you could just inform the attendant that you need a scent to de-stress and wallaaaa you'll end up with a great slumber 😉
6. If you miss your better half, Waldorf Astoria RAK offers a human sized pillow 🙂 ♥
——x——
3 Amazing Restaurants N Visited
UMI is a trendy yet cozy dim-lit Japanese Restaurant bordered with vibrant Japanese gardens.  Seemingly glowing, the metal studded interiors complement the dimmed lighting that transport guests to a piece of Asia whilst retaining a sense of balance.  The vibrant restaurant houses an engaging teppanyaki grill where master chefs are only too delighted to show off their flairs.  A quieter Sushi corner resides the resident sushi and sashimi chef, sharing his intricate creations with appreciating guests.  An expansive bar and lounge area is the ideal place to watch the world go by on nearby Marjan Island and the intimate Japanese balcony-garden. UMI is definitely the place you should choose to have a romantic date. Be it the chopsticks, crockery or walls – this restaurant is one of the most beautiful Japanese restaurant I've ever been to.
Kicked off my dinner with everyone's favourite – spicy and salted edamame followed by the best chicken dumplings I've ever had! These steamed goodness are coated with egg whites contrary to a flour coating and is accompanied with mustard miso and truffle ponzu. Due to the coating, the dimsums are far more lighter and juicier. It is a must have!!
Coming to the Sushi! I tried;
1. Mexican Roll – Took me back to Mexico because of the amazing fillings (lobster, tomato, lettuce, avocado and salsa). If you love Mexican cuisine, why not try this?
2. Spider Roll – Rolled with mango chili sauce and crab; this sushi as well ticked all boxes that makes the most perfect sushi 😉 !
3. Dragon Roll – Filled with eel, shrimp tempura and my favourite, avocado! I wish I could choose a favourite but all these 3 were amazing!
If I had 2 tummies, I'd definitely choose two more sushi's!
For dessert my friends, I tried the Yamazaki Chocolate Sphere! It's a mousse made with the 'Best Whiskey in the World' (in the year 2015). The sphere is a bit too hard to break through but the mousse is ahhmaazinggg, especially for people who like a bit'o whiskey
[vc_gallery interval="3″ images="1835,1837,1838″ img_size="750×360″ onclick=""][vc_column_text]
Azure is a more relaxed affair. Woven wicker chairs and pendant lights, pale timber surfaces and tropical foliage create a casual vibe. The swim-up-bar is sundowner central, with lounge chairs that overlook the shoreline to form the perfect chill-out spot. Opting for this Italian restaurant during Lunch or right before sunset is the best decision you could take. Azure's external walls are replaced with glass that further overlooks the most lively and best side of Waldorf Astoria. You can see families enjoying at the swimming pools and a tiny bit of the open beach 😉 . Waldorf is indeed so very beautiful!!
Summer had kicked in and all I needed was a rejuvenation after my drive from Dubai! My kind attendant offered me an amazing passion fruit icedrink that was uber refreshing!
Coming to the food; ofcourse I commenced my lunch with BURRATA! Ask for a dash of truffle oil, believe me it tastes far far better. Crispy fried calamari and rock shrimps is something you could order too if you're a fan of deep fried seafood – I sure loved it 🙂 For lunch I opted for grilled tiger prawns as that was the healthiest option and I wanted to keep space for dessert. The prawns were delicious, cooked and seasoned perfectly! A baked cheesecake and icecreams is what I ordered for dessert. The cheesecake looked better than it tasted and the pistachio icecream was AMAZING! Seriously one of the best I've ever had! 😀
[/vc_column_text][vc_gallery interval="3″ images="1839,1840,1841,1842,1843″ img_size="750×500″ onclick=""][vc_column_text]
"Qasr Al Bahar" in literal translation from Arabic means "The Sea Palace" thus stating this beautiful restaurant overlooks the magnificent Arabian Sea and Marjan Island from Waldorf Astoria. Qasr Al Bahar is designed keeping in mind the gentle hues of the ocean – the pale cream and green décor is soothing and perfectly complements the exquisite art showcased. My advice – sit outdoors if the weather isn't too bad!
The internationally credited and carefully chosen items for the most hearty breakfast made my jaw drop! The dining hall consists of various sections like, live cooking stations that makes your eggs as you please 😉 , a fresh juice and smoothie station, cereal bar and fruits section, an American breakfast inspired section; so on and so forth.
Qasr Al Bahar is sure to wow any customer that steps their foot in 😉
Final Pointers
1. Starting Price (tax inclusive) of Rooms at Waldorf Astoria RAK is AED1,375. Click here to book your room.
2. Contact Waldorf Astoria RAK on 07 203 5555 for more information
Goodbye Waldorf Astoria! 😳 Xx