The real beasts from the streets: 10 must-have street food spots in Dubai!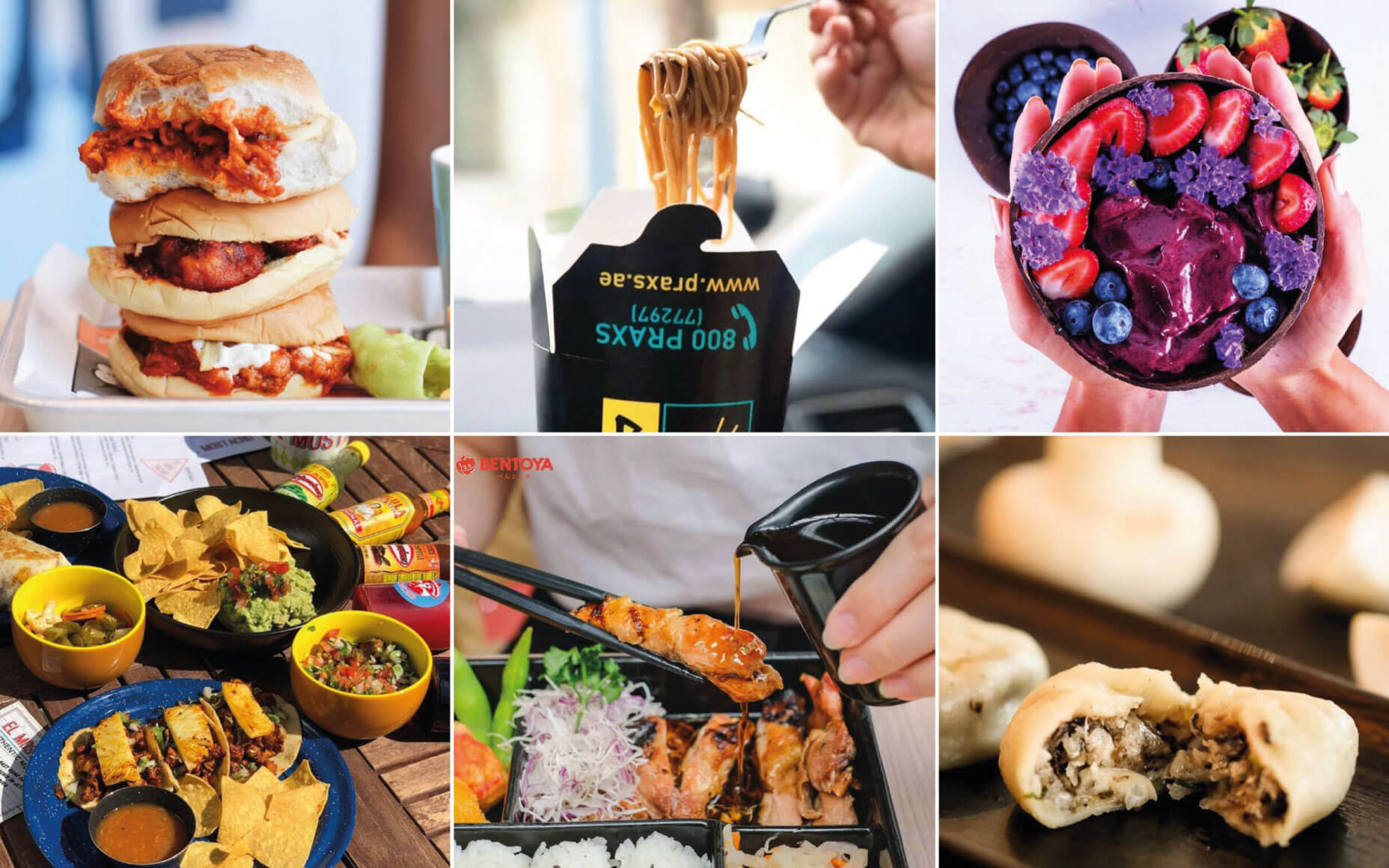 Be it for those evening hunger pangs or to replace a weekend meal because you're too lazy to cook, street food is a delight to have any time! ?
Each country that has a rich food culture definitely has some yummy street food as part of its fare. Being in Dubai, you get the opportunity to experience a little magic from almost every part of the world ? From the tear-inducing hot chutney sandwiches to steaming hot momo's, delicious chowmein to the softest shawarmas, they're all right here!
1. Chaat Bazaar
When those cravings for some tempting chaat start kicking in, you have to visit Chaat Bazaar! ? Start with the Hirvi Thecha Dahi Batata Puri (AED 14) if you can bear the heat, or take it slow with some Purani Dilli Aloo Chaat (AED 17). Next, check out the extensive range of piping hot parathas (AED 10-18) to take you straight to the towns of North India or indulge in the several variations of hot Vada Pavs (starting AED 6) with some adrak chai! Their unique combos are perfect for sharing or you could have them by yourself and skip your next meal. Chaat Bazaar also serves buttery Pav Bhaaji, sandwiches, fusion street food choices, pakoras, Maggi and beverages ☕
Cuisine: Indian Street Food
Average Price For 2: AED 50
Location: Beside Reem Furnishings, Al Karama
Timing: 8 AM to 12 AM
2. O'Pao Indian Sliders
The fluffy, palm-sized bread from India underwent a whole new transformation at O'Pao with their yummy fillings ? For those who love Indian street vada pavs, this place is just what you need to suffice those cravings (with more variety ofcourse ?). For veggie lovers, the Paneer Bhurjee Pao (AED 19) and O'chilli Cheese Pao (AED 12) are fantastic options. Those who love their meat can try the Butter Chicken Pao (AED 17), O'seekh Kebab Pao (AED 21) or O'Balchao Pao (AED 23) for that delightful Goan kick! ? They also have the classic Bun Maska Pao (AED 6) along with fries, desserts and beverages! A Naomi favourite, don't miss this one!
Cuisine: Indian Street Food, Fast Food
Average Price For 2: AED 60
Recommended Dishes: Vada Pav, Keema Pav, Sweet Potato Fries, Chai
Location: Behind Park Regis Hotel, Street 2 B, Al Karama
Timing: 11 AM to 12 AM
3. Yalla Momos
Winters are the best time to tuck into a plate of steaming hot momos. Healthy and tasty, these make for a great snack. Yalla Momos boasts of some of the best momos in Dubai ? Their Nutri Soya Momos (AED 14) and Spinach & Cottage Cheese Momos (AED 15) are excellent for those who are watching their weight. The classic Chicken Momos (AED 15), Shrimp (AED 17) and Indian Lamb/Mutton Momos are equally tempting! The place also serves scrumptious Desi-style Chinese Fried Rice (AED 15), Spring Rolls (AED 15), Maggi and Wai Wai Noodles and some yummy desserts as well ?
Cuisine: Chinese, Fast Food
Average Price For 2: AED 55
Recommended Dishes: Chicken and Mutton Momos, Kadak Chai, Masala Soda
Location: Block D, Street 4 B, Al Karama
Timing: 12 PM to 12 AM
4. Al Mallah
Whether you're an early riser or a night bird, you can head to Al Mallah at just about any time, thanks to their almost around-the-clock serving hours. The perfect spot to indulge in Arabic, Middle Eastern and Lebanese street food – don't go by the look of this quaint cafeteria! Dig into their juicy kebabs (staring AED 35) or make it into a sandwich for a satisfying meal. Their pastries are perfect for light eaters. Try the Labna & Zaatar (AED 13), Spinach (AED 8), Chicken Shawarma (AED 9) or the Arabic Salad (AED 14) ?? They also serve some spectacular snacks, fresh juices and ice-creams.
Cuisine: Middle Eastern, Lebanese and Arabic
Average Price For 2: AED 100
Recommended Dishes: Chicken Shawarama, Fattoush, Tabbouleh, Zaatar Pastries
Location: 2nd of December Street, Al Hudaiba and Around
Timing: 6 AM to 2:30 AM
5. Prax's
For the Asian street-food lovers, Prax's serves Thai, Chinese, Japanese and Street Food. Be it some crunchy bites or a full Asian meal, Prax's is your best bet! ? Try the Crunchy Papaya Salad (AED 18), Chicken Wings (AED 22), Prawn Spring Roll (AED 16) or Veggie Wontons (AED 12) for some quick starters. They have a range of curries, yummy mains, beverages and desserts too. You can also make your own wok with their extensive choices of noodles, rice, veggies, mains, sauces and toppings ? Consider it like Subway… but for noods!
Cuisine: Asian, Thai, Chinese, Japanese
Average Price For 2: AED 80
Recommended Dishes: Soba Noodles, Chicken Shumai, Dumplings, Spring Rolls
Location: Jumeriah, Barsha Heights, Marina and Business Bay (opening soon)
Timing: 11 AM to 1 AM
6. Yummy Dosa
You cannot really complete your street food cravings without relishing some crisp, buttery dosas, as South-Indian classics are perfect as a snack, meal or a late-night craving! ? The fact that it is healthy and light is the cherry on top. At Yummy Dosa, make sure to try the Schezwan Masala Dosa (AED 18), Zini Dosa (AED 18), Cheese Burst Pizza Dosa (AED 27), Mysore Uttappam (AED 20) and the tribute to UAE, Oman Chips Dosa (AED 25). This place is sure to fill your stomach (and heart) with its spectacular choices.
Cuisine: South Indian, Chinese, Street Food, Italian
Average Price For 2: AED 90
Recommended Dishes: Zini Dosa, Mysore Dosa, Pav Bhaji Dosa, Chilli Paneer
Location: Sheikh Khalifa Bin Zayed Street, Al Karama
Timing: 12 PM to 12 AM
7. Bentoya Kitchen
Japanese street food is one that will win over your hearts in the very first bite! From the delicate tempuras to steamed meats, it is healthy and oh so satisfying ? If you visit Bentoya Kitchen, don't miss the Ebi Tempura (AED 63), Takoyaki or Octopus Dumplings (AED 25), Gyouza (AED 33), and the favourite Edamame (AED 26). The place also serves Japanese soups, delicious maki rolls, ramen, salads, yakitori, soba noodles, sashimi, sushi, Bento boxes, rice bowls and a unique 2-person "Cook on your Table" meal option.
Cuisine: Japanese, Sushi, Salads
Average Price For 2: AED 140
Recommended Dishes: Salmon Sashimi, Ramen Soup, Gyoza, Sushi
Location: Trade Centre, JAFZA and Dubai International Airport
Timing: 11:30 AM to 11:30 PM
8. Taste of Brazil Food Truck
An underrated choice, Brazilian food is one of the most indulgent ones, if you know how to savour it right! ? Perfectly cooked meats, lightly marinated and clean flavours are what Brazilian cuisine is about! The best way to check out its street food is to head to this lovely food truck while spending the evening at Kite Beach. Try the Yuka Fries (AED 16), Pastel (AED 26), Churrasquinho Sandwich (AED 36) and Coxinha (AED 31) which are some popular Brazil street foods. They also serve fruit bowls, juices, sodas and coffee ☕
Cuisine: Brazilian, Street Food
Average Price For 2: AED 105
Recommended Dishes: Pastel, Churros, Coxinha, Acai Bowls
Location: Kite Beach, Umm Suqeim
Timing: 10 AM to 12 AM
9. Little Manila
To relish Filipino cuisine, one would say you have to go to Manila. However, Dubai has a wonderful chain of restaurants that goes by the name – Little Manila, and it's the fastest way to tuck into the delicacies of the Philippines. Try the classic Beef Adobo (AED 24), Chicken Liver Steak (AED 15), Bopis (AED 26), and Beef Tapa (AED 21) ? The brand has some amazing Filipino classics including breads, mains, sides and desserts.
Cuisine: Filipino, Street Food
Average Price For 2: AED 55
Recommended Dishes: Beef Adobo, Pandesal, Coconut Macaroons, Papaitan
Location: Dubai Outlet Mall and Deira City Centre
Timing: 10 AM to 11 PM
10. El Mostacho
Mexican street food is definitely one of the most delicious choices. Spicy, zingy, and loaded with crunch, it's an amalgamation of the best flavours in one cuisine! ? El Mostacho is your best bet to indulge in Mexican favourites. Check out their vast selection of amazing tacos (starting AED 13/piece), Chilaquiles (AED 45), Tostadas (AED 39), Enchiladas (AED 45) and Burritos (starting AED 45). You can also go in for complete meals with soups, salads and sides ?
Cuisine: Mexican
Average Price For 2: AED 110
Recommended Dishes: Mexican Tacos, Chicken Burritos, Tortilla Soup, Salsa
Location: Silver Tower, Cluster I, Jumeirah Lake Towers (JLT)
Timing: 12 PM – 4 PM
Of course, it doesn't end here! The UAE is a pot of cultures from over the world, which means more cultures, people, traditions and of course, food too.

To get a taste of everything, get a group of foodie pals > set a budget > mark your favourite spots and finally > indulge in the delicacies to get a taste of everything! ?
---
Written and Researched by Nikeeta J