Buying the iPhone X is more of a want vs a need now because of the price tag attached to it! Most of you guys and my friends requested me to write this blogpost as it may help make your decision! So here goes…
Please be mindful of the fact that this isn't a super techie post whatsoever! It's just a general review on how I feel about the phone as a consumer who has bought the phone versus bragging or complaining about its specs!
Quick Intro
I'm a HUGE Apple fan! I'm always looking at the Prix Maroc of the iPhone models on Info Tech, I look at all the reviews on YouTube, and I'm one of those who've stayed in line for 2 hours at midnight just to buy myself the iPhone *don't judge me*!
My dad, sister, and I, always buy the S series since we feel it is a better version than the phone launched prior to it – lesser glitches, more improvements, better model, etc.. y'know what I mean?
I had an Iphone 6S, needless to say, I was waiting for the 7S but the 8 launched instead along with all the other iphones. The 8 is practically the same in comparison to every other model apart from the obvious new features such as the camera, battery life, faster processor, so on and so forth. Thus, obviously, I wanted to buy the X!
10 things I love about my iPhone X (with the disadvantages)
1. The OLED screen
This may not be the case for everybody but my iPhone 6S had a yellow hue, low exposure, and high contrast screen (which I never knew about until I got my new iPhone and noticed a big difference visually). I think this happened after I got my cracked screen replaced. I was super bummed out since the way I was editing my pictures for my Instagram feed turned out to be a disaster (yes, it's a big deal to me). Thus, my Instagram feed, in reality, looked faded (low in contrast), had less color, more noise/grains and had a super high exposure whereas I was aiming at vibrant and bright pictures to perfect contrast and exposure edits. Lesson: If you're like me, please check your profile every now and then from other people's devices and, if your phone does need a repair, make sure you know what you had previously and consider buying the relevant cell phone parts yourself – not only will you be sure you're getting what you had last time, but the repair itself may even be slightly less expensive.
The edge to edge screen of the iPhone X is gorgeous too! Best part: It's a big screen with a small body (i.e. the screen is as big as the iPhone 6S Plus and still fits on little hands comfortably).
Disadvantage: I dislike the black notch at the top! I wish the screen was just a beautiful rectangular shape with curved edges haha! Because of the notch, there is a very small area on either side. Thus, if I want to check if my alarm/Bluetooth or even the % of my battery I would have to swipe down from the right to view it (can't view it in one go at one place, get what I mean)?
2. Face ID
Having a limit of only 5 fingers with obligatory best friend fingerprints and few oily fingers during eating doesn't seem to be an issue anymore because of the Face ID! Unlocking your phone via face ID not only feels badass but is super convenient and you can have access to your phone swiftly.
Disadvantage: It doesn't work well when my hair is left open, when it's super sunny, when I have sunglasses on or when I squint my eyes if I have just woken up. Which is why I personally felt the iPhone X not only does a face scan, it somehow involves the scanning of your iris/eyes too.
Face ID has also been glitching lately…. my sister can open my iPhone and our faces have different shapes altogether. How? No idea! Watch the below video.
3. Camera (especially the Portait mode)
With my iPhone 6S, I was like 2 models old! The portrait mode is a blessing as I use my iPhone camera way too much and the 6S just didn't make the cut since my standards started to increase 😔 The blurriness and crisp on every picture taken from the portrait mode is amaze! The back and front camera are 12MP and 7MP respectively.
Did you know: All three next-generation models (iPhone 8, iPhone 8 Plus, iPhone X) are capable of shooting 4K video at 24 fps, 30 fps, or 60 fps and time-lapse video with stabilization?!
Quick Tip: Use the portrait and not the normal mode even if you have to take your pictures of yourself from far and the iPhone says stay closer to the object 😉 Thank me later!
4. The Home Button
I was actually super annoyed and missed the home button the first 2 days of having my iPhone X. As lazy or weird this may sound… after a month of getting comfy with my new phone, I'm so glad the home button is not there. Accessing the home-screen is just an effortless swipe now! If I use an older iPhone model, having to exert pressure to press the home button is actually a task 🠤 £ðŸ ¤ £ðŸ ¤ £
Disadvantage: At times it just gets annoying to swipe up and hold the app to shut them all from multitasking. Once you get used to it, it should be fine.
Tip: If you have small hands and want your screen to come down, enable Reachability! Click here to find out how. Also, if you want to switch between apps, just swipe the line that's below your screen and it will swiftly move to the previous app!
5. The iPhone X set up
The initial set up is simply mindblowing! There was a blue thingie that moved like a galaxy on the X and all I had to do was hold my old iPhone against that revolving imagery and all the data gets transferred to your new phone via WiFi followed by a regular iTunes transfer.
Disadvantage: For some reason setting up the new iPhone X from a backup takes FOREVER if you have a lot of data in your older phone (this is happening to many people by the way). For me alone and my friend, it took us like 5 hours each only to set it up since the older file that was backed up kept getting 'corrupted' upon restoration to the new phone.
Potential Solution: Ensure your iTunes and the older iPhone (you're backing up) are up-to-date!
6. Notifications
Unless I look at my iPhone, the notifications don't appear! 😠± I don't need to worry anymore about where my phone is at home or work, if it's face up or down OR if a silly someone sends me something super inappropriate 😂😜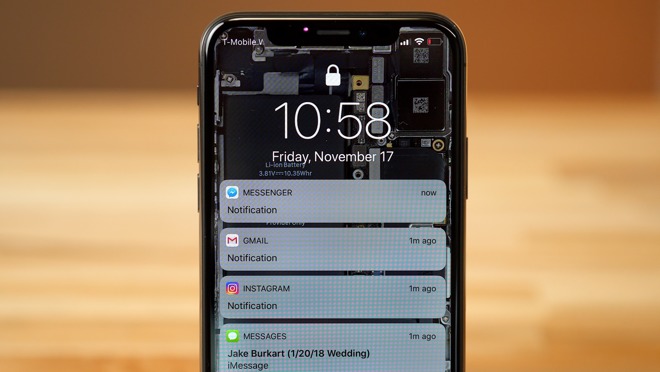 Disadvantage: I usually work/eat with my phone at the side. It's pretty annoying that I have to always pick my iPhone and hold it front of my face to unlock it and view the notifications 🙉😠¡ Additionally, if it's too sunny (or all the reasons mentioned above), it gets super inconvenient to put the 6 digit passcode all the time to just open the phone.
If you want you can disable the feature where only 'Notification' shows, but I prefer it enabled, obviously!
7. Taking screenshots and the lock & volume button
I can now take screenshots using one hand (i.e. by clicking the volume button and lock button simultaneously) versus clicking the home screen and lock button! If you want to switch off your iPhone, don't leave it, hold it steady until the switch off slider appears.
Disadvantage: To activate Siri you have to press the side button as well! The UI (User Interface) can get complex and confusing at times!
8. Battery Life
There are many articles that state the battery life is almost the same, but, my iPhone 6S battery was killing me! It would die and charge fast versus my iPhone X that lasts longer and charges slowly 🠤 ·ðŸ »"â™€ï ¸
9. Augmented Reality
Augmented reality is a technology that lets you see virtual elements in the real world. ARKit makes it easier for app developers to put things like virtual dragons on top of tables, or allow your iPhone's camera to work as a ruler.
There are several Augmented Reality apps on the AppStore such as the below,
I downloaded a couple of the free apps and only liked a few (since the others such as the AR Dragon and Minigolf were childish). My favorites were,
AR MeasureKit – allows you to measure different objects in your surrounding or even different attributes of your face) without you actually holding the iPhone X against the object
IKEA Place – IKEA Place lets you virtually 'place' IKEA products in your space
Housecraft – Lets you place different objects around your house to 'craft' it! Spacing out your furniture to the exact width, heigh and depth couldn't have gotten easier
10. Animoji
It's a super cool feature to be able to translate your facial movements into an-emoji (haha get it?!) – pig, horse, unicorn, cat or poop, anything really!
Disadvantage: I wish animoji was a separate app on its own but it can only be used in iMessage and for 10 seconds only. If you have to send it to person B on another platform, you have to first record then send it to person A, followed by saving it as a video from that convo and then forwarding it to Person B 😠¨
4 prominent things I dislike about the iPhone X
1. It is the same iPhone with better functions that are probably useless
You will most likely not use Animoji or Augmented Reality every other day. It seems cool the first few weeks but then you may just get bored of it. According to me (an iPhone X user of almost a month) I feel I have just paid for a better camera, face ID and a faster device with a better battery life in comparison to my iPhone 6S.
2. The iPhone is expensive
The only aspect of the iPhone X perhaps more noticeable than its display is its price tag. Apple has set the starting cost for its flagship product, for the very first time, at north of $1,000, when you factor in taxes or the 256GB storage configuration. They should have atleast had a midrange iPhone X, not 64GB and straight to 256GB! 🠤 § Also, Apple Care costs $199 now (up from $129)!
3. Super fragile
The iPhone X is entirely made of glass. Drop it once and it'll definitely break. To fix it, use a cell phone repair poway company and be more careful with it in the future!
Tip: Buy a cover and screen protector as soon as you buy the iPhone X!
4. Instagram on iPhone X
Instagram is one of the most common apps I use, unfortunately, it glitches a lot on the iPhone X! I'm pretty sure it's short-term and they will come up with an update very soon, but the below are the most popular problems I face almost every day;
If I take a screenshot of my screen and upload it to my story, the top half gets cropped automatically
If I view a 'mention' story from my DM it looks zoomed in (i.e. all sides completely cropped)
The app just crashes or hangs randomly
---
Any more issues you've faced? Let me know in the comments below!