The best budget treadmills in the market today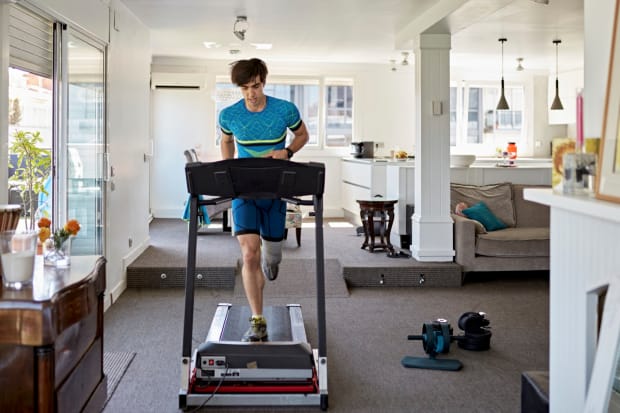 Available all throughout the world, the most popular gym equipment machine is the Treadmill. You'll see them in hotels, commercial gyms, home gyms, and rehabilitation centers.
Not only is this trainer a self-explanatory piece of equipment but it also produces great results if used frequently and with the proper diet. Whether you live through the freezing temperatures in Alaska or the rainy year in Seattle, a treadmill will always be available to use, as running outside may not.
While there are endless variations of this classic machine, many of them are well over the $1,000 mark. In addition to higher-end models that will last a long time, there is a handful of reliable rent gym equipment for your home as well. This might also include treadmills that tend to offer the same quality and durability. Nevertheless, below we share a few of our favorite budget treadmills as well as other tips to help you choose the right one.
1. The GoPlus Foldable Treadmill

With 2.25 Horsepower and 3 levels of incline, the GoPlus offers an easy way to get a high-intensity training session in. It's very easy to fold up and put in your closet or store in a non-descript location should you want to create more room in your home- you can transport it all around your home because it comes with wheels on the bottom to help pull it around.
The three different incline levels aid as an extra boost to help burn those calories and build those muscles while stimulating the feeling of running up a hill. If you're looking to increase your endurance level or are training for a race, this treadmill is a great tool. They didn't leave safety behind, either. On the handlebar is an emergency button that you can switch on should you need the treadmill to stop. Having this feature or one similar is necessary, especially if you are older or suffer from chronic pain.
The GoPlus has easy-to-use control buttons that allow you to start, stop, and change the speed or incline at which you are running or walking. Normally only seen in the more expensive models, this running track is equipped with a cushioned design on the sides to lower the noise and create a quiet space where you can also get in an intense burn. The 2.25 horsepower motor makes room for you to sprint all the way up to 7.5 MPH. This strong motor gives enough power for interval training, sprinting, and endurance training.
Something to consider is the 220-pound weight limit. This is relatively low and most models out there offer a higher weight capacity. Other features of this model are an LCD display screen where you can view your calories burned, distance ran or walked, speed, and heart rate. If you are interested in tracking your fitness progress, you can follow along with 12 different exercise programs to burn fat, tone your muscles, increase your cardiovascular health, as well as your body's overall well-being. Along with all of this is also a phone holder so you can watch a video while you exercise or just place your phone in a safe spot.
2. ProForm 505 CST Treadmill

ProForm is one of the most well-known and durable fitness equipment companies on the market, so even if they make a cheap treadmill, you can bet it will be of high quality. The 505 is easily stored and folded up so it doesn't have to be taking up a large amount of space when not in use.
Cushioned technology is added to offer support for your joints and knees, which is better for older folks or anyone suffering from pain or injuries. The 505 CST has an incline of up to 10% and also offers 18 different built-in exercise programs that you can follow along to whenever you desire. This trainer is also compatible with the iFit app, which is a paid app that offers a variety of both built-in and live workout classes. If you are connected using iFit, the 505 automatically adjusts your incline pertaining to the class you are doing.
The CHP motor on this treadmill is a bit better than the GoPlus model with a 2.5 offering. This compact and inexpensive model has a 20×55″ running track.
Features to Look For
Now that we've detailed two of our favorite models, it's time to explain what features you will want to look out for should you continue your search for a reliable cheap treadmill.
1. Running Surface

Regardless of how big or small you might be, it's always important to have a decently-sized running track. This spec, usually measured in inches, will detail how much space you have to run or walk on. You don't want to end up ordering a treadmill online that has a small running track because your workouts will be very uncomfortable and might even cause injuries. Not to mention, a small running track is a very good indication that the treadmill is of low quality.
When it comes to the track, bigger is always better- you don't want to be cramped on a small space while you are doing your best to get active. Make it as comfortable as possible by opting for a running surface that's large, and also offers impact support. Although this feature is usually only found in more expensive models, a cushioned deck will save your knees and joints should you run frequently, or constantly interval train.
2. Motor
The strength of the motor is an important feature, and should a treadmill have one lower than 2.0, you can safely assume it is made of low-quality parts. A residential-grade treadmill usually has a motor anywhere between 2.0 and 4.0 CHP. CHP= continuous horsepower which tells you how much HP you can continue with for the length of your workout, and is an even more telling indicator than the HP.
The smooth feeling you get when running on a treadmill is made possible by a powerful CHP motor- you don't want to feel as if your pounding on a hard surface that is creating a ton of noise and working even harder than you. A strong motor takes away any feelings of instability, lack of quality, or an excess of noise.
Go for a treadmill whose motor is at least 3.0 CHP and you won't have any issues. If you're just a walker or light jogger, you can get away with a weaker motor.
3. Warranty


The warranty length indicates how much trust the manufacturer has in its machine. Should the warranty be very short and not all-encompassing, chances are your treadmill isn't going to last you very long. The longest part of the warranty should be on the frame, with many manufacturers offering a lifetime warranty on it.
Summary
All in all, when you are looking for a treadmill on the cheaper side, you need to make sure that you look carefully at the durability, CHP motor, and running track size along with any other features that might be important specifically to you. We all have different reasons for getting a treadmill, whether it's for a daily walk, a weekly interval session or just to have as motivation, chances are your choice will be different than your neighbors. Already found an inexpensive model you love? Let us know so we can share it with our readers!