Spending quality time with your better half (partner or best friend) is essential to keep the spark alive or avoid getting "bored" (literally and practically) 🙏 I strongly believe doing activities together wins anyydayyy over going to bars and eating all day (the latter is debatable) 😂😂
I aim at making this listicle unique! Staycations, spas and fancy restaurants plastered on mags are a given, but what more? 💖💖
Under AED200
Kayaking at Kite beach would guarantee some fun and exercise at the same time. Relax and watch the sunset as you guys drift across the sea. Rent out a kayak for two and practice some teamwork (pssst, you can totally let the other person row while you relax), or rent out single kayaks and race each other. Cost: Kayak Hire 30 mins/60 mins single and double AED 75/100 respectively at Water Cooled UAE.
Click here to find out more.
If you're up for an outdoor challenge, then Aventura Parks is right up your alley. This outdoor obstacle course has you harnessed while you tackle walking on logs, going on ziplines and climbing spider webs! Cost: AED150/3 hours/per person and AED125/3 hours/per kid below 6.
Has your significant other been driving you nuts? Let out all that steam at Bounce! Jump around to your hearts content in this warehouse in Al Qouz turned trampoline park. Be kids again while you guys test out who can do better parkour, flips and mid-air somersaults. Priced at AED80 for the first hour, this is a great place to go wild and sneak in that exercise you guys probably skipped out on. Pay AED20 extra and you'll get access to their amazing X-Parkkk!!
Flip out is another trampoline park but has sports such as archery tag or bubble soccer. General admission to Flip Out, archery tag and bubble soccer are all priced at AED80/hour. Flippin' Fit, priced at AED85/hour is going to work you guys to the core so this is a great way to shed some pounds, have fun and "flip out"!
Click here to see the difference between the two!
4. Ice Skating
A little wobbly on your feet? This is the perfect sport to lean on each other and have a fun, "chilled" time skating across the Dubai Mall ice rink. Cost: AED55/2 hours/per person, including skate hire.
Everything mini is so much more fun. The golf park at Wafi Mall is a miniature golf course and better yet, a glow in the dark one too! Challenge one another to a round of friendly mini golf and see who can get through the 18 exciting yet challenging courses. Pro tip: Wear white to see your outfits glow in the dark as well! Cost: AED75 per person (no it's not just for kids 😏)
6. Movie under the stars Wafi
If you happen to be at Wafi on a Sunday evening, don't forget to check out their movie under the stars. Every Sunday, Wafi screens a free movie on their roof top. Food can be bought at the venue. It's free and the weather is great so leave your couches and turn off Netflix to catch a screening in an outdoor theatre.
Le Royal Meridien Beach Resort Movie night
For those that cannot make it on Sundays, Le Royal Meridien Beach Resort is a great new option. The have their very own outdoor cinema option with a private bar and cinema menu snacks. Catch classics every Monday, Wednesday and Saturday until the end of the year.
Le Royal Meridien Beach Resort and Spa, JBR, 8PM onwards, Mon, Weds and Sat till Dec 26, free entry for film screenings only.
7. Dubai Garden Glow and Ice Park at Zabeel Park
This park could probably be the park you could spend a whole day at and not feel bored. Zabeel park is home to the artistic glow garden. Walk through the park and see magnificent art creations in the day that come alive at night when they're lit up. Apart from the Dubai Glow Garden, Zabeel park imports a bit of Venice with their boating on the lake feature. Enjoy a boating before sunset before you set on to walk through the glow garden, best vied at night.
The glow garden further has an ice park which could possibly be Dubai's "coolest" new attraction. At -8 degrees, this winter park has impressive ice sculptures and will transport you to a winter wonderland. Dubai Glow Garden is AED60, the Ice Park at AED40 (coats provided) and boating is for AED40/20minutes.
8. Food/Shopping/Rides at Global Village
Global village has been a Dubai favorite and it's a place where no one feels homesick. Take a stroll around the world and visit countries you never thought you could visit together! Experience different cultures, cuisines and traditions all in one place. This is a great place for an around the world photo op as well! They have a carnival with rides as well for those that want a little bit more of a thrill after their leisurely stroll around the world. From 4PM – 1PM, priced at AED15 for adults (free for seniors over 65 and children under 3).
PS: They have crayyy crayyy kiosks for foodies!!
9. Dubai Safari
You don't have to book flight tickets to Kenya to go on a safari. Dubai has its very own safari! The animals from the old Dubai Zoo and many more new animals have come from around the world to make Dubai their new home. Take one of their cart rides to experience the Dubai safari and the animals in all its glory and especially, in their natural habitat. Tickets range from AED20-30 for children, and AED50-85 for adults. Adults above 60, those with special needs and children below three can go for free.
10. Green Planet
Get transported to the rainforests of South America at Green Planet. You heard that right! This rainforest has been built indoors, in the heart of Dubai. You can see macaws, sloths hedgehogs and many more and the best part, none of these animals are caged! Experience a real rainforest with birds flying right past you, sloths climbing a tree next to you and without worrying about your hair and makeup (being indoors and temperature controlled) while the animals go about their daily lives. Cost: AED95 for adults and AED70 for children.
PS: Did you know you can do yoga there too!?
11. Escape Reality
Escape Reality is a game played in real life. You and your team have just 60 minutes to escape one of our uber-real rooms.
You'll come as friends but leave as heroes as you battle against time to solve puzzles, overcome challenges and defeat your doubts.
Cost for 2 Players: AED120 (Sun-Wed) and AED140 per player over the weekend. Click here to find out other rates.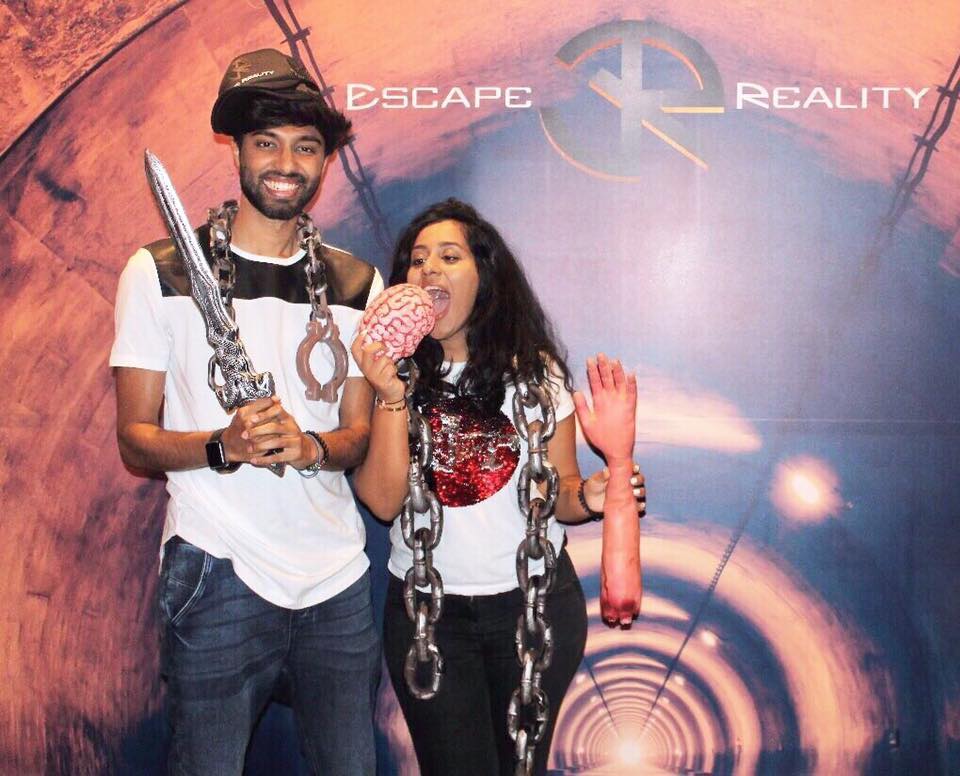 12. Café Ceramique
This quaint café located in Town center, Jumeirah one double up as an art studio and a café! Serving American and Italian cuisines, head on down with your partner to choose a ceramic piece of your liking and paint while you eat! The paints are included with the piece that you choose. Why not paint something for each other? Pick up your finished pieces a week later when they're all shiny and vibrant. Average cost is AED150 for two.
13. Al Fahidi historical district
For the history buffs, check out Al Fahidi historical district. You can enjoy leisurely strolls across old Dubai, have traditional Arabic coffee from the Arabian Tea House, visit art galleries that feature art from local artists and discover how Dubai preserved its culture but progressed to new heights. Located in Old Dubai, Fahidi.
14. Al Serkal Avenue and Jam Jar Dubai
For the artsy lovers, check out Al Serkal Avenue which is a renovated warehouse area where you can find funky art, galleries, mini museums, theatres and quaint cafes! You don't have to be a serious art buyer to check out Al Serkal. Al Serkal has exhibitions weekly, they have movie screenings and who knows, you guys would probably sign up for an art/photography class to explore new hobbies. Located in Al Qouz.
From AED110 you can even go to a DIY Art Studio at Jam Jar Dubai, where you can paint your heart out with your bæ!!! 🖌
15. Dubai Opera
Wanted to know how an opera theatre works? Dubai Opera has opened its doors to a series of daily public tours where visitors and residents can discover how this performing arts center creates magic. Learn about the building's design and creation from experienced members of the opera in tours conducted in both Arabic and English. Get a sneak peek into the the exclusive VIP suite and see the auditorium in all its splendor. Located in Downtown Dubai, adults pay AED75 while it's AED40 for children.
16. La Mer
Why go to a regular beach when you have La Mer! Take a romantic stroll across La Mer, a beautiful beachfront development in Jumeirah 1, that has just recently opened its doors to the public. With some trendy restaurants, uber cute shower facilities after using the beach, and some insane street art, La Mer is the new hang out spot. Literally translation to "The Sea" in French, this place is guaranteed to give you some amazing Instagram pictures as well.
https://www.instagram.com/p/BcPyXiwFLWf/?tagged=lamerdubai
17. Outdoor Movie Night (VIP Style)!
VOX Cinemas outdoor cabana-styled-cinema is one of my fav! It is priced at AED150 per person (inclusive of nachos, popcorn and blankies)!
18. Stargazing at Al Quaa Desert
There's an area in Dubai which is known as the darkest spot in the UAE (📍: 23.7563280, 54.7821730). Go there to watch celestials or just download the app called "Star chart" to know where the stars/planets are! Pretty cool right??
19. Hub Zero
The region's first immersive family-friendly entertainment hub, located in the heart of City Walk Dubai!
Cost: From AED160 (Unlimited access to all ground floor attractions)
20. Big Red Desert
Located on Hatta Road, is a magnificent open dessert that beautifully juxtaposes the city life. You'll notice that the further you drive away from the city, the deeper the red colour of the dessert becomes. Then you'll hit Big Red, a pretty popular spot for bashing dunes, but a beautiful and picturesque desert away from the hustle of Dubai. Grab some food, lots of water and enjoy a fiery red day out in the desert free of cost!
21. Wadi Ghalilah
This beautiful wadi is a favourite spot for many rock climbers. Located two hours out of Dubai, Wadi Ghalilah is quite close to Ras al Khaima's coastline. It is known to be smaller and less extensive than Wadi Bih, but has many steeper rocks and cliffs. The wadi also has quite a low altitude and because it is so close to water, the humidity and heat make it quite difficult to trek. Stairway to heaven is the name of one of the wadi's more dangerous mountains. It stands at a high 1.9 kilometres and is not recommended to climb without someone who is really familiar with the mountain. Additionally, many experienced climbers have alleged that the climb is quite physically and emotionally unnerving (by Gulf News).
Al Wathba Wetland Reserve is a complex of surface water bodies, both natural and man made, around 40km southeast of central Abu Dhabi, just past Mussfah. You will discover an amazing diversity here, including several endangered species who have made this their home and found shelter, protection and nourishment. More than 250 species of birds have been spotted, along with an abundance of aquatic life, as well as 37 plant species. Al Wathba also features a rich variety of dragon flies and damsel flies. But its greatest and most spectacular attraction is, of course, its flamingo population. When these migratory birds fly in to spend autumn until spring here, as many as 4,000 can be counted.
Since Al Wathba Wetland Reserve is an ecologically sensitive area, their visiting hours and days are limited. The reserve is open for free to the public on Thursdays and Saturdays from 8 am to 4 pm (last entry at 2 pm).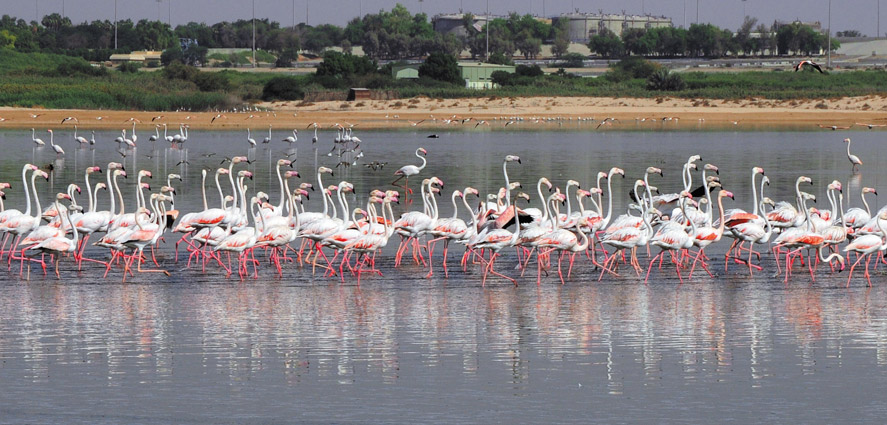 23. Mirror Maze at Dolphinarium
A dizzying labyrinth in which you are challenged to find your way through a baffling and disconcerting maze of mirrors! Discover your way through this mind-blowing fun-filled, life-size maze of mirrors!
Cost: From AED25
Over AED200
I had to add this section if incase you want to splurge right? 😌😉
24. Wakeboarding
From AED250 you can go wakeboarding! Click here to view different rates.
The picture above is from Xtreme Wake and they charge AED550 for 1 hour for up to 7 people (pretty good rate I'd say) 😉
25. Fish Dubai
Get transported to Greece at this beautiful beachfront restaurant. Order some seafood delicacies and drinks, sit back and enjoy your company. This place is also the perfect place to take some beautiful pictures that your friends are going to think you took in Greece! Average cost rounds up to AED250 (might be a bit more exp with sheesha)! Located at the Le Meridien Mina Seyahi Beach Resort & Marina, Dubai and operational from 12 – 11PM.
26. Shimmers
Overlooking the iconic Jumeirah beach with the magnificent Burj Al Arab, Shimmers is the perfect Dubai date destination. Shimmers offers shisha and alcoholic beverages. Offering Mediterranean and seafood, Shimmers is a place you'll want to go to experience the beach and your significant other's company is all its galore. They operate from noon-5PM and resume from 6:30-11:30PM. Reservations are required to grab the ideal outdoor seat with the perfect view of the Burj Al Arab. Not too hefty on the pockets, average costs are roughly AED220 (might be a bit more exp with sheesha)! Located at the Westin Mina Seyahi Beach Resort, Dubai Marina.
PS: Don't forget to look up – you can see the stars ❤🌟🌟
27. Kohantei
Dine in style (and in a unique way with low-rise tables)! Kohantei – a newly opened Japanese restaurant has been my favorite ever since! What I loved about it? No gimmicks! Just good food. Read my entire review here (costs are included). If you fancy Kohantei and are tight on budget, you can enjoy a meal within AED300 too 🙂
How cool would it be to say you and your partner know how to "spin the wheel" and create some pottery? Learn all the pottery basics, tips and tricks and master the art of pottery with your partner. Check out "Wheel Throwing for beginners", Mondays, 10:30AM-12:30PM, priced at AED200 per person. The clay is sold separately at AED110 per bag.
Home to the richest horse race in the world and known for their fine bred horses, attending the Dubai World Cup at the Meydan Racecourse is a must. This could be a little expensive but we've got you covered on that. During race season, Meydan offers free entry during weekends to catch the exciting practice races that go on. Indulge in food and beverages as well from Meydan's many restaurants while there. Call beforehand to find out about the races scheduled during the weekends. Free admission at Gate B, Meydan.
Horse Riding on the other hand can be a weee bit expensive but there are several discounts available on Groupon and Cobone! Riding horses at Mushrif Park is AED300 for 90 minutes and Al Ahli Horse riding club is priced at AED135 per person for 2 horse riding lessons!
30. Snoopy Island
There's an Island called Snoopy Island in Fujairah! It's a large, cartoon dog-shaped rock just off the coast of Fujairah, Snoopy Island has formed a coral reef teeming with sea life. PS: There are turtles there! You can either go there to chill (for free) or crash at a hotel called Sandy Beach (room rates start at ~AED600 depending on the season).
31. VR (Virtual Reality) Park @ The Dubai Mall
One of the coolest experiences Jake and I ever experienced! 😀 This virtual reality park is just something else.. Scared of rides?! No issues, fight some monsters on land or just play football the VR way 😉 Experience the feeling of actually being a drone or dropped from Burj Khalifa. Want to do an escape room? That's there too! 😄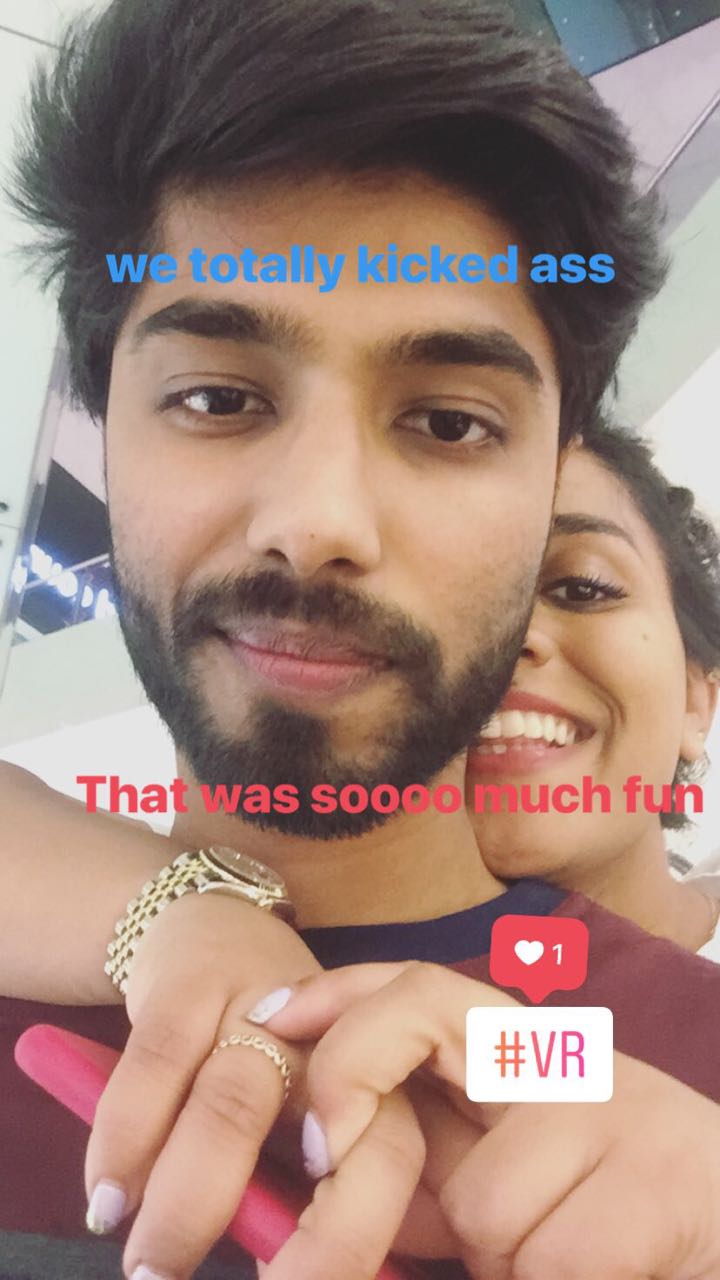 Other romantic spots that are already popular are Miracle Garden, Hatta pools, Masdar City, Sheikh Zayed Grand Mosque and more 🙂
---
Written and Researched by Serena Sibi and Naomi D'Souza