Sweet and spicy guilt-free burger‏ by Sruthi Venkat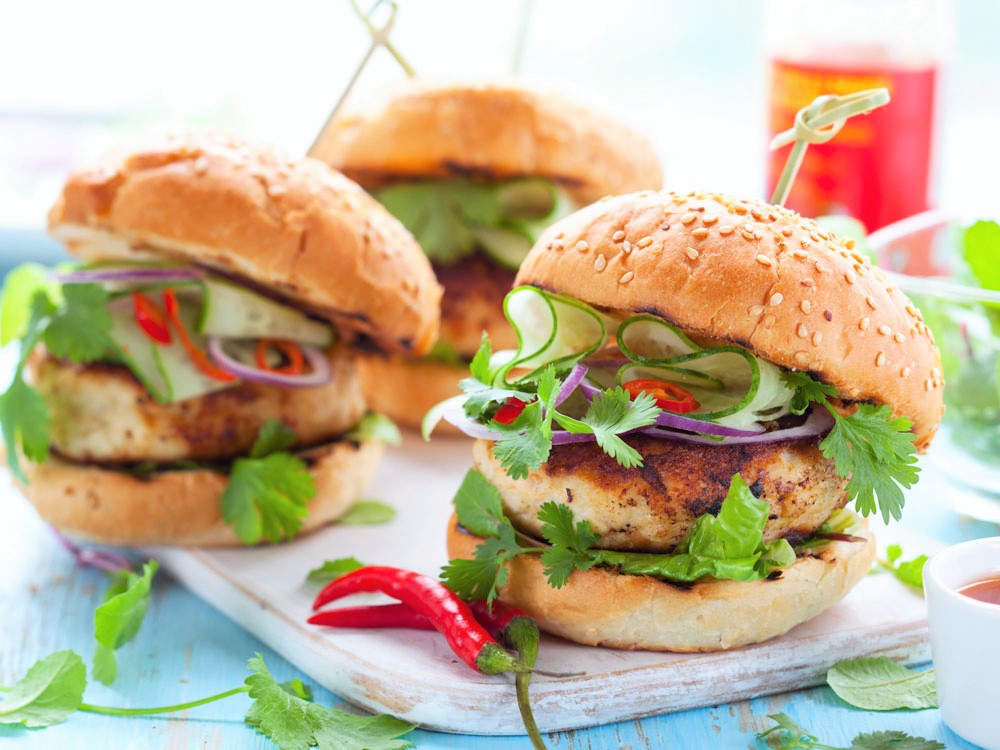 Ingredients
For the Burger:
Red cabbage shredded
Tomato slices
Sweet potato (sliced like bacons)
Low fat mayonnaise
(Multigrain or normal) burger buns
For the red bean patty:
Onion chopped (1 onion)
Beetroot diced (1/4 cup)
Red pepper diced (1/4 cup)
Garlic (2 cloves)
Red/ green chilli (2 finely chopped)
Carrot (cooked and mashed) (1 carrot)
Cooked kidney beans(aka rajma) (1 cup)
Sweet potato (cooked & mashed (1/2 cup)
Salt
Cayenne pepper
Olive oil
Oats (coarsely powdered, not oats flour)
For the chilli sauce:
Bell peppers diced (all colors)(1/2 cup)
Onions chopped(1/2 cup)
Tomatoes diced(1/2 cup)
Jalapeno sliced (as required)
Green chilli (2 chillies)
Tabasco habanero sauce
Ketchup(as required, or approx. 1/2 cup)

Method
1. For the patty, add all ingredients together except the oat flour. Make patty shapes and toss it in oat flour. Ensure the patties are firm and rigid and place in freezer for few minutes to settle. ( make sure the water from all the steamed veggies have all drained and the patty is solid, or else it will fall apart)
2. Preheat oven to 200°C in the meantime. Cut fine slices of sweet potato (in shape of bacon slices), sprinkle salt and keep aside on a cloth for few minutes. This helps in draining the water from the potato. Spread the veg on a baking sheet, spray a little olive oil and bake for 10-15 minutes, then turn and bake for 5 minutes, or until crisp. Transfer to a plate and let it cool. (initially they may seem soft but let it rest and if the slices are too thick, the result may not be as desired).
Alternatively, simply fry the sweet potato slices in oil until dark brown n crisp. And sprinkle salt and set aside.
3. For the salsa sauce, add all the ingredients, ketchup and habanero sauce according to the sweetness and spicy requirements. Make the salsa and refrigerate for a while.
4. Now in a pan add olive oil, and place the patties one by one. Shallow fry it in medium heat for few minutes until golden brown and crispy on all sides ( you can also use an airfryer as a better option).
5. Now take a burger bun and slit open. Place inwards in a pan until insides a little toast.
6. Spread low fat mayonnaise, shredded red cabbage, the patty, generous amount of salsa sauce, the other vegetables and the sweet potato crisps on top.
7. Serve with lemon wedges.