Al Maha Desert Resort ~ The Luxury Collection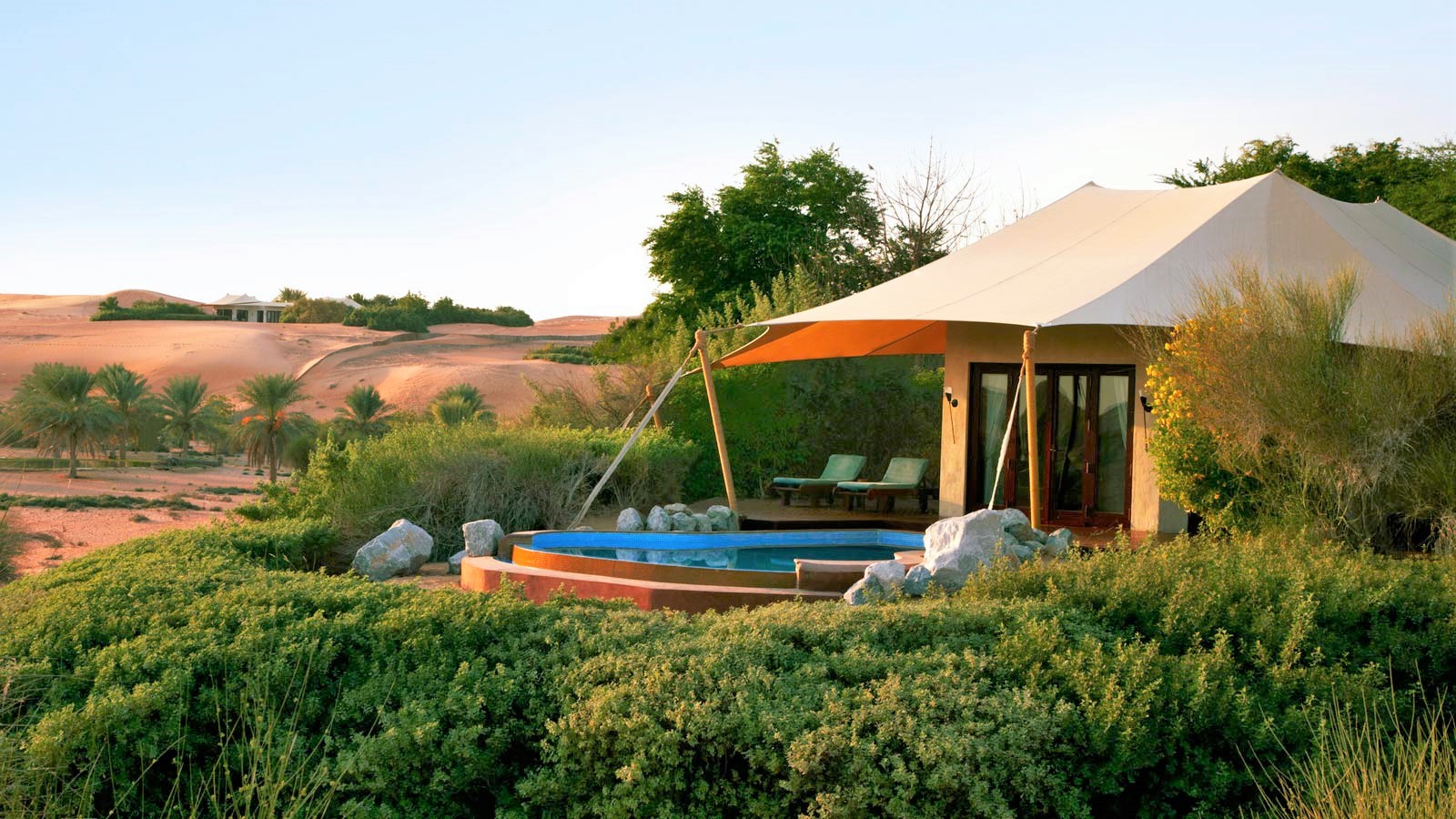 Never did I expect a desert to give me the most unique, exquisite, soothing and relaxing experience to this extent! 'Al Maha' is the hub for the most perfect getaway that everyone must experience at least once in their life! ☀❤

"Just breathe. Ten tiny breaths … Seize them. Feel them. Love them." ― K.A. Tucker
There are only 113 hotels in the world that are a part of 'The Luxury Collection', out of which only 3 are based in the United Arab Emirates. Al Maha Desert Resort & Spa is one of them and I was ecstatic to be one of the first influencers in town to have gotten invited to this resort to experience the luxurious environment myself! 🙂
About the hotel
Al Maha Resort is nestled deep within Dubai's magical dunes and desert landscape in the verdant 'Dubai Desert Conservation Reserve' and thus plays a vital role in its conservation. Al Maha does not scream 'luxury' via leather sofas or Swarovski chandeliers, but by showcasing the heritage of the Bedouins by its phenomenal architecture and interiors
Al Maha Desert Resort even has a private desert event site. It is situated a few kilometers away from the hotel and can be booked for any sort of event (even weddings) as it can cater to/hold up to 300 guests! The 'Al Majlis Boardroom' on the other hand can be used for events of upto 120 people. It is a state-of-the-art meetings, conferences and events facility with all the latest multimedia presentation and on-line video conferencing equipment.
The Fitness Centre at Al Maha is equipped with state of the art equipments. It also has a swimming pool which offers the Desert Reserve view. The rooms are super relaxing but if you require an additional sugar coating; the Resort has a "Timeless Spa".
My 'Bedouin Suite' and experience
Although Al Maha Desert Resort is located in Dubai, it is a 55 minute drive from Burj Khalifa. It may seem far but it is a quickie if you have good company. You need to call the resort when your Google Maps *approximately* shows "15 minutes to go" as that is when you have most likely reached the 'Dubai Desert Conservation Reserve' barricade. After parking your car at the designated spot, you will be collected by a Land Cruiser that will take you to the resort #HowExciting
The journey to the resort is scenic and a bumpy ride! The Arabian Oryx & Gazelles are the star attractions in the reserve. You will see them on your 10-15 minute journey and from your personal suite 😀 Upon reaching the resort – the check-in is at a very personal level. You will be taken to a separate room and will be offered drinks and refreshing towels followed by being escorted to your room via a buggy! *Woohoo* doesn't it already sound exciting?!?! 
The Bedouin Suites [AED2900+/night] are lavishly decorated with authentic and rare handcrafted Arabian furnishings, antiques and artefacts. There are thoughtful touches such as binoculars, an easel with art materials and a writing desk (if your creative instincts get inspired by the landscape and the wildlife you spot). *Enjoy two complimentary desert activities as part of the stay
The 4 things I loved about my room
1. I had a private temperature-controlled swimming pool (5×4 metres) surrounded by a wooden deck. Even if it is scorching hot or freezing cold outside, your pool always maintains its temperature 😀 . The Arabian wildlife could also be viewed from the infinity pool or sundeck seating area.
2. The in-suite menu is phenomenal! You have an option of having a 'fine-dining' breakfast, lunch or dinner experience in your own room.
3. King Size Bed
4. Spacious bathroom smeared in gold effects – featuring a walk-in shower, king-size bath and a 'his and hers' vanity area
Drawbacks
1. Whoever you need to contact, be it the reception, guest services, room service, in-room dining, etc; you will have to dial '0' on the telephone. This led/leads to a lot of mis-communication as one message is being passed on to/by too many people.
My vegetarian guest ordered vegetarian dishes to the receptionist who was not aware herself about the types of dishes offered in the menu (neither was she able to communicate fluently). Thus we never got the vegetarian dishes to our room inspite of repeating several times and waiting for 45 minutes. A couple of non-vegetarian dishes that I ordered did not arrive either (unfortunately, other things that I did not order… arrived). Whatever came tasted average.
2. The room is dim-lit *very*. This is a plus point for couples but could be a drawback for families who would require more light in the room.
Dining at Al Maha Desert Resort
[vc_gallery interval="3″ images="2843,2844,2847,2848,2849,2850,2851,2852″ img_size="750×360″ onclick=""][vc_column_text]
The 'Bar' at the terrace with loungers and cocktail tables is one level above the Al Diwaan restaurant. Enjoy exciting cocktails and beverages with the most amazing sheesha at the side. The Bar has one of the best sheesha's I've had BUT it is very *very very* strong! They freshly make the mix (add nicotine and preferred flavor) upon order. Canapes served here are fantastic too – we got 4 mini waffle cones, 2 were stuffed with a delicious chicken mixture and the other 2 with feta cheese.
The experience at Al Diwaan on the other hand was fantastic once again! We kicked off the tasting session with a Pomegranate fizz drink from Bateel and then jumped onto the food immediately. Amuse bouche was a refreshing tomato soup – tasted more like a margarita pizza . Starters included a lip smacking channa chaat and some chicken in dahi (yogurt). Our maincourse revolved around the 'Thali' concept – where food is continuously served onto your plate until you tell them to stop 😛 . We had some nice daal, veggies and rice.
Our dessert was a platter constituting of, panna cotta with crushed meringue, churro dipped in chocolate sauce, date pudding and cakes! All of them had good flavor, they were moist and good enough to satisfy yours truly. To conclude – The quality of food and hospitality was phenomenal. 
Location
Click here to book your room or call +971 4 832 9900 for other queries