Organic Press ~ Juice Cleanse
Detoxification is the physiological or medicinal removal of toxic substances from a human body, which is mainly carried out by the liver 
'Organic Press' – a 100% homegrown company is a concept brought to life by two health-conscious brothers, Daniel and Chris Vahanian who only aim at encouraging a healthier lifestyle in Dubai.
They introduced the concept of 'cold-pressed' juice – A techniq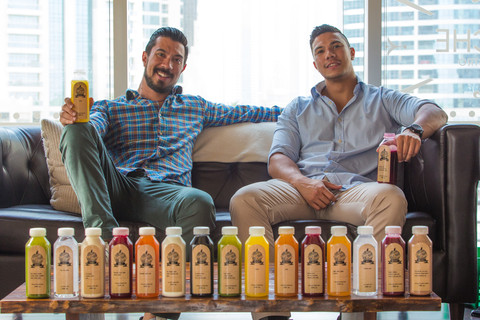 ue that significantly retains natural nourishment in comparison to traditional juicing methods such as blending. One bottle of Organic Press juice contains approximately two pounds of unadulterated, 100% organic produce. Their juices are not pasteurized, and with proper refrigeration they will maintain their nutritional stability and will taste crisp for up to 72 hours.
Juices from Organic press has no pulp as they create every juice 'hydraulically' by pressing fresh fruits and vegetables between two steel plates that doesn't heat or oxidize the produce. The result is a nutritionally-packed, fresh juice that is loaded with enzymes, vitamins, trace minerals, and other vital elements the human body needs.
A cleanse is essential for every human body that is naturally 'acidic' in nature. Not only will Organic Press's juice cleanse flush out toxins, hydrate, nourish and detoxify your body; it will even make it 'alkaline'. Various diseases and cancer cells can only survive in 'acidic' bodies but not in 'alkaline' ones. Thus it is vital to jump onto to the detox bandwagon once in 2 months at the least
Organic Press has 4 cleansing packages;
Beginners Cleanse [AED264 per day for 6 juice bottles] – Designed for those who want to gently commence the detoxification process.
Intermediate Cleanse [AED264 per day for 6 juice bottles] – A balanced detox tailored to those who have experienced juicing. It is Slightly more intense than the Beginners Cleanse.
Expert Cleanse [AED264 per day for 6 juice bottles] – The Expert Cleanse is geared towards green juice lovers and health enthusiasts.
Premium Cleanse [AED310 per day for 8 juice bottles] – This is designed for those who are willing to take on the ultimate alkaline challenge. This detox contains little to no fruit and is a very powerful cleanse!
Click here to purchase a package of your choice
N's Experience
Before your start your diet, click here to know how to 'prepare'
Being a girl whose survival kit includes a lot of desserts; a sudden change in lifestyle to consuming greens and only drinking juice is super challenging  However, receiving automated motivational emails everyday from Organic Press gives a personal touch to your experience.
DAY 1: Within 2 hours of waking up I felt very hungry, dizzy and started feeling tired. Apparently these are common symptoms every body experiences during a cleansing process (especially if you are new). I was told my body will adjust to these drastic changes in no time. I have MASSIVE cravings for junk food  and even run to the bathroom every half an hour approximately as each bottle is 500ml. Ultimately, I will be gulping 6 litres of juice everyday + a lot of water to keep me hydrated
DAY 2: My symptoms are identical to day 1, but I must admit, the intensity is a few notches higher. I have started to sweat a bit and do feel very sick. Organic press suggests to go outside and get some fresh air to relieve stress and irritability 🙁 Just to emphasize on one point – "these are apparently common symptoms too!" 😳
DAY 3: I am still hungry but I am aware the toxins have begun to flush away from my body. I haven't eaten anything (except almonds and boiled veggies that I am allowed to eat) but my metabolism is still stable. I am not as hungry as I was on Day 1 and my energy is finally picking up. I do feel 'cleaner' on the inside too 🙂
To conclude:
1. The cleanse is not a piece of cake. You need a lot of will-power if it is your first time.
2. It is expensive. However, doing it occasionally is definitely a benefit to your body.
3. It can be a little complex/challenging to complete all 6/8 drinks at regular intervals daily.
Click here to order and try one juice of your choice (free home delivery across Dubai)
Click here to contact Organic Press or call 800-JUICE between 09:00 – 17:00 Saturday to Thursday