Breakfast at At.mosphere, Burj Khalifa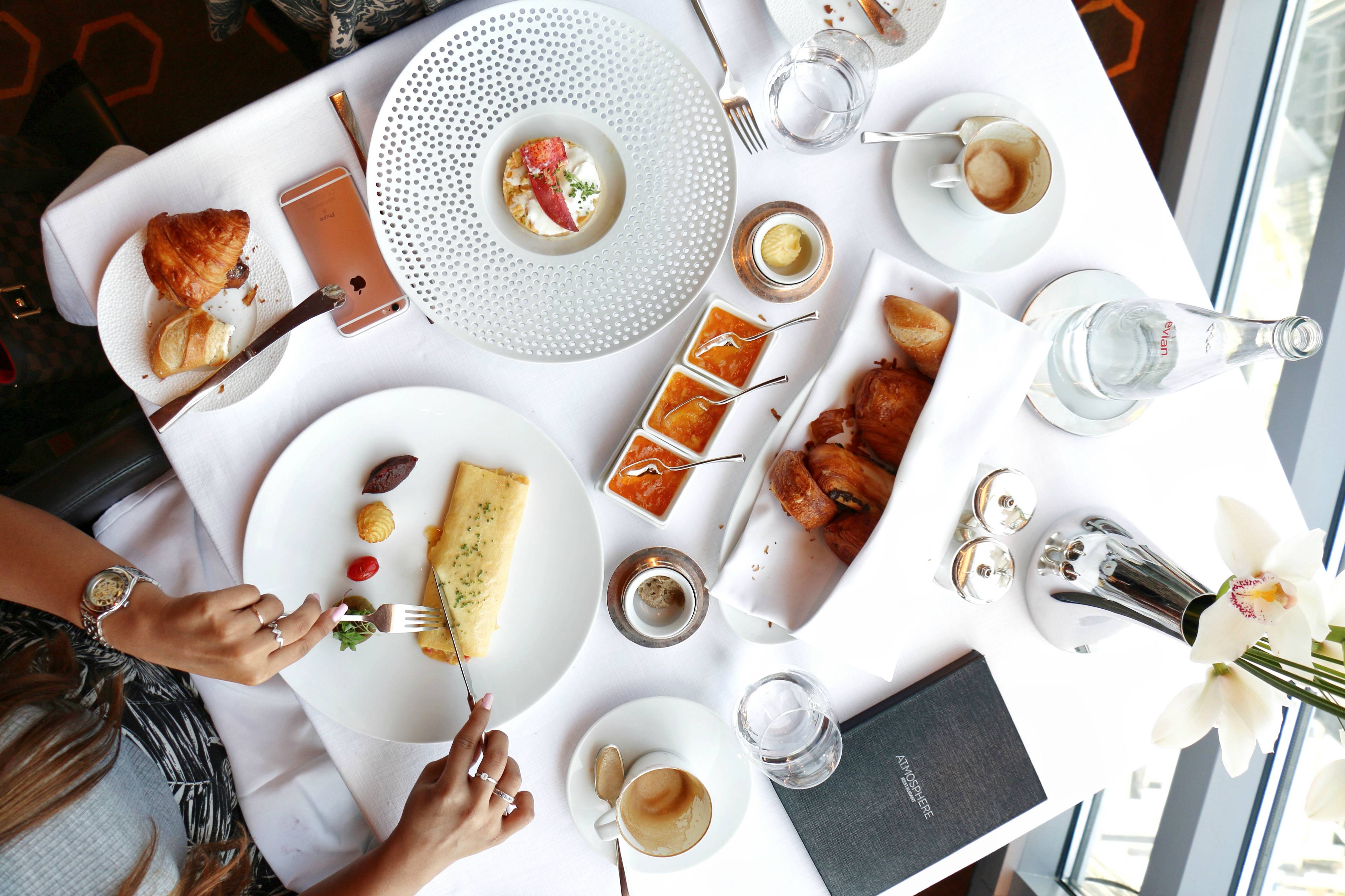 "The peak of fine dining in Dubai is not merely a figurative experience. Rise 442 meters from the ground, At.mosphere sits on Level 122 of the 'World's Tallest Building', complementing an exquisite array of gastronomical wonders with breathtaking views of the Arabian Gulf and a 360 degree view of Dubai!

High Tea doesn't get any higher than this!"
About At.mosphere
At.mosphere is located just 2 floors below the observatory deck and holds the 'Guinness World Record' for the 'World's Highest Restaurant', sprawling over 1,030 square meters. Thus, this property undoubtedly offers a unique dining concept with an eye-catching innovative lounge and restaurant. Customers can opt to dine at the restaurant or enjoy some drinks at the lounge overlooking the phenomenal 'World's Tallest Performing Fountains'. Ones who want to relax or are food connoisseurs – At.mosphere indeed guarantees an experience like no other as At.mosphere's culinary team only sources and uses the highest quality produce from around the world, some of which have been grown exclusively for them.
At.mosphere's décor
The attention to detail at this property is outstanding. The interiors and sofas have deep shades of amethyst and patterned velvets. The serviettes placed on top of the tables are beautifully designed in the form of Burj Khalifa! The vibe of the restaurant changes depending on the time of day.
Feel Fancy
You will get a taste of how fancy At.mosphere is from the moment you step into Burj Khalifa.
You first gain access through Armani Hotel after giving your car for valet at the entrance and will then be guided to a lift that will take you to a reception that will confirm your reservation (your credit card details are taken during reservation)… followed by getting access via a barrier that leads you to another lift to the 123rd floor! As soon as you step out of the lift, you will be appalled by the phenomenal view 100's of meters above the ground. You will then have to go one level down to enter At.mosphere. You must take a picture here, it will look something like the below ?
Breakfast @ At.mosphere
Having breakfast at one of the highest restaurants in the world? YES, PLEASE! ??
This location is perfect for any or no occasion to *wow* a client, friend, better half or your family! I personally don't think it's too pricey since they not only have different set menus to fit your budget, but even have an a la carte menu. For the location + quality food + stunning view, the costs are quite reasonable! The only thing that could be better, was the service. 'Twas quite slow (taking into consideration there weren't too many people the day I went) ?
You can indulge in savoury and sweet dishes from the new breakfast menu! Choose from the Decadence Menu complete with continental breakfast items including fresh and seasonal entrées such as Exotic Fruit Platter, French Pastry Selection, Cold Cuts and Fine Cheeses and main course delicacies such as Organic 3 Egg Omelette, Roasti Potato, Sweet Crêpe and Brioche French Toast.
Breakfast enthusiasts can also indulge in a luxury 6-course experience with flavourful dishes including Apple Wood Smoked Sea Trout, Organic Greek Yoghurt Parfait, and Lobster Scrambled Eggs.
Since I wanted to personalise my experience, I opened for the à la carte option that included a great variety of dishes such as Twice-Baked Smoked Haddock Soufflé and Classic Egg Cocotte that set the right mood for the rest of the day! My favoooriteee was the Lobster Scrambled eggs. It is priced at AED200 and the quantity seemingly LOOKS like it can be finished within 3-4 bites but it's super heavy, creamy and DELICIOUS! ?❤
Below are the menu's for your reference,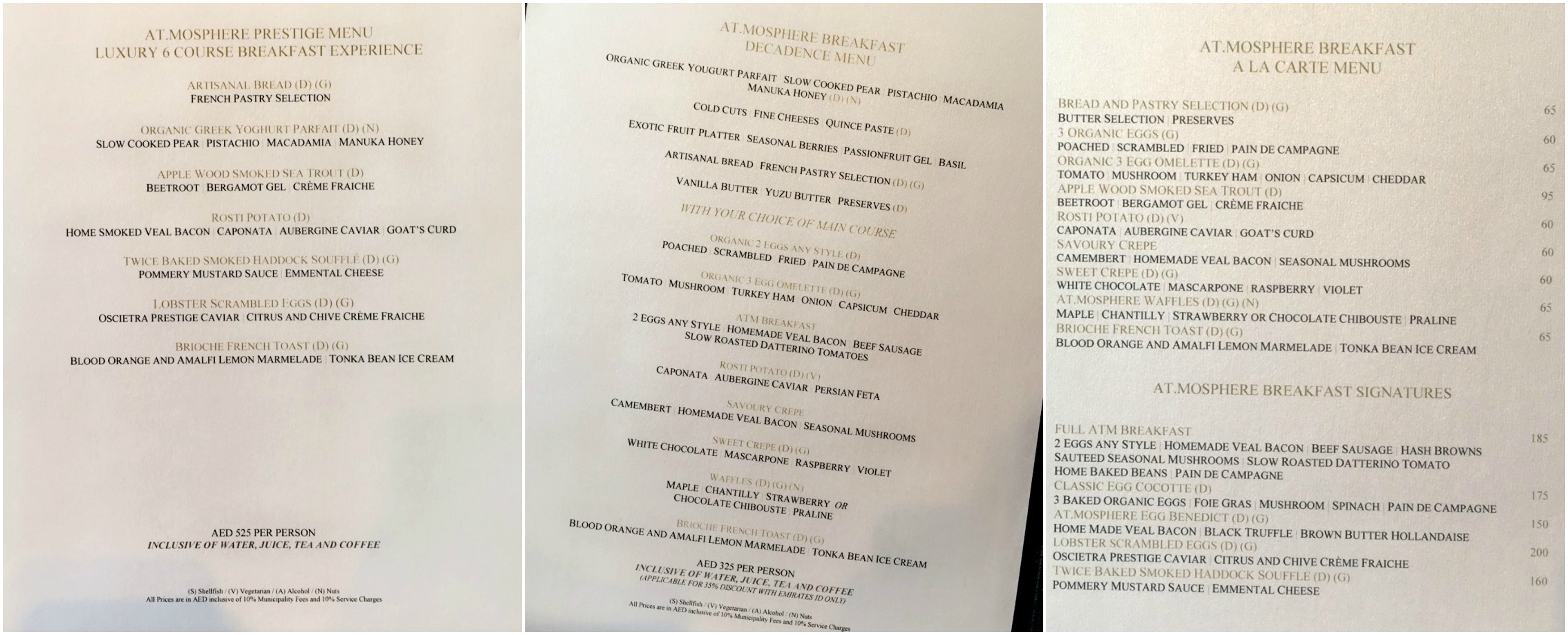 Not forgetting the little ones… spoil them with an exceptional mini breakfast designed especially for the youngest guests.
The new breakfast menu designed by Executive Chef, Christopher Graham and his exceptional culinary team promise to give the most important meal of the day, the five-star treatment! ⭐⭐⭐⭐⭐
Cost and other information
Day & Time: Daily, from 7am to 11am (last arrival time is 10am)
Price: Decadence Menu – AED 325 per person (UAE residents can enjoy 35% discount with their Emirates ID), Prestige Menu – AED 525 per person and À la carte – Dishes start from AED 60. Children below 5 years can dine for free (ID required with date of birth). Children aged 6-10 years are entitled to 50% on Decadence Menu only (ID required with date of birth).
Dress Code: Casual
T&Cs: All ages are welcomed. Minimum spend of AED 200 per person (window tables are subject to availability upon reservation). Only soft beverages will be offered during breakfast. 35% discount on Decadence Menu for guests with a valid Emirates ID card.
Contact
Call 04 888 3828 or email [email protected]
Location