7 Board game cafés in Dubai where you'll have a blast!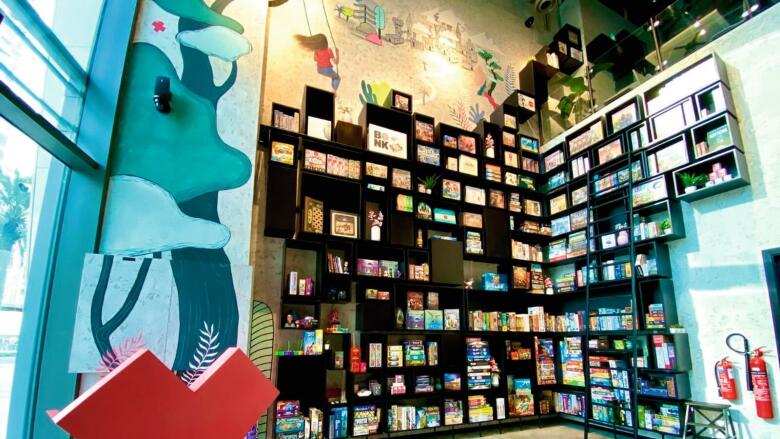 Board games can be a dicey business. Uno you're going to Scrabble in a rammy but it's always a Risk you're willing to take
To that end, we have rounded up seven cafes providing you some dice-rolling, strategic-thinking frenzied fun in no order. Whether you're into a classic game of Monopoly or an intense game of Catan similar to ones you find on Colonist, these places might get you covered! If you are more of an online gamer and you want to do something similar to this, you can go online with your friends and have fun gaming and eating food in your group, especially if you are not able to go outside but still want to hang out with your friends. So whether you are an online gamer or an avid board gamer, there is something for everyone to do so they can have their fun.
1. Unwind Café
Taco, Cat, Goat, Cheese, Pizza (phew), is just one of the 700+ games available at Unwind, a specialty board game café located in the heart of the city. They have a plethora of games – competitive, corporate, party – suitable for various age groups and levels Ramim, the game-master, is fabulous and will take you through the game rules before you begin. An ideal place to 'Unwind,' for they have a delectable menu alongside their extensive collection of games! They serve sandwiches, nachos, pizza and have a separate breakfast menu too. Salted Caramel Latte and Avocado Toast are highly recommended. Classic games like Uno, Monopoly, Taboo are complementary, with others charged per hour. Loyalty program and student rates available!
Location: Al Barsha
Cuisine: Cafe, breakfast
Price for two: AED 70
2. The Six
The Six, Dubai's newest quirkiest board game cafe is a brilliant addition to the city. With over a 1000 games, it is the perfect spot for nerdy and nostalgia with friends and family. Their game gurus help you navigate through the ceiling-to-floor game's wall, and walk you through the rules They have a range of games for kids, adults, and serious gamers alike. The millennial library vibe and modern interiors make for a cozy setting, with mesmerizing views of the Burj Khalifa. They have large shareable bowls of Chips Omani, Popcorn and Gummi Bears to pass around, and that is not even the best part. For they have Kunafa Acai (yes), Sliders, Volcano Cheesy Fries too. The café is open to all, so if you just want to indulge in some cheesecake topped with Karak or Vimto or grab some savory waffles – The Six is your place. A charge of AED 35 with unlimited game time is levied on those playing.
Location: Downtown Dubai
Cuisine: Cafe, international
Price for two: AED 130
3. The Workshop
Part concept store, part art gallery, part workspace and part café, The Workshop is one of the most coveted, hipster spaces in the city. Ambiance gets full marks here. It is truly Dubai's hidden gem, a treasure trove for those artsy souls looking for an invigorating experience. The boho interiors set off with inviting amounts of natural light, make it an ideal place for leisurely chats and hangouts. They are breakfast goals, serving our favorite cuisine of the day all day. Vegan choices are available too. The gluten-free almond cake slice is a must. With ample game options available – including Pictionary, Upwards, Guess Who, Autospace, 300 Revenge Burger Puzzle, Jackaroo amongst many more – The Workshop is sure to be on top of your list.
Location: Jumeirah 2
Cuisine: Cafe, breakfast, vegan
Price for two: AED 130
4. Pete's Midnight Café
Cheesy chilli garlic bread, masala chai and Ludo, Pete's Midnight Café checks all boxes when it comes to your childhood favorites. Nestled in Karama, this quaint café has a picture-book hill-station vibe, taking you down memory lane. Homey interiors, warm lighting, and an amicable ambiance, it is ideal place to kick back and relax. They have a variety of games to choose from; including the ever-quip and competitive Monodeal and Jenga. Spot It, Uno, Snakes & Ladders usually fill up the table top here. The dishes here are true to taste – the frankies and pizza redefine comfort food. Pete's Midnight Café goes to prove what I had already suspected… that almost anything is better with cheese. Anything.
Location: Al Karama
Cuisine: Fast food
Price for two: AED 100
5. Public Café
The inviting aroma of brewing coffee and toasted bread welcomes you to a pleasant and captivating atmosphere at Public Café, spot on to Scrabble some pals together.­ Tucked in one of the clusters in Jumeirah Lake Towers, the café serves up fresh, wholesome food all day. The sandwiches peppered with a versatile mix of ingredients – from bresaola to tuna – are quite a temptation themselves. Vegans/vegetarians are well catered to as well. The cozy sofas and outdoor seating make the ambiance intimate yet expansive, quintessential for lounging with a group. The bookshelf hosts a selection of board games free to play with, including the infamous Taboo. You can bring your own bring your games too!
Location: Jumeirah Lake Towers
Cuisine: Greek, cafe
Price for two: AED 120
6. Tea Junction Café and Lounge
Have your cake and eat it too! You no longer need to choose between good food, shisha and games night, as Tea Junction Café and Lounge has it all. To top it off, they are open until 2AM every day. Their lip-smacking buttery Maggi, piping hot Kashmiri Chai and dim lighting will take you back to college days in a flash. The fluffy eggs, bun maska and shawarma further take on a wistful hint of nostalgia. You can spend endless hours playing Jenga, Chess, Cards or one of their board games with your group of friends here. No guarantee on ruined friendships. The snug ambiance and attentive staff will surely enhance your experience at Tea Junction!
Location: Oud Metha
Cuisine: Fast food, café, breakfast
Price for two: AED 100
7. Garage Café
Board games + live singing + match screening + shisha = well, hello Garage Café. We may not be the best at math, but we do know this makes up a good combination. Located in Oud Metha, this hipster café with a grunge ambiance boasts a range of games including Ludo, Carom, Cards and Cricket. However, that isn't the only reason to visit this café and lounge. The kebab platters and rolls are popular dishes you can gorge on while playing. From Bombay style Vada Pav to Creamy Alfredo Pasta, there is a palate for everyone, making it an ideal go-to place!
Location: Oud Metha
Cuisine: Shisha, Fast Food, Café
Price for two: AED 50
Are we missing out on your favorite café? Let us know!
---
Written and Researched by Drishti Jain