Being a dessert… aka cake-holic, I've experimented and tried several cakes round town! What stands out for me are below 😉
Important pointers
At every bakeshop, you will get what you ask for. If you're concentrating heavily on the aesthetics, most likely the cake will not taste as great and neither will the sponge be soft as the fondant must have a strong base and something to stick to. You can't have a delicious velvety chocolate mousse heavily designed.
If you opt for a nut-based flavored cake like Ferrero Rocher or almonds, walnuts, etc, it will most likely be dry as nuts tend to absorb the moisture/ganache from the cakes. Several layers of marzipan or fondant tend to do the same thing.
After consuming the cake, I NEVER keep the remaining in the fridge as chilled air will freeze the cake that in turn leads to *again* sucking the moisture and flavor out of the cake. By taking it out the next day, eating a solid cake just tastes awful, and if you microwave it for a few seconds, it awkward melts in awkward areas or burns. We don't want that….. Just slice it properly and store it in an airtight tupperware. If it's a mousse or cheesecake, yes, it must be refrigerated.
Prices of cakes keep fluctuating in Dubai, so please keep in mind the prices mentioned below are subject to change.
Top 10 Favourite Go-To Birthday Cakes
A simple summary of the classic flavors you may ask for, that I've tried and tested, are given below;
Chocolate Cake – Sugaholic Bakeshop or Chateau Blanc
Chocolate Mousse Cake – La Patisserie
Red Velvet – Magnolia Bakery or Sugarmoo
Vanilla Cake – Sugaholic Bakeshop
Cheesecake – Sugarmoo or Brownie Point
Salted Caramel – Melange Dubai
Tiramisu – French Bakery
Mango Cake – Bakemart
Honey Cake – Spinneys
Milk Cakes – Sukkar
Japanese Cake – Uncle Tetsu
1. Sugaholic Bakeshop 
My favourite: The flakes and maltesers cake
What you can experiment with: Rose & Pistachio cake and the Nutella Cheesecake
Cost: Starting from AED85/kg. Check their website for more.
2. Sugarmoo Desserts 
My favourite: Mocha choco cheesecake and the Red Velvet with Oreo and chocolate cream cheese
What you can experiment with: Gulab Jamun pudding cake, Chocolate Chip cookie cake, White Velvet, Lotus, and Nutella & Banana cake
Cost: They sell their cakes as per inches/slices, not kgs. Starting from AED150. Check their website for more.
3. Sukkar
My favourite: Milk cakes, Rose & Saffron cake, and Carrot cake
What you can experiment with: Coconut cake, Date Pecan Pie, and Toblerone cake
Cost: They sell their cakes as per inches/slices, not kgs. Starting from AED160. Check Zomato for more.
4. Magnolia Bakery 
My favourite: The Devils Chocolate Cake and the Red Velvet with cream cheese
What you can experiment with: Vanilla, Banana, German Chocolate, and Lemon
Cost: They sell their cakes as per inches and layers, not kgs. Starting from AED129. Check Zomato for more.
5. French Bakery
I personally don't like any of their cakes except for the Tiramisu (and maybe croissants), that're heavenly! They serve 2 sizes, at times they have just 1 size, starting from ~AED110.
6. Cheesecake Factory 
My favourite: Oreo Dream Extreme, Red Velvet, Original, Peanut Butter, and Salted Caramel
What you can experiment with: Coffee & cream, white chocolate raspberry truffle, and Godiva chocolate
Cost: Sometimes they do sell the entire cheesecake based on availability. Prices vary.
7. La Patisserie
My favourite: Chocolate Truffle cake, it's mousse based and the best one I've had till date
What you can experiment with: Tropical fruit, Carrot cake, and Hazelnut Praline
Cost: As per the flavor, the sizes vary. Starting from AED100
Image: This 'hole in the wall' place is located in Emirates HQ. We buy these cakes to celebrate colleagues birthdays! I haven't gotten a chance to click a picture of it yet. Please check Zomato for now.
8. Honey Cake from Spinneys 
I've tried Honey Cakes from several places but no one does it like Spinneys! I usually get a slice, but the entire cake is also available starting from ~AED80.
Note: The Honey Cake in Carrefour has more cream and less sponge whereas the one served in Spinneys has more flavor and consists of far more sponge than cream (which I prefer)
9. Melange Dubai
My favourite: Chocolate Salted Caramel Cake
Cost: She sells it as per layers and size, not kgs. Starting from AED200
10. Brownie Point
My favourite: Red Velvet Cheesecake, New York Style Cheesecake and Saffron & Pistachio Cake
What you can experiment with: Nutella, Strawberry, Tiramisu and Brownie Cheesecakes
Cost: Starting from ~AED120 depending on the flavor for half a kg
11. Chateau Blanc
My favourite: Nutty Nutella, Hazelnut Praline, Red Velvet
What you can experiment with: Lotus, tropical mango, L'opera, and black forest
Cost: Sizes vary as per flavour. Starting from AED145. Check their website for more.
12. Bakemart Gourmet
My favourite: Mango Mousse Cake
What you can experiment with: Chocolate fudge, tiramisu, and Calypso
Cost: Starting from AED115/kg. Check their website for more.
13. Uncle Fluffy Bakery
Starting from AED18 for 10cm to AED115 for 23cm, take your pick (call and customise if you wish)!
Other cheesecake slices I fancy
Maybe if you request early enough, they'll give you the entire cake? 😉
1. Baked Cheesecake (with Blueberry Sauce) [AED34 (sufficient for 2-3)] from Clinton St. Bakery Dubai 
Majority of the places in Dubai always serve no-bake cheesecakes. If you're looking for a non-chilled baked cheesecake version, here you go.
Delicious flavor, stiff in composition and very rich/filling.
2. Ricotta Cheesecake with Caramel Topping [AED45 (sufficient for 2)] from Fratelli La Bufala
The texture of this cheesecake is not that smooth unlike other cheesecakes. It's more rugged and semi-stiff but nonetheless it was amazing!
3. Strawberry Cheesecake from Costa UAE 
Costa was falling back when it came to their desserts. But now they've definitely upped their game and serve one of the best cheesecakes I've had!! Their Strawberry cheesecake is very light in texture and phenomenal in taste! I think they even sell the entire cake starting from AED80 only.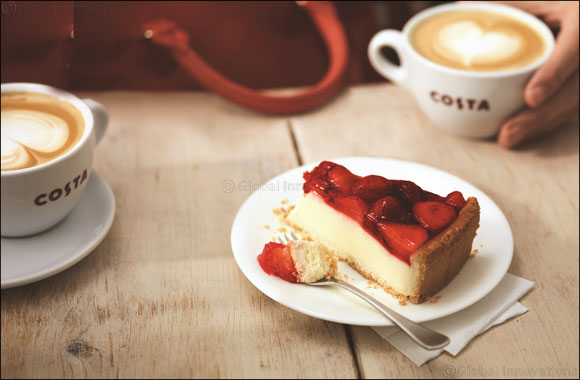 4. Dulce De Leche Cheesecake from Gaucho Dubai
5. Nutella Cheesecake from Carluccious [AED 38 for a slice]
One of the best Nutella Cheesecake's I've ever had! Soft yet thick + Delicious + Good Quality, a combination that is hard to find these days!
---
Looking for a cozy cafe and hot tea to go with your favorite cake? Check out this article for 15 best afternoon teas in Dubai!