18 unique gifts to give your loved ones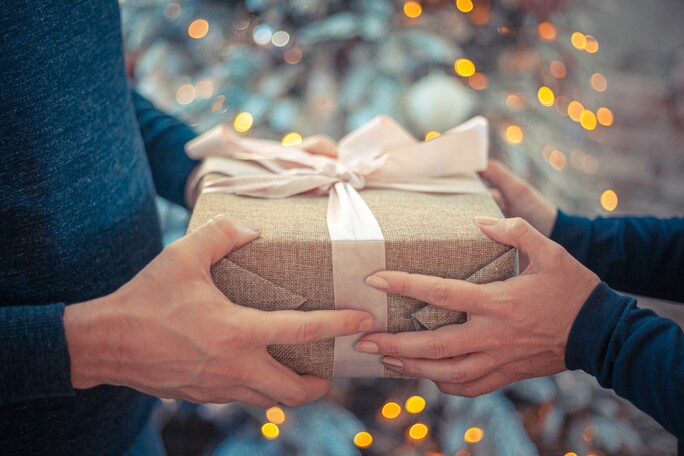 Aaaaaahh, love. What is it about this magical four letter word that turns your legs into jelly and gives you butterflies in your tummy? ÄŸŸ ¤ ­ If you're pro-valentine's day, welcome. This article is for you. If you're on the anti-valentine's team, we get it. Love should be celebrated every day, it's true. If you and your partner celebrate love every day, we are SUPER envious. But more often than not, people get caught up in their lives and work, and celebrating love takes a backseat. So it's nice to have a day to remind you to celebrate your partner and your special bond. You can't deny that! ÄŸŸ ¤-
Sure, the cliché chocolates/flowers/perfume gifts work great! But maybe you're looking for something a little non-traditional and more personal like Personalized Bobble Head Dolls that are bound to make them feel unique? We've got just the ideas for you!
1. Make a custom story-book

Do the both of you have the cutest story about how you met? Storybird will help you put the story into an actual book! ÄŸŸ"• You can choose from a variety of formats, and a gazillion of the cutest pictures you'll ever see! The website is incredibly easy to use and you'll find yourself typing away the most heart-touching of stories. ÄŸŸ˜ A hardcover book costs around AED 110, and an e-book (pdf file) costs only around AED 11! The only downside is that this website is based in America, so shipping to Dubai will cost you an arm and a leg. We recommend downloading the pdf and getting it printed from Dubai! ÄŸŸ˜‰
2. Make a photo-box

Ok so you like the idea of telling your story, but maybe you're not really good with words or you can't afford the shipping. We've got the perfect alternative! These fun pop-up photo boxes are easy to make and sooo adorable. ÄŸŸ˜ You can customize these to tell your story or just put pictures of all your favourite memories together, or however else you please! You could even write a small note behind each picture. ✠You can find a tutorial here and here.
3. Bake them some roses

This is for all the sweet-tooths out there. ÄŸŸ ¤ ¤ These apple rose tarts require literally just three main ingredients to make, can be made by even amateur bakers AND they are so so so gorgeous! A foodie's take on the traditional rose bouquet, if you will! ÄŸŸ ¤ £ Watch the tutorial here.
4. Gift them a forever Rose

So maybe baking isn't your thing, but you still want to get them a rose. ÄŸŸŒ ¹ How about gifting them a rose which lasts, literally, forever?! These beauties 100% natural, and if you keep it in its glass dome, it doesn't even have to be watered or receive sunlight! An unprotected rose lasts a good three years. ÄŸŸ˜ ¯ The only downside is that it is quite pricey; USD 70 for an unprotected rose and a protected one starts at USD 199. But shipping to the UAE is free, and it does last forever, so it could be a good gift to show someone that you truly care! â ¤ï ¸ Buy one at https://www.thebellarose.com/online-store.
If you love roses and live outside UAE (or are in a long distance) see below:

Gifting gets infinitely harder when your loved one lives on the other side of the world. ÄŸŸ™ Thankfully online services such as Roses Only (among others) make it much easier to bridge the gap. You can choose from different gorgeous sets of roses, lilies, teddies, champagne bottles and chocolates. They are available in Singapore, UK, Hong Kong and the US. ÄŸŸ ¤ ©
If you're looking to gift lilies instead, check out this guide to pink lilies first!
5. Get their caricature drawn

This is perfect for a fun loving couple who enjoy the occasional digs at each other. ÄŸŸ˜‰ Dezains is an Indian website, and you can get caricatures drawn of your partner/you/both of you! They even have tons of products that you can print these caricatures on like canvases, magnets, posters, t-shirts, etc. They do offer international shipping, and if you email them with your product description and location, they will get back to you with the estimated delivery time and shipping cost. ÄŸŸ'
6. Show them you care with a care box!

This is, personally, one of my favourites since it can be customized to suit your partner's tastes. ÄŸŸ˜ All you need to do is get a box/basket, and put in a load of their favourite things! If you're gifting them a care box for your anniversary, then you can even include some personalized anniversary gifts in it. Whatever you think they will love, it goes inside the care box. You can do a movie night box with popcorn, drinks and a couple of your favourite DVDs, or for a chocolate-loving partner you could stuff a bunch of their favourite chocolates! It's simple to make, doesn't have to be too expensive, and shows that you put in a lot of care and thought! Plus, this is a family gift that you can actually share with them! ÄŸŸ˜'
7. Tell them what you love about them (with a little help)
What I Love about You is a book by Kate and David Marshall, specially designed to help those who aren't very good at verbally expressing their love. ÄŸŸ ¤ ª The book is described as a fill-in-the-blank book which prompts you to say what is in your heart, but may not always be at the tip of your tongue. Tell the most important person in your life just how much they mean to you by completing the scores of unique, evocative checklists, short answers, and phrases in this attractive gift book. ÄŸŸ"• Find the book in bookstores or purchase it from Amazon.
8. Have dinner with them…IN THE SKY!

Have a three-course meal with your partner, sip on a few drinks, enjoy some music..all the while floating in the frikkin' sky on a platform! ☠Dinner in the sky has been named as one of the world's most extravagant meals by Forbes magazine. Prices start at AED 499 per person and each session lasts roughly around 90 minutes. What brings two people closer together than dangling at a height of 50 metres from the ground, eh? ÄŸŸ˜'
P.S. Not for the faint-hearted! For bookings contact https://dinnerinthesky.ae.
9. Twinkle Twinkle Little love of my life
When you look up at the night sky, wouldn't it be great to say "hey, you're the brightest star in my life"? Cheesy, but doable! ÄŸŸ˜' Buy a star for your loved one and name it after them! You can find many packages online and pick a package that's catered to your budget. The concept is to have a star officially named after your loved one and they can receive a certificate and map locating where the star is! â ­ï ¸ Here's a site you can take a look at: Star Registration
10. Personalized items
I've always been fond of the idea of personalized items since they make you feel like you're unique. From drum wraps (you can check out https://rockskins.com/collections/drum-wraps here) and jewelry to beautiful fashionista gifts, online and retail stores offer a wide range of gifts that can be customized. You can even find small gifts like passport holders, phone covers, toiletry bags, and more that can be personalized in a classy way with gold or matte embossed initials. ÄŸŸ ¤ © Your loved one would be able to flaunt their everyday essentials and let people know it's theirs. Here's a company you can check out: Victims of the Desert. Alternatively, if you were looking for something on the fun side, there are plenty of options available that simply require a photo of the intended recipient. These Fotokissen bedrucken photo pillows are super-fun and could be a great gift for the young (and young and heart) people in your life.
Keeping to the personalization theme, why not buy a jacket, bag or a pair of shoes ÄŸŸ' and get a custom saying, picture or initials painted on them. This makes the clothing item/bag a lot more meaningful and special. Check out @maria5pop and see if she can animate your ideas to life!
11. Personalized Jewellery
How thoughtful is it to be wearing your anniversary date or your loved one's initials on the daily? If you would like to have simple but elegant 14k jewelry that is customized just for you, check out @raesaviajewellery. â ¤ï ¸ Handmade, hypoallergenic and customized to an extent where it is made to size, select gems, ask for embossed initials, quotes or dates and even, show them a design that you liked or created and they can perhaps find a way to translate that into jewelry! Find the physical stall at Ripe Market or drop a DM. ÄŸŸ ¤-
12. Skin and hair care
What better way to show your loved one you absolutely love their personality and their body. ÄŸŸ˜‰ Don't get carried away, but giving them all natural skin care products made proudly in the UAE and customized just for them can be the best gift! Free from all the icky stuff, their skin will thank you and so will they! ÄŸŸ˜
Find Pavanito skin care products at the Ripe Market (physical stall) or shop online at Pavanito.
13. Sunglasses
If you live anywhere in the Middle East, your loved one will do well with a pair of sunglasses. ÄŸŸ˜ Some of the classic shapes that suit almost everyone are the aviator or wayfarer sort of styles. You could always check out high street names such as Zara and Topshop to get your hands on a more affordable pair, or Ray-Bans, Prada, Burberry as more premium options. Bonus – get them a personalized sunglass case for their new sunnies from @thecustomfactorydubai. ÄŸŸ'Œ
14. Sponsor a dog
If your loved one is doggo obsessed but for whatever reason cannot have one now, sponsor a dog for them! ÄŸŸ ¶â ¤ï ¸ Naomi talks all about it here.
15. Date Jar
Create a jar with 52 different date options! Your partner can pick one whenever you're stuck or every week and go ahead and do them! ÄŸŸ'' You could divide them into activities to do at home (this could include puzzles you guys can do or series you've been meaning to watch), activities around the UAE (drive up to Jabal Hafeet, go to Dubai's old souk) and why not include restaurant options (check Naomi's Instagram page for the best picks ÄŸŸ˜‰)
16. 52 reasons why I love you
You probably cannot put in to words how much you love your other half. How about you try consolidating it on to a deck of cards! ÄŸŸ˜ ­â ¤ï ¸ You could make this into a mini booklet they can always look back and read whenever they want to remind themselves as to how much you love them! Here's a tutorial:
17. Dolphin Bay
A one of a kind experience for your loved one! ÄŸŸŸ Swimming with dolphins is fun, therapeutic and something unexpected! So grab your swimwear and get ready to experience a bit of the sea swimming with dolphins. Check out Atlantis's Dolphin bay that gives you access to Aquaventure as well! ÄŸŸ'Œ Prices start at AED 599 and go upto AED 1300 at Atlantis, and is AED 475 at the Dolphinarium.
18. Travel Kit
If your partner loves to travel, why not make them a travel kit! ✈
Things to include:
A scratch map so they can scratch out all the places they've visited
A luggage tag (@thecustomfactorydubai)
A travel journal (You can always make this or pick one up at Typo)
Passport cover (@thecustomfactorydubai)
Maybe a plane ticket as well? haha! ÄŸŸ˜‡
Visit Judaica Shop to find some really cool pieces you may love for your home.
---
Written and Researched by Zeba Bashir and Serena Sibi