Volunteering gives you an opportunity to change people's lives, including your own. It is a way of giving back to your community while developing important social skills, and gaining valuable work experience all at the same time. The ultimate win-win situation!
Here's a roundup of some of the best charitable organizations you can volunteer within the UAE:
1. AL NOOR
Al Noor is a training center established for children with special needs. They aim to educate and improve the lifestyle of these individuals by providing them with adequate training and involving them in various extracurriculars. You can volunteer in different departments like direct child intervention, fundraising department or annual events. They also issue a certificate on having completed minimum 10 hours of volunteering.
Requirement: A legal resident of the UAE and at least 16 years of age can volunteer.
To Register: Drop an email at jlaura@alnoorspneeds.ae to get more information on how to proceed.
2. DUBAI FOUNDATION FOR WOMEN AND CHILDREN
The Dubai Foundation for Women and Children (DFWAC) is the first licensed non-profit shelter in the UAE for women and children, victims of domestic violence, child abuse, and human trafficking.
Requirement: They seek volunteers who are professionals and highly skilled in educational, vocational, and recreational training.
To Register: Visit https://www.dfwac.ae/volunteer.
3. DUBAI AUTISM CENTRE
Dubai autism center is a specialized center that aims to improve the quality of life of children with autism and their families. Volunteers are always welcome to provide help and support for individuals with Autism. You will also receive a certificate/reference letter. Some of the work you will be doing involves:
Assisting teachers or therapists in the classrooms.
Engage in fundraising events and projects.
Lend support in PR, copywriting, photography, media, marketing and public relations
Support in social awareness drives, the parents of children with Autism or the center's management services
Requirement: Anyone with an interest in Autism and social work can volunteer.
To Register: Visit https://docs.google.com/forms/d/e/1FAIpQLSc_rVSmNeTFEazbsVZK0T85t69Y-Yjgs_asKlCqkyuTuSC2NA/viewform?c=0&w=1.
4. K9 FRIENDS
K9 friends not only provides shelter for abandoned and stray dogs but also strives to find them an affectionate home environment where they are given the utmost love and affection. They also reunite lost dogs with their owners. If you aren't in a position to adopt or foster a dog, you can even just take a rescue dog out for a walk. It is the perfect place for all the doggo lovers out there!
Requirement:  You should be a minimum of 16 years of age and should be willing to volunteer for a minimum of 6 months.
To Register: Contact +971 (0)4 8878739 OR +971 50 2741949. For further details visit http://www.k9friends.com/lend-a-paw/volunteer/.
5. FELINE FRIENDS
Feline Friends is a non-profit organization that opened in 1991. It was fully funded by donations and supported by part-time volunteers. They had to close down a while ago, but they still keep their website running for cat rescuers to post their cats for adoption or fostering.
Requirement: Just make sure your home is cat-ready!
To Register: Visit http://www.felinefriendsabudhabi.com/ and have a look at the available cats. If you see a cat you would like to adopt/foster, click on its picture to get the owner details and contact them directly.
6. MAKE A WISH UAE
Every child loves to dream big and a lot of us had an ultimate wish while growing up. Unfortunately, not every child is able to live long enough to fulfill that wish. The Make A Wish Foundation aims to give children with critical illnesses a life beyond their illness.  They bring magic and joy to these children each year, by granting their most cherished wish. Volunteering opportunities could include being a wish granter, office worker, translator, fundraiser, speaker or event staff member.
Requirement:  The Make A Wish Foundation requires all potential volunteers to undergo an assessment. Their work involves children and sensitive information, so select volunteer positions require a criminal background check and evaluation every three years, as well.
To Register: Fill out the form at http://www.makeawish.ae/page/Application-Form.html and email the form along with an updated resume, a copy of your passport, copy of your residency visa, copy of your Emirates ID and a  recent photo to volunteer@makeawish.ae.
7. RIDING FOR THE DISABLED ASSOCIATION DUBAI
Riding for therapy! What an amazing concept put forward by the RDA Dubai. RDAD's programme utilizes horses to achieve a variety of goals. The horse not only helps the disabled riders physically but also improves their mental and cognitive abilities. As opposed to physical therapy and treatments confined to the four walls of a hospital, RDA promotes exercising in fresh air. Volunteering at RDAD can also be part of the Duke of Edinburgh program for young students.
Requirement: No experience is necessary, just enthusiasm and a desire to make a difference to the riders' lives.
To Register: Contact lessons@rdad.ae or visit http://www.rdad.ae/volunteering.html.
8. PINK CARAVAN
Prevention is better than cure; A motto that the pink caravan lives by. It aims to raise awareness and help in the early detection of breast cancer amongst women through regular screening and self-examinations.
Requirement: They particularly need people with backgrounds in medicine, events and equine care, as well as mechanics, four-wheel-drive specialists and veterinarians.
To Register: Visit http://www.pinkcaravan.ae/register/individual-form-1.php
9. EMIRATES RED CRESCENT
Emirates Red Crescent is a humanitarian organization that in times of peace organizes various volunteering events that promote the spirit of solidarity. During times of wars and emergency situations, they provide shelter, rehabilitation, food, medical aid, etc. for the victims.
Requirement: Applicant must be above 18 years, a resident of the country and should have at least completed high school.
To Register: Visit https://www.rcuae.ae/volunteer_purpose_en.aspx.
10. EMIRATES WILDLIFE SOCIETY
EWS-WWF was established to protect the flora and fauna in key sites across the emirates. It assists in formulating policies that help protect the biodiversity in the region. They also aim to raise awareness regarding UAE's ecological footprint. One can aid in various fields such as event support, graphic design, office work, photography, etc.
Requirement: They require you to fill out a questionnaire which will then tell you which field you are suited to.
To Register: Visit http://howyoucanhelp.uae.panda.org/#tabIndividual.
11. SMART LIFE
A lot of kudos should go to our blue-collar friends for the development we see around us. SmartLife honors the efforts of these workers with tools that not only improve their present lifestyle but also render them capable of finding a respectable job in their field of choice by unleashing their hidden potential and empowering them. Volunteer assistance is highly valued throughout the organization. Their projects usually fall under, knowledge, personal care, sports, and talent.
Requirement: You have to go through their projects and write to them mentioning your areas of interest.
To Register: Call +971 55 476 3786, email admin@smartlifefoundation.org or visit http://smartlifefoundation.org/smartlife/.
12. VALLEY OF LOVE
This non-governmental organization provides a helping hand for those in need, whatever their background. From assisting those in a hospital to helping families with the formalities of death and repatriation, the 16 volunteers and their much larger network of contacts aim to ease the burden for anyone who is struggling by offering assistance, solace, and hope.
To Register: Drop an email at thevalleyoflove@gmail.com or call 055-337 0044.
13. THE EWAA SHELTERS FOR VICTIMS OF HUMAN TRAFFICKING
The Ewaa shelters join in local and international efforts to combat human trafficking and protect against it. It concentrates on providing relief, care, and rehabilitation for victims in a safe and secure environment. You can help by volunteering your experience and skills to provide shelters' residents with the best services.
Requirement: Everybody can help!
To Register: Visit http://www.shwc.ae/portal/everybody.can.help.aspx or email ewaa@shwc.ae.
14. DUBAI CARES
Dubai cares focuses on providing access to quality education for all children alike. Through this initiative, they aim to break the vicious cycle of poverty. Operations take place in over 40 developing countries
Requirement: Volunteers have to be a minimum of 16 years, however, younger volunteers can be accompanied by an adult.
To Register: Visit http://www.dubaicares.ae/en/volunteer.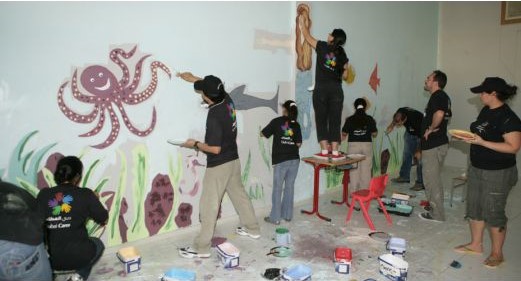 15. GULF FOR GOOD
Fancy a bit of a challenge and adventure, while also contributing to the welfare of the needy? Gulf for Good is an International Humanitarian City Free Zone Not for Profit Organisation under the patronage of His Highness Sheikh Ahmed Bin Saeed Al Maktoum. They host several adventure challenges which you can sign up for. Participants collect sponsorship for each adventure challenge, and these are donated to children's charities in the region that the challenge is held.
Requirement: The challenges are open to anyone 18 years and over who is willing to prepare themselves physically for the challenge, as well as support the charity via their sponsorships. Anyone between the age of 16 to 18-year-old can also participate if one or both parents are also taking part in the challenge, and if they too are committed to meet all other criterias such as sponsorship and fitness training and demonstrate themselves to be mentally and physically fit enough for the challenge.
To Register: Download their pdf form, fill it out and then send it with a photo, a copy of your passport and the registration fee of AED 2,500 (non-refundable) to their office.
16. OTHER WAYS 
Additionally, to be regularly updated on any upcoming volunteering opportunities register yourself at https://www.volunteers.ae/register.aspx. You can volunteer during the expo week, Special Olympics games, Jordan heritage week etc.
With the Dubai Volunteering Center (DVC) you can get actively involved in society by helping to spread a culture of care across the UAE. By contributing time and effort you have a real opportunity to touch lives. You will get to support your community while uplifting yourself with a sense of fulfillment. To register visit https://www.cda.gov.ae/en/Pages/Registration.aspx.
PLEASE NOTE: New laws have been issued regarding volunteer work in Dubai, which states that licenses have to be issued by the Dubai Authority for specialized volunteer work in the emirate. More information regarding this can be found here.
---
Written and Researched by Alefiya Mustafa