Lentils Quinoa Salad with Poached Egg Recipe by Cristina Mennah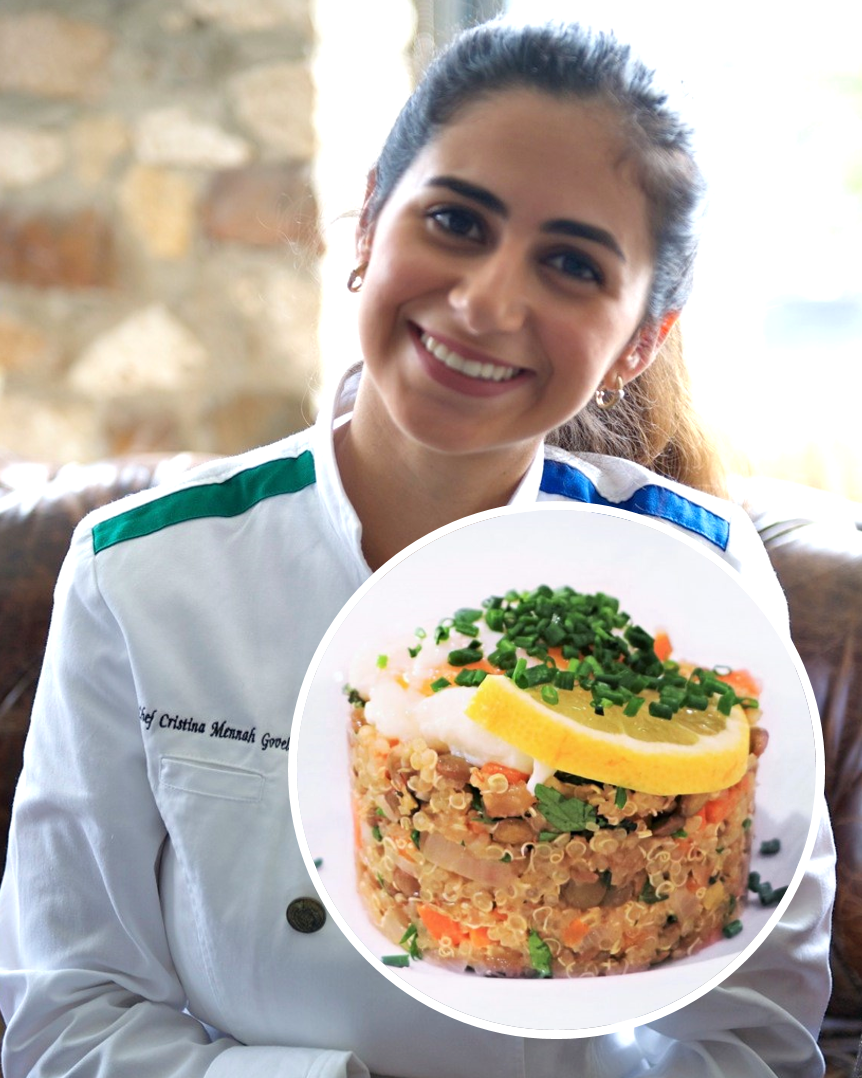 About the Chef
Chef Cristina Mennah grew up in a restauranteur family in Mexico, which was what fuelled her knowledge and passion for Mexican food.  She started her culinary training by learning from the best in France and went on to study in Thailand for a while. Her resume boasts an impressive two Michelin star restaurant at NYC, as well as a Forbes five-star resort in the United States before she shifted to Dubai. She worked at SugarMoo, before finding her passion in teaching and developing recipes. She even taught kids and adults all kinds of culinary techniques, cooking methods and a variety of cuisines at Top Chef Cooking Studio. Now, she practices consultancy, creates recipes and teaches cooking to foodies and experts. Chef Cristina is currently studying to become a certified nutrition coach so that she can develop recipes that promote a healthy and active lifestyle.

Summary
Serves: 5
Prep Time: Approximately 40 minutes
Ingredients
1. 5 eggs
2. 100g of lentils
3. 100g of quinoa
4. 1 pod of garlic
5. ½ onion
6. ½ carrot
7. ¼ bunch of thyme
8. 2 schallots
9. 1 bunch of coriander
10. 1 bunch of mint
11. 1 bunch of parsley
12. 1 bunch of chive
13. 1 spoon of Mustard
14. 1 spoon of balsamic vinegar
15. 6 spoon of olive oil
Method
1. Cook the eggs poached in hot water for 2-3 minutes, reserve them in the fridge.
2. Make a vinaigrette with the olive oil, the mustard and the balsamic vinegar, season salt and pepper, reserve.
3. Peel the onion, the carrot and slice them thinly.
4. Squash the garlic.
5. Put the lentils in a sauce pan with some cold water, the carrot, the onion, the garlic, never put salt.
6. Bring to boil and let it cook on a gentle heat with a cover for 15-20 minutes.
7. Bring to boil some water and cook the quinoa inside for 10 minutes max.
8. When the lentils and the quinoa are cooked, drain season salt and pepper and season it also with the vinaigrette and let them cool down in the fridge.
9. Chop thinly the schallots.
10. Chop the chives thinly, take off the leaves of the mint, the parsley and the coriander.
11. Stir all the herbs and the schallots into the lentils and the quinoa.
12. In a soup plate dress the cold lentils and quinoa salad, on top dress the poached egg, add some salad for the decoration.
Serve it right away!