Signature Duck Scotch Egg Recipe by Tony Jardella, from The Duck Hook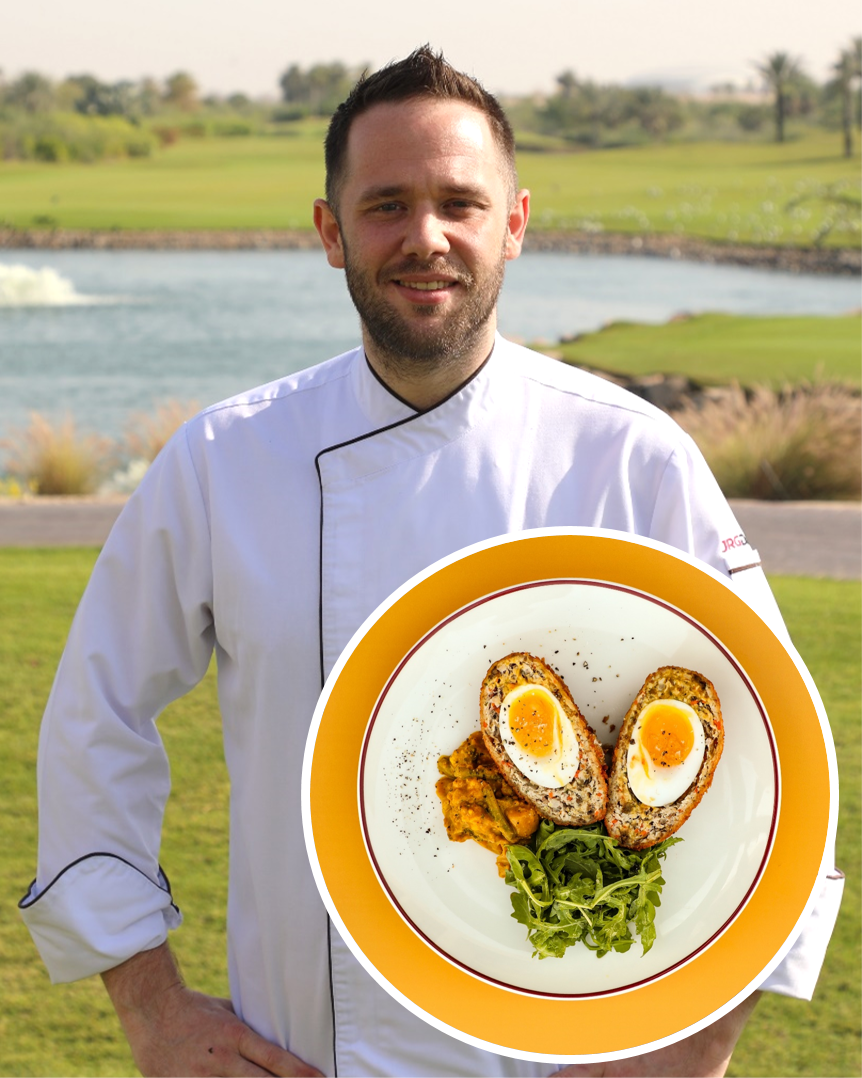 About the Chef
Antony Jardella "Chef Tony" is the culinary lead behind recently-launched restaurants Hillhouse Brasserie and The Duck Hook, which opened in October/December under JRG Dubai – the home-grown restaurant management company and part of Dubai Holding. As Head Chef at both of the Dubai Hills Golf Club restaurants, Chef Tony worked closely with JRG Dubai Group Executive Chef Ben Tobitt during the pre-opening to develop the distinct menus ahead of each launch. He now heads up the dedicated kitchen teams to maintain quality and continually enhance the menu offerings.
With more than 12 years' kitchen experience, Chef Tony began his career as Trainee Chef at the Metropolitan Police Club, North London, following the completion of his City and Guilds qualifications in catering and hospitality. Following six years in the UK capital, he relocated to Cyprus, working across luxury hotels, entertainment venues and restaurant groups throughout the Mediterranean island. Chef Tony joined JRG Dubai in 2014 as Sous Chef at the award-winning Rivington Grill, where he was responsible for supervising various aspects of the kitchen and team. He then progressed to Chef de Cuisine at the iconic Perry & Blackwelder' Original Smokehouse before being tasked with JRG Dubai's latest concepts.
Ingredients
For 4 portions
200gr confit Duck leg –(deboned, skinned, flaked)
200gr minced chicken
20ml vegetable oil
4 Duck Eggs
1 sprig of thyme (remove the stalks)
20gr chopped parsley
40gr finely chopped white onion
30gr finely chopped carrot
20gr finely chopped celery
1 egg
40gr bread crumbs
For breading & frying
2 eggs & 60ml milk mixed together (eggwash)
100gr all-purpose flour
150 gr breadcrumbs
A deep fryer filled with vegetable oil
Method
In simmering water add the duck eggs and cook for 4.5 minutes
Drop eggs into ice water and once cool carefully peel and keep refrigerated.
Sweat off the onions, carrot, celery and thyme in a pan with the vegetables and oil until soft and leave to cool.
In a large bowl mix together flaked duck, chicken mince, vegetables and breadcrumbs.
Add the egg, chopped parsley, salt and pepper and mix well.
Separate the mixture into 4 even balls.
Cut a square of cling film and lay out on a flat surface.
Take a ball of mixture and gently press down forming a 1.cm thick round patty.
Dust 1 boiled duck egg with flour and add to center of the patty.
Using the cling film pick up the corners of the meat wrapping the egg completely with the meat.
Form the scotch egg to the desired shape, trying to keep the egg as central as possible.
Carefully flour the scotch egg ensuring its covered well.
Drop into egg wash and then breadcrumbs, repeat egg wash and breadcrumbs one more time.
Carefully drop the scotch eggs in the deep fryer at 180*c for 5 minutes, rotate in the oil making sure it stays fully submerged at all times and cooks evenly.
Can be eaten hot or cold, perfect when served with Piccalilli.
---
Visit The Duck Hook for more