Are you a soon-to-be or recent graduate in the hunt for the perfect job? LinkedIn might be your one-stop solution to land yourself at your dream company. ÄŸŸ ¤"
Are you looking for a new career? Or perhaps changing jobs? Maybe you want to look for veterinary jobs or marketing jobs, or any other kind of career! Well then LinkedIn is a great tool to connect with prospective employers, companies, and influential people. It's important to stay connected and updated, beyond the generic Social Media buzz and towards what the industry is speaking about. ÄŸŸ' ¹
Here are some tricks to utilize your LinkedIn profile to its optimum purpose.
1. The Header Says It All
Use the headline to describe more about you, why you do what you do and to showcase your value proposition. It doesn't necessarily have to be about the job title only. ÄŸŸ˜ ²
PS: Whatever you write in your header, bio, or even experience section, ensure you have the RIGHT KEY WORDS! That's what recruiters or head hunters use to even find your profile. Imagine they want a person with a "Design Thinking" background or skillset, you do have it but it's not mentioned anywhere in your profile, there you go, you might have just lost an opportunity to appear in the search. This doesn't mean you just put every single keyword out there too. Be smart about it 🙂
2. References & Recommendations
Get words of recommendation from mentors, teachers, and people you have worked with (in a group, internship, mentorship. etc.). You could either attach the letters in the Media section or they could give you a recommendation on LinkedIn itself. ÄŸŸ"
However, do check for the best linkedin recommendations examples, before you approach someone asking for a reference.
This is harder to get as many seniors or leaders don't always have the time to provide recommendations.
3. Endorse It Up
You could add all of your relevant skills on your LinkedIn profile, that align with the type of jobs you're looking for. Make sure that people in your network endorse your top 3 skills which would be highlighted on your profile. For example, if you've recently taken part in excel training in Denver then this is a brilliant skill to add to your profile. You can ask the people who were on your course to endorse you.
4. Reach Out
Add connections from important companies you're interested to be a part of. Getting some contacts with the "Recruiter" title is always a great idea. You could always ask your connections to give you a referral if you're applying for a job in their company if you wish to.ÄŸŸ• ´
5. Make Sure Your Bio Is About You
It's very important to have a unique bio, something that's not off the rack and gives a description of who you are and what are you looking for. Avoid those Steve Jobs quotes, keep it for Instagram. ÄŸŸ˜'
6. Premium Perks
Try LinkedIn Premium. It makes you the Top applicant on jobs you apply for via LinkedIn, evaluates your chances of landing a job, and has several perks. If you think it's too expensive, there is a free trial period of 1 month available to all users. ÄŸŸ'Œ You could use it during the period you want to look for jobs.
7. Media Matters
You could attach certificates and photographs of important events you've been a part of along with your Bio, on your wall ÄŸŸ ¥‡ Want to share an experience you had or something you achieved? Share that too. LinkedIn is a very welcoming space for professional talk.
8. Click To Impress
Your Photo should be a professionally clicked picture. Candids are allowed, but passport photos seems too 'stiff', avoid those selfies or group pictures too. Get your DSLR buddy to help you get the perfect shot! ÄŸŸ" · Or just take it with your phone, ensure you have good lighting though.

Additionally, if you want to add a cover photo that is a quick snapshot of who you are without long sentences or just a simple image that is probably unique to you, or your organization, feel free to do so. It's effective, and looks unique!
9. Just A Click Away
Most of the jobs on LinkedIn Careers can be applied for online with LinkedIn Apply. It's really convenient. No more long applications/questionnaires to fill out!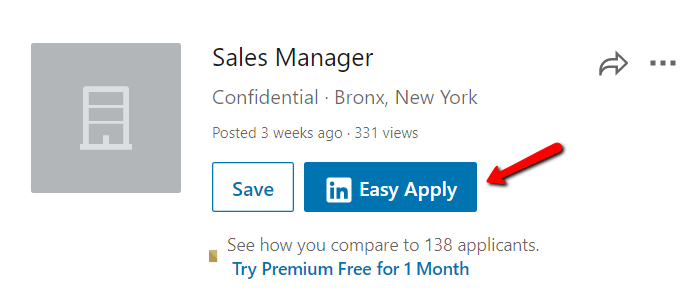 10. Don't Duplicate Your Resumé
If you have been part of any internship/part-time jobs before, it's always a great idea to write an impressive summary of your job and recruiters might be interested to hire you. Avoid repeating what you've already mentioned in your resume. ÄŸŸ ¤"
11. Connectivity
Expand your network by syncing your profile with your email address book as it helps in increasing the connections by reaching out to people. Make sure it's a professional email address (Something like [email protected] is clearly not a great idea). ÄŸŸ˜'ÄŸŸ ¤ ¦"â™€ï ¸
12. Flaunt It
Show your achievements and the projects you have worked on as recruiters often look out for a certain skill-set or talent amongst graduates. There is also a section where you can share your experience at Volunteer Work. ÄŸŸ'
13. Customize
Customize your LinkedIn profile link, as it is helpful in listing your LinkedIn on business cards and your resume. You could also add a QC Code to your LinkedIn profile on your resume. Sounds futuristic, but it's a budding trend these days. ÄŸŸ'
For e.g. mine is www.linkedin.com/in/naomidsouza
14. Update Your Network
Keep your experience section updated. Add new experiences and skills as you obtain them. Let your LinkedIn Network know about your work accomplishments (e.g. Completed a year of Internship, New Position, etc.). ÄŸŸ' »
15. Let The Job Define You
Always ensure that the job description describes what you are capable of, not what sounds fancy. Read the job description given by the recruiter and match it with your skills. Let recruiters know you are open to new opportunities. ÄŸŸ• ´
PS: If you have missed filling out on some stuff on LinkedIn, the platform is smart enough to give you prompts anyway. Aim for the "All Star" symbol on your dashboard 😉
Job hunts can be a long and draining process. Stick to the grind and you will succeed. Do not let yourself down quickly, sharpen your resume and let that recruiter reach out to you with the perfect job that you deserve. All the best in your hunt! ÄŸŸ ¤-
---
Written and Researched by Naomi D'Souza and Safa Latheef