The Ultimate Guide to Starting a Bullet Journal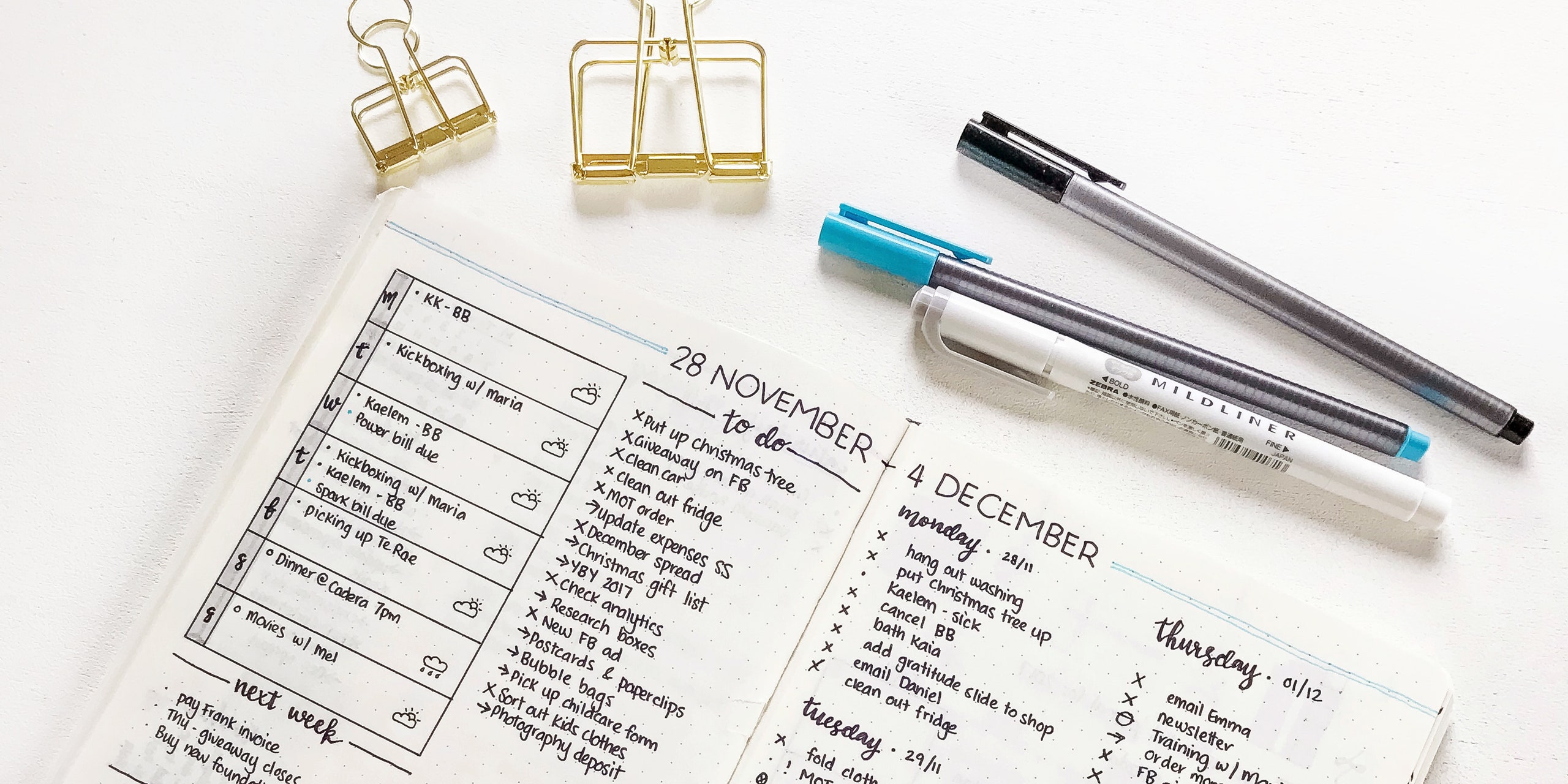 What is a bullet journal? Well, in a nutshell, a bullet journal is a planner that you can customize according to your specific needs and the way you prioritize your activities. Whether you're a student, working professional, or entrepreneur, this is bound to work out for you.
It's a concept that started gaining speed in early 2015 and its momentum has continued to grow at a rapid pace. Just look at the testimonials- Millions of individuals stand by its effectiveness and claim that their productivity has increased exponentially since their journals reflected what they prioritized most. ğŸ'
"It provided me with a practical yet forgiving tool to organize my impatient mind." -Ryder Carroll, creator of the bullet journal
Think of bullet journalling as a streamlined way of including all aspects of your life into one book, where at a glance you can immediately tell what you need to do and schedule out your day with no hassle. 🤩 Starting a bullet journal is notoriously easy and it's completely up to you and how you choose to go about doing it, but it's always helpful to have a guideline for when you do start one.
1. What purpose does your bullet journal serve?
Are you using it for work? To schedule meetings with clients and manage projects? Or are you a student, trying to grapple exams and planning out your strategy to crack them effectively? 😔 What you use your bullet journal for influences how the layout will be, so make sure you know what you want to include in your new bullet journal.
2. Creativity Level
Just as there are different types of people, there are different types of Cute Bullet Journals. Whether you want low maintenance, minimalist look, or if you want to go all out with washi tapes and brush pens, anything is possible in bullet journaling. Although one aspect to keep in mind is that the fancier your bullet journal is, the more time-consuming it is to maintain. 👨"ğŸ¨
3. Sectioning your Bullet journal
Although you can really do anything, a general format to your bullet journal can be as follows:
Index- Important spreads of each month can be added to the index, for ease of finding where it is in your bullet journal. ğŸ§
Future Log- A Future Log is a brief look into the distant future and any upcoming events that are there in the following months. This can also be called a Yearly overview.
Monthly Log- A Monthly Log is a detailed overview of the current month which includes events and activities that will occur in the near future.
Daily Log- This is like a daily to-do list of sorts, where all your day to day tasks are listed out. 🔜
4. Arranging your tasks
Usually, symbols are used to indicate the importance of a task, the type of task, and whether it's been completed or postponed.
A few of the most used symbols are:
'•' represents a task
' °' represents an event
'-' represents a note
'*' represents a prioritized task
Keep in mind though that your bullet journal is entirely your own! Feel free to use different symbols for different tasks according to your liking and convenience. ğŸ¤-
5. Begin!
No matter how many different types of logs or symbols there are, there is no real need to follow any of them. The core essence of bullet journalling is all about customizing your planner to you and what you like. 🔑 There is no set way of doing it, which is what makes it so successful amongst a variety of different people. You can start this anytime, whether it's tomorrow, or the next month, or the next year- full autonomy is given to you. So grab a book, a pen and begin, there's nothing to lose and so much to gain. 🃔♀ï¸
Still confused about where to start? Click here to get a step by step explanation for what a bullet journal really is, and how to start one of your own. Happy journaling! 💃
---
Written and Researched by Nikita Jacob