Let's face it, everyone loves makeup. With the plethora of beauty products out there, every makeup-lover is truly spoilt for choice when choosing their favourites.
Moving on from the makeup brands in the western countries, the Middle Eastern nations have opened their own e-commerce websites as well. These websites contain makeup products from high-end brands, which have made their name in the beauty world. They feature upmarket perfumes, jewelry, handbags, eyewear, skincare, and makeup accessories as well – to name a few. In this article, we would be discussing five of the best e-commerce makeup stores in the UAE to fulfill all your beauty requirements. Motive: Let's engage in some self-indulgence!
1. Sephora

One of the most well-known brands in the beauty and makeup world, Sephora products are every makeup lover's dream come true. The website offers you several options for upscale makeup, perfume, skincare and hair products with accessories. Moreover, you can buy exclusive sets for men and women, which are available in travel-size options as well. It is home to several renowned beauty brands such as Calvin Klein, Michael Kors, Anastasia Beverly Hills, Dior, Skinfood and Huda Beauty to name a few. What's more, you'll enjoy free delivery services on merchandise offers over 250 AED.
Delivery: Opt for standard delivery, same-day delivery, next-day delivery and pick-up options.
Return: Take your receipt and the credit card to the Sephora store.
Note: Get a Narciso Rodriguez mini perfume on all orders over 300 AED. Moreover, use Sephora UAE Promo Codes for more discounts on products.
2. Noon


Noon is an e-commerce website based in UAE itself, and it caters to every kind of audience. Apart from beauty products, it includes electronic gadgets, home and kitchen accessories, baby products and groceries as well. Coming over to makeup products, you have options in fragrance, skincare, haircare, nail care, personal care items (for both men and women) and much more. Their website includes high-end brands such as NYX Professional Makeup, Bourjois, Wet n Wild, L.A. Gir, Forever52, Clinique, Arcancil, Diana of London, Pritty and Makeup Eraser, to name a few.
Delivery: Currently, they ship products to the UAE, the Kingdom of Saudi Arabia and Egypt.
Returns: You can return a product if it belongs to the returnable list and if an incorrect or defective product has been delivered. Retain the original packaging with seal intact for the return eligibility.
Note: Enjoy the current Noon offers, such as using the code EIDMOB to enjoy an extra 150 AED discount on Eid-Ul-Zuha.
3. Glamazle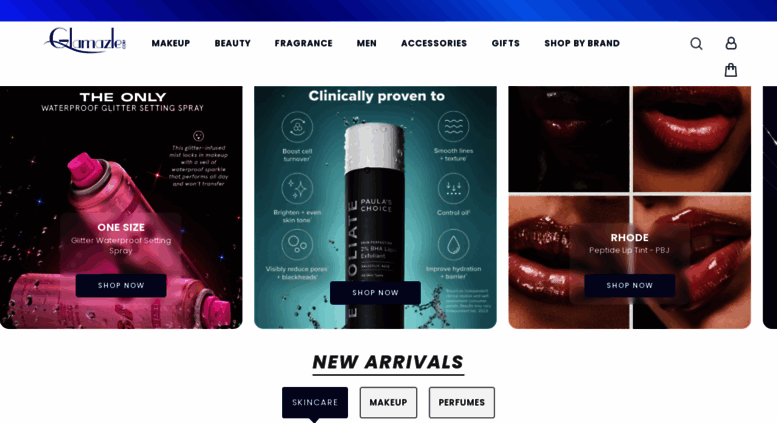 As the name suggests, Glamazle is all about looking glamorous. The website is home to makeup and beauty products (and accessories), fragrances and gift sets – with a separate section on beauty care. Apart from makeup products, you'll get brushes and tools for high-quality application as well. You can choose your products in the different categories set aside for 'Makeup' and 'Beauty'. Some of the luxurious brands feature on their website such as Makeup Revolution, Morphe Brushes, Urban Decay, Too Faced and Milani. Moreover, you can gift yourself these mind-blowing makeup sets for some extra pampering.
Delivery: Your shipping options depend on your contents of order and shipping address. Orders over 250 AED with the UAE are free (excluding VAT) apart from a shipping and handling charge worth 25 AED. International shipping costs will have to be paid by Credit Card on PayPal online.
Returns: You can report to the Customer Service on the day of delivery in the case of incorrect or defective goods. If your product isn't replaced, Glamazle will refund the money to your store credit for further use.
Note: Enjoy a sale of 60% on all products on the occasion of Eid-ul-Zuha.
P.S. Usually for a lot of stores, international shipping costs will have to be paid by Credit Card on PayPal online. For international delivery, UPS is available (click here to see UPS shipping rates).
4. Faces

Faces is well-known for introducing new arrivals to its customers, and its high product quality. As with the other websites mentioned in the article, they feature a variety of skincare and body merchandise and perfumes. Their products are available in travel-friendly sizes as well along with a special focus on men's products. There are popular (and upcoming) brands on their website such as This Works, Wow By Wojooh, Giorgio Armani, Yves Saint Laurent, SachaJuan and Odacite.
Delivery: Faces currently ships its products within the UAE, where a delivery charge of 25AED will be levied on products below 249 AED. The orders will not be delivered to post offices, AFO/FPO address and beyond the UAE.
Returns: Return your products by visiting the nearest Faces store, or contact the Customer Care center. Retain the original packaging for reference and proof.
Note: Enjoy a whopping 50% discount on all products.
5. DailyLifeForever52

DailyLifeForever52 comes with all things bright and glittery for you. Complete with BB creams, setting sprays, glitter, lashes and even coloured contact lenses – this website offers you much more than what its competitors do. They have a collection of both rich and muted shades in their collection, which will appeal to a wide range of audience. What makes them truly different from the others is that they create and market their products.
Delivery: The customer shall receive their product within 9-10 business days, and 10-15 days on international orders.
Returns: In case of an incorrect or damaged product, the customer must send an email to aftersales@dailylifeforever52.in for a refund.
Therefore, beauty deals in UAE can be amazing if you know the right techniques. Now that the sale time is on, take advantage of the discount offers. Of course, don't forget to tell us about your experiences!