Sushi Tour – Round I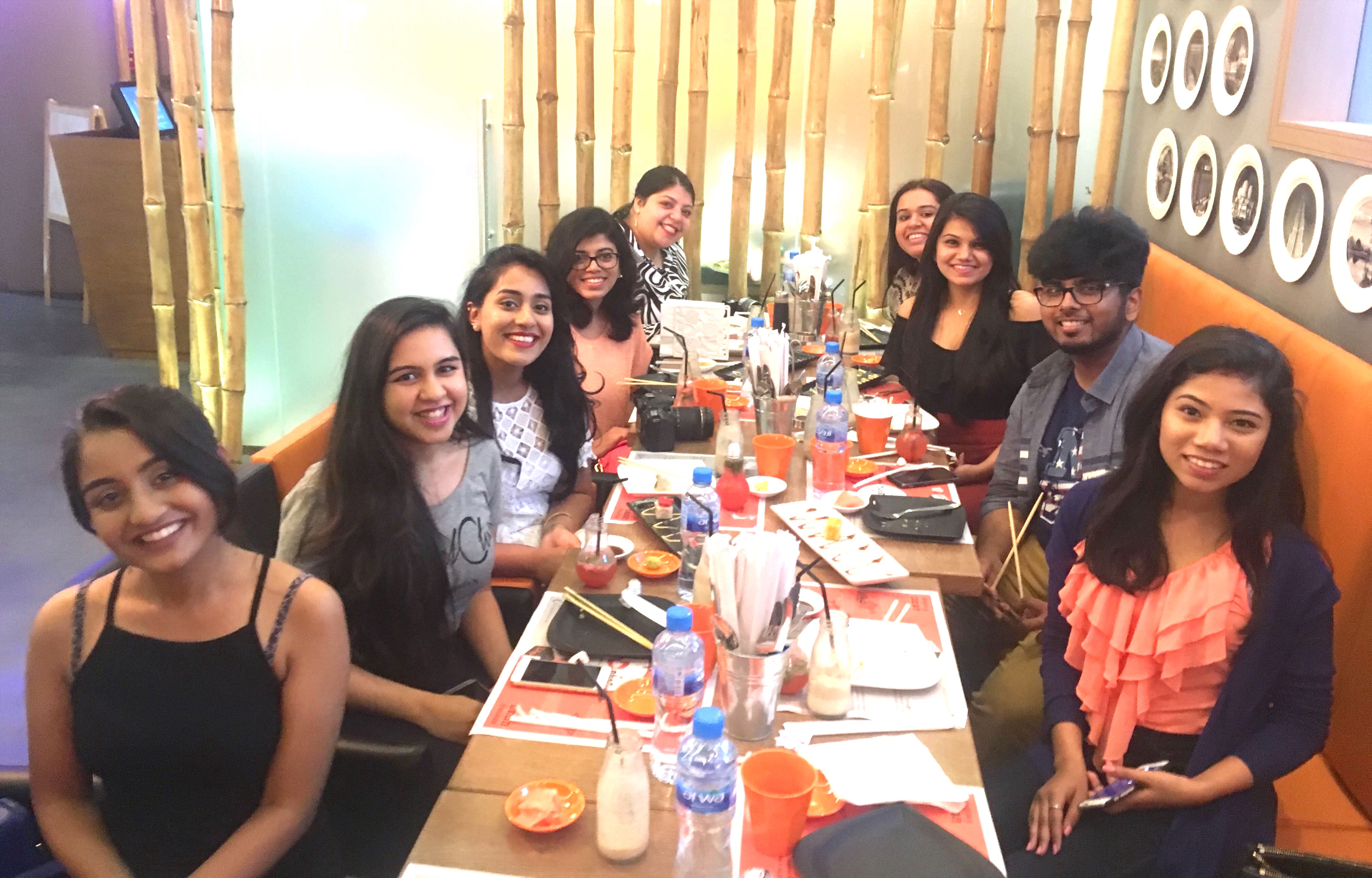 My dream was to change people's perceptions… and I did 😉 ❤️
Before stepping into the world of food blogging, I hated Sushi! The reason was quite obvious – I coincidentally kept trying them from all the wrong places. With time, I became a food blogger and my awareness + knowledge on the best sushi spots in town substantially increased.
I was definitely not alone, the more I posted about sushi, the more comments I received from my followers on how they despised it. I took this to my advantage and planned my first ever food tour! I took 10 followers of mine in total (majority hated sushi) 🙂
How can you start liking Sushi?
It must be noted that Sushis are divided into 2 categories – cooked and raw. If you are new to sushi's;
1. You must start with trying the cooked 'Maki Rolls'
2. Opt for a tempura filling (battered deep fried vegetables, meat or seafood) filling. 3. Do not opt for Salmon filling as it has a strong fish taste and you MAY not like it.
4. For a first timer or someone who hates the taste of sushi, dipping the roll in soy could be a bad idea. Thus, avoid that if you can 😉
Restaurants we visited
Having a handful of favourite sushi spots in Dubai, I only chose 3 for this Sushi Tour AND I'm thankful to them for sponsoring this tour for us 😀 ;
1. Catch Dubai – This contemporary restaurant successfully fuses great food, service and an exceptional scene which appeals to the tastes of today's modern diner. Catch Dubai incorporates influences from a myriad of regions where seafood is central to the culinary culture. CATCH's staggered, shareable style of dining caters to the varied palates of its international and well-heeled clientele.
Location – Fairmont Dubai
Avg. Followers Rating (on 10) – 7.6
2. Wakame Dubai – Explore a feast of contemporary Asian inspired cuisine with a stylish edge whilst sipping on innovative beverages hand-crafted from seasonal fruits and fine spirits. The Wakame culinary experience explores the tastes and traditions of set within a contemporary yet evocatively inviting. Dining at Wakame will evoke all five senses, introducing an exciting combination of textures and flavors, from small sharing plates to large plates and exquisite desserts.
Location – Sofitel Downtown Dubai
Avg. Followers Rating (on 10) – 8.5
3. Moshi – This restaurants love for momo's and sushi's inspired this unique fusion and formation of two world's at 'Mo-shi'.  They offer both Nepalese and Japanese delicacies with a twist and have a wide variety of vegetarian momos and sushis. Moshi is mostly preferred by Indians as most of their sushis are a fusion and they are popularly known for their Oman Chips with cream cheese sushi!
Location – Oud Metha
Avg. Follower Rating (on 10) – 7.9
Conclusion:
During the planning stage, I personally felt 3 spots was too less, but, I went ahead with my gut feeling 😉 By the end of the tour we could not have a single maki roll, neither could we have a dessert OR green tea… even if we tried!!
Most importantly, ALL my followers ended up LOVING Sushi! Catch Dubai, Moshi and Wakame ended up being their GO-TO sushi joints!
Mission Successful xx … Don't forget to check out #EatWithN on Instagram 🙂
* Note: #EatWithN Tours does not aim at promoting restaurants through naomidsouza.com. Sushi is disliked by many – the purpose of these tours is to make people like something they would never try/or have tried and hated. Additionally, I have personally seen the people who have come with me for these tours, spread the word and rave about a particular restaurant.