14 Best Free or Affordable Ladies' Nights in Dubai – if you want to chill, go wild, or drink in the pool, we have it all!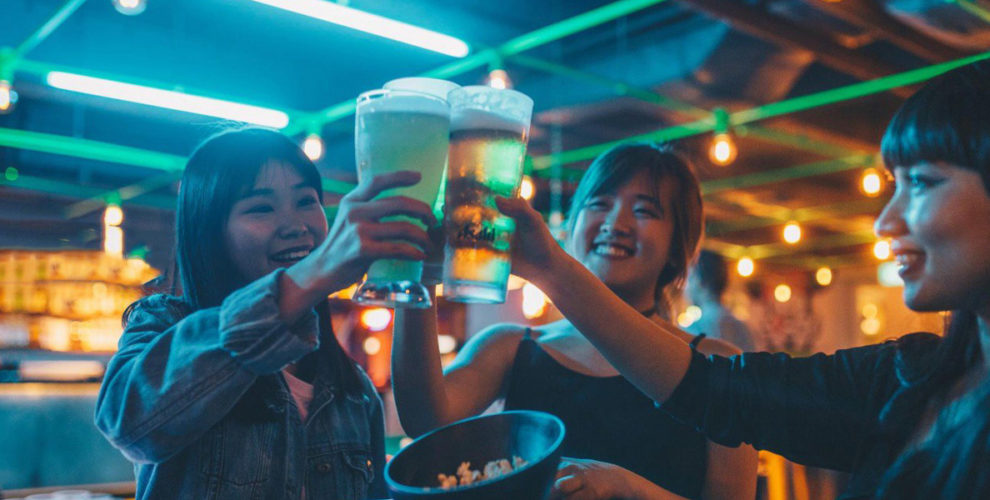 The nightlife in Dubai is truly spectacular! There are so many budget and hi-end options that you'll never run out of places. It's the best thing to do on a weekend, or even a weekday, if you want to give yourself a break ?
The best thing for women, however, is the fact Ladies Night's are so frequent in almost every pub and club in Dubai. Apart from the fact that they will cost only half of what's listed on the menu (or sometimes they're completely free) they always get the ladies in – meaning a fun, and carefree night of partying ? (erm, unless you have work the next day…) It's seriously an amazing way to check out Dubai's nightlife and down some amazing drinks while you dance the night away.
If you don't know where to start, these terrific spots should definitely be on your list:
SUNDAY
1. Armani Prive at Armani Hotel Dubai: If you love swanky nightclubs, then this one should certainly be on your visit list ? Situated in the lap of Dubai, it's the perfect downtown spot to check out on a Sunday evening without crashing your wallet.
Address: Armani Hotel Dubai, The Burj Khalifa, Downtown Dubai
Timing: 11PM to 4AM
Ladies night deal: Unlimited wine and house spirits
Cuisine: Finger food
Contact: +971 0521769420
2. Rodeo Drive: For those who love fantastic music, partying with friends and live bands, Rodeo Drive is the best place to be! ? They have an incredible ladies' night deal and you can ride the mechanical bull to see if you manage to get the grip after a couple of drinks! Make sure you don't miss their All-American menu for some delicious bites.
Address: Besides Voco Hotel, Sheikh Zayed Road
Timing: 8PM to 1AM
Ladies night deal: 4 selected cocktails for free
Cuisine: American, finger food, Italian & European
Contact: 04 3425571
MONDAY
3. Masti Cocktails and Cuisine: This modern Indian restaurant is perfect to chill on a Monday night, post-work. Get your girl gang here and binge on their delicious fusion Indian dishes, while you sip on the special gin cocktails, designed especially for the ladies. They don't have a dance floor, but it is the perfect place to sip, dine and catch up, without the chaos ?
Address: La Mer, Jumeira 1
Timing: 8:30PM to 11:30AM
Ladies night deal: 2 gin-based cocktails
Cuisine: Contemporary
Contact: 04 5269365
4. Toy Room Dubai: This popular night club is well-known for its pub in London and is now in Dubai too ? Their hip hop music, super chic crowd, surreal cocktails and the iconic teddy bear make it a wonderful place to chill after a long day. You can come in with your girlfriends and enjoy their ladies' night deal every Monday.
Address: Besides Meydan Hotel, Nad Al Sheba
Timing: 11PM to 1AM
Ladies night deal: Unlimited cocktails
Cuisine: International
Contact: 0524633338
TUESDAY
5. Wavehouse The Palm: With a location as perfect as the Palm, you don't want to miss the ladies' night on Tuesdays at Wavehouse ? The place has the perfect beach and boho themed-décor with amazing outdoor seating, bowling and many gaming options too. So, if your gang is all about making the most of a terrific night, this one's for you!
Address: Atlantis The Palm, Palm Jumeirah
Timing: 8PM to 1AM
Ladies night deal: 3 house drinks, AED 100 towards gaming and free access to Surf's Up
Cuisine: International
Contact: 04 4262626
6. Qwerty: This casual dining restaurant offers live music, a fantastic outdoor seating and is very accessible too! It has not one, not two but three great offers for the ladies every Tuesday ? Yes, apart from 5 beverages for AED 50, you also get 50% on the food and prizes for the best-dressed ladies in the house. It's the best way to catch up with friends and have fun while you do!
Address: Media One Hotel, Dubai Media City
Timing: 6PM to 10PM
Ladies night deal: 50% discount on food and 5 drinks for AED 50
Cuisine: International
Contact: 04 4271000
WEDNESDAY
7. Pierre's Bistro & Bar: If you would love to have some drinks and indulge in yummy food with your girl-gang, then Pierre's at Festival City is the place. Situated at a fantastic location, you can even head to the mall after you're done ? At Pierre's, check out the fantastic interiors, friendly staff and enjoy music by different DJ's every night. This one happens only once a month, on every 3rd Wednesday so confirm the day before heading there.
Address: Intercontinental Dubai Festival City
Timing: 8PM to 11PM
Ladies night deal: Free-flowing selected beverages and one-meter platter for 199 AED
Cuisine: French
Contact: 04 7011199
8. Moe's on the 5th: When one of the swankiest bars in Dubai has a terrific ladies night, you do not miss it. Moe's on the 5th has always been a class apart ? Be it the terrific views, fantastic crowd or the super-talented DJ spinning out the best tracks, this one is a must-visit. If you don't want to go overboard on your budget, Wednesdays are when you should head here for their ladies' night deals.
Address: 5Th floor Sheraton Grand Hotel, Trade Centre Area
Timing: 9PM to 3AM
Ladies night deal: 6 complimentary cocktails and 30% off food menu
Cuisine: French
Contact: 04 3333055
THURSDAY
9. Andreea's: How about a Beach resort to celebrate a terrific ladies night, along with welcoming the weekend? The all-new and renovated Andreea's Beach Resort and Spa is just what you need during the summer months to cool you off ☀ During the winter, it makes for the perfect spot to laze around while sipping some delicious cocktails. All this, without burning your money makes for the perfect weekend start.
Address: Habtoor Grand Beach Resort & Spa, JBR
Timing: 8PM to 11AM
Ladies night deal: 50% on food and beverages and 2 beverage vouchers on ordering Al la carte for the ladies
Cuisine: Italian, Steak, Sushi
Contact: 04 4084400
10. Vivaldi Restaurant: With fabulous views of the Dubai Creek, this is one of the best options for ladies' night if you live in the area ? The fine-dining restaurant offers a fantastic ambiance and some truly delicious food. If you want to check it out with your group of girls, Thursday is a great time, since they host their ladies' night with amazing deals.
Address: Sheraton Dubai Creek Hotel and Towers, Baniyas
Timing: 6:30PM
Ladies night deal: Unlimited cocktails and bites for 69 AED and 50% off food menu
Cuisine: Italian
Contact: 04 5269371
FRIDAY
11. The Stables: For those who love live music and can't wait to put their hair down on a weekend, Stables is definitely the perfect spot to party! ? They regularly have live bands to make you swoon to the music, wonderful drink deals and lovely food too. It's best to get there early since it can be tricky to get a table later. They have a strict dress code, so no open shoes or shorts are allowed.
Address: Sheikh Zayed Road, Trade Centre Area
Timing: 5PM to 10PM
Ladies night deal: Unlimited selected cocktails
Cuisine: British
Contact: 04 3425571
12. The Belgian Beer Café: For those who don't fancy a room full of people and rather like a simple, quiet setup, Belgian Beer Café is perfect for you ? It is apt to spend the evening by yourself or with a few friends, and just catch up on work, if you have to. The interiors are nicely done and it's a great place to get a drink while you spend a relaxing weekend night.
Address: Grand Millennium Hotel, Barsha Heights
Timing: 8PM to 12AM
Ladies night deal: 3 selected cocktails or unlimited cocktails or sparkling wine and bites at 100 AED
Cuisine: Belgian and European
Contact: 04 4234170
SATURDAY
13. Gaucho: Conveniently located in the plush area of DIFC, Gaucho is a refreshing experience with amazing Argentinean cuisine ? The fine-dining place has elegant interiors and boasts of luxury at every step. If you haven't had a break for a while and looking for the best spot to feel special, head down straight to Gaucho. Everything from the ambiance, food to the beverages will blow you away!
Address: First floor, Gate Village 05, DIFC
Timing: 8PM to 11PM
Ladies night deal: 3 selected cocktails, mocktails or wines
Cuisine: Steak and Argentinean
Contact: 044 227898
14. Lucky Voice: It's Karaoke night! Lucky Voice is one of the best places to get your very own Karaoke pod while enjoying fabulous deals ? If you aren't in a mood, you can also settle in the amazing ambiance of the bar outside while downing some serious cocktails. The bright wine glasses, super music and cool vibes of the place are perfect to wind up the weekend.
Address: Grand Millennium Hotel, Barsha Heights
Timing: 8PM to 12AM
Ladies night deal: Any 4 house spirits, wines or cocktails and 30% off food menu
Cuisine: Finger food
Contact: 800 58259
We don't want to limit this article to just the perfect "Ladies Night". Note that there are several fantastic places to check-out with amazing ladies night deals! However, you can visit these places with your partner or fam, for occassions like anniversaries, birthdays, bridal showers, and more! They all have a fab ambience ? Have we missed out on your fav place? Let us know!
---
Written and Researched by Nikeeta J